Do you want to be a gentleman? Or you want you to look young and dynamic? So there are quite a few things you need to be prepared in appearance. In particular, the hairstyle is the biggest factor that decides how people perceive you.
There is a Hollywood monument about the hairstyles that you should not ignore – Leonardo DiCaprio. His hairstyles are very diverse, changing in style over time, from being a teenager to now.
In particular, Leonardo DiCaprio hair is not difficult to style.
If Leonardo DiCaprio is exactly the image you want to be, then don't skip this article. Surely, you will be extremely satisfied after following our instructions to get Leonardo DiCaprio haircut.
Let's dive in!
About Leonardo DiCaprio
Leonardo DiCaprio, whose real name is Leonardo Wilhelm DiCaprio, is a leading Hollywood actor, film producer, and environmental activist. Having a brilliant career and a huge fortune, he is actually very young, born on November 11, 1974.
He has been filming since 1991 with assets of several dozen films and an Oscar for "Best Actor Drama" in "The Revenant." But perhaps, the film that has made the world-wide public know his name is the "Titanic."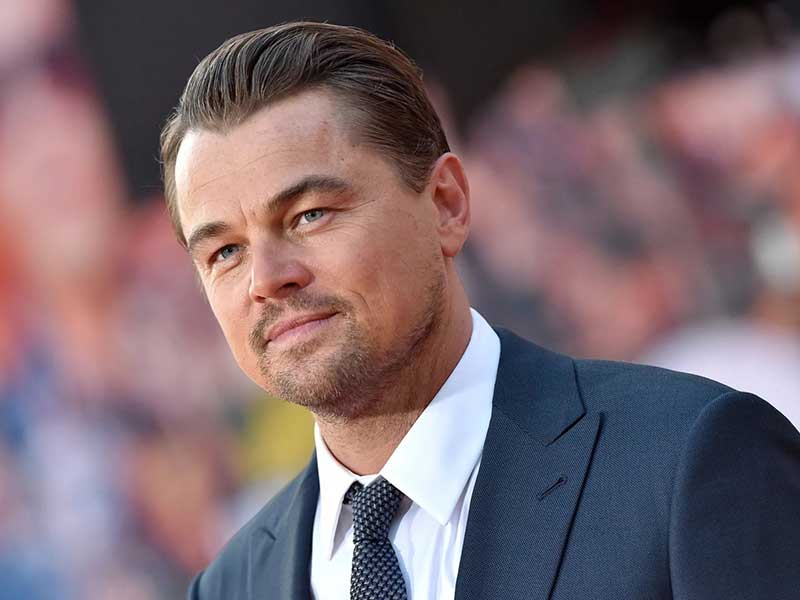 Leonardo DiCaprio hairstyle
Leonardo DiCaprio is an actor with dozens of movies during his 30-year career. There have been many successful films due to his own efforts to portray and shape characters. And hairstyles are one of the factors that contribute to that success.
Besides, the hairstyles either in the normal life or on the red carpet of Leonardo DiCaprio from childhood until now are also very attractive and outstanding. At each stage, he has always made the public burst with different images.
Generally, they all bring him the class and sophistication.
Therefore, if you are trying to shape a style similar to Leonardo DiCaprio's, reference the most outstanding hairstyles in the actor's career and life as below.
Other star inspirations:
The Gelled Leonardo DiCaprio 90s Look
Leonardo DiCaprio hair styles seem to be of medium length, neither too short nor too long. That's why we rarely see Leonardo DiCaprio short hair during the years of his life unless it's the necessary thing to portray the character that he plays in the movie.
Perhaps this is the most romantic hairstyle of Leonardo DiCaprio and was also the most popular one at the time. The 90s Leonardo DiCaprio hair requires some amount of hair gel to be able to bring "wet" hair. However, the hairs are not sticky together but naturally ruffled a bit.
Thanks to that, Leonardo DiCaprio did not look like a bad boy but very romantic and wild in "Basketball Diaries."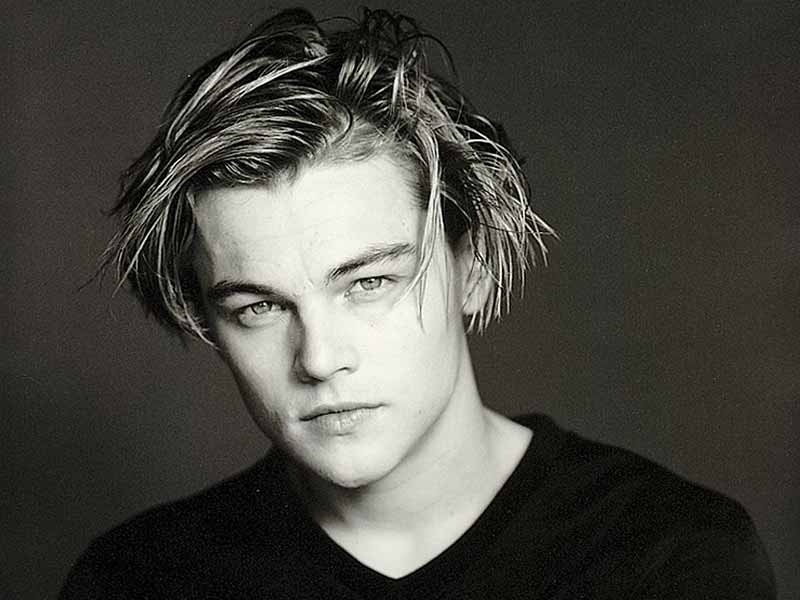 Middle Part Leonardo DiCaprio Hairstyles
Leonardo DiCaprio has done a lot of haircuts, but perhaps the middle part hairstyle was his brand in his younger years. No matter what haircut he does, you will always remember the free and fresh image of the actor in young Leonardo DiCaprio hair.
Leonardo DiCaprio blonde hair appears for most of his life, and with this average hair length getting tangled a little bit but still natural, Leonardo DiCaprio became mischievous and youthful, suitable for his age at that time. It was as if he had just stepped out of a 90s boy band.
Wispy Bangs Leonardo DiCaprio Hairstyles
Contrary to the usual shaggy images of Leonardo DiCaprio as a teenager, he looked gentle and a little shy in this image. It was also one of the hairstyles he helped create trends in the 90s. He had long and wispy bangs, and therefore, it looked quite sleek, highlighting his blonde, brown hair color.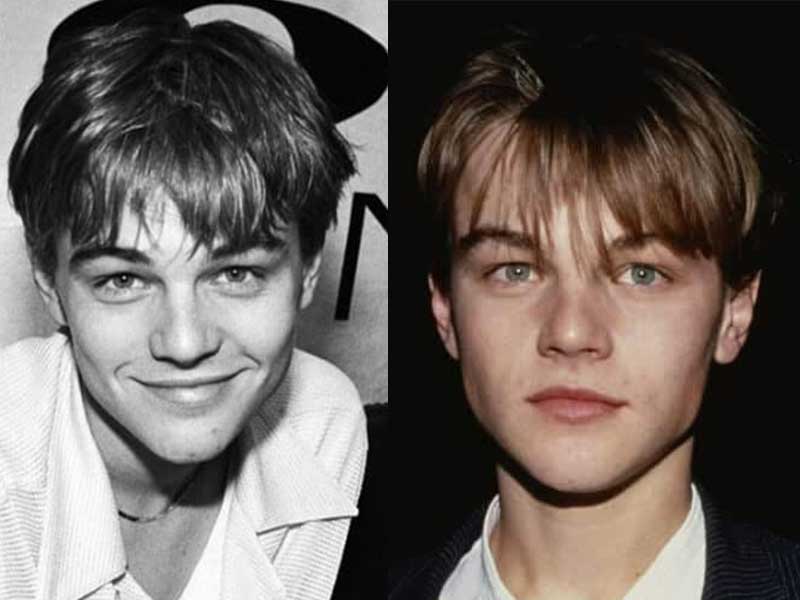 If you like this Leonardo DiCaprio 90s hair, you will be very comfortable and satisfied because it is extremely easy to copy and does not require any amount of hair gel.
Besides, it is also very young and flexible. That is, it can fit you anywhere in your daily life.
Leonardo DiCaprio Titanic Hairstyle
If you like Leonardo DiCaprio young hair of medium length and middle part, but want it to look more modern, you can try styling "Titanic" Leonardo DiCaprio hair.
In this movie, his hair was chestnut brown, which is the natural color we often see at Leonardo DiCaprio. It was no longer the middle part, but shifts to the 3/7 part and the Leonardo DiCaprio titanic hair has become one of the most iconic hairstyles of his film history.
Not a mischievous guy, nor a rich gentleman, Jack is a guy at the bottom of the society but extremely passionate about art and passionate in love.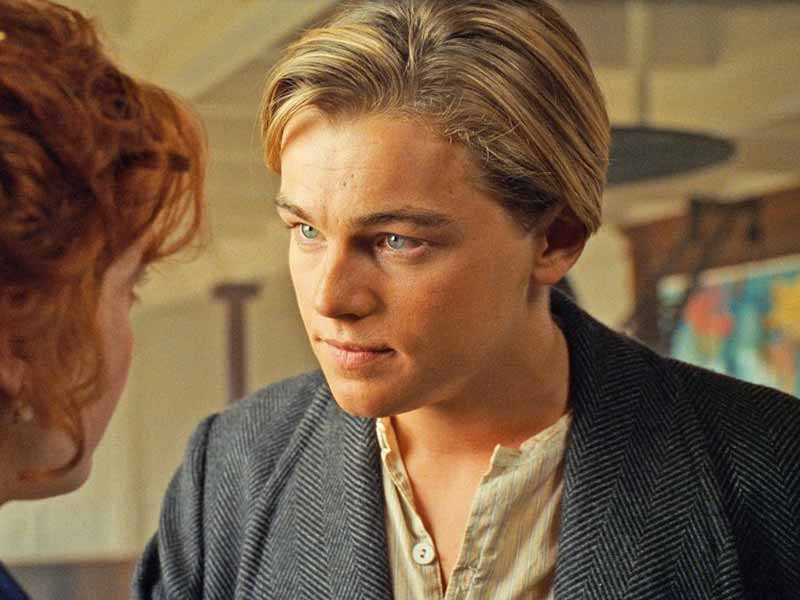 The Catch Me If You Can Haircut
When we said Leonardo DiCaprio liked combing over his hair, we were not kidding. Although he always likes natural, free, and wild hairstyles, he has changed a lot to match the characters in the film.
And in this movie, he played a young teenager pretending to be a successful person like a lawyer or a doctor, having lots of money and luxury hobbies. Therefore, there is no more suitable hairstyle than this slick back haircut.
It needs a bit of hair gel to style, along with a comb to make the hair more sticky. Also, his hair became sleek and more luxurious, which is the standard of the rich not only at that time but also today.
The Volumized Comb Over
It is also Comb Over hair with volume, but with just a small change in the Leonardo DiCaprio hair color, it surprised everyone by this super new image.
In this pose, he became a lot more mature and a bit mysterious, more seductive, confident, yet equally careless. The silky black hair that is too classy and too boyish really helped the actor prove that he always looked perfect in every hairstyle.
The Great Gatsby Look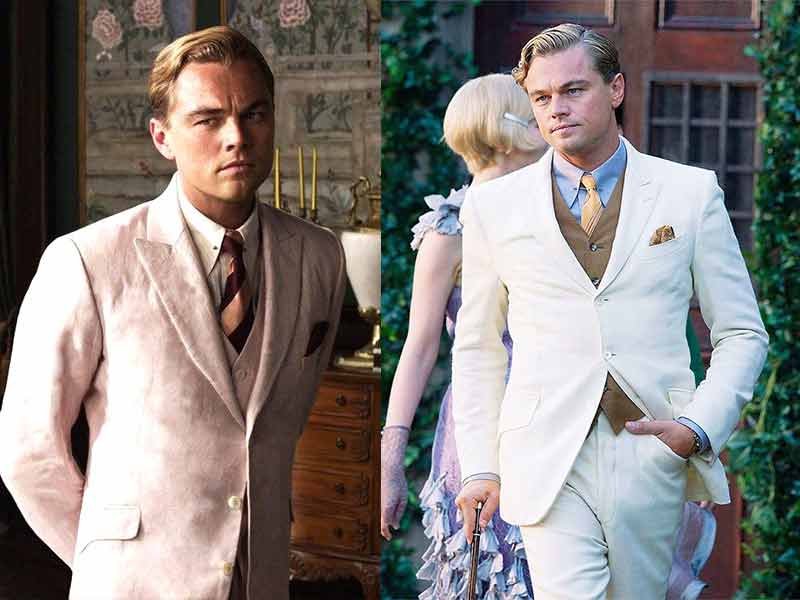 Another public's favorite hairstyle is "The Great Gatsby" Leonardo DiCaprio hair. Unlike the main character in "Catch Me If You Can," this time, he was a truly rich, powerful, and mysterious man. Every action he did had a clear purpose that only by the end of the film can viewers find out.
Therefore, Leonardo opted for this iconic haircut that had signature looks. The Leonardo Dicaprio Gatsby hair seemed to be dyed more blonde, stroking close to the scalp but still leaving a bit of bang to curl. It can be said that this hairstyle is quite elaborate, so if you want to copy it, you will have to get used to it quite a long time to style.
The Man Bun and Beard
Perhaps this is the fanciest hairstyle, causing Leonardo to change his appearance the most. No longer a medium-length chestnut blonde hair, it was dyed darker and grew longer. But instead of dropping his hair as he did in "The Revenant," he pulled it low in a neat bun at the back. Besides, he also wore a bushy beard and completed his appearance with a suit and sunglasses.
Overall, this Leonardo DiCaprio long hair made him very elegant and also had a wild side.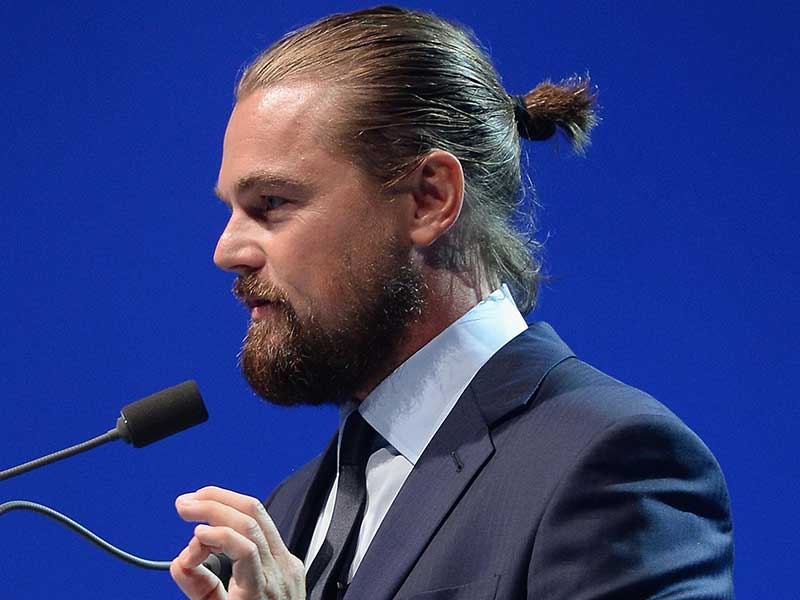 Does he have hair loss?
According to a writer on the Daily Mail, Leonardo DiCaprio is showing signs of baldness near the temples and forehead. If you compare the image of the actor in his younger ages and now, you will also see the difference not only between his hairstyles but also its structure.
However, he doesn't seem to want to hide it. That is, he does not have bangs or long hair like in the past. Instead, he focused the public's attention on his bushy beard and a low bun. Or, he will slick his hair back flat against his head.
However, Leonardo DiCaprio hair loss does not reflect that his hair is in poor condition. In fact, it is very common in men when they enter middle age. And Leonardo DiCaprio's hair is still thick, can form many different hairstyles.
Other fascinating posts:
How to get Leonardo DiCaprio hair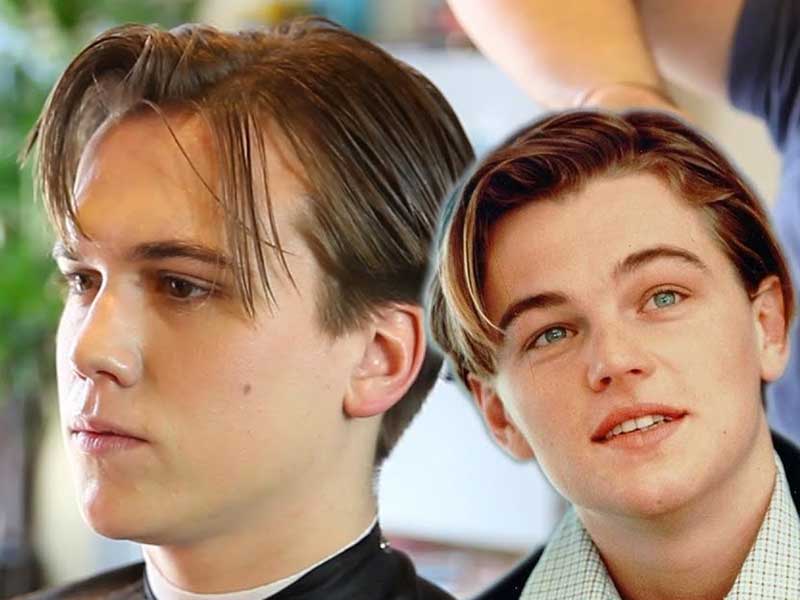 Most of Leonardo DiCaprio's hair is of medium length and has a characteristic blonde brown. Therefore, if you want to look exactly like him, first grow long hair and dye it. During the process, combine shampoos, conditioners, and some hair care products to make it always shiny and easier to style. It also helps to keep your hair healthy while using gels and styling products.
If you love slick back hairstyles, use a comb to brush your hair back. However, to get the perfect look, let's go to the hair salon.
Or, if you don't want to wait long for your hair to grow, you can use Lewigs' high-quality toupee/hair systems. They are made from natural hair from Vietnam and Cambodia, so you do not have to worry about their quality.
Wrapping up
Leonardo DiCaprio attracts public attention because of not only his reputation or elegant dress style but also his hairstyle. Hopefully, our Leonardo DiCaprio hair tutorials will be useful for you. Additionally, you can refer to some hairstyles of many other celebrities on our blog. And don't forget to like and share this article with others. Thank you.