Curtain haircuts have become popular since the end of the 19th century when many famous boy bands, movie stars, and international athletes have curtain hairstyles. This hairstyle is updated regularly and is a great choice for men to show their elegance and romance. Compared with the haircut in the 90s, it is more flexible to suit the men's personalization. Therefore, how to make beautiful male curtain haircuts and create an impression is a big question that many men are interested in. If you are among them, this article today on Lewigs is for you because we would like to introduce some male curtain haircuts that can change your appearance easily and quickly.
Male Curtain Haircuts – Short Blonde Curtain Haircut
Among boys haircuts curtain, we have to mention a short blonde curtain haircut. Brad Pitt used to get this haircut when he was young. Even if you have natural blonde hair or dyed hair, you can easily style your hair with a short blonde curtain haircut.
To have haircuts with curtain fringe, you need a sharp part down the middle and the super sharp and straight ends. You also can use some styling gel to add more shine to your hair. In addition, the blonde colour gives you a different and younger look. There are many tones of blonde that you can choose to have a suitable haircut with your face and skin tone.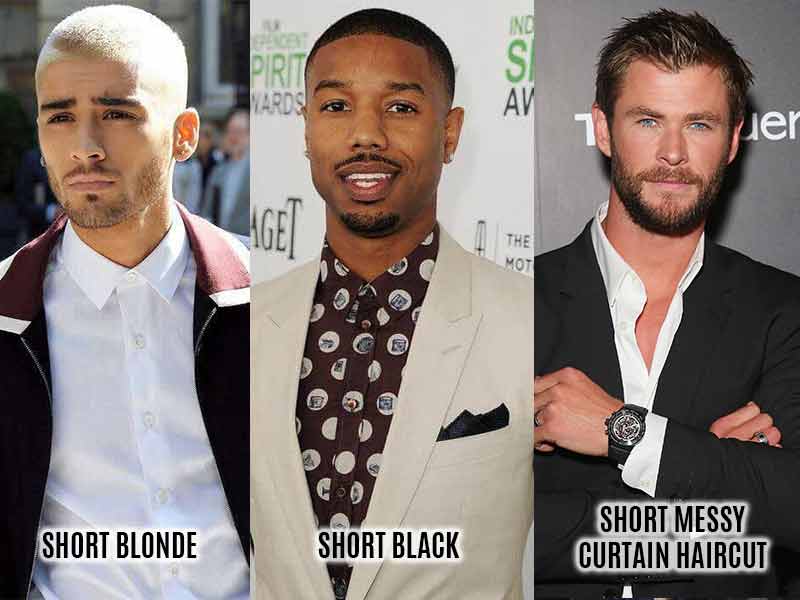 Short Black Curtain Haircut
Besides blonde colour, black colour is an ideal choice for curtain haircuts men. To have this hairstyle, you should keep the back and sides shorter. In contrast, the top needed to be longer to the middle of your ear. A cool appearance will belong to you after you style your hair with a short black curtain haircut.
Short Messy Curtain Haircut
Messy hair is an effective way to give you a modern and attractive appearance. Short messy male curtain haircut makes you more rebellious when someone looks at you. The location and precision of your hair are not a problem. However, remember to keep the length above the ear. Moreover, using a texturizing product like sea salt spray or pomade can help you style this haircut better.
Other inspirations:
Medium Length Curtain Haircut
Some people own medium length hair and do not choose curtain hairstyle because they are afraid of looking older. Do not worry! Medium length hair can give a romantic and modern look. Curtain bangs haircuts with medium length hair will make others focus on your eyes. Therefore, for those who have deep, soulful eyes, it is an ideal hairstyle choice. Furthermore, medium length hair is easier to style. You can use some pomade to add more texture to your hair.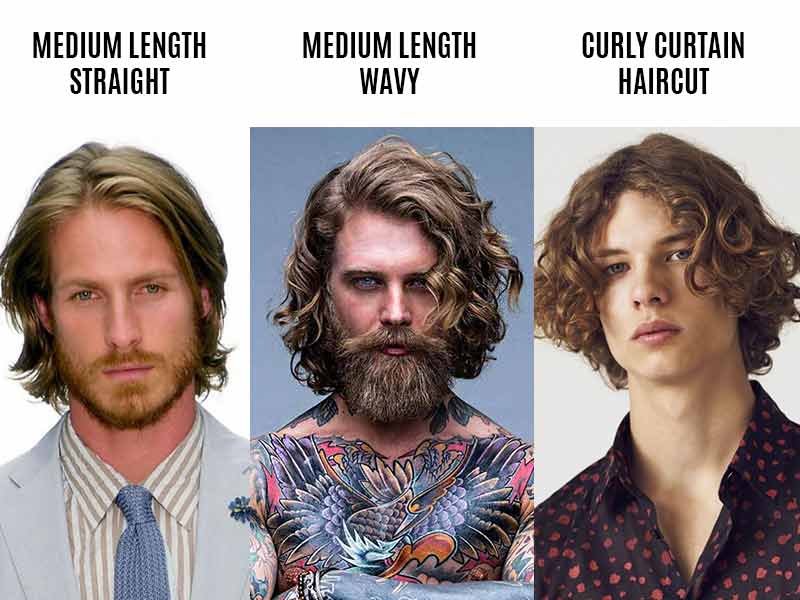 Medium Length Wavy Curtain Haircut
If you are bored with straight hair, try to have a wavy hairstyle. You will look more sexy and romantic. With medium length hair, you can style your hair easily. However, it requires more time to take care of. Remember to wash hair regularly to avoid dirty and greasy issues and keep hair in good condition.
If you do not have enough time to wash hair immediately, choose some dry shampoo to solve the problem quickly. You can use some sea salt spray to add more texture and movement to your hair.
Medium Length Curly Curtain Haircut
One more option for medium length hair is a curly curtain haircut. To imagine this hairstyle easily, you can search for Timothee Chalamet on google. Curly curtain hairstyle now is considered as one of the most popular hairstyles with the increase of men who choose it.
With this hairstyle, you will look elegant and extremely romantic in others' eyes. Besides, you can dye your hair to highlight this hairstyle. Do not forget to use some texturizing spray to create a light hold.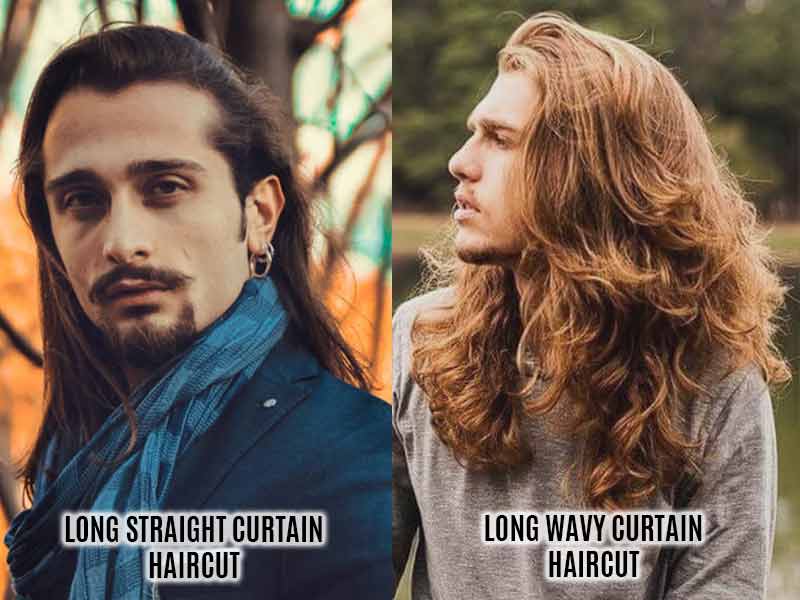 Long Straight Curtain Haircut
If you like the '90s grunge scene, do not skip a long straight curtain hairstyle. You can google for Kurt Cobain and Dave Grohl from Nirvana to see how they look with this hairstyle. Do not forget to care for your hair regularly with high-quality hair products to always have a good appearance.
Read more:
Long Wavy Curtain Haircut
Do you want to have a breakthrough on your hair? Try to style your hair with a long wavy curtain. A man with long, luscious and curly locks will absolutely catch others' attention. However, this hairstyle requires regular care. You have to use special hair care products for wavy hair to reinforce hair strands and avoid unwanted hair damages (especially when you use hair styling tools to have wavy hairstyle if you have long straight hair).
Curtain haircuts for men are a good choice when they want to change their appearance. However, not all men can have it because of many reasons. Perhaps they cannot wait for long hair, or they are afraid that their new hairstyle is not suitable for them. In this case, a toupee is a great option for men. It is very easy to put on and off a toupee, which means that it is also easy for men to change their appearance in a short time.
The question is where can men buy a toupee? You can find toupees in many places with various prices. However, remember to choose a high-quality toupee to not only have good look after but also avoid side effects such as headache, dandruff, hair fall, etc. If you have not found an address to buy a toupee yet, you can try to use Lewigs' products. We have good toupees with various types at a reasonable price. Our products are made of 100% Cambodian and Vietnamese human hair, so they can last for a long time with regular care. You can also give us your demand, then we create a toupee depending on your order. If you are not sure about our quality, you can read the feedback from other customers on our page.
In conclusion, there are many types of male curtain haircuts for you to choose. You can go to a salon and ask the hairstylist to know which type is suitable for you. In case you do not want to change your appearance directly with your natural hair, try to wear a toupee of Lewigs. To order one, contact us through hotline or email. We will answer as soon as possible.