Do you feel like you are beginning to go through signs of hair loss? If so, you will need this ultimate guide. It helps you define male pattern baldness stages through the Norwood Scale. Also, you will enjoy the inclusion of treatment recommendations. Okay! Let's go to the point right now.
What is the Norwood balding scale?
It is another name of the Hamilton Norwood scale. This classification system is famous as the most accurate measurement of the extent of hair loss among men. It indeed presents you with the real pictures which clarify various stages of male pattern baldness for your easy reference.
The seven main male pattern baldness stages
Each of these major types in the Norwood scale of hair loss measures the hair loss severity. We need to advise you to check the illustrative images when you read the stage descriptions.
Type I: It is the beginning/ earliest point. There is no considerable recession on the edge of the hair. That is why people call it the "Juvenile Hairline" type. In other words, your head of hair appears similarly to how it looked in your teenager.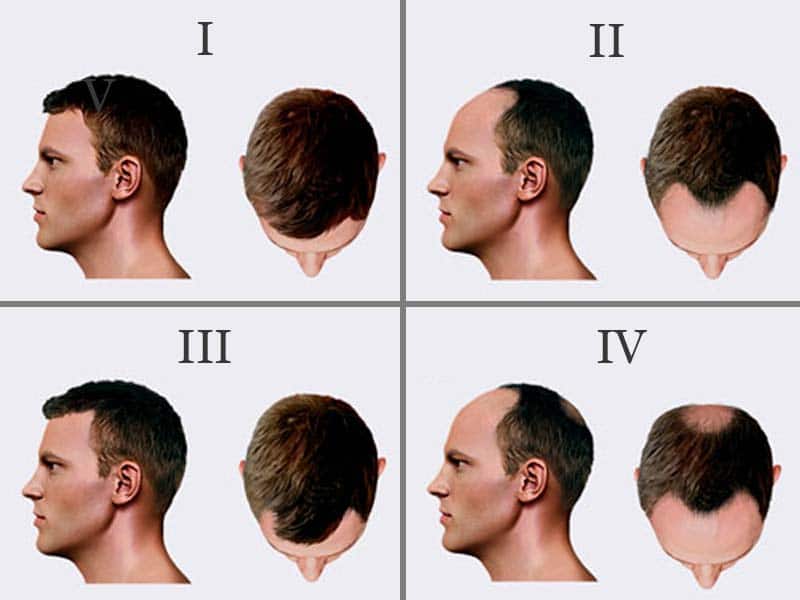 Type II: This one is likely to illustrate just about any man from 20 years old to 30. It shows a slight recession of the hairline around your temples. The cause behind this problem is your natural aging. People address this stage as the "Mature/ Adult Hairline". Notably, those qualifying for this type are not assumedly having baldness.
Type III: It is when the balding issue shows up in your life. How to tell if you are going bald? You experience hair loss on your temples and forehead expansion. The resulting shape is "U" or "M"; some have "V" as a consequence.
Type IV: This is one of the serious male pattern baldness stages. The problem worsens. Thus, you suffer from loss of hair on the head's top or the vertex. The chances are that hair on your vertex becomes sparse. That said, the receding hairline at the front and the vertex patch of baldness stay separate when you are at this period.
Type V: The issue progresses in this the Norwood male pattern baldness scale stage. Your vertex loss of hair and receding hairline become closer together. There is a specific separation, though.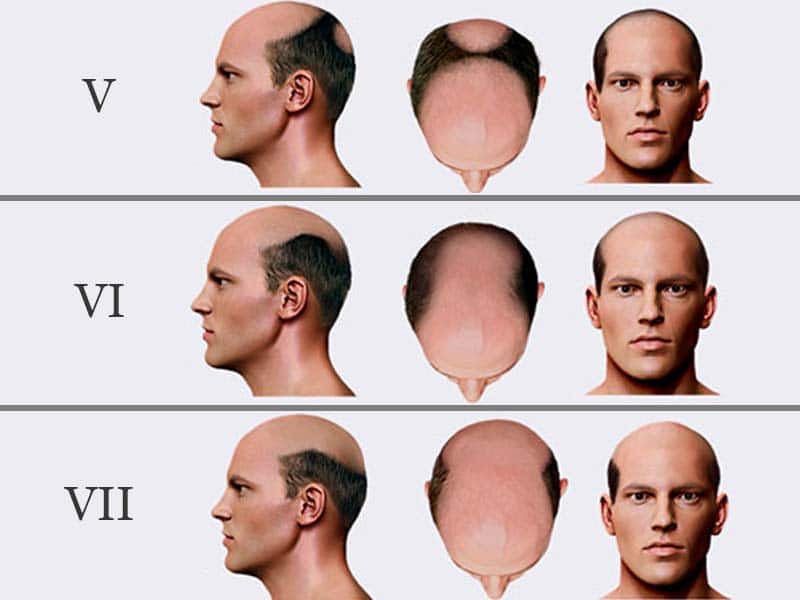 Type VI: Here, the vertex baldness and your receding edge of hair finally merge. Luckily, there are probably some hair strands in the middle.
Type VII: It is the severest type in the Norwood hair loss scale. The hairline and vertex patch of baldness combine into a single entity. There is just the hair crescent over the sides and the head's back. The remainings are all superbly thin. 
View our human hair toupee to conceal your baldness:
Other male pattern baldness stages
There are some more stages of baldness in this scale. They are not as familiar as the types we address above. People consider them as the extensions of some of the main stages.
II Vertex: There are probably balding signs before type III. Still, this pattern is rare. Here, you will not figure out hair loss from your temples or the forehead's top. The loss of strands will start at the head's vertex, instead. Hence, the characteristics of this type are the "Mature Hairline" along with small baldness at your vertex.
III Vertex: People consider this type as the first one to display baldness among men. The loss of hair starts at your vertex and slowly moves to the front.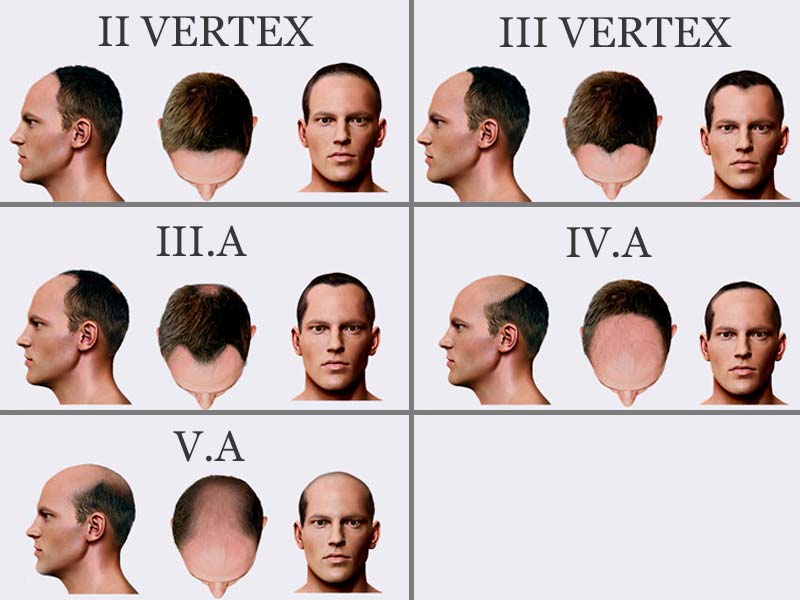 III.A: By "A", Norwood means "Anterior". How is this type different from the normal one? It is the uniform recession of your hair edge. In other words, the beginning hair loss has no emphasis on your temples. Instead, it sheds light on the whole hairline above your forehead.
IV.A: In this type, the edge of your hair recedes further. The recession does not focus on the temples but remains uniform. Plus, the vertex begins having hair loss. Still, the two remain separated from one another.
V.A: It is another subtype of the male pattern baldness stages. Here, there is virtually no considerable bridge between the receding hair edge and the bald patch on the vertex. There is a sparse number of hair strands on the head. 
Related posts:
Why should you know about male pattern baldness stages?
This scale is a practically helpful tool that you can rely on to measure the balding level. Once you understand how serious the problem is, you will realize the proper ways of dealing with it. In the early male pattern baldness period, you can treat hair loss with medications. Are you experiencing the later stages? Then, consider a couple of surgical choices
OTC treatments
OTC is short for Over-the-counter (with no need for a prescription). They include Minoxidil and laser devices. You can apply Minoxidil directly to your scalp. Consequently, the hair will not be likely to become thinner. Not all, it is capable of encouraging hair growth on the scalp's top. You can combine it with other treatments.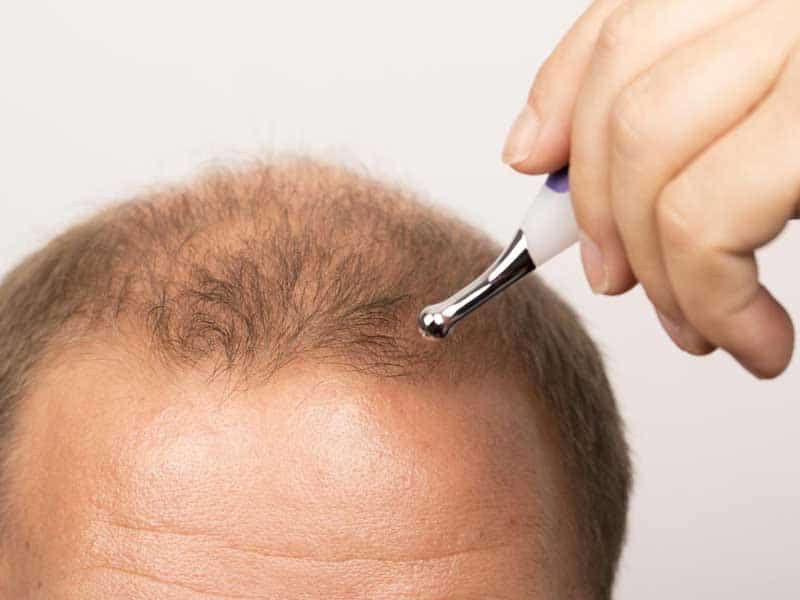 For laser equipment, there are different laser-releasing combs, brushes, etc. available in the current market. On the one hand, they may help boost the growth of the hair. On the other hand, these devices are generally not clinically proven for doing so.
Treatments with a prescription
Your doctor may advise you to use certain prescription finasteride, depending on how severe your loss of hair is and how successful you are with the over-the-counter. This pill has received approval from the FDA (U.S. Food and Drug Administration) for hair loss treatment among men. Reportedly, it can slow the situation in over 80% of males and increase regrowth in more than 60% of men.
Medical procedures
Some of them are air transplantation, scalp reduction, and scalp expansion. Some people also try scalp micro-pigmentation for the shaved head look. Be sure you consult your doctor before applying any method.
Hair toupees
Do you want a quick, safe and effective way to tackle male pattern baldness stages? Then, the top recommendation is installing an appropriate hair toupee to cover bald spots. Where to buy the best at the most reasonable price? Lewigs should be one of your most reliable options.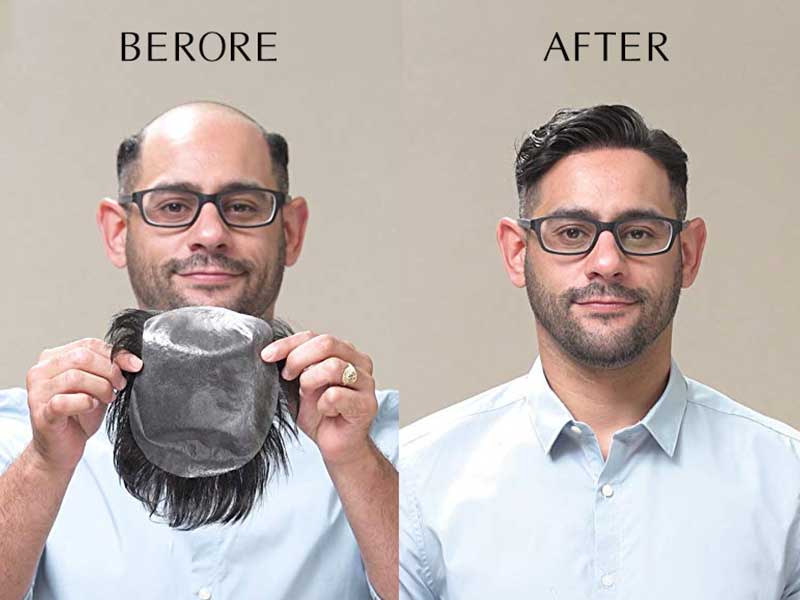 We have excellent toupee pieces of various sizes and base types (mono, lace, and skin toupee) to fit different heads. All are sold at wholesale prices to make sure it won't cost you too much while the quality is still well maintained. 
Our hairpieces could help bring along a seamless voluminous hair look to men of any baldness situations.
The bottom line
Above are the popular stages of male pattern baldness stages that men often encounter. Lewigs hope that after reading, you might determine your own situation in order to opt for a suitable solution. In case you are not really sure about your hair loss symptoms, you could consult a doctor or contact us directly to know more.
Should you need any further assistance, feel free to raise your voice by commenting down below or contacting us directly via our hotline. We are practically online 24/7.