You have seen this floating around on TV: Lionel Messi hair or Messi hairstyles. 
Today, we don't mention the top footballer's career. We are looking at his evolution on his hair. Messi hair cut is a point of interest among fans around the world. We will cater to you. Below is the basic information of the on-field star, which provides fans an overview of Lionel Messi.
Who is Lionel Messi?
Lionel Messi, also known as Leo, is an Argentinian footballer. He was born on June 24, 1987, in Argentina. Leo is now playing for the FC Barcelona and the Argentina national team. During his career, Messi is drawn comparisons to another famous Argentinian player – Diego Maradona.
Messi is one of the best soccer players of all time. Play soccer very soon, the star has scored over 700 senior goals for his national team and club.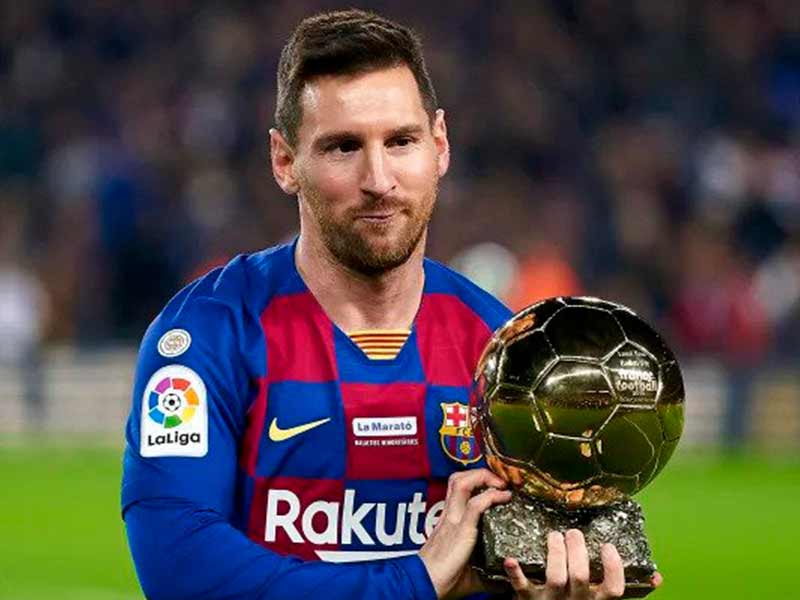 Some best highlights of Messi's career:
– A record six Ballon d'Or awards
– FIFA "World Player of the Year" honor
– A record six European Golden Shoes
– 10 La Liga titles
– 4 UEFA Champions League titles
– The player for most goals in La Liga (445)
– A record for most goals in 2012
Other inspirations:
Lionel Messi's salary
According to Forbes, the famous player signed the ninth contract with the FC Barcelona for the 2020-21 season in 2017. On average, he receives $667,000 weekly and over $80 million annually. That is not a small amount of money. As of 2019, Messi is the world's highest-paid soccer player in the world.
Not only be an on-field star, Leo Messi is also an influencer in public. He earns money from becoming the commercial face for a bunch of brands, such as Adidas, Pepsi, EA Sports, and other companies.
As of 2020, his net worth is about $400 million. It makes him become one of the wealthiest athletes across the globe.
Messi hair color
We are sure that everyone is curious about the question "what color is Messi hair." It"s dark brown. He usually wears his natural hair color in different styles and lengths. Sometimes, you may see his colored hair in blonde. He explained that he dyed his mane as he made a change to start from zero.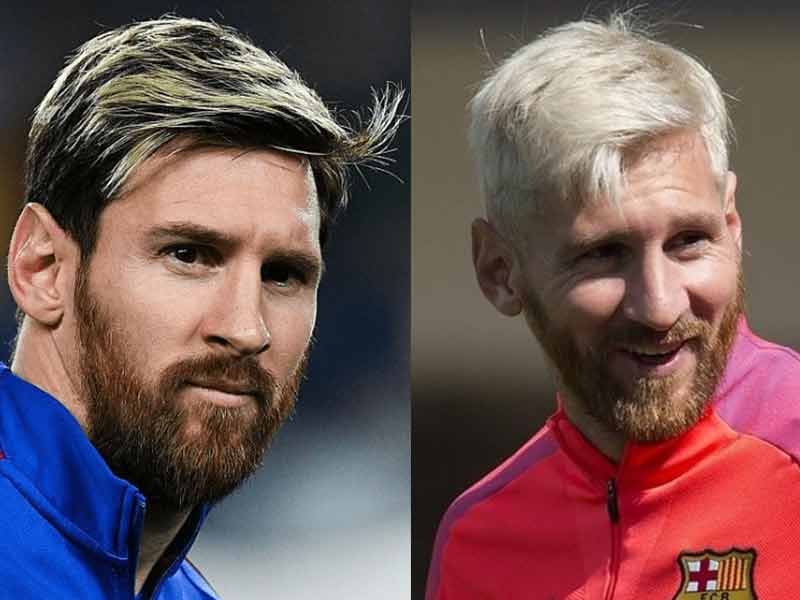 Lionel Messi haircut
Each of Messi haircuts becomes famous among men's hair and is copied by his fans. From his early Mullet haircut to his short layered cut, they become a trend immediately.
Here are some of the most Messi iconic haircuts:
Fluffy Mullet haircut
To begin with, we back at the start of the football star career. Messi rock this long hairstyle in the early 2000s when he was on the Barcelona senior side. Some commented that Lionel Messi long hair was not well-groomed. But we think this cut might be a hot trend at that time.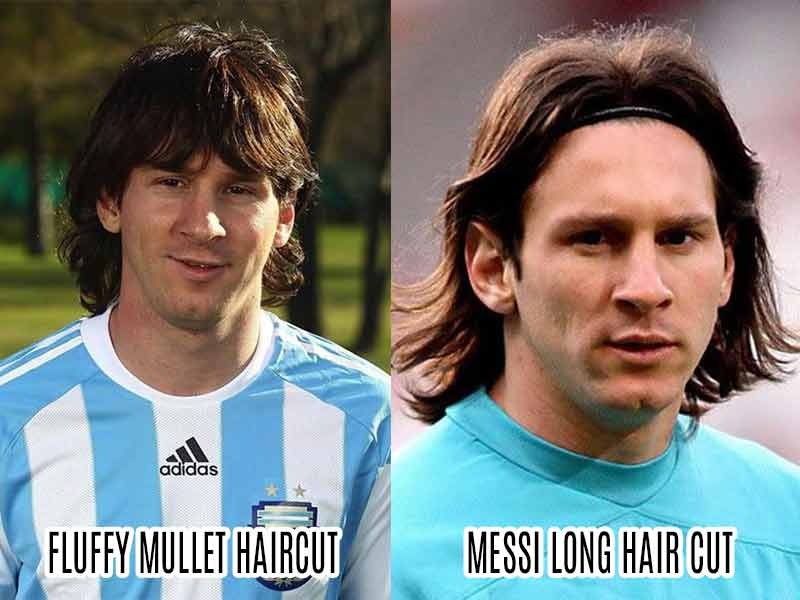 Messi long hair cut
What do Leo Messi and David Beckham have in common? They are the world top footballer, and all two succumbed to the hairband. Why?
In summer 2008, Messi and his Argentina team got Olympic gold, and he appeared with the long locks and hairband. However, his haircut was a masculine oldie yet goodie. If you plan to grow long hair, just rock this look for an aesthetic but still masculine appearance.
Short layered haircut
It's a signature shortcut of Lionel Messi hair. Consider this look if you crave on the classic hairstyle for men. Messi plays a vital role in making it become a trend now.
The hair is carefully cut shorter at the temples and back of the head, and longer at the top. Copy Messi hair if you would like to add more movement and creating a manageable style.
Also, you can style the hair by sweeping curls up top backward or over to the side. Use hair spray or apply other hair styling products to keep the hair in place.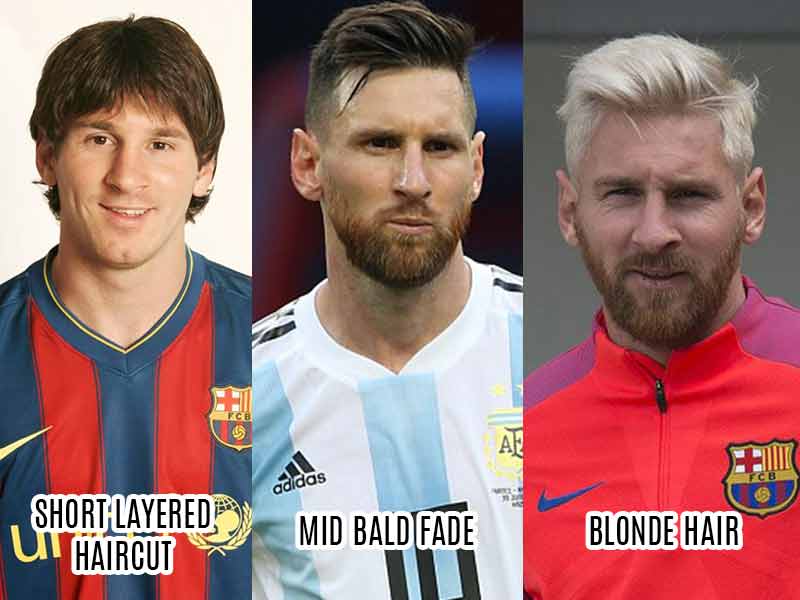 Mid bald fade
It's no surprise when the famous soccer player adds this style to his hair collection. Lionel Messi new hair looks cool and suits his nature of work. Rock it in the summertime, and it helps keep you cool.
Fade hairstyles are trendy right now and suit for most facial shapes and any ages.
Messi blonde hair
Are you familiar with the images Messi with blonde hair? In 2016, the star wore platinum blonde hair that was eye-catching. And his hairstyle was the talk of the town at that time. He received a major reaction from his fans across the globe. Messi said that he decided to change his hair color as a chance to "start from zero." He was for a fresh start. 
Read more:
Blonde faux hawk
Speaking of Lionel Messi blonde hair, we can't skip this cut. The faux hawk style gives him a masculine yet trendy look. You may notice Messi with blonde highlights across his dark-based hair, brightening his face and contrasting with his beard color.
If you want to take advantage of your natural hair color, try sporting this haircut. You can create another version by replacing blonde with light brown if you wish.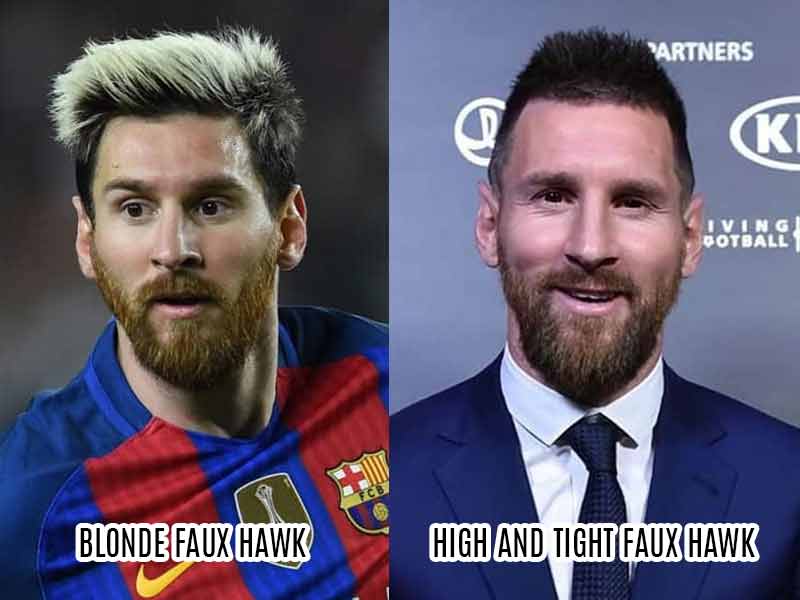 High and tight faux hawk
Never depicted himself as a fashion icon, but Messi hair always a hot topic at any time. The high and tight faux hawk is a hairstyle that marks the beginning of the stylist era of the on-field superstar.
Your hairstylist will trim hair closely to the sides of your head and keep a high and tight cut to mimic this look. Apply pomade to hold hair strands up over your forehead and look shiny.
In the bottom line,
Lionel Messi has got various hairstyles, and we believe his most recently classic cut is as popular as ever. Messi with long hair or dyed hair, all styles are remade and copied by the number of men worldwide.
In general, Leo Messi is not only a highly ranked footballer but also an influencer to the public. Every aspect of the star, including career, lifestyle, and even Messi hair, is a standard for many people. You are not a famous soccer player like Messi, but you can copy his haircut. 
Hope you enjoy our post.