Hair has an important role to play in enhancing the beauty of every woman. Each one can improve their looks by changing their hairstyles but some may experience certain obstacles while doing this. This is because of the slow hair growth rate or several hair problems such as fine or thinning hair. Therefore, many women reach out to hair extensions, the most effective and fastest way to possess gorgeous hair. Whether you wish your hair to look longer or fuller, there are a bunch of extensions types that meet your needs and micro fusion hair extensions are one of the solutions available to you.
What are micro fusion hair extensions?
Micro fusion hair extensions are also known as micro loop, micro ring, micro link cold fusion extensions. It is applied strand by strand to your hair with the help of small silicon rings that are attached to the i-tips extensions. The installation requires a professional stylist. This process takes time as the installer need to pull your hair strands through the loops then clamp gently by extensions pliers.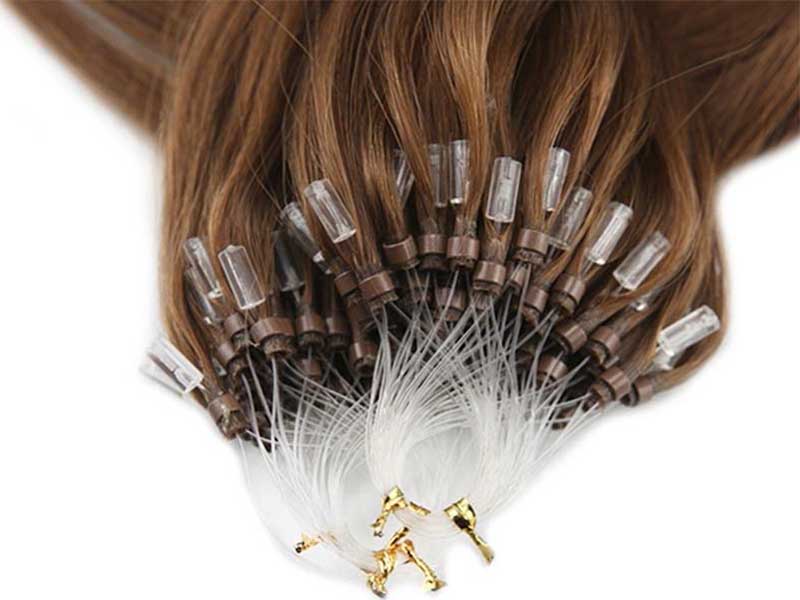 How long do micro fusion extensions last?
Micro link extensions can last up to 6 months. Their lifespan depends mostly on the way you take care of them and the hair used to make the extensions. In general, high-quality hair such as virgin human hair not only offers a natural look but also prolongs the life of the extensions.
Similar posts:
How much do micro fusion hair extensions cost?
The price of micro link hair extensions depends on the source, the amount, and the length of hair. If they are made of human hair, they will cost much more than the ones made of synthetic hair.
Each pack of micro fusion extensions costs at least $29.99. If you want to install extensions for a full head, you may need up to 5 packs, which means it may cost you about $150-$200 for the extensions only. With the application by specialist hairstylists, it will cost no less than $600.
You can see that among various types of extensions available in the market, the micro ring hair extensions can be considered as the most expensive ones. However, their long lifespan can easily make up for the high price tag.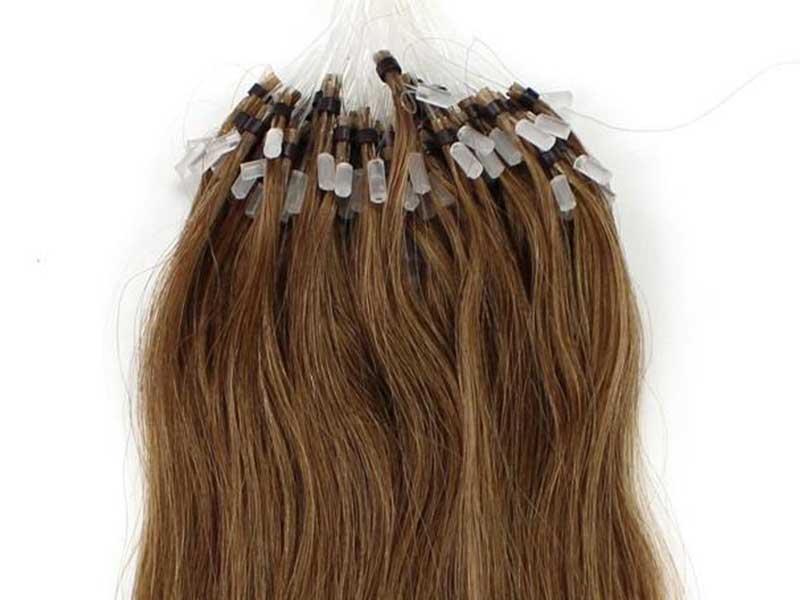 Pros and cons of micro fusion hair extensions
Pros
Longevity
Micro link hair extensions are semi-permanent hair extensions so they will definitely last longer than other types. Compared to a 2-3-month lifetime of other kinds, micro link extensions can last up to 6 months or more if they are made of virgin human hair and receive proper care.
Natural look
This is the strong point making many girls fall for this type of extension. Because micro fusion extensions are installed strand by strand near to the scalp so they look exactly the same as your natural tresses, giving a natural and seamless look that no one can recognize whether you are wearing extensions or not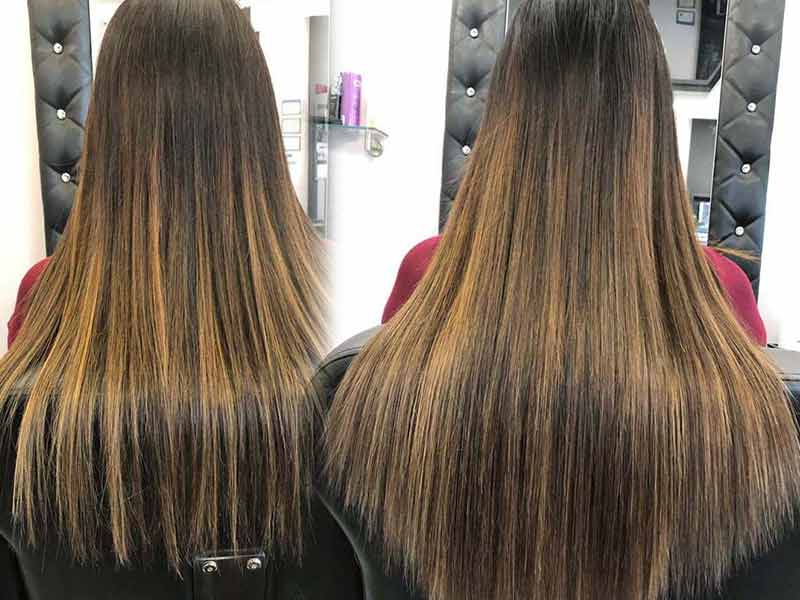 Extra volume and length
Short hair or fine hair may stop you from getting your favorite hairstyle. So cold fusion hair extensions will be your best choices. Strand by strand installation will offer you a much fuller and thicker look naturally. The length of your hair will be added to the extent as you desire as well.
Versatile hairstyles
Micro link hair extensions are installed strand by strand, holding firmly to your natural hair so that you can definitely style your hair in any way you wish. You can braid your hair, get up-do or hair buns or wear it down while wearing this type of extension. Furthermore, with strand-by-strand installation, you can do your hair highlights or a balayage hairstyle. Also, if your micro fusion hair extensions are made with virgin human hair, you can color or dye it as well.
Cons
Require a professional Stylist
The process of installing the micro ring fusion extensions requires a lot of effort and carefulness so it cannot be done by yourself or anyone has not been certified in hair extension installation. Hence, before booking an appointment for installation, ensure that the stylist is a professional one. If there are any mistakes, even a small one while installing, your hair will end up with a mess.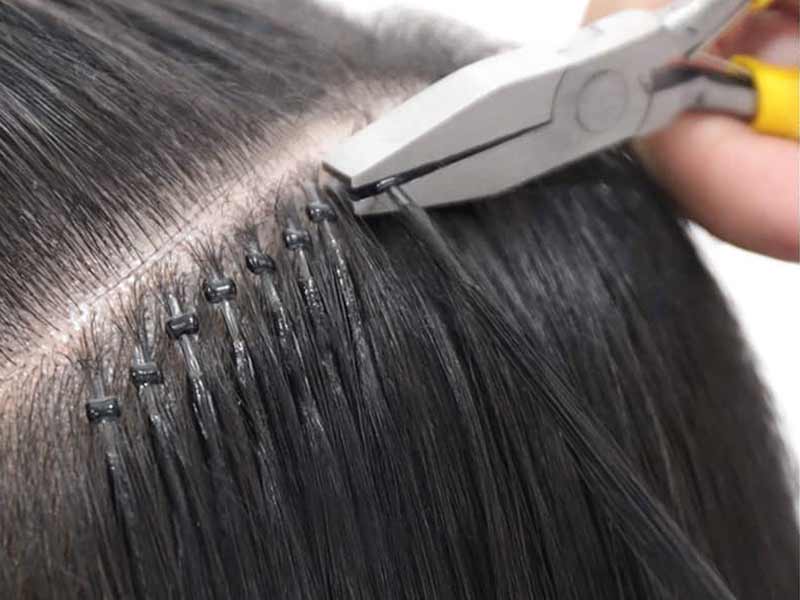 Take time for installation
The applying process can last anywhere 3-6 hours for a complete look because it employs a strand by strand installing method. The duration of time depends on the density of your hair.
Not reuse
Micro fusion hair extensions are semi-permanent extensions. You cannot apply and remove it frequently or reuse over time like some other types of extensions. Furthermore, uninstalling the fusion hair extensions is not easy so that you should only take them off once you do not want to use them anymore or their lifetime reaches the end.
You might also want to read:
Micro loop vs hot fusion hair extensions
Micro loop extensions are the advanced type of hair extensions. They are created to become a safer and gentler alternative option to keratin or glue bonding installations. Without using heat or adhesive like other types, micro beads still can help the extension stay firm on your natural hair for a long time. Moreover, it also reduces the risk of hair damage related to heat.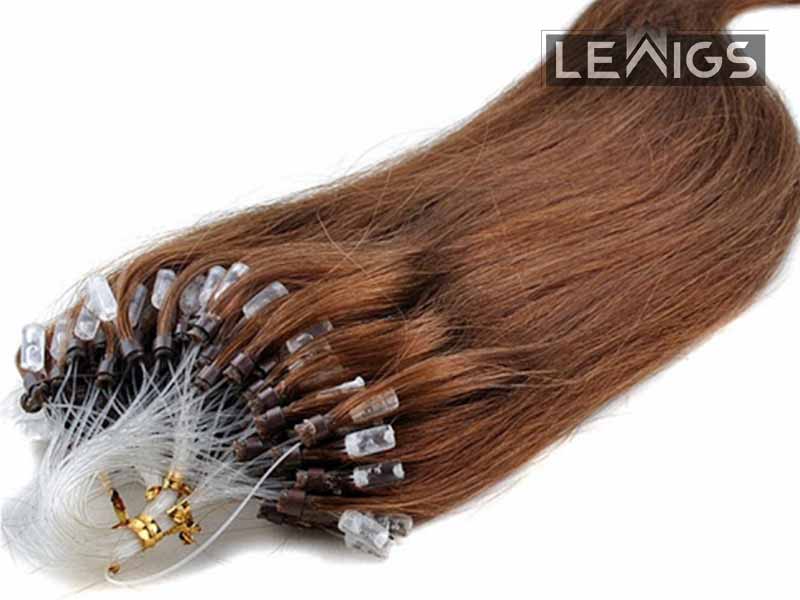 Our conclusion
Micro link hair extensions will never let you down. They are one of the best solutions which can deal with almost all hair issues. Whether you want a longer or thicker hair look, this type of hair extensions can slay it all. This may take time compared to other types of extensions but the micro fusions hair extensions can hold more firmly to your hair for a longer amount of time.
We hope that after reading this article about micro link fusion hair extensions, you can have a better understanding of this type of extensions.
If you want to know more about hair extensions, visit our Lewigs blog for more interesting articles!