Oily hair is the frustration of many males and females. If you shampoo hair too frequently, it can damage your bio hair since it makes the hair follicles weaker. However, fear not because there are a number of methods to get rid of oily hair. And most of these ways come from ingredients in your kitchen. Read on to know more about oily hair remedies. 
Causes of Oily Hair
When sebaceous glands are overactive, it produces too much sebum. That's why your hair becomes oily and grease. In theory, sebum is beneficial for your mane as it keeps hair strands stay healthy, prevents dry hair, etc. However, too much sebum can make your hair look greasy and slick. Furthermore, oily scalp is a nuisance since it is also related to dandruff.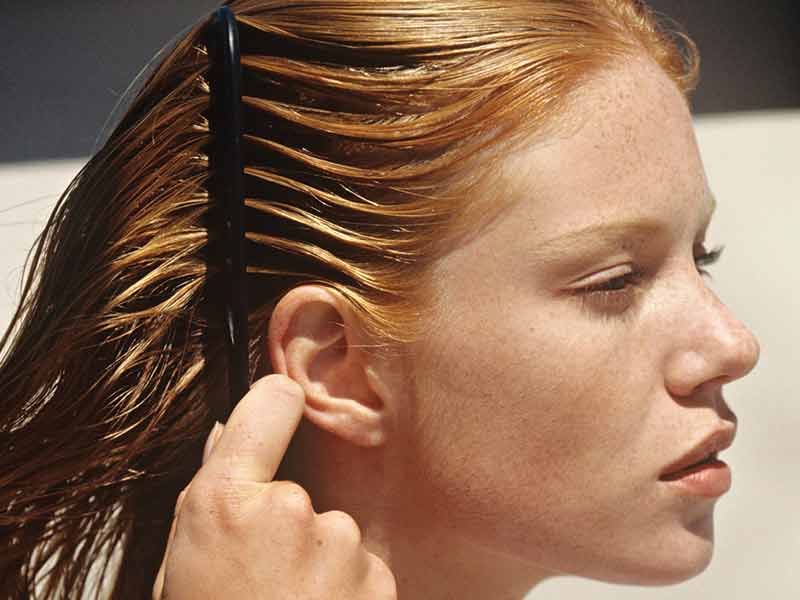 Summer heat also the reason causing greasy hair. The increasing of pollution, dust affects our health and hair. Apart from taking care of the skin, it is very important to care for your hair properly as well, especially you are oily one.
Here are several home remedies for oily hair that may help you improve your hair and scalp condition.
Read more:
Remedies for Oily Hair
Deep clean with aloe vera
This is one of the most natural remedies for oily hair. Especially, it works effectively to protects your hair in the summer months. Aloe vera creates a great scalp and hair mask because it can remove all extra oil and the product buildup. Plus, it soothes the scalp and leaves soft and healthy hair.
You need 1 tablespoon of aloe vera gel, 3 tablespoons of lemon juice, and a small amount of your existing shampoo. Mix them together to create a mixture and apply it on your hair as you do with your shampoo. You should apply the mixture twice a week and you can see the change in your hair. The hair greasiness is improved well.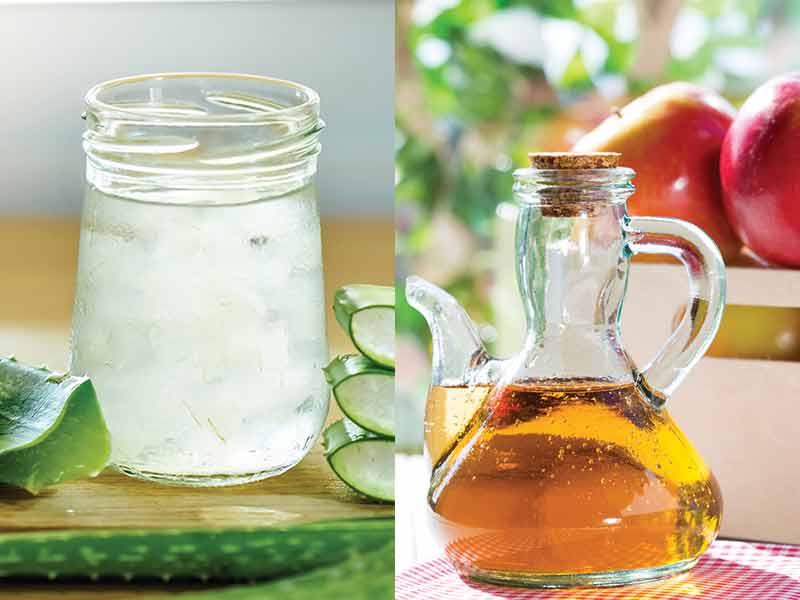 Rinse with apple cider vinegar
How to get rid of oily hair? Apple cider vinegar can be used to de-slick the oily hair effectively. It has astringent features that can reduce the production of oil from the scalp. What's more, the vinegar helps to restore the scalp's pH balance, therefore, it controls oil production. You should not use apple cider vinegar directly. Dilute into a 1:8 solution with warm water. Or you can mix 3 tablespoons of the vinegar to a cup of warm water, then pour it through your natural locks. Leave it on your hair for a few minutes and rinse with fresh water. The method is natural, so you can apply the mixture 3 or 4 times per week to get the best results.
Sprinkle baking soda on the scalp as the useful thin oily hair remedies
Baking soda is abrasive, so it is much more effective for those with extra oily hair. It will leave your dry hair and scalp after using it. Apply the powder as your existing shampoo and see the change of your hair look. It is one of the oily hair remedies quick and safe you can try.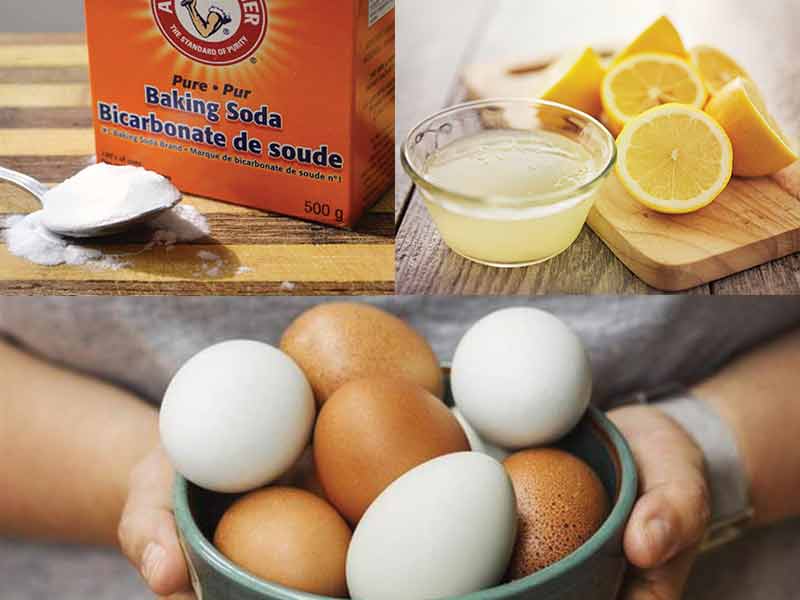 The mixture of lemon juice and egg
The combination of lemon juice and egg can do wonders for your natural locks. Apply these oily hair home remedies, it will not let you down. Lemon itself supplies a lot of benefits when it is applied to your hair and skin. Take 2 eggs and you have to separate the yolk. Then pour a cup of lemon juice to it. Mix and apply the mixture thoroughly on your hair. Gently massage so that it absorbs to your scalp. Leave it on your scalp and hair for 10-15 minutes. Once it is done, rinse off with cold water and check out for results.
Use black tea to wash the hair
Try oily scalp hair loss home remedies to get nice hair all day long. The black tea bag has more benefits than make a mean cup of tea. Fill a pan with hot water and a black tea bag. The tannic acid in the tea will help break down the grease in your scalp and strands. Also, the caffeine containment in black tea is known to block the DHT hormone that is responsible for hair loss.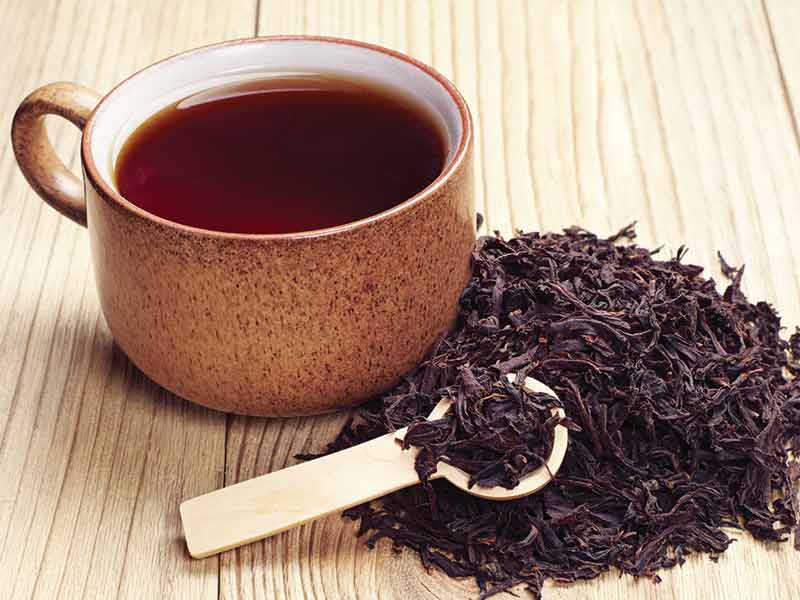 Other benefits of black tea rinses:
– Help reduce hair shedding
– Strengthen the hair
– Promote hair growth
– Remove dandruff
– Restore hair shine and color
To create home remedies for dandruff and oily hair, you take a small saucepan and put 2 full cups of water into it. Then add 3 tea bags. You are going to turn cook on high heat and allow the water to boil for about 5-10 minutes. Switch off the stove and strain the tea leaves. Leave it to completely cool down. Pour the tea water directly into a spray bottle. Your hair has not really been washed, then you spray the content onto the root of your hair and scalp. You also massage it in to make sure that individual strands are fully covered. Once your hair has been fully saturated with the black tea, leave it for about 30 minutes before rinsing it out. You should follow it up with a deep conditioning treatment.
Jump to:
Shampoo your hair with products formulated for oily hair
Opt for products containing natural ingredients such as tea tree oil, lemon juice, seaweed extract. These components are useful to remove excess oil from the scalp. Don't buy shampoos that promise shiny hair as they are not for oily hair. You can use dandruff shampoos to get rid of the buildup of oil and dandruff. These remedies for oily hair and dandruff help you stop struggling with greasy hair and itching feeling.
Don't touch your hair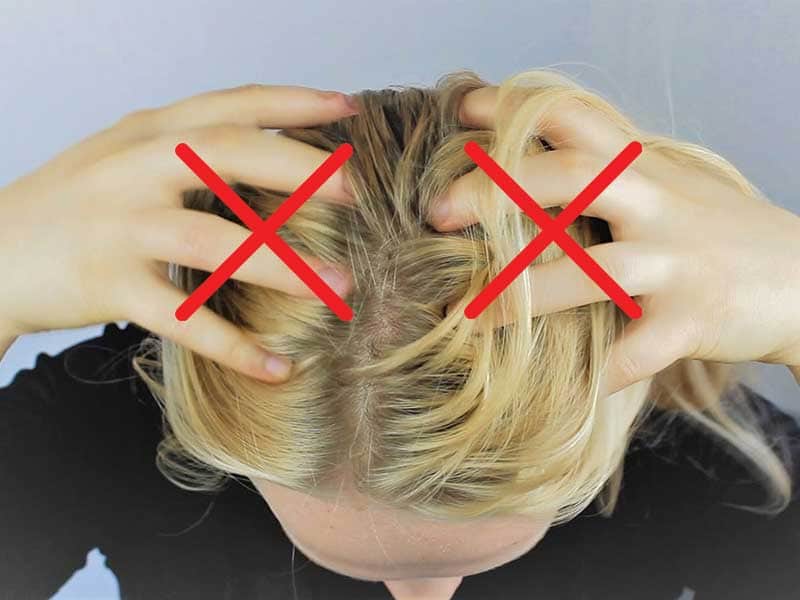 You are looking for oily hair remedies without washing, use this method. Although it is not a big deal, touching your hair too much affects the look and feel of the hair. Like your hair and skin, fingers also produce oil. When you touch your hair, it can be easily transferred to the natural locks, causing greasiness. So, hand-off if you don't want to see your hair worse.
Final Words
Above are excellent stop oily hair home remedies that Lewigs want to recommend to you. We hope that you can find a suitable way for you. Most of these oily hair remedies work effectively to dry hair strands and scalp, so don't hesitate to try it out. 
Should you have any questions related to remove oily hair or care for natural locks, feel free to ask us at any time. We will get back to you as soon as possible.