Ponytail hair extensions may sound new to some women. You may be curious about what they are and how they work on your hair. To answer all of these kinds of questions, today Lewis will share with you some basic knowledge of this type of hair extensions. Let's read through to check it out!
What are ponytail hair extensions?
You may wonder what 'ponytail hair extensions' are, simply they are just a kind of hair extensions which are styled in a ponytail. The basic requirement to wear these types of hairpieces is your hair length, it must be at least up to your neck.
Ponytail extensions may come with various types with different textures and shade colors from dark black to light blonde.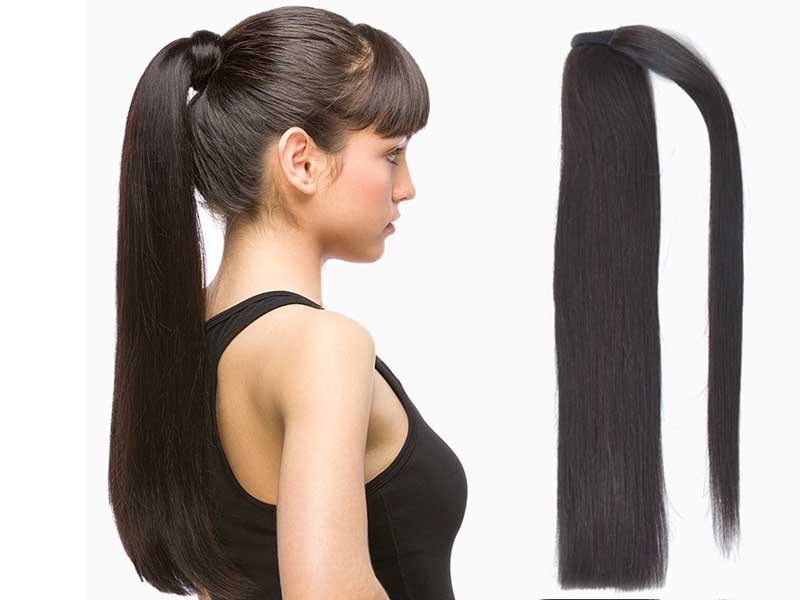 Advantages of ponytail hair extensions
Easy to install
From the comfort of your corner, you can absolutely wear clip-in ponytail by yourself. Whether your hair is in good condition or not, you are still able to put the extensions on your hair. With a ponytail extensions, you can easily transform your oily or greasy hair into a classy elegant look.
Add length and thickness with a ponytail look
If you see your natural tresses is so thin and fine to have a ponytail, wearing ponytail extensions will be the best solution. Especially with real extensions, not only does your hair look many bouncers and thicker but also more natural what no one can know you are using a hairpiece.
Offer a bunch of trendy hairstyles
You might think once you style your hair into a ponytail and that's all. However, human hair ponytail extensions can give you more than just a ponytail. You can wear it in low ponytails, high ponytails, or even style it in a bun or braid it. A fishtail one might be awesome!.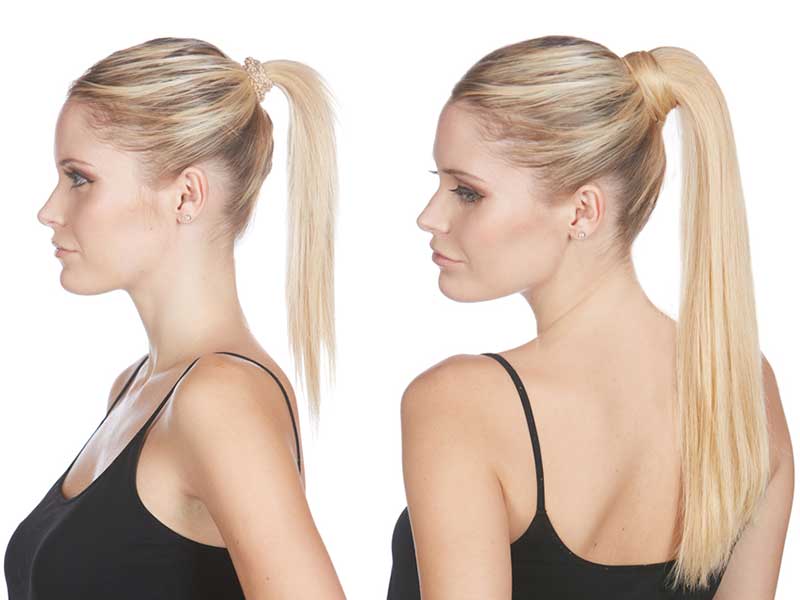 How to apply clip in hair extensions ponytail?
Almost all ponytail style extensions are made with the clip-in one. So now, let's learn how to do a ponytail with hair extensions.
Note: If you want to use heat methods to style your hairpiece into curly ponytail or bleach and dye it into other colors, we suggest you do that before installing it onto your natural hair.
Similar posts:
Step 1: Create a ponytail with your natural hair.
Comb your hair to detangle and make a high ponytail at the crown of your head. Adjust your ponytail that is a bit higher than where you intend to put on the extensions then use a tie to fix it.
Step 2: Comb your ponytail hair extensions
Gently use a loop extensions brush or a wide-tooth one to comb and detangle your hair extensions.
Step 3: Secure your ponytail extensions
Locate the clips inside and position the strap or drawstring inside your clip in ponytail so that it will match with the thickness of your hair and then secure it firmly.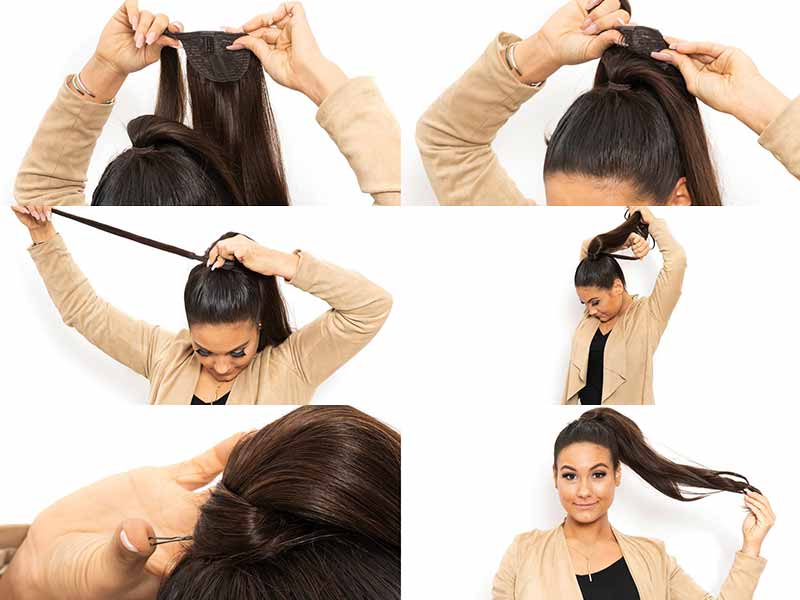 Step 4: Put the ponytail extensions on
Gently clip the comb attached on the extensions into the place beyond the hair tie that you use to secure your natural hair. If it goes with a drawstring, pull it until the extension holds tight to your hair. Afterward, put the string inside the base of your ponytail to hide it.
Wrap some hair strands around the base of your ponytail to hide the band then use bobby pins to hold it in place.
Step 5: Style it!
Once your ponytail extensions are firmly secure on your head, you can style it in any way you desire.
Warnings: Make sure you will not apply your clip in hair extensions ponytail too tight since it may cause your natural hair to break. It will be better to adjust the position of your extensions from time to time.
Which hairstyle can go with ponytail extensions?
Low ponytail
To do a low ponytail, you just need to style your natural hair at the nape of your neck before applying the ponytail extensions to your hair. Then follow the guide to install above and have a nice look!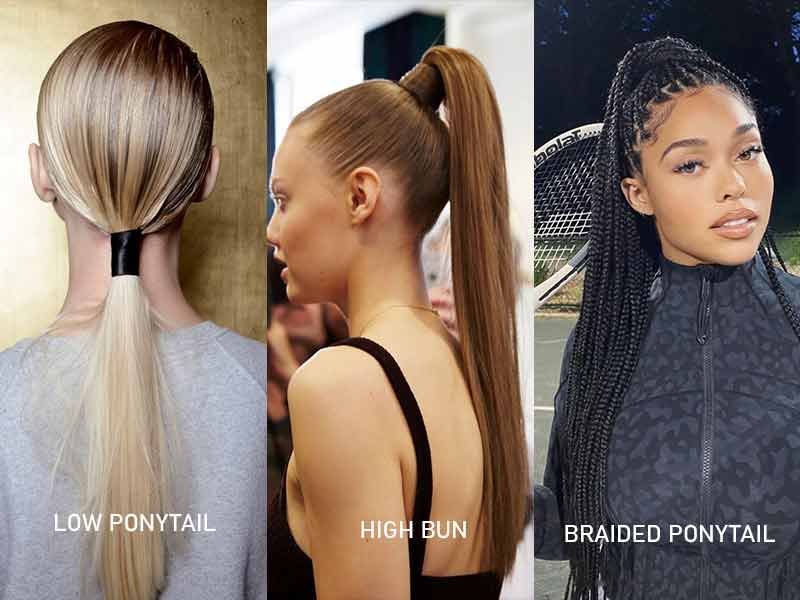 High bun
To have a gorgeous bun, firstly, wear your extensions at the crown of your head. Then, section your hair into 2 parts and twist them with each other to make a rope braid. wrap the braid around the base of your ponytail and secure it with bobby pins.
Braided ponytail
It is so easy to do. Just simply braid the ponytail in the style you love after finishing installing the extensions.
Ponytail hair extensions FAQ
How long does it take to install ponytail extensions?
It just takes you a few minutes for a complete look. With a bit of practice, you can do it by yourself in less than 5 minutes for a thicker, longer, and bouncer look.
How long should my natural hair be?
Your hair must be enough to make a small ponytail, medium-length our shoulder length is perfect for applying ponytail hair extensions.
Read more:
Do the ponytail extensions easily fall off?
If you install the extensions correctly, it will hold tight on your head and hardly come undone.
Is it possible to wash ponytail extensions?
Yes, you can wash your ponytail hair. We suggest you wash them only when they have too much buildup and after every 30 wear. Choose the gentle and natural products to wash your extensions and condition the hair for a more sleek and gorgeous look afterward.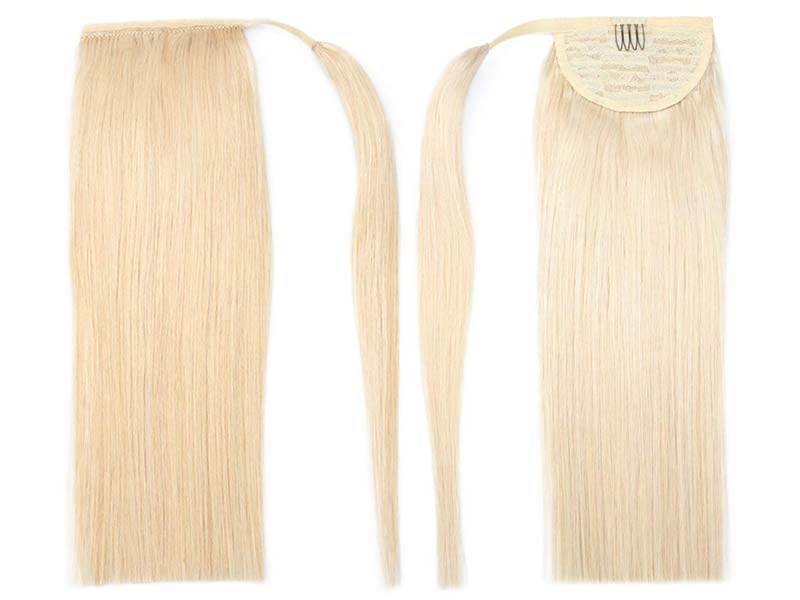 Is it possible to cut ponytail hair extensions?
You can have a professional hairstylist trim the length of your ponytail hair extensions to the extent you wish. Real hair extensions are much easier to cut but still look natural.
How to choose ponytail hair colors?
Because ponytail extensions are available in many colors, from blonde to the black one, you can easily choose one that matches your hair colors. We suggest you choose the colors of the extensions that can blend well with the mid-ends of your hair.
Our conclusion
Ponytail hair extensions will be your new best friend once you try then. They are one of the fastest solutions that can meet all your requirements for a neat look. If you want to have a natural look, we highly recommend the human hair extensions.
If you want to understand more about hair extensions and various kinds of it, have a look at our Lewigs blog for further interesting information.