There is a variety of hair extensions known as the protective styles for your natural locks. They supply coverage for your entire head, which means more protection for your curls. Quick weave with lace closure has become a hot item for recent years. It is cheap and flexible, easy to style. The quick weave is a less time-consuming idea than a sew-in weave. Would like to learn more about quick weave with lace closure, scanning through our words now. 
What is a quick weave with lace closure?
It is a method where the hair wefts are cut and glued onto a wig cap or hardening gel. The cap works as a barrier to protect your natural hair from adhesive.
Quick weave with closures can be manufactured professionally or at home. As its name, the process is simple and time-saving. Hence, it's cheap. Wearing this hair extension, it gives you full coverage with a protective style.
Benefits of the hair
– Easy to install, without the help of a professional hairstylist.
– Low maintenance
– Change your hair look in a glance without any complications.
– Offer flexibility with an endless range of styles
– Keep your natural hair from heat styling tools and chemicals
– It is cheap; hence, it allows you to experiment new looks without breaking your bank and no waste of time.
Be careful when applying glue on the hair, otherwise, it makes a mess. It takes time to create a quick weave as you have to wait until the glue dries before adding the next track. Be patient!
How long does a quick weave last?
The hair generally lasts for about 3-4 weeks, depending on how often you wear and maintain it. It is important to keep the hair from tangling and shedding. You should cover the weave in a silk scarf or bonnet, reducing friction.
You have a curly quick weave with lace closure, it would be better if you pin curls up. This helps protect your curls, so you can expand the hair's lifetime. 
Related posts:
Should or shouldn't wash a quick weave with closure?
Yes, you should keep the hair clean is a good way to keep the weave last longer. However, you should be as gentle and careful as possible when washing it. Opt for hair care products, including shampoo, conditioner, that are oily-free as they will loosen the bond, resulting in hair shedding.
How to remove a quick weave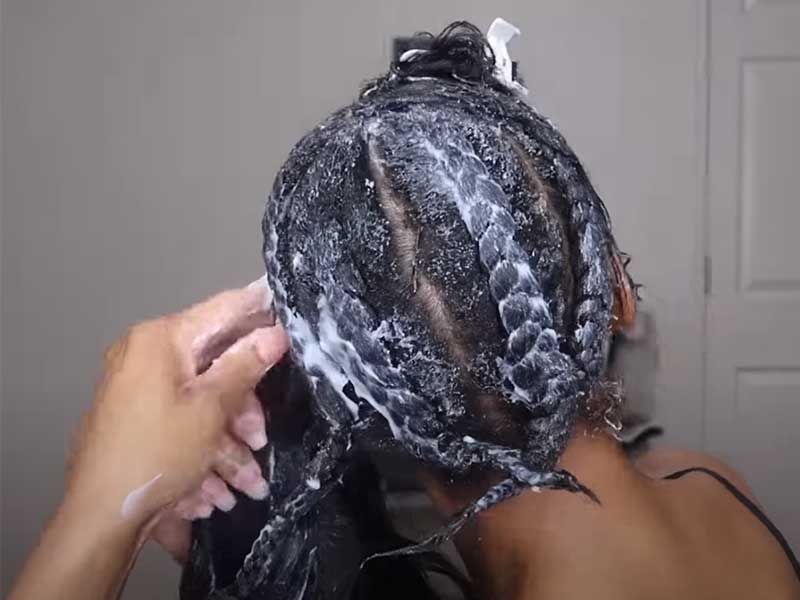 A quick weave is a go-to option for an effective change in your hairstyle in minutes. Similarly, it is not too difficult to take the weave out. How-to-do?
– First, you apply massaging oil or any products with oil-based into your hair.
– Leave it to sit for a few minutes so that the oil works to loosen the glue.
– When you notice the glue begins to unravel, gently strip the weave.
– Rinse your hair as normal and use a wide-toothed comb to remove all buildup adhesive. Done!
Does quick weave with lace closure damage your curls?
Amongst different methods to create quick weaves, glueing method with lace closure is the safest one. Also, it is the most popular method as it causes less hair damage.
If you are a long-haired girl, braid your hair strands, and use a stocking cap method. The cap will work as a barrier between your natural locks and the glue.
How to do a quick weave with lace closure
To have beautiful hair, we suggest using human hair wefts. It is durable and can be worn in different styles. With human hair, you can achieve a more natural look than synthetic hair extensions.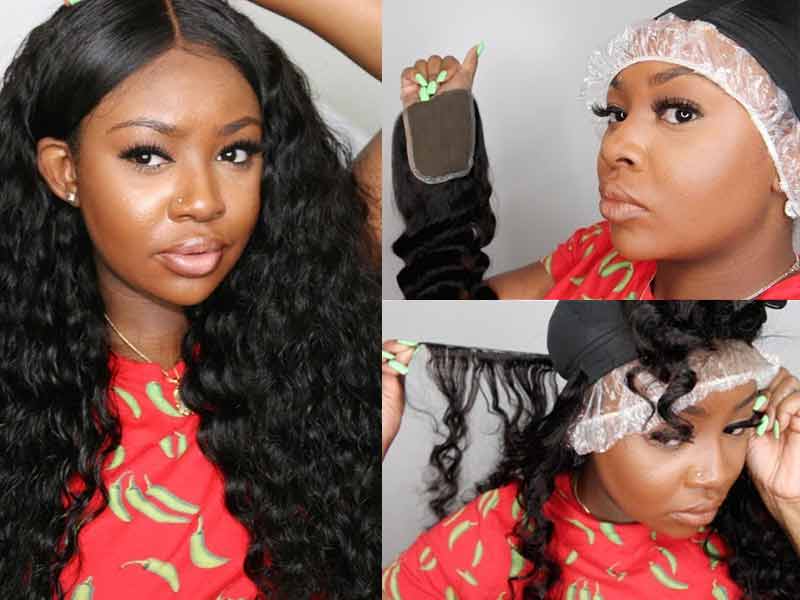 Things needed for a quick weave with lace closure:
– Hair weft
– Lace closure
– A wig cap matches your scalp color
– Wig glue
– Scissors
– Hair clips
– Blow-dryer
Jump to:
Detailed steps on how to make a quick weave wig with lace closure
– Wash your natural locks and dry it completely. Brush the hair and make cornrows or tie it up.
– Place your wig cap onto your head. Just cover the entire head and stick your braids underneath. The item makes it easier for wearers to get rid of the quick weave.
– Take your lace closure and pluck the baby hair for a realistic look. Place the hair in the head and cut the excess part of the lace to fit your head. Don't go for a straight cutting, just do in a zigzag motion.
– Figure out where you put the closure and mark it.
– Glue on the closure and press it onto the wig cap. Blow-dry it.
– Take your hair weft and measure the first track, from ear to ear. Cut the hair and glue on it. Press the first track into the wig cap, and then blow-dry it. Do the same step until you have hair to cover all the cap.
Best hair types for a quick weave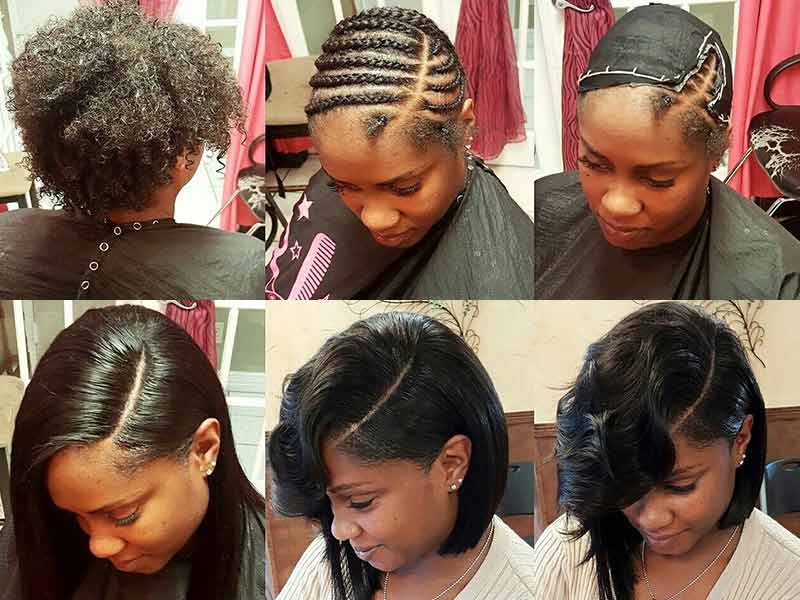 If you would like to make the best quick weave, choose the high-quality human hair types. Vietnamese or Cambodian hair may be the best excellent option. If you spend top dollar on human hair, you will have longer-lasting hair. Plus, you can achieve quick weave with lace closure hairstyles for natural hair for a seamless result.
Regardless if you are looking for human hair extensions to make quick weave hairstyles or wigs, it's a good idea for the glamorous look. Instead of styling your own hair, you can manipulate your hair look by coloring or curling the human hair weave.
In the last words
Quick weave with lace closure is flexible and fun; do not be afraid to try it out! Want to make a beautiful hairpiece, don't skip these above steps, we're sure you will succeed. The more desire you put into the making process, the better results you get.
Or want to buy lace closures to construct a quick weave, browse to Lewigs website. Here, you can get high-quality hair systems at wholesale prices. Our hair is made of raw Vietnamese and Cambodian hair, which means that you can color or restyle it as you desire.
Want to get further information about hair weaves or other kinds of hairpieces, don't hesitate to reach us.