Wigs today have become a must-have item and there are plenty of famous figures wear hair systems. They wear hair wigs for different purposes like for a movie role or to conceal their baldness. Instead of taking transplants or dying their own hair, wearing wigs is the best and fastest way to change their hairstyles. You wonder who they are. Here is a list of rock stars who wear wigs that may surprise you.
Chris Martin
Chris martin rose his fame as a part of the famous British rock band – Coldplay. In 2000, he appeared in a video with his less than perfect hairline. In fact, he was even brave enough to experiment with different hairstyles. But in this photo of him with a shaved head you can very clearly make out the M-shaped of a receding hairline.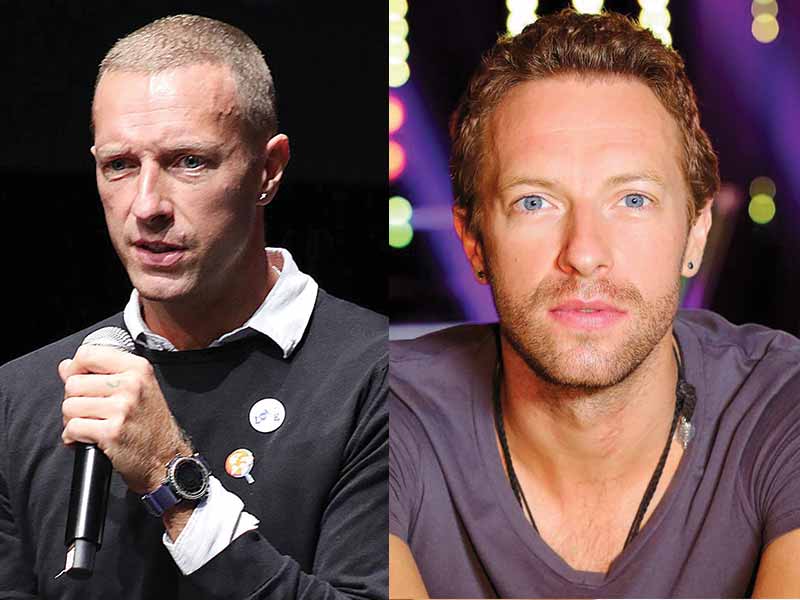 Still, a few years later, his bald spot disappears mysteriously. He may have taken hair transplantations. It is an effective hair loss treatment to stop receding hairline further. 
The difference between the celeb's hair on each picture is clear. He still appears with his perfect look and thick hair. Whether Chris wears a wig or not, he would forever in the heart of millions of fans. Most of his fans love him because of his songs, not his hair, or his styles. 
Similar posts:
A. J. McLean
The Backstreet Boy A. J. McLean is the next celeb figure in the list of rock stars who wear wigs. Despite the success of the career in the 90s and early 2000s, A.J. are a victim of the tortures of hair loss. He used to wear many different hairpieces to conceal his hairless. That's a reason why you see a vast collection of his hairstyles over the years.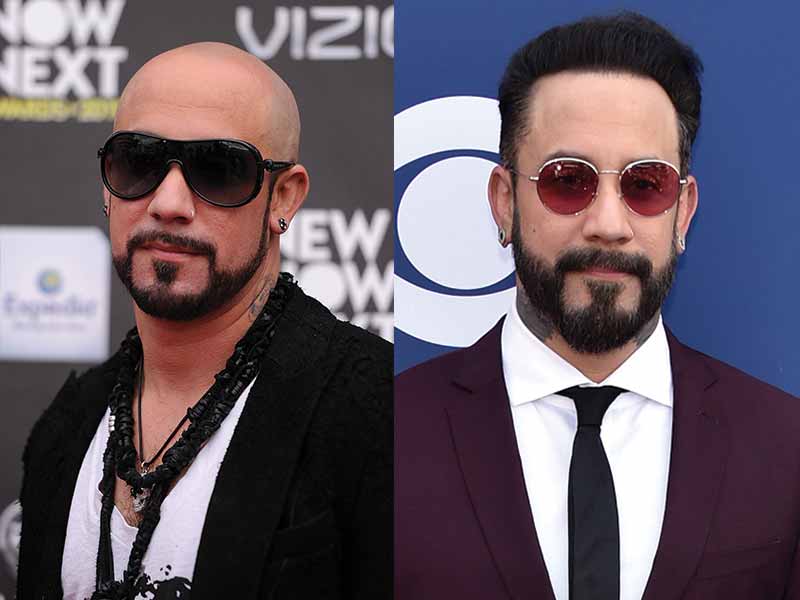 After years of wearing hairpieces, A.J. decided to have a hair transplant. He did not afraid to show pictures of his head before and after taking a hair transplant on his Instagram. He says he is happy with a new head. With a head full of hair, the star looks younger than his real age. 
Elton John
The British singer Elton John is one of the bald rock stars who wear wigs in this list. Do you know him? He usually appears on the stage with spectacular glasses. His hair is totally bald underneath the wig. Many photographs on the Internet are the evidence showing that he had baldness throughout his career.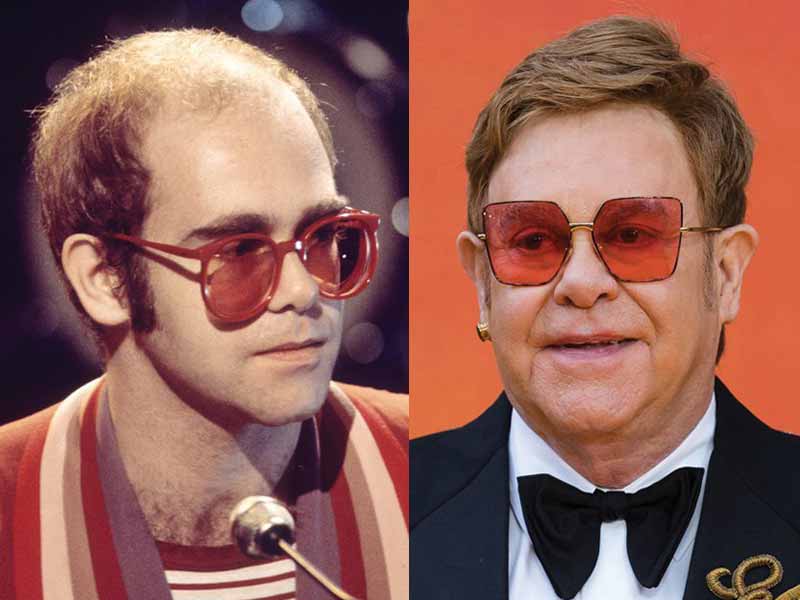 The music icon also admitted on air that he experienced with hair loss and baldness due to his unhealthy lifestyle. He was self-confessed that he was an alcoholic and ex-cocaine user in the past. You may know cocaine is the main cause of telogen effluvium stopping hair growing temporarily. Also, poor diet makes the hair problem seriously, leading to alopecia areata. Besides, the heredity also affects on his hair. His mum told him to enjoy his hair while he could as she is aware of the strong baldness gene in his family. In fact, Elton John got his baldness when he was 20.
Jude Law
Who does not know Jude Law? Do you know that Jude is among the male rock stars who wear wigs? His head now seems to be thicker and fuller compared it was in 2013. At that time, he appeared with a thinning crown and a receding hairline. Later, at the Toronto Film Festival, Jude surprised his fans and audiences when spotting a curly and more voluminous head.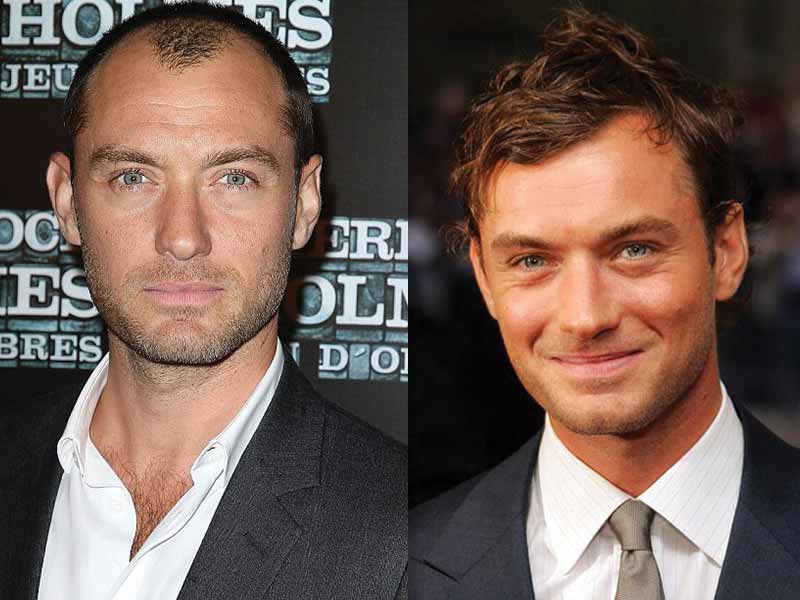 The change of his hair looks makes many people think that he was bald and wore hair wigs to hide it. However, Jude has not spoken publicly about whether he has his natural hair.
Hugh Laurie
The English male celebrity had the signs of balding and thinning hair is his crown area. Before, he had a fuller and dense head. But on many interviews in 2018, he appeared in front of the cameras and refrain wearing a hairpiece to conceal his thinning hair.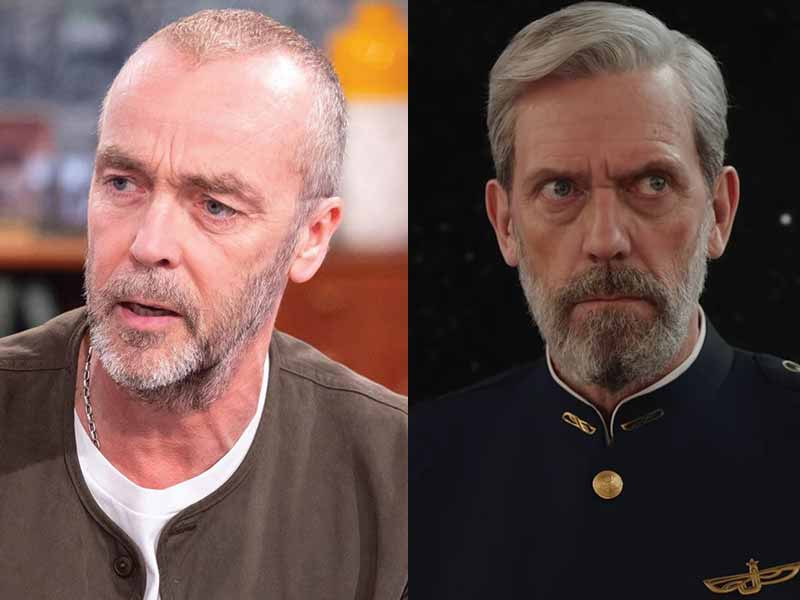 The male celeb seems to love his shiny head more. However, he is still hot-looking with and without his hair wigs. You are fond of his look with the wig or without a wig. Honestly, I love the way he is.
Gene Simmons
The last famous figure in our list of rock stars who wear wigs is a versatile artist – Gene Simmons. There are many rumors that Gene Simmons wearing hair systems over the years. The 70 years-old man has used his hair wigs on and off the stage for decades.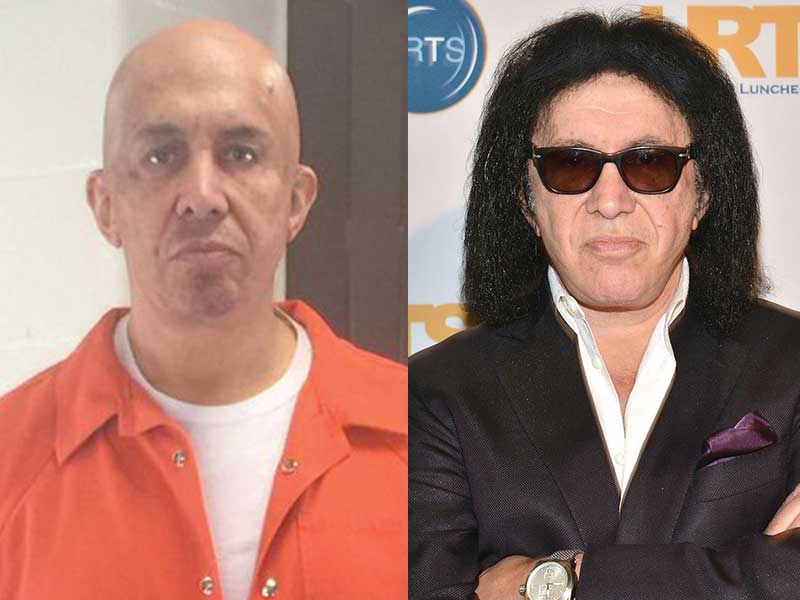 In 2017, Gene shared a photo on Instagram in which he wore a prison jumpsuit and completely bald. Compared pictures between his hairless and wear a wig, Gene with hair on top of his head makes him look younger than his age.
Phil Collins
Phil Collins is also one of the famous rock stars who wear wigs. He was a member of the Genesis band – champion rockers in the 60s. Then he separated and also famous for his solo career. Before he used to wear wigs to change his hairstyles regularly. But now, Phil is 58 years old and he always appears with the cue-ball look on his head. 
Our article about rock stars who wear wigs is written to make fun of celebs struggling with their hair problems by wearing wigs. Our aim is only to encourage those with recession hairline or thinning hair to explore hair systems to wear. We commit that hair wigs will bring your confidence back. They are exactly designed to help people suffering from hair loss and other hair problems. You will have chances to enjoy fuller and thicker hair with this non-surgical method.
You'll also like:
Do you know any famous rock stars who wear wigs? If yes, leave your comments below and we will consider the name for inclusion. Or if you are experiencing hair loss, you want to hide it. Don't hesitate to contact Lewigs and place an order. We give you a piece of advice and offer you the best pick. We guarantee that our hair will never let you down.