As you know, side-swept hair men used to be popular among artists, singers, etc. Still, the scope of these styles has been rising owing to their popular attraction. They can be a side part undercut or normal side-swept hair, but most of them offer wearers a fresh look. Do you wear it with texture? Or can you add some curls to make it perfect? You can say for sure that you can style men's side-swept hair for any event and occasion.
Come out with many different options, choosing the right haircut may be difficult. Luckily, Lewigs has some of the top picks for you. That way, you will be able to find the new, professional, cool hairstyles for those with side-swept hair men. Now, select and rock the best one. 
How To Style Side Swept Hair For Men
Guys love side swept haircuts for a reason: since it is flattering hairstyle. Many celebrities have sported this haircut like Zac Efron, Leonardo DiCaprio, Jake Gyllenhaal, and more. Side-swept hairstyles are becoming popular as a favorite one for men during the red carpet event. It looks great without looking dull, doesn't it? What's more, it gives men's facial features to stand out. Here is our tutorial on how to style get side-swept hair guys.
Step 1: Prepare your mane
This step is necessary as it helps make your hair ready for a side-swept hairstyle. Wet your hair and apply styling or volume products to keep the hold. 
Step 2: Brush hair
Hold a barrel brush in one hand and a hairdryer in another. Brush your hair while blow-drying strands to create the waves.
Step 3: Start creating side sweep haircut
You take a paddle brush to side sweep your strands from the crown to one side. If you have short hair, you brush the hair down to the region above your ears. If you have long hair, strands will fall over the ears. You can cut your hair according to your desired length and side sweep.
Step 4: Apply hair styling products if you have naturally curly hair
This step is for those who have curly hair. You have naturally curly hair, or you have curled your mane, you should add a styling product and sweep the curls to one side. It helps you keep the haircut all day.
To maintain side-swept hair men, you should use proper products. Apply a volumizing shampoo and conditioner to cleanse and moisturize your hair. Also, add a volumizing mousse to wet hair to sweep your hair down on one side. Blow-dry your hair and finish with a little hairspray. 
Read more:
Best Side Swept Hair Men Ideas
You want to rock a classy haircut, side-swept hair is for you. It is versatile, so you can try it with different styles. When guys have side-swept, they will look handsome and stunning instantly. Here are some great side-swept haircuts for men that give you a choice to rock the one.  
Side-swept undercut
This is a fashionable style and an unusual variation of the undercut hairstyles. However, it is not for all guys. In this look, the hair on two sides and back must be trimmed short just like the traditional undercut. But you should leave the top several inches extra length. Then you can side sweep all strands down on one side. It is a one-of-a-kind asymmetrical take on the undercut and creates a dramatic disconnect. Side-swept undercut is the combination of a sophisticated and bold look.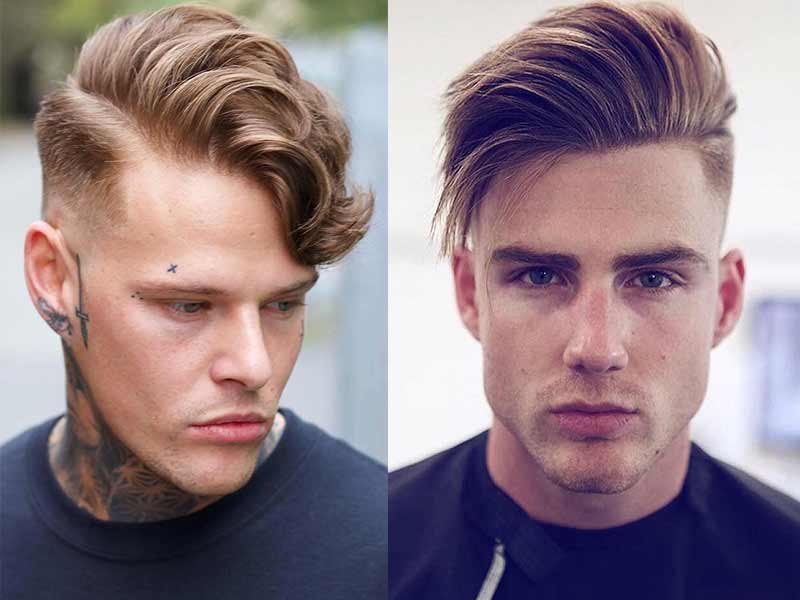 Wavy Side-Swept Look
You are looking for a stylish haircut but you still keep your wavy texture, try wearing this side-swept wavy hair men. The haircut will place your hair texture at the forefront. It can be also applied to curly hair. If you would like to add definition, mix a gel to side sweep your hair with. You have got yourself a clean and fresh look.
Hipster side-swept hair men
Hipster haircut looks good for men with short and medium length hair. Often, this hairdo is a variation of older pr classic haircuts paired with a trendy twist. For example, the short side-swept hair men can pair with a modern slick back or pompadour. Rock a hipster haircut and combine with a thick, full beard, you look so sexy. Opt for this hairstyle, it offers men a more complete look. 
Side swept hair with sharp fade
Few men's hairdos are as smooth and soft as the fade. It is more fashionable when pairing with a fresh side-swept style. You are an Asian man, don't hesitate to wear this look. Perfect hair will be the best partner on your face. Focus on creating some volume for your side-swept hair men Asian. This hairstyle allows you to adjust the hair length as you desired. It requires low maintenance, just a little bit of wax and side sweep. You have beautiful hair!
Shaved side with side-swept haircut
It is a versatile cool haircut. This side-swept hair man is an alteration of the long on top and short on sides haircut. Now, shave your hair on one side of your head, leave the rest hair longer, and sweep it down one side. The haircut provides a masculine look. Moreover, if you want to attract gals, try giving yourself this very cool hairstyle for men in 2020.
You might also like:
Side-swept taper fade
Your hair is quite thin and medium length, the side-swept taper fade provides you a classy and casual style. It is ideal for your social and professional life. Plus, tapered cuts give a lot of styling options. The hair look works well for hiding both thinning hair and receding hairline. Add gel to your wet hair so that it keeps the hold.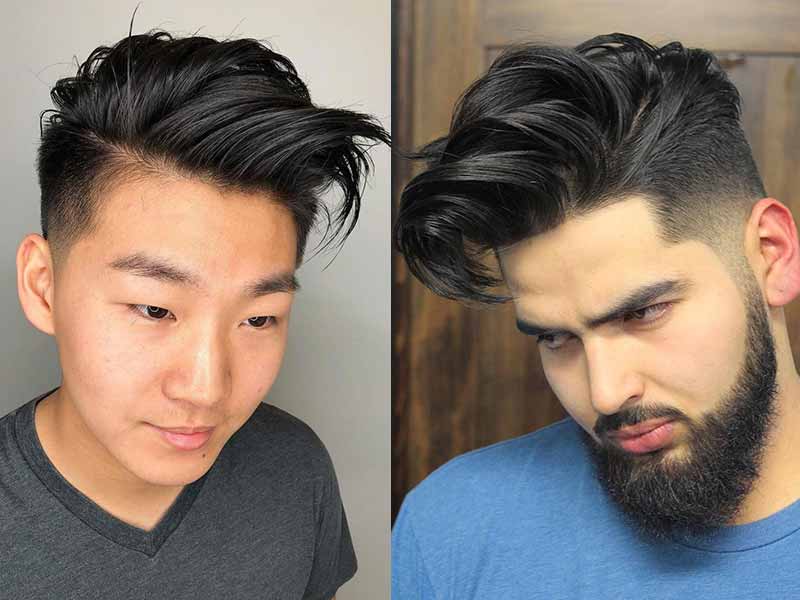 Listed above are some best side-swept hair men ideas that you should consider to change your hair look. Which one do you like most? Lewigs hopes that this post helps you can find an appropriate one.
In case you want to rock these haircuts but you are facing a hair problem, try putting on a hair toupee. Take a look at Lewigs' site to see if there is any human hair toupee that suits you. Feel free to style the hair and reach us via WhatsApp link if you need some advice.