The human need for beauty is higher and higher, requiring the development of beauty products, including products related to hair. If wigs change your appearance completely, extensions add more density to your hair to make it thicker. The manufacturers always try to improve their extensions. That's the reason why silk flat weft extensions appear with a range of benefits. In our article today on Lewigs, we would like to share with you the interesting information about silk flat weft extensions. Let's see what it is, why you should buy one, and how to attach it at home by yourself.
What Are Silk Flat Weft Extensions?
The hair weft has many types, including silk weft hair extensions which are a thinner form about 1mm in thickness and 10mm in width. It has "silk" in its name because a micro piece of silk seals the extension. It is also safe for us because it contains no silicone and is made from human hair. The most characteristic advantage of silk weft extensions is double-stitched to avoid hair shedding, unlike other forms. It has both single layer and double layers for you to choose.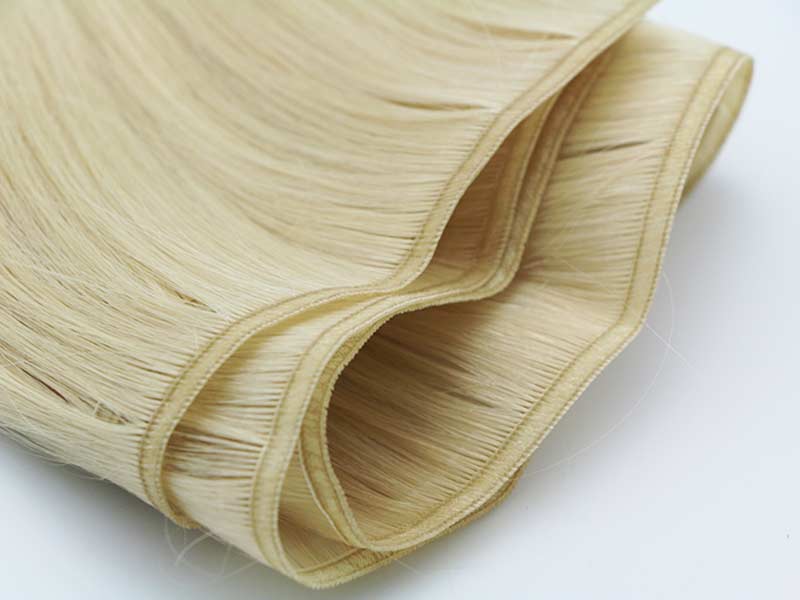 Why Silk Flat Weft Extensions?
It is no coincidence that this extension type is popular. Let's look at some advantages of flat weft hair extensions:
Give A Natural Look
One common concern of people wearing wigs is that others know it is not real hair. Silk flat weft extensions can help you solve this problem quickly and easily. Other common wefts often have return short hair, but silk weft hair extensions do not because producers remove short strands. When you use it, it blends into your real hair so it looks natural. Containing no return short hair can also make your scalp more comfortable (like you do not wear extensions).
Similar posts:
Cut Freely
You will receive a long weft, so you have to cut it to fix it with your head circumference. As mentioned above, you will not suffer from hair fall thanks to no short strands on silk flat weft extensions. As a result, feel free to cut the extension when you need to match with your head.
Stay Long On The Head
Do you want to see your extensions fall regularly? Of course not. Normal wefts often shed if they are not handled well, or when you cut the wefts. To deal with this issue, you can choose a flat silk weft. It is double-stitched, so you can be assured of its density. After attaching it, you will not see fall hair and weaken hair.  Besides, you also can ensure the condition of your real hair.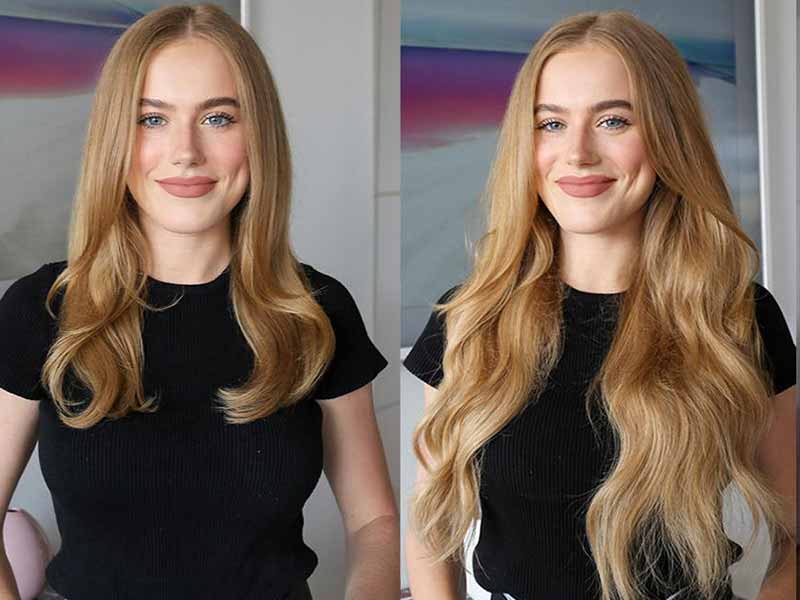 Bring Comfortable Feeling
Many people hesitate to use wigs for fear of discomfort when wearing them. Different from other wefts, the silk flat weft extension is quite thinner, so you will not feel bulky when using.
Be Waterproof
Because the silk flat weft extension is waterproof, you do not have to worry about taking it off when it is rainy or you are swimming.
How To Attach Silk Flat Weft Extension
There are many ways to attach silk flat weft extensions to your scalp. Even if you have never done it before, be confident. We will show you these simple steps to follow:
– Firstly, you have to determine where you will put the weft. After that, you should tie the rest up to divide two parts separately.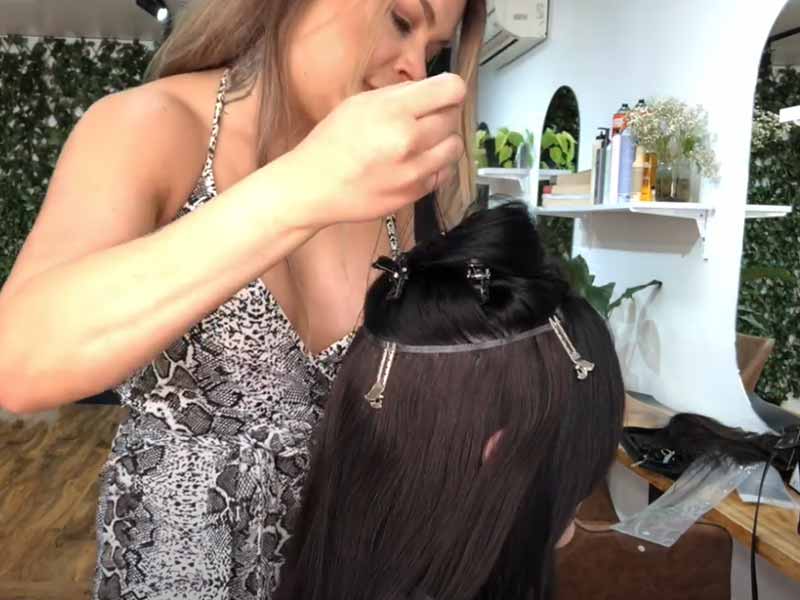 – Now, you need some small clips to sew onto the hair extension. Do not forget that they have the same colour as the colour of the hair system.
– It is time to place the hair extension to your natural strands. The clips will help the extension stay on your hair. If you want to remove extensions, un-clip them.
You can also use tape or silicon beads to connect the extension to your real hair. Unlike clips, the tape can keep extensions on your real hair for a month. Remember to avoid too many clips or beads on the weft because it may cause annoying tangling problems.
Besides, it is essential to check your extension regularly. The hairstylist will help you adjust the silk weft to ensure its beauty and quality.
Jump to:
Where You Can Buy Silk Flat Weft Extensions
It is not difficult to buy extensions in any store or salon. However, you may wonder where you can buy good silk flat weft extensions because there are many low-quality products that may cause hair problems when using such as headache, hair fall, dandruff, or scalp allergy. What about Lewigs? We provide you with the extensions made from 100% Cambodian and Vietnamese human hair at an affordable price. With regular care, our products can last for a long time. In addition, our products have different styles and different colors for you to choose the most suitable one. 
Moreover, human hair extensions give you a natural look, so do not worry about being recognized that you are wearing extensions. Furthermore, you receive suggestions about taking care of the extensions such as caring products, what should and shouldn't do with the extensions, etc. Do you wonder if we do not have the product you desire (color, length, density, etc.) Do not worry about that. You can also send us your hair length and color you wish. We will customize the hair extension depending on your order.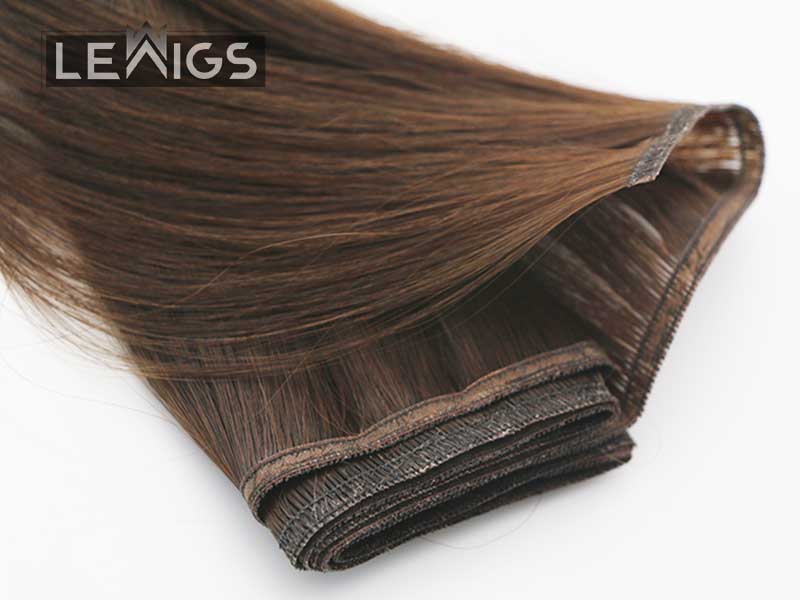 In conclusion, if you are looking for extensions, you can consider buying silk flat weft extensions. It is helpful and easy to use. We hope that the information we mentioned above is useful for you. Due to its benefits, it has become one of the most favorite extensions of people around the world. However, remember to choose the high-quality one to not only have a beautiful appearance but also avoid side effects when using low-quality products. In case you want to buy extensions from Lewigs, please contact us through our email or hotline. We will try our best to help you get the most suitable one. Do you want to read more topics about hair care? Please visit our page Lewigs.