You are experiencing hair loss, it loses your confidence and self-image. You don't want to go out with thinning hair on your head. What should you do now? Opting for a hairpiece so that it can disguise your bald spots.
Do you know which topper suits your head best? Have you got yourself the right human hairpieces? Here, Lewigs compile a blog about silk topper to help you out a lot with your journey perfecting the look of your mane.
What Is A Silk Base Topper Wig?
Many people, especially women, always care about their hair condition. We receive a lot of questions related to hair care tips and solutions to get fuller hair. Why is my hair shedding so much? What can I do to solve hair loss problems?
Women purchase human hairpieces, like silk toppers, so that they are the best and fastest way to get fuller hair. Available in different sizes, shapes, and colors, this hair system fits all customers' requirements. So what a silk base human hair topper is?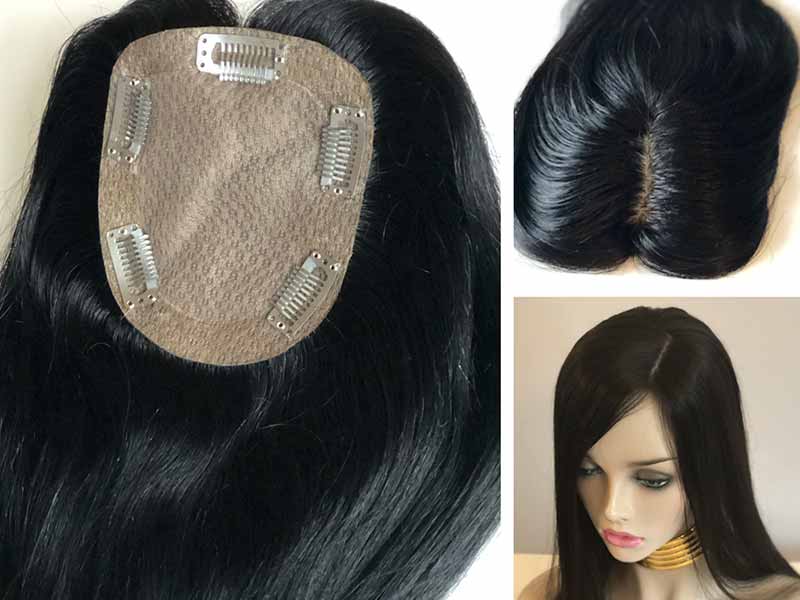 It can mimic your hairline naturally. You can't even detect that it is a hairpiece as it appears like our real scalp. While the lace base is breathable, and the hair is hooked directly on the material. This ventilating technique makes the knots look somehow visible. Hence, silk base topper looks undetectable. Why? It contains 2 layers: a silk layer and another is a layer of lace material. The stands are ventilated on the lace base and then embedded into the silk base material. Therefore, the knots are completely invisible and it looks like your real tresses. It looks like the hair growing directly from the scalp.
As a result, users don't have to bleach the knots to make it invisible. But with lace base material, you have to bleach the hair roots if you want it appears naturally and blends match your skin tone. The silk topper is durable as it is made of two layers. It can last long, also.
Still, silk base hair topper women are thicker and less breathable compared to the lace one. So, you can find it a little bit hard to install. 
Other topics:
Why Should You Choose A Silk Base Hair Topper?
It appears natural.
Hair topper with large silk base allows users to part the hair. It looks undetectable because of its ventilating technique and material. This hairpiece with a knotless base looks natural if you wear it properly and maintain it carefully.
The hair looks like a small wig, so it does not cover the entire head. Its sizes may be the advantage as it is suitable for those with a thinning hair area on the scalp. You can mix the natural hairline with the hairpiece for a realistic effect. Creating an excellent transition into your silk topper. 
A silk base hair topper can add more hair volume and length.
Not only cover your bald spot, but the hairpiece is also designed to give you a fuller and longer tresses. It adds more hair volume and length so that you can reach your dreamed hair. We highly recommend using human hair as it is flexible. Wear your long hair topper and style it. For example, you can buy a remy wavy silk base topper black, apply it onto your head and you have a beautiful haircut.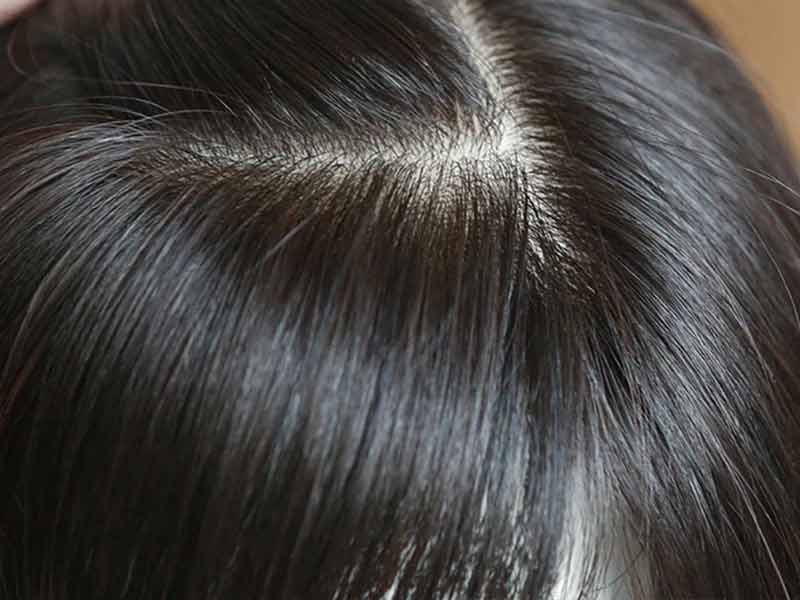 The hair enhancer is flexible.
If you choose a human silk hair topper, you can restyle it. The hair strands are knotted firmly on the fine mesh material, so it eliminates the hair shedding well. Opt for the hairpiece in natural color, you can bleach and dye it to get your desired hair color. It causes no damage and offers a fashionable look. Human hair strands can stand for heat. Add some waves or curls to the hair is acceptable.
Affordable price
This is the simplest way to conceal your thinning hair and hair loss. the price is friendly, so you will not go bankrupt when you buy the small human hairpiece. The hair is available at different prices due to its quality and hair types. Depending on your needs, you can choose a suitable hairpiece.
However, everything has two sides, and this hairpiece is not an exception. Some users say that the hair is less breathable, not suit sweaty people. In addition, it is quite hard to attach. In addition, the hair needs high maintenance. Compared to the counterpart synthetic hairpiece, you have to store and maintain the Remy silk base topper properly. Just treat the topper as you do with your bio hair. When you don't wear the hairpiece, wash it with suitable shampoo that has no harsh chemicals. Then let the hair air dry completely. Place it into the dry place, no dirt, and sunlight. You can put the hair in the box and store it. 
Long-lasting
The hair topper contains 2 main layers (silk fabric and lace). Among all kinds of wiglets, silk topper is the most durable material, it can last 6-9 months.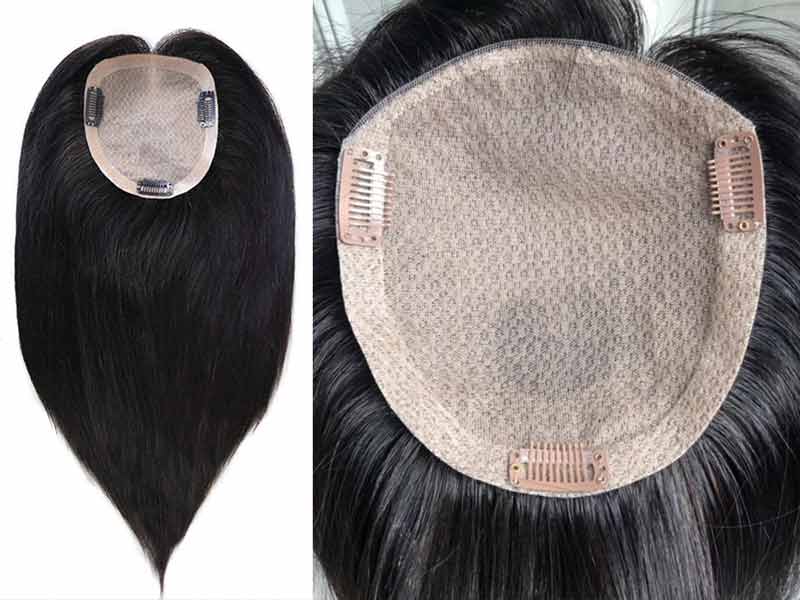 What is better a mono top hair topper or a silk base?
Each item has its own strengths. As it sounds, a hair topper made of mono lace material is stiffer and much tighter. Hence, it holds the hair shape very well. The strength of this hairpiece means it can hold heavy density well, up to 180%. If you prefer wearing full and thick hair, opt for this hair. Moreover, it is soft and comfortable to wear, suitable for those with a sensitive scalp. Hence, opt for the hair that meets your demand.
Silk Topper At Lewigs
With many years in this field and in the business, Lewigs is proud to give customers first-class human hairpieces. Our excellent professional expertise and customer service will not let you down. We have numerous types of hair products, concluding silk base hair topper, mono and skin base hairpieces. All of them are made only of raw human hair, so they are both smooth and shiny. What's more, it has a better hair texture (straight, wavy, curly, or kinky) and a relatively long lifespan.
Here're our top-quality hair items:
Silk base wiglet topper 16″ brown color
This hair ẹhancer adds seamless volume hair to your thinning crown of the head. It is made of 4×4 silk closure and elastic bands on the sides; hence, it matches your head perfectly and stays in the right place. The silk base on the top allows you part the hair in any direction without being detected.
The hair length is 16", the brown color blends well with your natural locks. Pressure clips around the perimeter help you wear the hair easily. We can customize the hair so that it fits your hair better.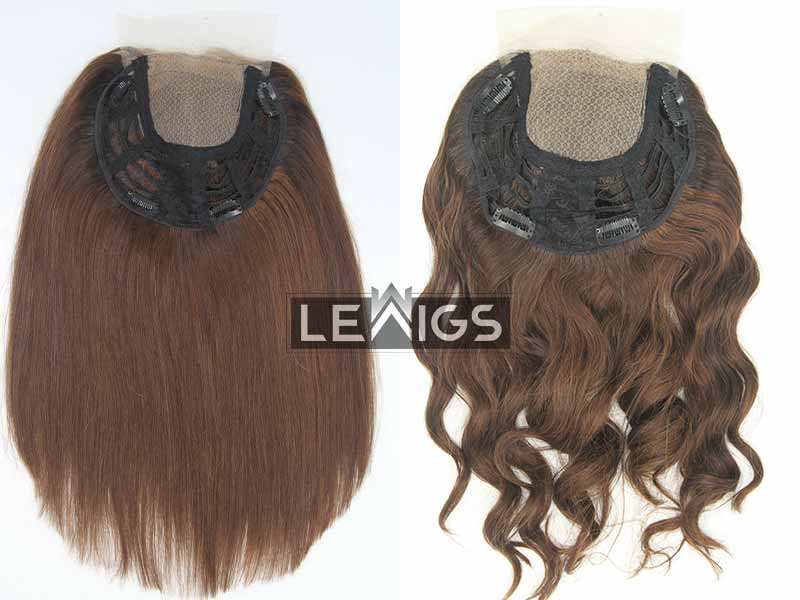 Silk hair topper for thinning hair with PU coated perimeter
As advertised, the combination of mono and silk material brings you the best hairpiece. It covers your thinning crown perfectly, no mistake. The silk is on the top to mimic your real skin. When others look from the closet angle, they can't detect you are wearing a wiglet. For the rest of the item, we use mono lace material as it is more breathable and safe for all wearers.
What about color? You can choose the color and length and tell us. Because the hair is real, collected from strong donors, we will dye and bleach the hair according to your requirements. The hair can come with clips on the edge, making it very easy for users to install their wiglet.
Read more:
Silk topper with 1/2″ PU coated perimeter with clips
Like other items, the item offers the closest look to the real scalp. When you take a close look at the top of the hair, it looks like our natural hairline. All knots are invisible as they are hidden by a layer of the lace. Invest in this hair as it is reasonable. In addition, our hair products do not harm your real hair and scalp, no damage.
Whether you want a silk base lace front topper or a silk hairpiece, we can meet it. We think that our hairpieces are a great investment if you want to have the best item and keep it state for years.
In A Nutshell
Hope that you get more information about silk topper. You cannot deny that this hair is the best gift for those with thinning hair. It gives a natural look and blends your bio hair. Now you have one more extra option to treat your hair loss. Why don't you give the wiglet a try?
Lewigs' blog is well-built with more topics about human hair wigs, hair toppers, toupees, hair care tips, and so on. Please browse us to get more information and improve your knowledge in this field.
Interested in hair topper, reach us via WhatsApp link below to place an order. Or if you have further questions, don't hesitate to raise your voice. We will use the best of our ability to give you the best answer within the shortest possible.