Not all were born with long healthy-looking and voluminous hair. That's why many people come to hairpieces as a quick fix. To meet the need of those people, the hair industry has been constantly trying to innovate and develop. And now we have hair frontals and closure – the latest products of this industrial. Many of you may wonder what are they. So today, Lewigs is glad to give you a deeper insight into the closure, one of the two above, and its major types, silk vs lace closures.
What is a hair closure?
It is defined as a hairpiece made by a piece of fabric that is of either lace or silk, with hair bundles attached to it.
Hair closure can be applied at the crown or on the sides of your head, covering the baldness and thinning areas perfectly without leaving any of your natural hair strands out.
Moreover, wig users use it to secure a track or hair weave for a more realistic look. Closure can be effortlessly installed, fixed and maintained. Plus, it can be applied by gluing or sewing into place easily.
With respect to the type of base, hair closures are classified as 2 main types, namely silk vs lace closures.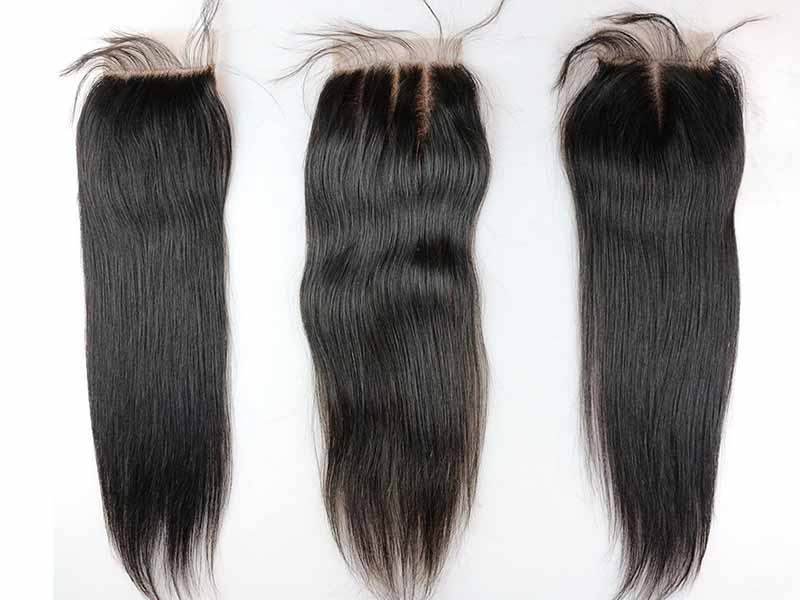 Lace base closure
What is a lace closure?
A lace closure features a round-shaped lace base with hairs embedded in it. The lace base of this closure's type is usually thinner. And it tends to be flatter when attaching, offering a more natural hair look.
Pros and Cons
Pros
Lace closure mimic your scalp look, match well with your skin tone, and then provide a natural look
Lace closure is easy to install and it stays flat again your scalp, which any of your hairstyles look incredibly realistic.
Other posts:
Cons
Lace closure may need some adjustments for a better result:
Lace closure requires knot bleaching or dyeing beforehand since the bleached knots will provide you a scalp-like effect, which makes you feel as if hair strands are growing directly from your scalp.
However, if you don't bleach or dye your lace closure properly, you will ruin it.
Besides bleaching, you can use foundation or concealer for lace to improve the look.
Silk base closure
What is a silk closure?
As its name showed, silk closure is designed with a silk base where hair bundles have been attached to. It is the most natural-looking closure in the hair industry and you don't need to bleach the knot before installing it.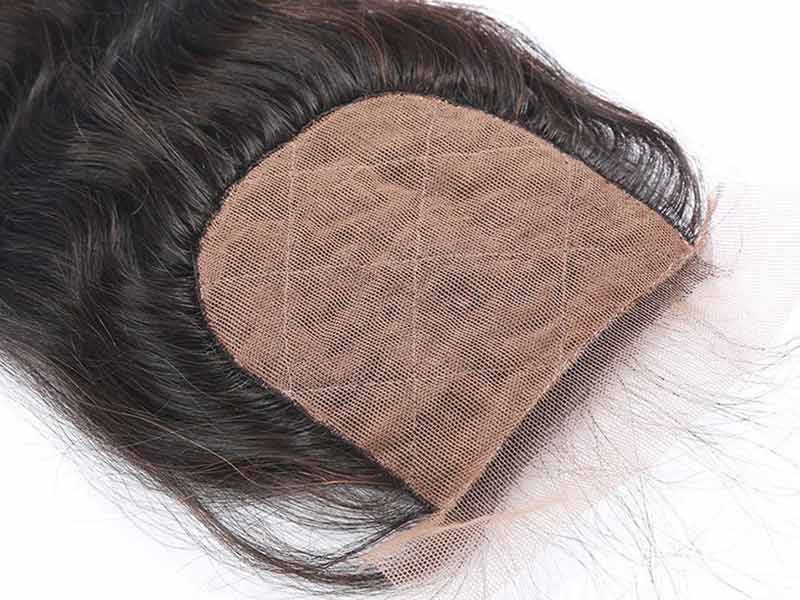 Pros and Cons
Pros
Silk base closures have a longer life than the other since it's thicker
Silk closures do not need bleaching
The silk base makes the closure blend well with the scalp hence it is hard to be detected.
Cons
You still need to dye the silk base if you have a deeper skin color.
Silk closure is a bit thicker so it cannot lay too flat against your scalp after installed.
Difference between silk vs lace closures
Generally, both lace vs silk closures helps to secure a track or hair weave. Both of them offer the wearer a complete look while creating the scalp-like effect.
However, the different base makes silk closure vs lace closure differ in some points:
Foundation: the first difference between silk and lace closures is that silk based closure does not need knots bleaching usually while lace base closure does. Because of the silk material, all the knots seem to be invisible and undetectable, which mimic perfectly your scalp while you wear it.
Colors: The lace closure exists in much more different colors than the silk, those colors are made to match the scalp color. But the texture of the lace base is still thin and transparent.:
Construction: The construction of the silk base closures makes it easy to match skin color. However, it's thicker in texture posing an obstacle to lay flat after being installed.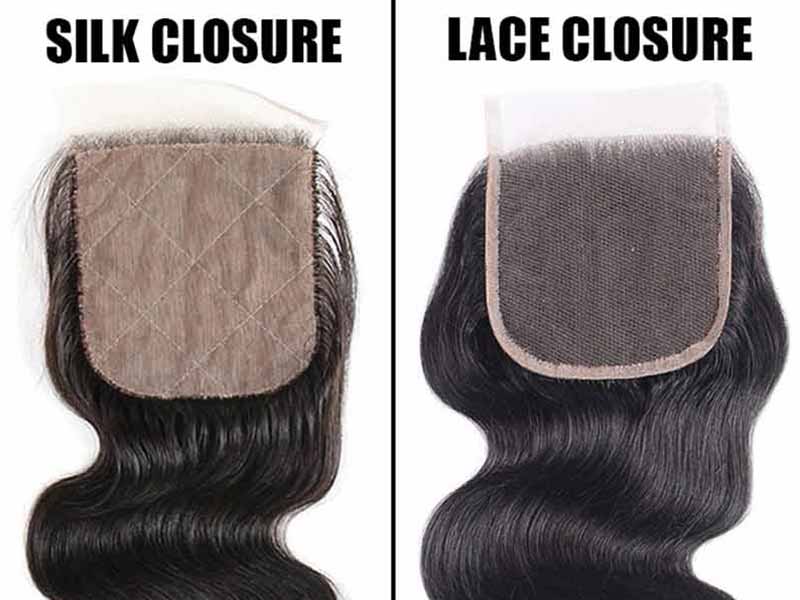 So, which is better: silk vs lace closures?
Silk or lace closure, what's worth your choice, is all up to your own preference. Some prefer lace since it is thin and lay flat against the scalp. In contrast, others may like silk more since it is thicker and seem to be more durable.
If you are still confused about that, consult your hairstylists who well understand your hair and scalp conditioner so they can give you the best advice. No matter what you will opt for, both silks vs lace closures are aimed at providing users the most natural look and covering the hair loss area.
Jump to:
How to take care of hair closure?
Whether you choose a silk base closure vs lace closure, even silk base is known to be thicker than lace one, both of them are delicate. Hence, it is very important to take care of them for longer use.
You can treat your hair closure by using the tips below:
Don't detangle your hair by your rough hands as well as scratch with it.
Use a soft comb to brush your silk vs lace closures. Start brushing your hair from the ends, then move forwards to the roots. While detangling, hold the hair at the roots to prevent tension.
Moisturizing hair with oils, gels or lotion is good but do not apply too much, ask your hairstylist before doing so.
Store your hair closure on the clean box when not using to keep it away from dust.
Wash your silk or lace closure twice a month.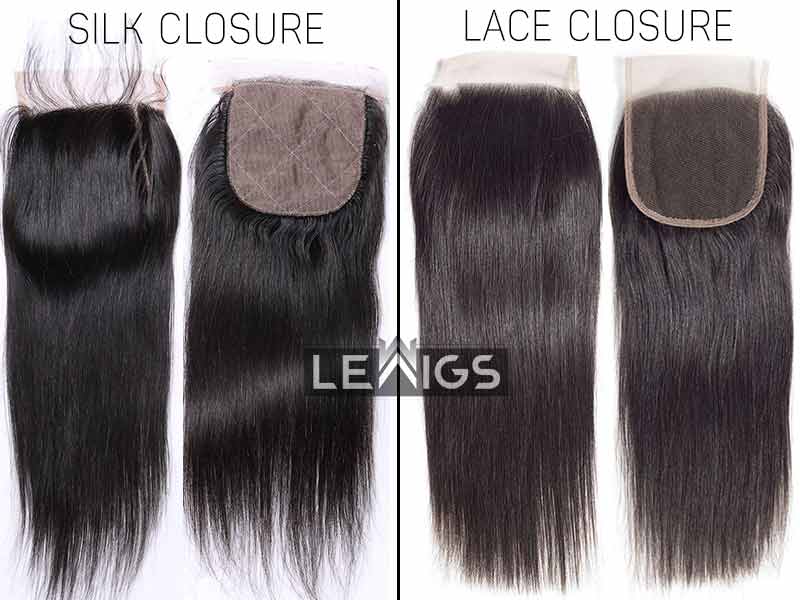 Where to buy silk vs lace closures?
With the excellent features, both types of closure are not cheap so looking for lace closures vs silk closures with low price is such a serious mistake. If you want to buy high-quality closure at the most affordable price, shop at Lewigs. We guarantee that we just provide you the first-rate hairpieces that are customized to your desired look.
All of our products are made with 100% human hair, so you will never have to be worried about the quality when coming to us. Furthermore, we offer many types of closures for you to choose from, namely 360 silk base frontal, 360 lace closure, and silk base frontal closures, etc.
Our conclusion
In our experience, both silk vs lace closures are worth your choice as they all provide a scalp-like look and comfortable feel. Hopefully, after knowing about the difference between silk and lace closure, you will know what you prefer and opt for yourself the most suitable one.