The age of modern gentlemen comes with the creation of many amazing hairstyles, trendy hairstyles becoming out of fashion, and out-fashioned ones coming back to the world. If you are looking for a hairstyle that has been keeping its position among men through ages, it will be slick back hair. Today we are going to show you all the details about its overwhelming dominance in the world and see how we get it the easiest way.
Slick Back Hair – Overview
Now take an overview of this haircut first.
Imagine you are in a big event with the attendance of many people. What would you think about ones appearing with a slick back haircut? What does he do? I gave this question to my friends and some strangers, almost the answers I received seem like this: 'They would be businessman'. This perception has been contributing a lot in the position of slick back haircuts all those days.
Slick back hair is simply an undercut haircut on the sides and backs while long hair is on the top which is enough to be slicked back; thus keeping the hair flattened to avoid any visual distraction during the conversation. This explains the popularity of this hairstyle in the 1930s. Until now, people pay more attention to other factors and it is still on-trend. So you know how powerful is it.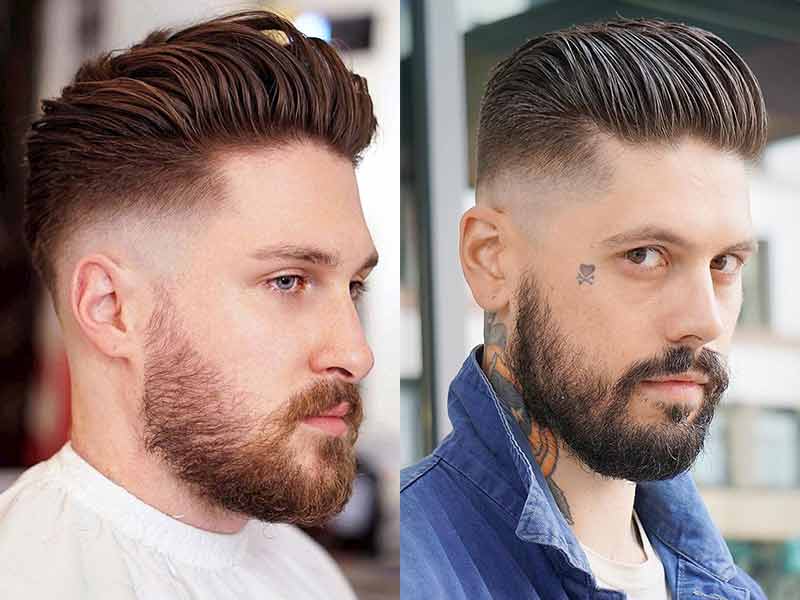 Different Slick Back Hairstyles
There are a lot of slick back hairstyles that you should know if you are interested in them. Here we have a list of names: The classic slick back with all the strands swept back in one direction, the side part slick back with one part longer than the other, the curly quiff slick back for creative hairstyles for curly hair, and the undercut slick back – people like it for the textural precision. 
Other inspirations:
How To Slick Back Hair?
You know something about slick back haircuts, so it's time for further information. Another question: How to slick back hair?
As usual, there will be some types of hair that suited well with certain hairstyles while others do not. In this case, it will be short, straight hair is easier to slick back than curly one. It'd be even better of low to medium density. We need a pushed-back style that keeps its shape for hours and thick hair is too tricky to do this. What's more, if your hair naturally grew toward the back, nothing can be more perfect than a slick back haircut.
However, this does not mean that you cannot finish this amazing hairstyle without these qualities – it's just the best condition.
Now. let's take a deeper look.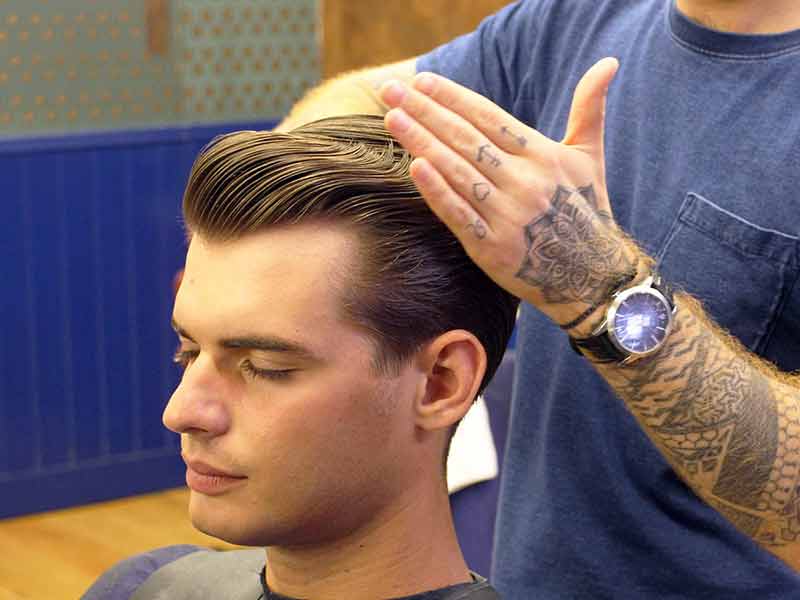 The process would be more involved with longer and denser hair. Firstly, make sure that your hair is damp before applying the product. To get a perfect slick back haircut, you need to use both a hairdryer and a comb at the same time. The hairdryer needs to be set up at the lowest setting. You use your hairdryer while trailing the comb slightly toward the side. If you want your haircut to stay longer, style it from front to back.
Things will come with a complication when you want to create a slick back haircut on curly follicles. Make your hair damp to have a brush run through your hair and remember to trace it with a blowdryer. Don't forget to regularly spray your hair with sea-salt spray to maintain the texture, then leave it for natural dryness. Once everything is ready, slick your hair back using your fingers, now you get a perfect slick back hairstyle.
Things may fail, you know. In this case, nothing better than visiting the barber.
What To Use To Slick Back Hair?
As mentioned above, slick back hair has been in favor for years. There are no reasons for companies to stop producing types of products that can be used to slick back their hair. Each one works well in certain conditions and today we show you something necessary. Here are the most popular types of products:
Clay
Clay has been popular among men as it was believed to cause no harm to users' hair thanks to its natural material. Products come with a wide range of types – from super heavy to super lightweight and if you want shiny hair, it's not a choice but when it comes to maintaining texture and adding volume, it is perfect.
Using which type of clay depends a lot on your hair conditions such as thickness and texture.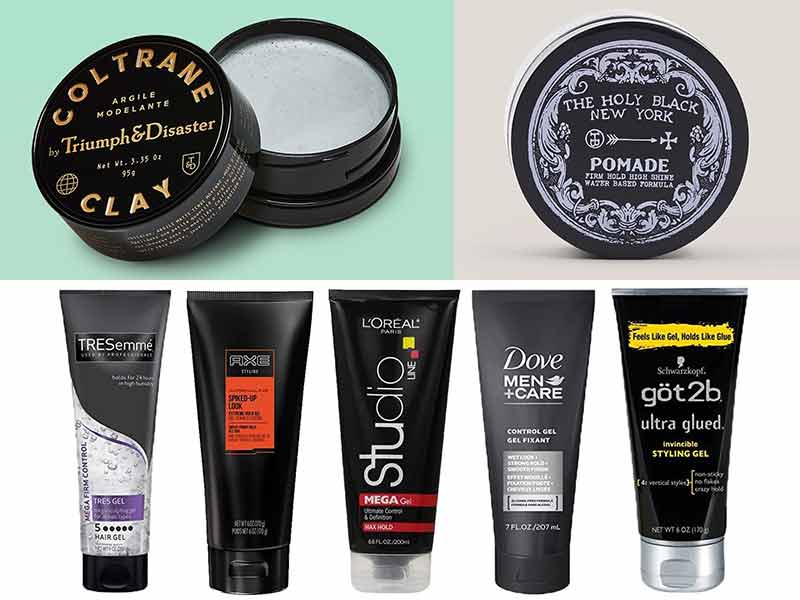 Pomade
Then this is time for a pretty shiny slick back haircut with pomade. For years, it has also maintained a reputation by the steady hold. We have 2 types of pomade for different purposes: oil-based pomade for more shine and stronger hold and water-based pomade for the ease of rinsing out.
Gel/Hairspray
Sounds like a product from your teenage, right? Teenagers prefer this a lot due to its low price but when they achieve adulthood, it is often left behind. The reason is easy to understand: it dries out your hair, it is highly flammable and also harmful – Will you accept these risks in exchange for a small financial benefit? I won't, of course.
Hairspray also comes with no difference.
Jump to:
The Bottom Lines,
Now you know a lot about slick back hair in addition to so many other hairstyles. We gave you an overview of it, some different types of slick back haircut, and ways to slick back your hair.
Of course, it would be better if you come to see the barber but sometimes, you want to do it on your own, or simply your financial ability does not allow you.
Finally, we hope that you would find this post us