Many Americans and TV viewers have got familiar with Steve Harvey as the host of the Little Big Shots. It is an American variety television series featuring talented little kids. In his early 60s, he still appears on the TV and attracts audiences by his humor. He appears with a shaved head and makes humorous talk shows. So many people wonder: "Did Steve Harvey really wear a toupee when he was young?" "Was Steve Harvey haircut a toupee?" Follow our article to find out Steve Harvey toupee. 
What Do You Know About Steve Harvey?
The first thing you may concern is the famous celeb's age. He was born in 1957, so he is 63 years old now (2020). He is well-known as the role of MC. But do you know that he also works as a comedian, broadcaster, and writer? He was the host of many famous TV shows, such as Showtime at the Apollo, The Steve Harvey Show, The Original Kings of Comedy, Miss Universe, and more.
In 1996, the male famous got his own sitcom – The Steve Harvey Show. It stayed on the air until 2002 and gained a following from a mostly African-American audience. While his comedy tour, called The Original Kings of Comedy, made him and his three sidekicks become a surprise nationwide hit. In 1999, the tour was the highest-grossing comedy tour ever to date in the US, raking in more than 19 million dollars. During his career, Steve has won 6 times the Daytime Emmy Award and 11 times won the NAACP Image Award.
Steve Harvey worked as an MC of Little Big Shots during 3 seasons. Melissa McCarthy is the new host of the famous NBC's unscripted show. In the previous 3 seasons, with his talent and humor, Steve Harvey is an important factor to create the show's success. Little Big Shots is a favorite program for both children and adults. The conversations between Jimmy and talented kids always attract viewers.
Do you know that Steve also works as a humanitarian? From 2010, he raised a fund that was named after his name and his wife's name – Steve & Marjorie Harvey Foundation. It is a philanthropic venture, providing mentoring to fatherless young people.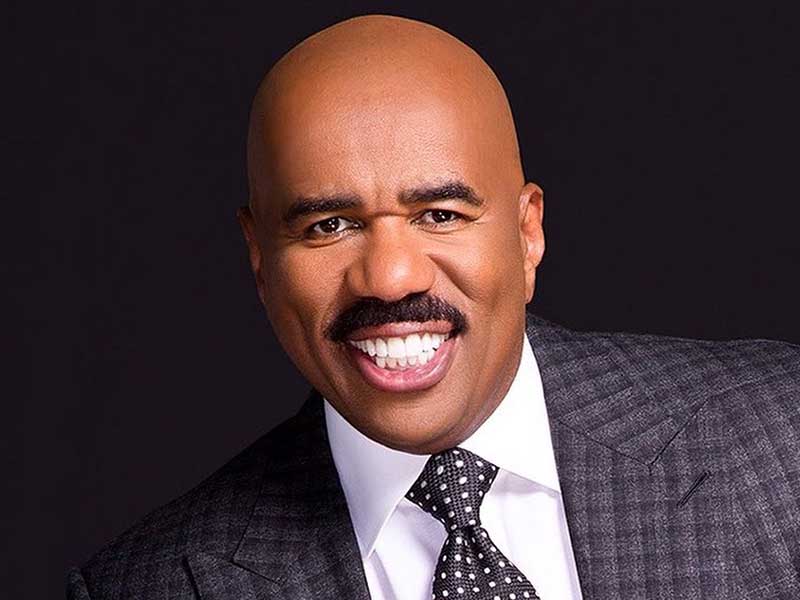 Steve Harvey net worth and salary
As of 2019, Steve Harvey's net worth was estimated at 180 million dollars. The 63-year-old comedian has worked hard over the years. In two years 2018 and 2019, the 63-year-old celeb earned 90 million dollars from his various endeavors. However, to get success, Steve experienced a difficult life in the past. He wound up homeless, slept in an old car for a few years.
Apart from his talent, people also care a lot about Steve's hair. He now appears with a shiny and shaved head. So did Steve Harvey ever wear a toupee in his young days? Or how is Steve Harvey hair, bald vs hair?
Other celebs:
Steve Harvey With Hair In His Younger Days
Steve Harvey hair loss has become the talk of the town recently. Still, he was known as his afro-textured blob of hair when he was young. In the 1980s, he rocked a high top fade haircut that appeared with a well-shaped hairline and tight corners. 
When Steve was young, he always wore hairstyles that covered hair scalp like a rug. His hairstyle and Horseshoe mustache made his signature. Many people even mentioned that his afro haircut was fake. He was going to bald and wore a toupee with S curls to hide the hair problem. The hair was used to conceal the balding patch on Steve's head. Take a look at the pictures of Steve Harvey with hair, the natural-looking fibers offered a good look. Steve Harvey hair style merged with the skin tone of the black man. But most of these pics are old.
Steve Harvey haircuts
High Top Fade haircut
As we stated, he rocked this hairstyle in the 1980s. It is among the most beautiful when the hair on the top is long. Hair strands were curly and suited to the black man. And it was the best haircuts for Steve with receding hairline since it was quite versatile.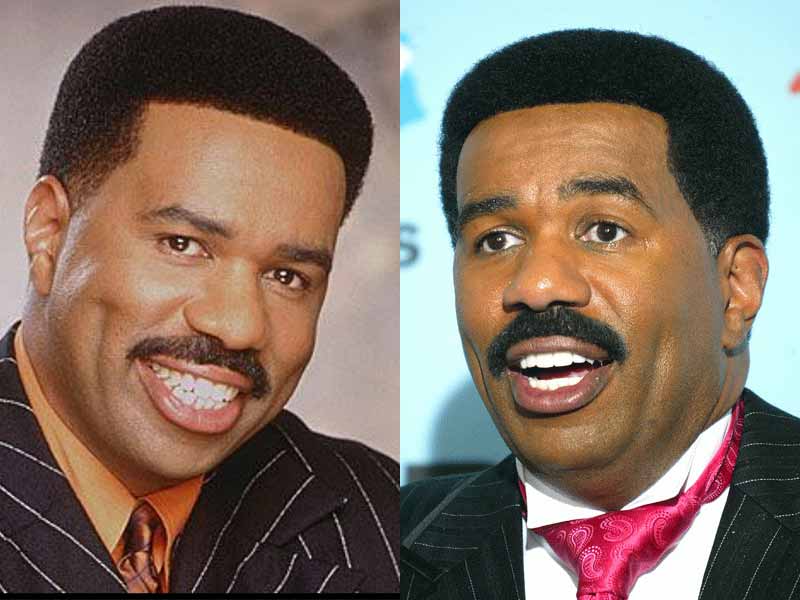 Steve Harvey afro wig
The famous MC wore black hair afro wig and looked like a judge. The haircut was suitable for him. We think that he spent a lot of time taking care of and styling his hair. It was trimmed neatly and styled in good shape. Often, black hair wigs suit best with black men. It may be the reason why Steve chose this hair wig. The hairpiece was so special and fashionable. With this wig, he could quickly make drastic changes to his mane and hide the blemish of the hair (baldness) effectively.
Is Steve Harvey Natural Hair Real?
Back to our main topic today. This is a big question that exposed him out as a balding male celeb. In one of the NBA All-Star Game, it was revealed that the famous MC was fixing his toupee in the restroom. Steve was supposed to wear a hair weave. But that did not last long and he decides to shave all his hair and still keeps the Horseshoe mustache.
Hence, Steve Harvey no hair is real. He does not try to hide his baldness but it does not let his fans down. He gives his hair a natural look, he opts to shave all his hair and looks like a boss.
When did Steve Harvey go bald?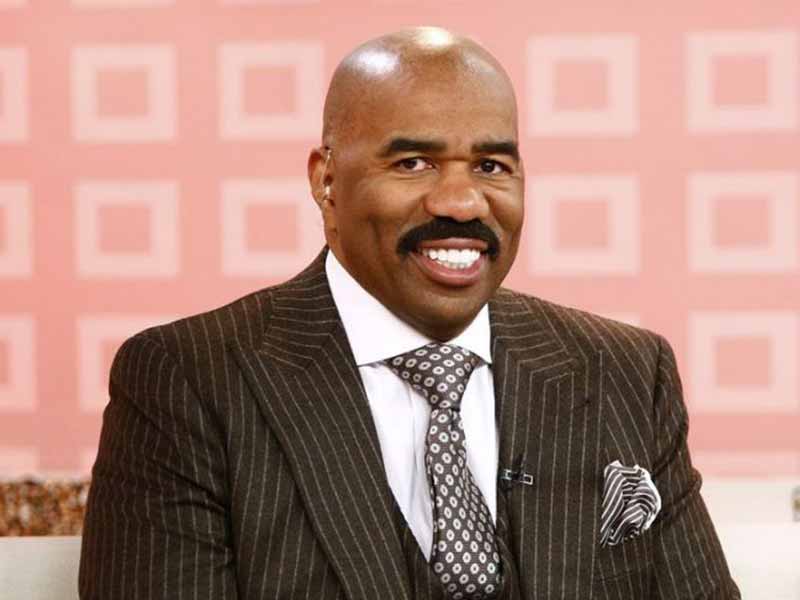 When he was 49, about to turn 50 years old, he experienced severe baldness. A receding hairline is a natural symptom happening in women and men when they are age. We think that it is a major hit, stimulating Steve to change his appearance. Also, he is a male famous, his appearance is very crucial. At the peak of his career, he faced to balding naturally, he tried to apply many methods to improve hair condition. Then, he decided to shave his hair and maintain his iconic style for years.
Before, he also had a mustache, but it was not prominent cause he still had hair. Then he decided to shave his hair and got his signature look. This MC used to feel not confident enough to had shaved hair, fortunately, things were looking better.
Steve Harvey without toupee and the bald look
Steve Harvey without hair is his icon look. He accepted that he was bald and it does not shock his fans. We think that the shaved head and mustache work best for him, offering an exact appearance he wants. His signature look makes many said that the host wore his wigs when he was young. Nevertheless, he does not concern these rumors. He also doesn't mind showing his shaved head in front of cameras now.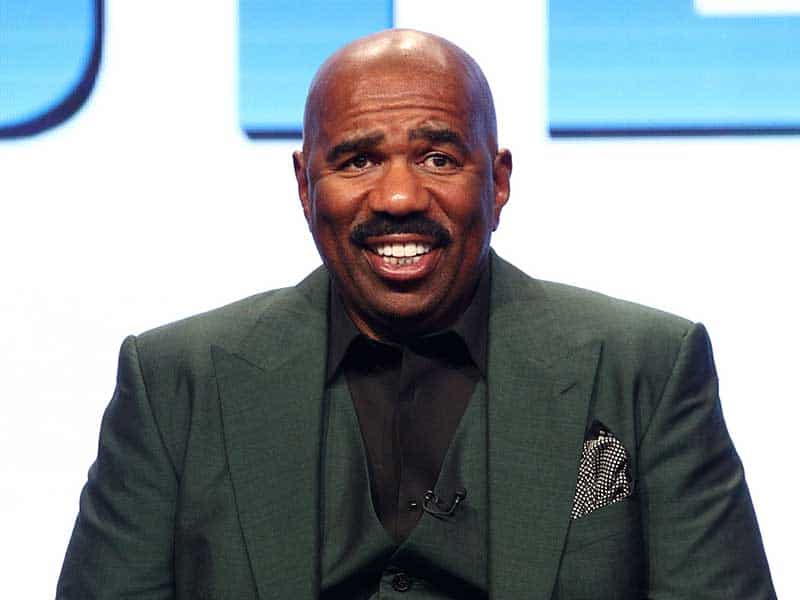 In December 2018, Steve appeared with a new beard. His facial hair turned to salt and pepper, not black. He revealed that he dyeing his mustache. He wanted to change his signature look after wearing it for years. Talked about his mustache in the past, Steve said that his thick and iconic beard had been his stalwart companion for many years, and it was more prominent when he shaved his head. However, he wanted something creative now, he explained. He also posted his new look on Instagram but some "haters" told him to keep the old look. They said that he looks old with the new look and did not like it. Still, Steve's wife loved this look. In a previous interview, Steve said "I am old. Old is the goal." He joked that he was embracing his real age and he feels 82% smarter with the new appearance. 
Jump to:
The Last Words
We hope that after reading the post, you will know more about Steve Harvey toupee. But we think that even the comedian is bald or not, whether Steve Harvey wear toupee is true, you still love him. As a whole, Steve Harvey with his toupee or why did Steve Harvey cut his hair, all he wants is to have the best images and to satisfy audiences and viewers more. 
You are a black man, you love Steve Harvey signature hair piece, using our human hair toupees. It is the best and fastest way to help you get the perfect appearance like your idol. Come to Lewigs to choose the best hairpiece for yourself. We are proud of being a leading human hair vendor. The hair is created from all our love and devoutness. 100% raw hair, no mix synthetic fibers, the hair item is the best for thinning hair men. We commit that it will satisfy you. Sometimes, men focus on the style of hairpieces. Don't worry! Talk to us about the haircut you desire, show us your head size, we will customize it. You want Steve Harvey hair piece or Steve Harvey hair weave, we can do it. Don't hesitate to reach us and place an order.
Last but not least, you don't forget to like and share the post with all readers.