Tape extensions have long been one of the most favorable extensions for ladies thanks to its convenience and natural look. That said though, some potential risks still exist. Do tape-in hair extensions damage your real hair? Here we'll get you covered!
Like its name states, tape extensions come with an adhesive tape that would connect them to your real hair. The tape is often 1-inch wide and replaceable. This is pretty good at adding more volume to your thinning hair and bringing along fuller tresses. Depending on the quality of the hair and the way you insert the tapes, this kind of extensions might entail some possible damage. We don't mean it does so all the time, but it may. Matted extensions, hair breakage, and declining scalp health are some potential problems it might cause.
Damage From Tape-In Hair Extensions
Matted Hair Extensions
This issue happens when you put on the extensions improperly. The tape extensions come with adhesive tapes and it could easily get attached to your real hair when touching. Therefore, if you are not careful when applying it, it might stick to the hair at unwanted positions and once it does, it's hard to remove.
Removing the tape in hair extensions requires meticulous care. Hence, if you rush to do it or remove it carelessly, a disaster occurs. The adhesive, the "fake" hair, and your real hair altogether make up a mess. And we called it matted tape in extensions. 
Hair Breakage
Another damage from tape in hair extensions is that your real hair might get dry and coarse due to lack of care. When you are wearing the tape extensions, there is less room of care that you can do to your real tresses. You have to find a way that could do both your real hair and your extensions good. And as an opportunity cost, you might need to give up on something to balance both.
In the case of tape extensions, you need to use specialized products to take care of the hair while staying away from anything that might damage the tape. A hair conditioner is an example. We don't mean you need to give up on this product but you can't use it at the root of the hair since it can dissolve the tape. That also means your real hair will not receive enough moisture and oil to nourish themselves. As a result, dry and coarse hair will appear. 
Related posts:
Declining Scalp Health
Using tape extensions means you will need to make use of acetone or any kind of removers that contain alcohol. And that does your scalp health no good!
These products often contain ingredients that might be harmful to our real hair and scalp, especially those people with sensitive skin. Also, additive products like sprays, solutions, and the like might pose harm to your head skin. It might cause irritation and dryness to your scalp, thus entailing dandruff and white flakes.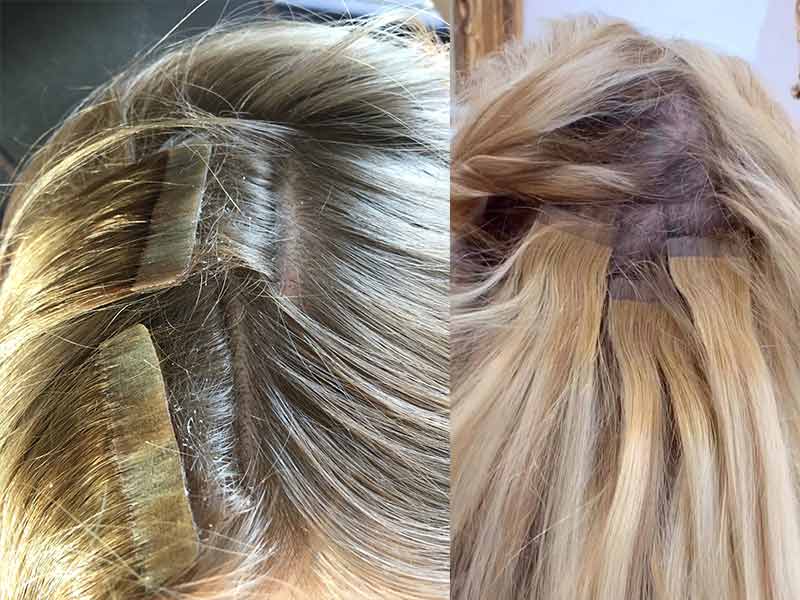 Not to mention that though the tape-in is lightweight, it somehow causes stress to your real strands when attaching. Not only will it weaken the tresses but it also imposes forces to your scalp and make it prone to hurt and damage.
How To Minimize Tape In Hair Extensions Damage?
There is no absolute answer to the question "do tape in extensions damage hair", but the risk is always there. Still, it will never be a worry if wearers know how to wear it properly, as well as how to take good care of it.
Down below are some easy tips and tricks to help you reduce the risk of tape extension damage:
Whether To Use Or Not To Use Tape-in?
Tape extensions are amazing, but it does not mean it suits everybody. Do you really need tape in extensions? Or will your hair looks better with other types like clip-in or halo?
There are certain conditions that make tape-in looks good on you. If you just want to add volume at some certain places on your head or need a longer and fuller hairdo for a quite long-term (more than a month, for example), tape extensions are for you.
In contrast, if you just want a temporary volume boost for a few days or want to add volume all over your head, this kind is no longer a good choice. You can then go for clip-in extensions, halo extensions, or a full wig instead.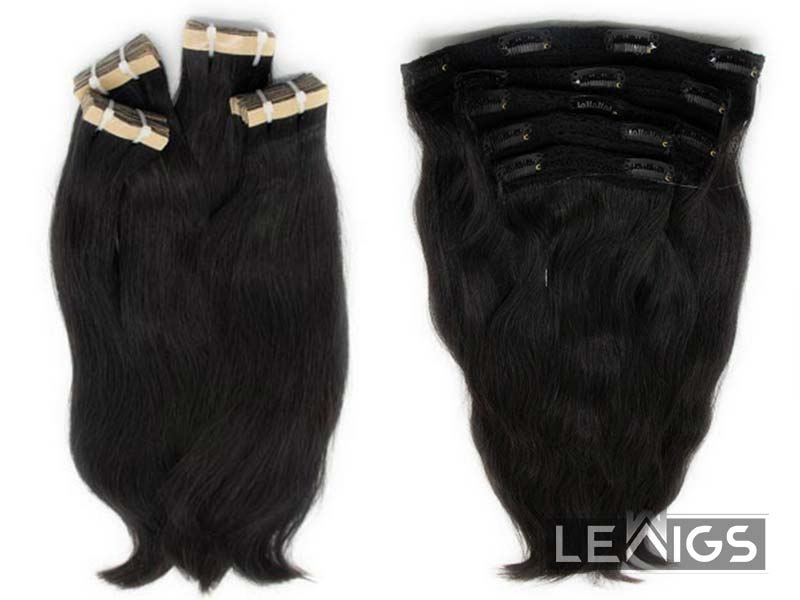 Pick The Right Haircare Products
Choosing the proper products for your extensions and real hair are exceptionally important, also. As mentioned above, you had better stay away from any products that might affect the adhesive's stickiness. Hairstylists recommend keeping the roots and the tapes as dry as possible. In other words, if possible, you should avoid washing around this area or use dry shampoo.
Furthermore, hair conditioners and oil-based items also do no good to the tape-in, either. Especially, if the tape-in has been worn for weeks, then it will easily slip off when you apply conditioner or oil to the tape. Hence, opting for sulfate-free shampoo and conditioner is a wise idea to prevent potential tape-in extensions damage. 
Jump to:
Good Quality Is A Must
The way you care for your hair extensions is just a post-purchase procedure. Very soon before that, you have to be clear and wise when choosing the right extensions for yourself. A good-quality set of tape extensions is a prerequisite for a voluminous, shiny, and smooth hairdo later on.
Don't hesitate to invest on a nice set of human hair extensions because synthetic ones are no good, to be honest. Human hair is more durable, easier to care, and looks more natural.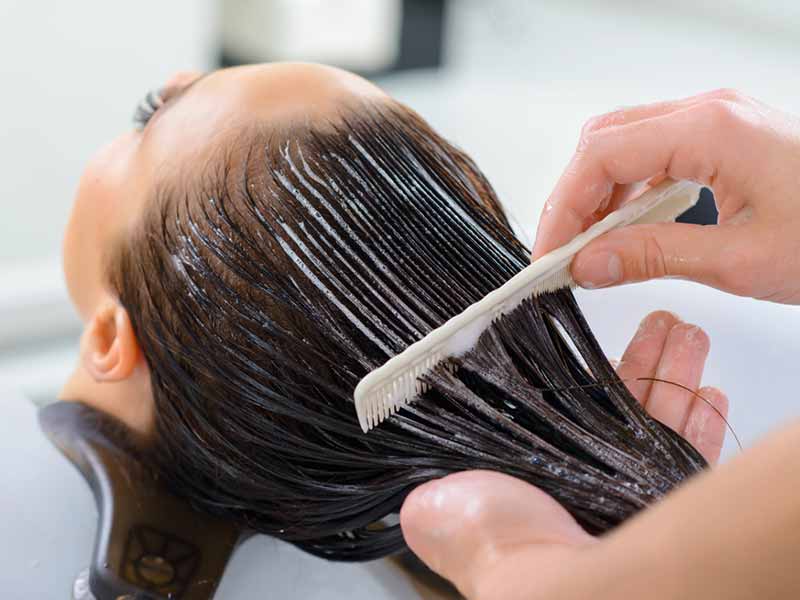 If you wonder where to buy the best tape-ins, Lewigs is a good choice. We have years of experience in making human hair extensions. We have top-notch products at wholesale prices. Besides tape-ins, our company also offers other kinds of extensions and wigs. Come take a look now!
Takeaway
It's undeniable that no matter how well you take care of your extensions, tape in hair extensions damage might occur. There is hence nothing much to do but to try your best to purchase the best hair and take care of it. Lewigs hope that this post somehow helps you imagine some potential risks of using tape-in extensions and ways to prevent them.
For further assistance and support, feel free to drop us a line via our hotline at any time. We are always happy to be of service!
Nice hair day!