If you have hair loss that is not caused by medical conditions or stress, it's likely that your body is vitamin deficient. In fact, nutritional deficiencies are directly linked to hair loss, leading baldness in both men and women. To avoid this condition, you should eat more food that rich in protein and vitamin that is necessary for hair growth. Reading on to know more about vitamins for hair loss in women.
The Links Between Vitamins and Natural Hair Growth
In theory, vitamin is an organic compound that is important for the body. When the body is deficient in vitamins, you can feel tired, fatigued, adversely affecting the skin and hair. In other words, lack of vitamin is one of the causes of hair loss problems.
Vitamins promote the energy production process to nourish and anti-aging hair. It also helps strengthen and reduce hair breakage effectively.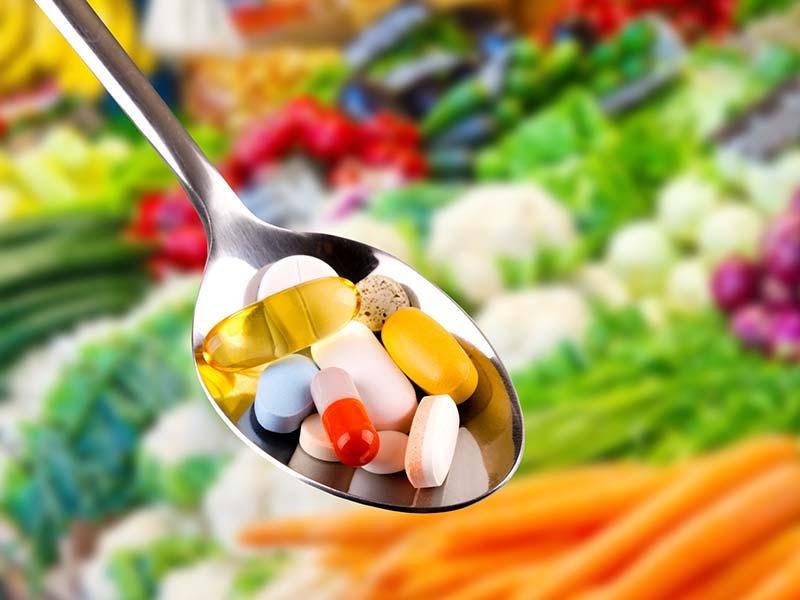 Some roles of vitamins:
– Encourage the hair to grow quickly: Hair is a specialized cell form of our body, made up of 95% keratin, a fibrous, and helicoidal protein. Vitamins help promote the metabolism process and stimulate hair to grow faster.
– Offer strong hair strands: With the antioxidant capacity, vitamins slow down the "aging" process of your hair.
– Smoothen hair: Vitamins affect the process of forming pigments for the hair, making it black, smooth and shiny. Also, reduce early grey hair. 
Similar posts:
Must-Take Vitamins For Hair Loss
You know that our body needs seven main vitamin groups for daily activities, they are A, B, C, D, E, H, and K. But not all of them affect our hair and cause hair loss. Let's see which vitamins for hair loss in women.
Vitamin A
Not only the hair, all cells also need vitamin A for growing. The vitamin helps scalp create a natural oil called sebum that moisturizes and keeps hair healthy. Your daily diets deficient in vitamin A will cause several health problems, including hair loss.
But you should get enough vitamin A, not too much. Some studies prove that an overdose of vitamin A is also the cause of hair problems.
Vitamin A is found in fruits and vegetables (like carrots, pumpkins, mangoes, etc.), eggs, milk, and so on. 
Vitamin B
Vitamin B is the best-known vitamin for hair growth. B-vitamins group contains B1, B2, B3, B5, B6, B7, B9, and B12. What's more, they help create red blood cells that are essential for our scalp and hair follicles.
When your body does not provide enough vitamins, your hair will become weaker and coarser, more vulnerable. Also, the hair will grow slowly and can not keep its shiness.
There are two main sources of B-vitamin: animal and plant resources, so the deficiency is rare. Get vitamin B from almonds, meat, fish, grains, and so on. If you are a vegetarian, consider adjusting your diet.
Vitamin C
Vitamin C, or ascorbic acid, is important with the body's activities and hair in particular. It helps prevent oxidation, increases the absorption and synthesis of collagen. We can say that vitamin C is an important compound affecting hair elasticity. Moreover, the vitamin helps your body absorb iron – a necessary mineral for hair growth.
You should take vitamin C through your diet. Good sources include potatoes, tomatoes, strawberries, green peppers, and citrus fruits.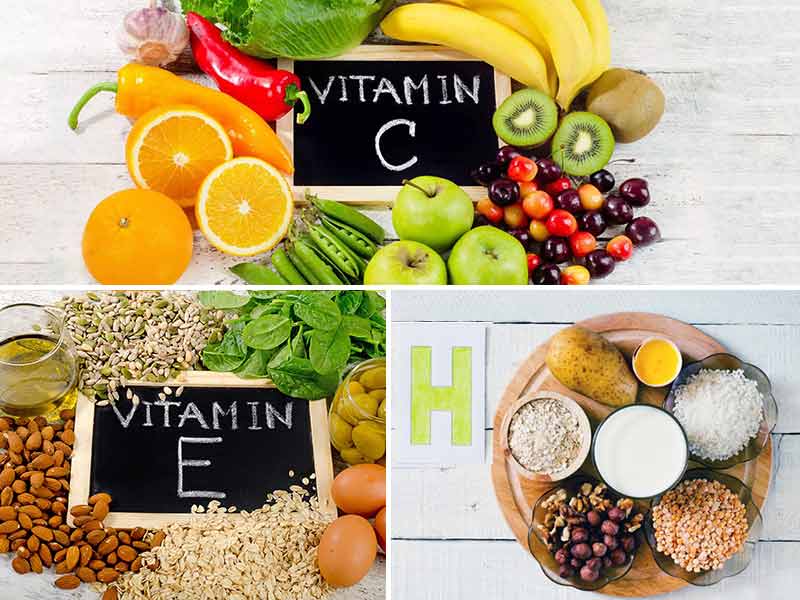 Vitamin E
A great anti-aging vitamin. It is among vitamins for hair loss in women. It maintains the pigmentation to create hair color and reduce breakage. Similar to vitamin C, vitamin E also prevents oxidative stress. A study shows that your hair can be improved by over 30% after taking vitamin E supplements for 8 months.
You can find this vitamin in all good sources like sunflower seeds, almonds, spinach, and avocados.
Vitamin H
It is called biotin that plays an important role in the health of the hair, nails, and skin. Getting not enough biotin, you can face to hair loss.
Vitamin H is also known as the "Vitamin of beauty". It adds moisture to the scalp so that the hair strands are smooth and stronger. 
You might also feel interested in:
Natural Remedies For Hair Loss In Women
When our body is deficient in vitamin groups such as vitamin H, B, E, C, how we can deal with it. How can we do to provide vitamin for hair loss in women?
Eat vitamin-rich foods 
This is the best and easiest way you can do. You should eat plenty of vegetables, fruits, cereals, and nuts (almonds, walnuts) so that the body is fully fortified with vitamins.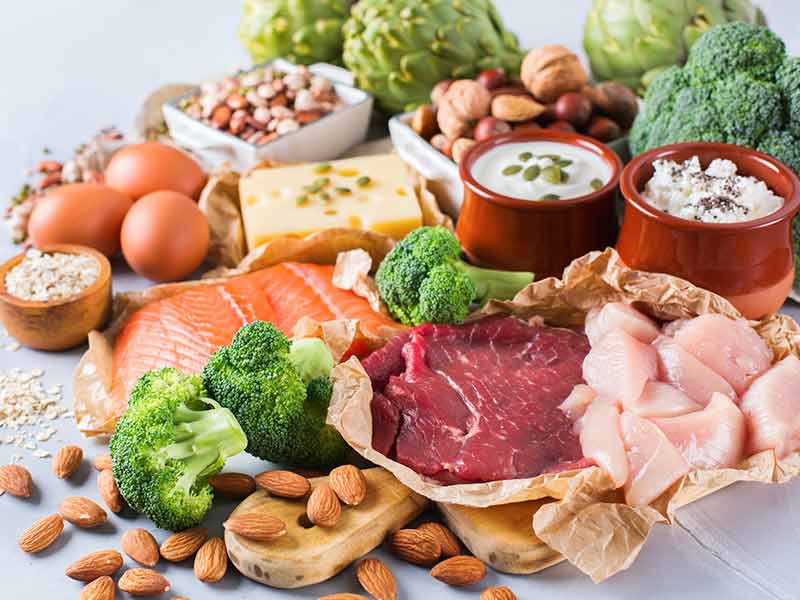 Take vitamin supplements
If your body cannot absorb enough vitamins through food, you can take hair loss in women vitamin supplements. But you must adhere to the following principles:
– Only use oral vitamin supplements when the body is severely vitamins deficiency.
– Follow the doctor's instructions about dosage and usage.
– Take enough amount of vitamin.
Jojoba oil
A great natural hair loss treatment is to use jojoba oil to moisturize the scalp and hair follicles. It helps make your hair healthy and strong. The natural oil makes hair cells reproduce faster without leaving any residue. Warm a few drops of the oil before applying them into the hair. Then massage them into your scalp and roots. Leave it for about 10-15 minutes, wash out with normal shampoo and conditioner.
Also, you can use other natural remedies like onion oil, aloe vera, coconut milk, and so on.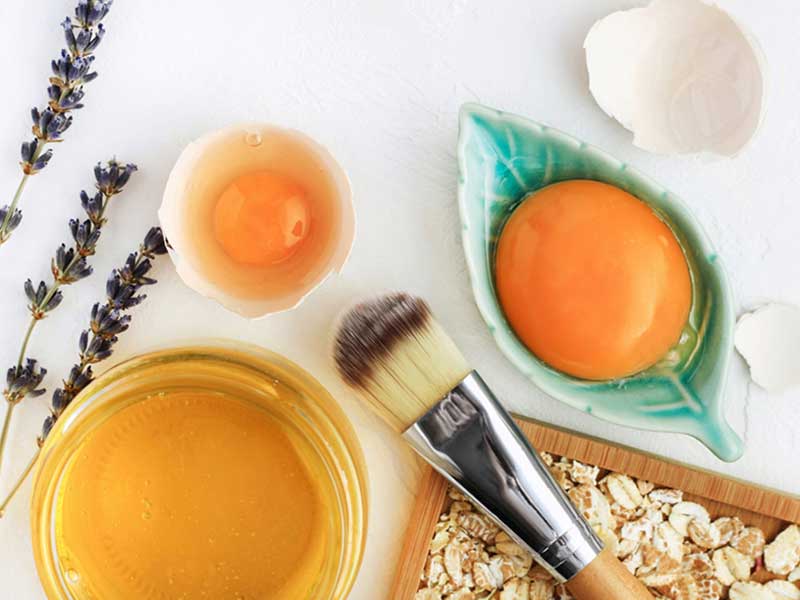 Egg hair mask 
It is a natural hair loss treatment that you should try. Eggs encourage the hair to grow because it contains high levels of protein. You create the mask by mixing an egg and olive oil. Apply the mixture on your damp hair and cover the head with a shower cap. Let it sit for at least 10 minutes before washing out.
The Bottom Line
Hope that our blog post can help those understanding the role of vitamins and know how to treat hair loss. Now you can live happily with your natural hair. Do you have other techniques for providing vitamins for hair loss in women? Share it in the comments section below! Don't hesitate to raise your voice.
Or if you are seeking an instant solution for your severe hair loss and baldness, try out the human hair replacement systems from Lewigs. We have the excellent toupee and topper hairpiece for both men and women available to shop now.
Feel free to browse our website or contact Lewigs via our hotline to get help!