Dreaming of having more volume hair? Getting volumizing hair treatments and style ain't enough. How to make hair look thicker and fuller? You might have heard hundreds of times about hair volumizing spray. But not every hair styling product out there is useful for all. Down below are ideal picks for the best volumizing spray for thin hair that would give you dreamed hair look and feel. 
Living Proof Full Dry Volume Blast
Most days are definitely your good hair days with this top-rated volumizing spray for dry hair. The Living Proof's product has an incredible formula, no cause hair crunch and stiffness. Also, it contains antistatic agents, which makes it easier to add volume to your hair when brushing and styling.
Many beauties positively evaluate this brand because of its unique bottle design. The nozzle lets allow users to customize how much product they spray in the hair. Just spray lightly and style your mane, it looks much fuller and feels natural. Don't spray too much as it may weigh the hair down, and it starts to look dirty.
Meanwhile, the volumizing spray smells great and adds that texturizing body. It contains no parabens, sulfates, and phthalates, which is safe for your fine and dry hair.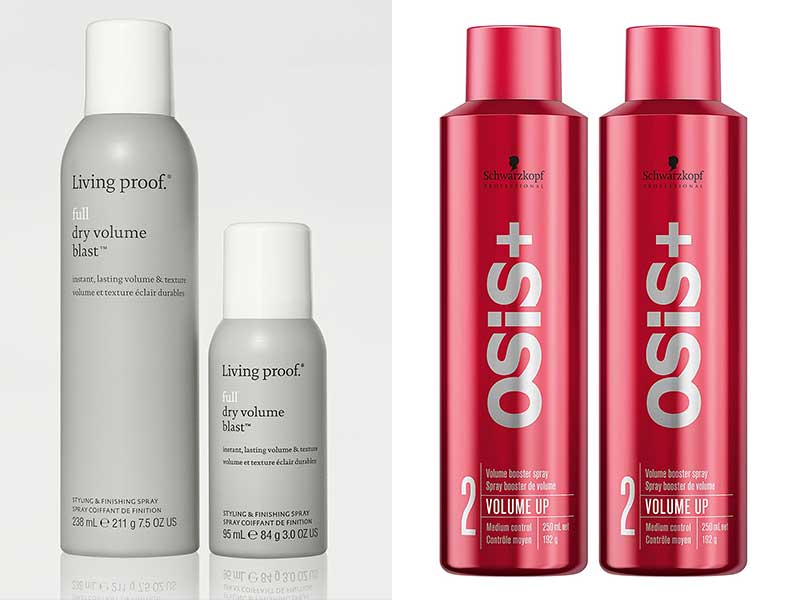 Schwarzkopf OSiS+ VOLUME UP Volume Booster Spray
The second name of this list is from the brand Schwarzkopf. It is produced to help users achieve a salon-worthy blowout at home.
This Schwarzkopf product is excellent for fine hair. It gives fine hair the light and textured volume without being sticky or stiff. Also, it offers a medium hold, so it can control your hairstyle while offering natural movement. To get the maximum results, spray hair product onto your hair strands and run your fingers thoroughly to distribute it. If you spray it on wet hair, blow-dry it afterward. Only need a small amount, it gives bounce and body. Not gummy! So we recommend it for daily use. 
Other suggestions:
Ouai Volumizing Hair Spray
You are looking for a lightweight volumizing spray, this product can be an ideal option. With a little amount of product, it makes your hair look more voluminous and natural without leaving sticky or crunchy hair.
Formulated with panthenol and vitamin E, free of parabens & sulfates, the item adds volume to hair and doesn't leave any negative effects. For example, vitamin E works to protect and condition your strands while panthenol creates extra silky shine.
Plus, its smell will not let you down. It is the perfect combination of natural scents, including lychee, bergamot, rose, and cedarwood.
How to use it? Divide your mane into small sections, and then spray the product at the hair roots a few inches away. Brush and style your hair for instant volume.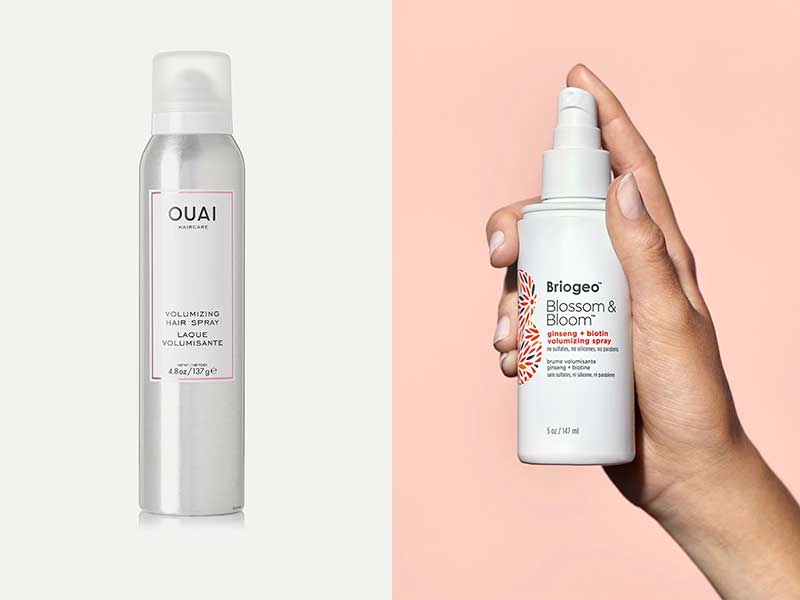 Briogeo Blossom & Bloom Ginseng + Biotin Volumizing Spray
This dual-action spray is non-toxic, there are no silicones or other harsh chemicals. The brand uses its unique formula – NOVA Complex in every hair care product, including its volumizing spray mousse. The excellent formula contains essential vitamins, antioxidants, and natural oils that are necessary for hair health. If you were born with limp or fine hair, opt for this item.
In addition to creating fuller-looking hair, the stuff stimulate hair growth and thickness. With a healthy dose of ginseng and biotin, it is good for scalp and hair strands. It moisturizes the scalp while supporting hair growth. To get the best results, you apply the product on clean and damp hair, then blow-dry it.
Kenra Volume Spray Hair Spray 25
Have you ever tried this stuff? The hair spray gives long-lasting volume and maximum hold within 24 hours, even in breezy and windy conditions. However, it does not leave dry or rigid hair. This one leaves your hair soft and smooth hair, not sticky or stiff.
The fragrance is very light and disappears after a few moments. Spray on your hair roots, crown, and side of your heads for more lift and volume throughout. 
Aveda Volumizing Tonic with Aloe
When you want your blowout to be fuller for special days and occasions, we suggest spritzing on Aveda volumizing tonic with aloe. It works for fine or thin hair. This really does help swell the hair follicle and makes the roots a lot fuller without making your locks greasy or stiff. Use it alone, and it still creates great volume.
Amazing AVEDA product is enhanced with organic aloe and amino acids. You may know that aloe benefits to repair and restore dead skin cells of the scalp. It works as a great conditioning agent, leaving smooth and shiny hair. While amino acids act to encourage hair health and help add body.
Compared to other products in this space, Aveda volumizing spray is a little pricey, but it's worth every penny. Spray generously on hair roots, and then massage the tonic out towards the ends of your hair. Give it a shake to create a messy look if you desire. It greatly improves the appearance of your mane – much more body and fullness. 
Jump to:
Oribe Volumista Mist for Volume
We are not surprised when many hairstylists highly recommend this top-notch volumizing spray for hair. It gives a bit of volume so your curls don't just stick to your head! It is a very top-notch product and worth the money.
Oribe uses new-age polymers to formulate this product. Contain watermelon, lychee, and Edelweiss flower extracts, it results in a voluminous appearance. They also act to combat natural hair from oxidative stress and prevent hair dryness and damage. When you spray it onto hair roots and top of your hair, using your fingers to give a little lift. This helps keep your strands laying nicely in place with some volume.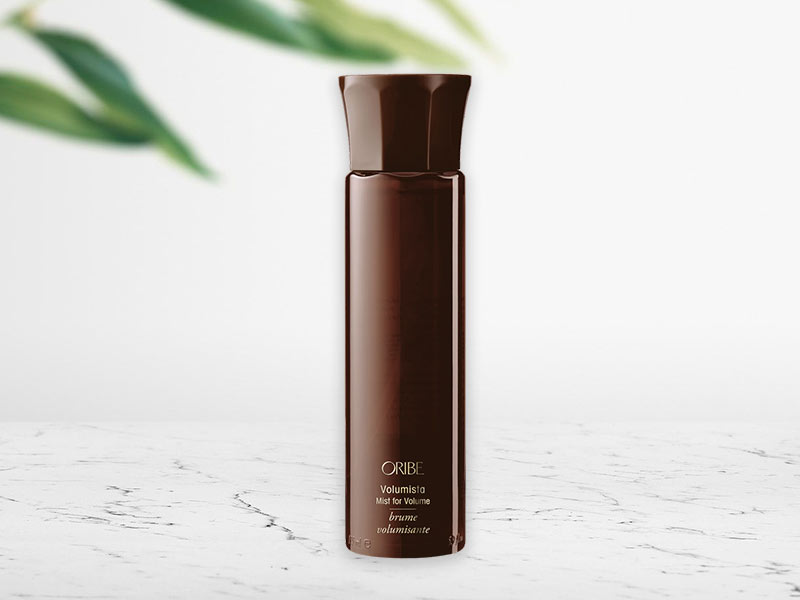 It's essential not to use too much. A little goes a long way.
Fine, thin, and limp hair can be hard to style. Lucky you! Give it a boost with volumizing spray to add more volume and texture to hair. As you can see, they are available in different brands. Pick the one from the above list that suits your preference and give the hair an instant lift.