Wigs are becoming more and more common these days. They come in plenty of types, textures, colors, and lengths to meet all consumers' demands. Today, we want to share with you one of the most prevalent types of wigs – lace front wig. "What Is A Lace Front Wig?" – the answer will be revealed in the following post.
What Is A Front Lace Wig?
A lace front wig is designed for all girls around the world. It is a secret weapon to an undetectable hairline and a gorgeous hair. Basically, it is a type of lace wigs but the difference is that it is applied to the front edges of your head. The frontal lace wig provides a natural hairline as the lace is the most invisible and breathable material.
At Lewigs, it is a typically human-hair made, with the hair is sewn on the item's crown that can be parted anywhere in the front. The hair is hand-tied so it creates the illusion that the hair growing from your own scalp. A lace front wig in the market can cost between $100 and $500.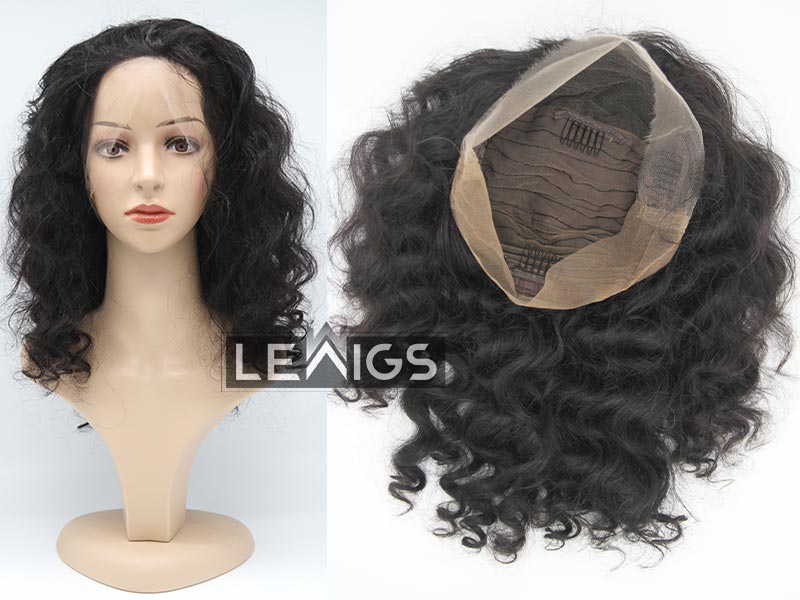 Is a lace front wig safe to wear? It does not damage your hair if you wear it properly. Therefore, wear and take care of the hair wig carefully. Your thinning hair can also occur if you improper your wig removal. Please treat it as you would do your bio hair.
What is a glueless lace front wig? It is similar to the normal lace front wig. However, when you apply a glueless lace front wig, you don't need to use glue or other adhesive. It has an amazing elastic band feature so you can use it to secure the wig when wearing. It is excellent for security, no glue, gel or tape needed.

How To Wear Lace Front Wig
Step 1: Washing the wig and your scalp. You should use rubbing alcohol to make an oily-free area. If your skin is sensitive, please add a thin layer of scalp protector after using alcohol. Then leave your wig air-dry.
Step 2: Flat your existing hair. Before wearing the wig, you have to braid or tie your hair in a low ponytail. Make sure that you have no little hair at the forehead coming up. You can use gel to secure the hair in place.
Step 3: Wear a stocking cap. Opt a wig cap that is the same color as your skin tone. Now, pull the stocking cap to cover your head perfectly. Adjust it to ensure that all your natural hair is hidden under the cap. Why you should wear a wig cap? As it can help to protect your natural hair and scalp from directly sunshine and dirt.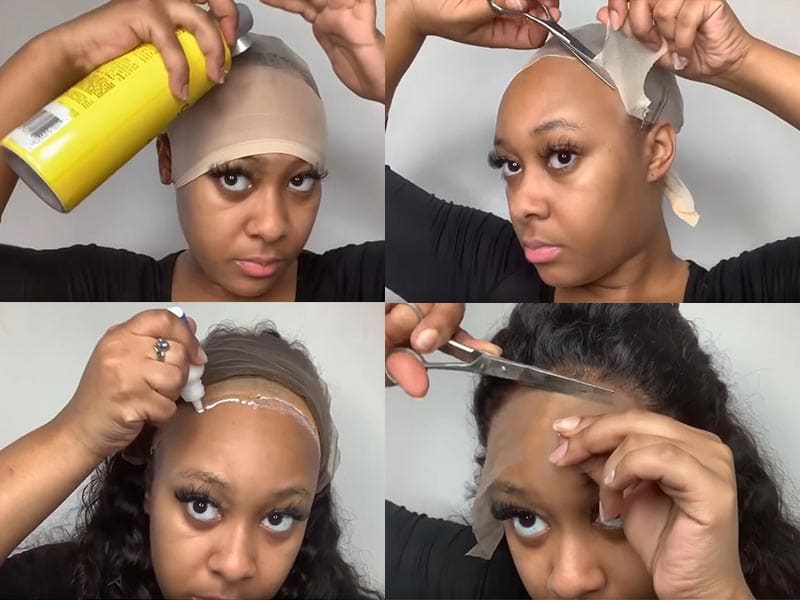 – Bear in mind that you don't wear a tight cap because it will cause your headaches and make you feel uncomfortable.
Step 4: Apply a thin layer of glue along your entire hairline. Wait 2 minutes and you continue adding the second layer of glue. Depending on the type of glue you use, you can add more than 2 layers. Use a hairdryer to dry the adhesive layer faster.
Step 5: Taking your lace front wig and wear it. Adjusting so that the wig matches seamlessly your natural locks and firmly press it into the adhesive. Use a tail of your comb to press your wig. Then cut the excess lace off. If you want the wig to stick to your scalp, use a strip and wrap the edge of the wig. Leave it about 30 minutes and you can cut it off.
Step 6: The last step is to style the wig. How to make a lace front wig look real? Brush and part the hair wig in any direction as you want. If you have a curly lace front wig, it is better if you use your fingers to run through the hair.
View our top-notch lace front wigs:
How To Make A Lace Front Wig
Making a human hair wig can be a difficult and time-consuming task as you are not a professional. But if you are truly interested in creating a lace front wig yourself, follow our guidelines step-by-step.
Step 1: Measure your head
The measuring results will be correct if you use a cloth tape measure instead of a straight ruler. Flatten your natural hair before measuring. Measure on your hairline and measure from side to side. The length of your wig is depending on you.
– Don't pull the tape measure tightly. Only lay it lie flat on your head.
Step 2: Prepare the hair and lace
Like other wigs, you can choose real hair bundles or synthetic fiber to make your lace front wig. However, it is always better to choose real hair material to make your best lace front wigs human hair.
Human hair: This hair is versatile and durable. Like your natural hair, you can wash, dye and style it easily. It is the best option if you want to wear a wig daily. As it is real hair, you can feel safe to wear. In addition, it offers a realistic appearance. We highly recommend using this hair to create your lace wig.
Synthetic fiber: Hair systems made of synthetic hair look like your natural hair, but they tend to shiner. Because of being made from nylon or plastic, you have to keep this hair far away from heat. It means that the synthetic wig can be damaged by heat. You also must not style and dye this hair.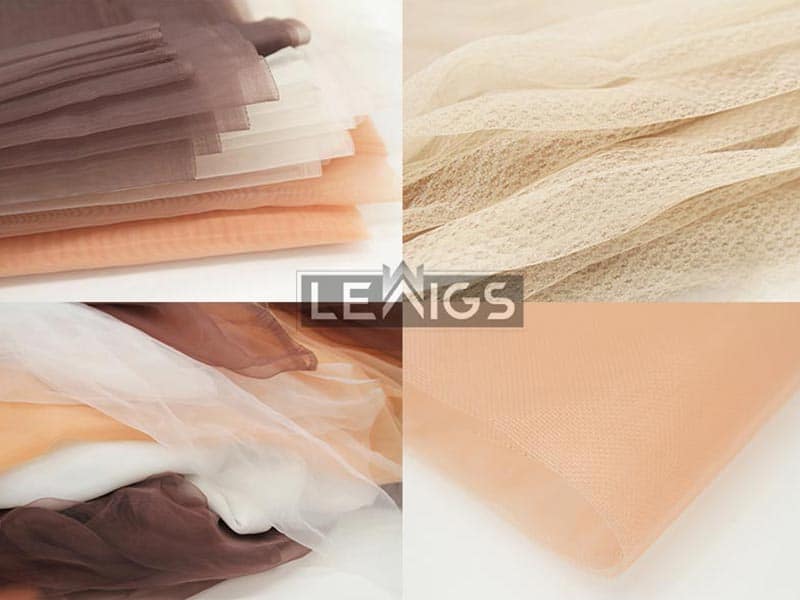 You will also need to pick up a suitable lace material. There are different kinds of laces on the market such as monofilament (the conventional lace), French lace, Swiss lace, HD lace, etc.
Step 3: Secure the lace base
Opt the lace color that blends your skin tone. If you can't find, you can dye it to get the color as you want.
Now cover the lace over the styrofoam head wig and use headed pins to secure it. Keep the lace tight and smooth when you hold it to the wig head.
Step 4: Ventilate the lace front
This step is important and it needs your patience. To hook the hair into the lace, you need a ventilating needle.
Use a needle to ventilate the hair into the lace. You know each needle comes in its sizes, so don't overload the tiny item with hair. The size of this tiny item range from 1-2 to 5-6 and it describes how many hair strands the needle will hold at one time. For example, lace needle 1-2 can pick up 1-2 strands of hair.
Pull the hair through the lace cap and sew the hair ventilation around the hair to make a loop. Then thread the hair through the loop and make a knot on the lace. Repeat the process until you have full hair in the lace front wig.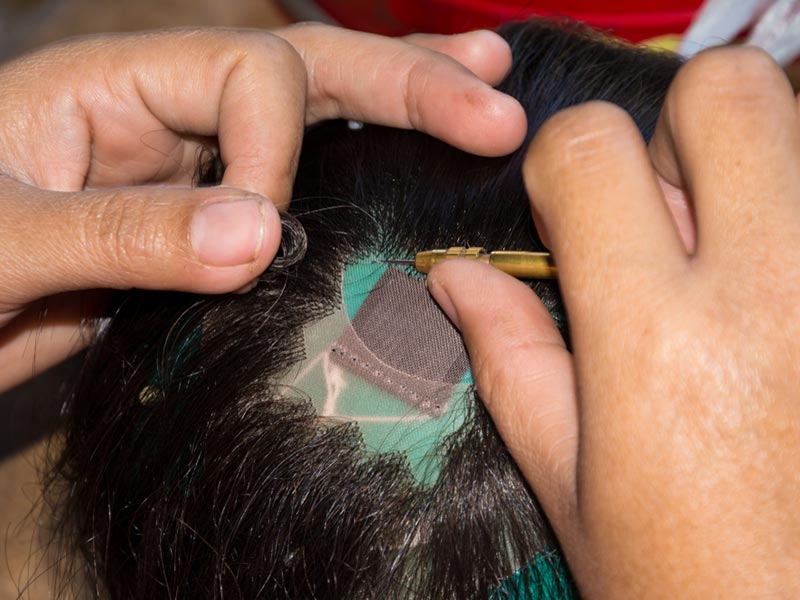 Step 5: Adjust the hairline of the wig
Check the hairline once you have done. Adjust the hair until you are completely satisfied. Take the wig off and do a test fitting on your head.
Step 6: Cut the excess lace off
Cut any excess lace. Now you have a front lace wig with a natural-looking hairline.
Read more:
How Much Is A Lace Front Wig?
The cost of a lace front wig depends largely on its quality. For example, a human hair frontal wig will cost higher than a synthetic one. Similarly, the one made with virgin Remy hair (collected from 1-2 donors) will be more expensive than the one with normal human hair.
That said, the price for a lace frontal wig is much more reasonable than a 360 frontal wig or a full lace one. As the lace is used for the frontage area only, it costs less to make a full wig. While with a full lace wig, the makers have to ventilate hair onto the full lace base, which costs more time and effort, they only need to deal with the frontal piece when making a front wig. In other words, the cost of making a frontal wig is lower, leading to the lower amount of money you will need to spend.
To Wrap It Up
We hope that this post about what is a lace front wig and how-to guides will be useful for you. We believe that if you follow our tutorials, you can make your own lace front wig by yourself. So, why don't you try creating?
In case you want to have the best lace front human hair wigs without doing it yourself, come to Lewigs. We have a wide range of wigs to choose from. You wonder "How much is a lace front wig?", it is in friendly prices at Lewigs. Moreover, our hair is 100% natural human hair that is collected from Vietnam and Cambodia. To make the wig, all cuticles of the hair are alive and kept running in one direction from the root to the tip. So invest in a lace front wig from Lewigs is the best decision.
Do not hesitate to leave your comments if you have any questions or requests. We are accessible via this website or our hotline (+84) 98 261 44 86. We are looking forward to hearing from you!