Human hair wigs have become more and more the favorite option for hair loss people. However, are you sure that you really know about all types of wigs?  In this post, we bring you an overview of a special type of wig – U part wig. What is U part lace wig and how to make it? 
Knowing the features of the wig is important. If you have a clear understanding of it, then you will know how to make a U part wig or order a suitable hair for your own or even your clients. Now, let's start.
What Is A U Part Wig?
Like normal wigs, the U part wig is made from 2 main materials: real hair and synthetic hair. However, different from full lace wigs, at the top of this wig, there is a small U-shaped opening. This allows you to incorporate your natural locks and offers you a more natural hairline. 
Each material has its pros and cons. But Lewigs recommends choosing human hair U part wig because it is made from 100% raw hair. The hair is so strong and natural as well. You can create bending, dyeing or styling without worrying about damages.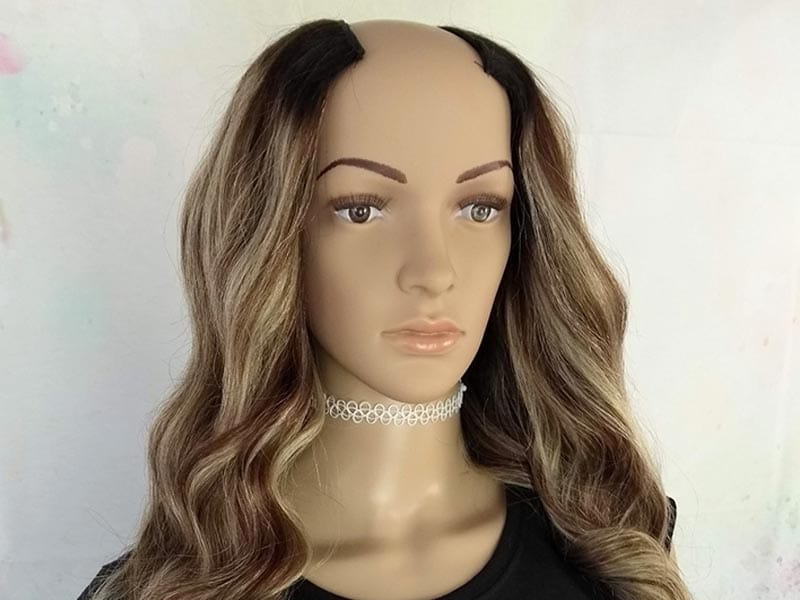 This unit is used to beautify the hair, help you reach a thick and long hair quickly. The use of this product is also quite simple, just spend 3 minutes, you can attach the wig to your real hair.
To make a U part wig, you can choose a cap with lace or a cap with straps. The lace cap is breathable and matches your head well. Depending on how you want your wig look like, buy a curly, kinky curly or U part bob wig human. Some items come with the wigs includes clips and small combs, in addition to adjustable wig straps.
Who needs?
This is an ideal item for those who dream about a thicker and fuller hair. It helps conceal the defects on the top of your head, transform your thin and short hair into charming long thick hair.
The real U part sew in wig is made from 100% natural hair, so girls can freely create on this wig. Dye it into blonde wig or cut it into bob wig, it is ok. But bear in mind that you should choose the wig that has the same color and texture to your current hair. It is best that you go to a hair salon for advice.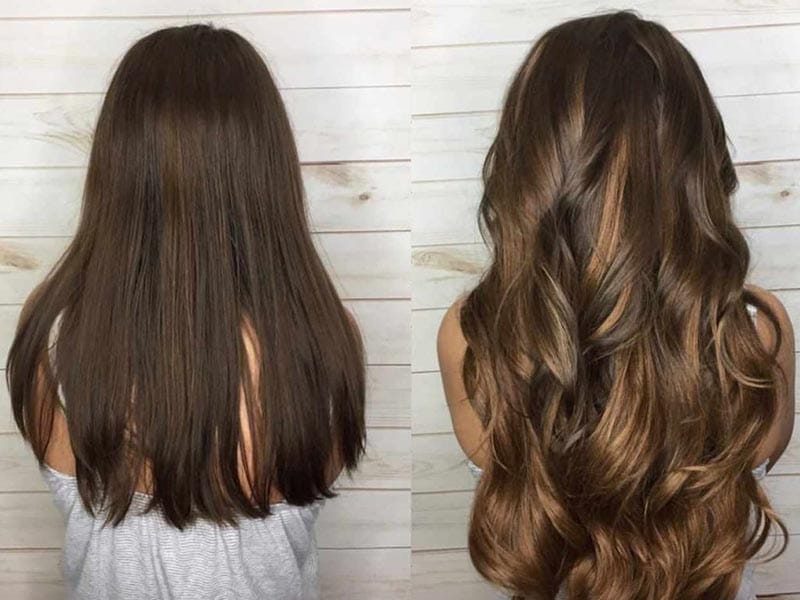 Choose a U part wig if you are afraid that the hair wig is shedding after some wears. The hair is sewn with meticulous stitching. And you don't need to worry that it will slide down when wearing as it is secured by clips and combs.
Your skin is sensitive, you still wear this wig. This clip on wig also does not harm your real hair as well. The chemically unprocessed hair is safe to use. You also sleep with the wig as you do with your existing hair.
View our excellent wigs:
DIY U Part Wig
Refer to our tutorial to make a wig by yourself. First, you have to measure the length and width of your head. The length of the wig will start from the hairline to the back edge of your hair. The distance from the front to the back edges of your head is the width. Also, measure along the back of your head, put the measuring tape from one ear to the other ear. 
Put a wig cap on the Styrofoam wig head. Use the measuring results to draw a U-shaped part on the cap.
Making a U part wig needs your carefulness and patience. Now, turn the inside cap out and pin it to the wig head. Use a needle and start sewing your first weft on the bottom edge of the cap. Sew from ear to ear, when you reach the other side, don't cut the weft. You only anchor the weft to the cap with a double knot.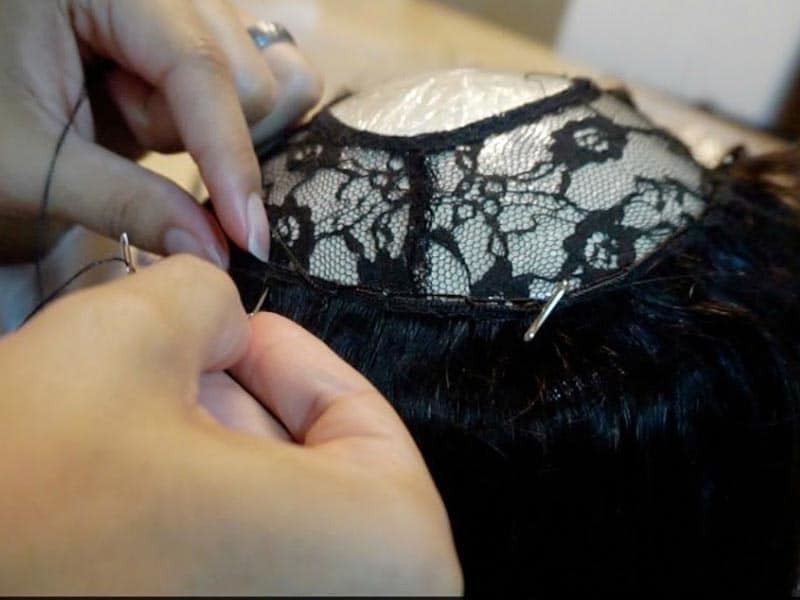 Take the cap off the head, flip and pin it back to the wig head. Then keep sewing the hair weft. You can cut the weft or fold it back to sew the next row.
Sew until you have full hair on the U-shaped part. Once you have done, use sharp scissors to cut the cap in U-shaped that you drew before. Now you sew the last weft to the cut edge of the cap and secure it with a double knot.
Inside of the wig cap, you can sew some clips and small combs. Sew into the back and 2 sides of the item.
– We recommend using human hair weft on making a U part wig. As you know, human hair wig has more outstanding benefits than the synthetic one.
How To Wear The Wig
U part wig is one of the easiest to pull off basically, and it is just track sewn on a wig cap. To begin the installation, you measure your head so that way you know how much hair to part and tie away. 
Before you braid the hair down, separate your crown areas that are going to go over your wig. In order to pull this wig off, you have to have medium or long hair so that none of the tracks are going to show. It is possible if you leave some of your hair lines out to cover the front. 
Other interesting articles you might like:
Some steps on attaching a U part wig
Step 1: Braid your natural hair. You can make cornrows or braid your hair in a normal way. Try to create braids that lay as flat as possible on your head.
Step 2: Once you have braided all the hair up, wrap the braids intertwine into each other. Then try to pin them so they flat on your head. Depending on how long you are going to wear your unit, you can make the braids thicker that allow you to take them out a bit easier. You also make them a little thinner if you want to wear your wig for a long time.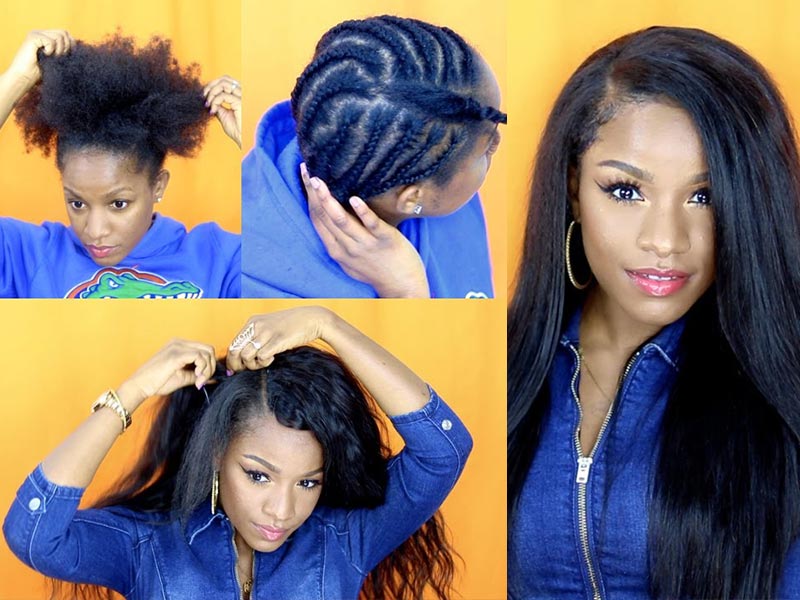 Step 3: As braids are laying flat to your head, attach the U part wig. The wig comes in plenty of styles, you can choose an ombre, blonde, kinky curly or kinky straight wig. And you can find easy to put on and take off with a U part wig with clips. Now, put the wig on your head, adjust its position so that you satisfy. Secure the wig by adding a clip in the back part, and then move to the side clips. Sometimes, the wig has little combs inside, you just stuck it into where you teased to your hair. 
Make sure that all braids are tucked under the unit. Pin the hair again with longer pins.
Step 4: Undo the hair sections and style them. You should match the hair wig texture with your natural locks. You could do a middle part, left part or even pull the hair back if you want.
Opt U part human hair wig to wear, you can style it as you want as it is flexible and durable.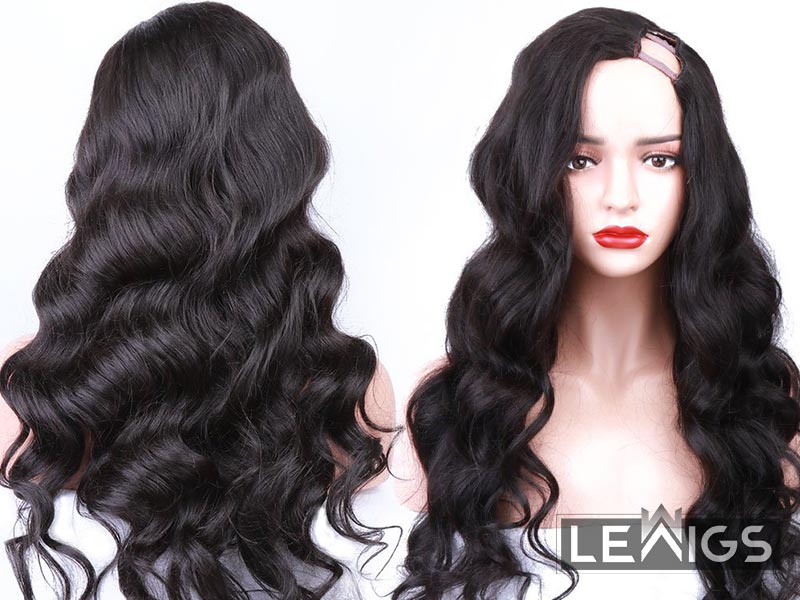 Where To Buy Natural Hair U Part Wig
You are wondering where to buy quality U-shaped wigs? Don't worry, let Lewigs help you get the best hair. Lewigs is a familiar address for girls who like to "make up" with high-quality wigs. All our products are made from 100% natural hair and the price is friendly. You want a U part lace front wig or kinky u part wig, they are available in our hair company.
We hope you now have a better knowledge of U part wig and how to make it. Please visit us now to own a cheap U-shaped wig! If you have any questions about anything we touched upon then please contact us directly via WhatsApp: (+84) 98 261 44 86 or email: info@lewigs.com.