Talking about home remedies with simple ingredients for hair, we often mention coconut oil, olive oil, lemon, etc. There is an easy-to-find ingredient that is familiar with us but we rarely use it for hair care. That's white vinegar. In our article today on Lewigs, we would like to share with you the information about white vinegar for hair. We are sure that you will be very surprised with white vinegar uses for hair.
What Is White Vinegar?
White vinegar is a combination of 4–7% acetic acid and 93–96% water.
Besides adding flavor to the meals, white vinegar can bring to us many health benefits thanks to its acetic acid component: control blood sugar, manage weight, reduce cholesterol, etc. especially improve hair and skin condition.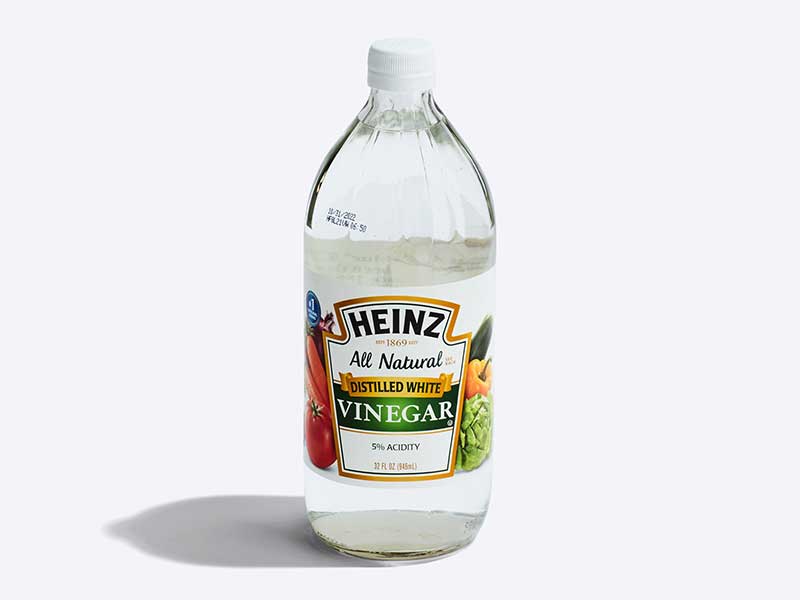 White Vinegar For Hair – Benefits
 "Is white vinegar good for your tresses and how it can do" are the common questions when mentioning white vinegar as an effective remedy for hair care. Try it and we are sure that you will be very surprised with white vinegar uses for your breadth.
Similar posts:
Remove Dandruff
Dandruff not only creates uncomfortable feelings but also makes you lose self-confidence. There are many causes of dandruff such as seborrheic dermatitis, overuse of styling products, allergy with hair products, etc. but the most common factor is PF fungus which leads to scabs and redness on the scalp. This fungus stimulates the renewal of skin cells, so immature cells accumulate on the scalp causing dandruff.
Thanks to containing bactericidal, antiseptic and fungicide properties, white vinegar is one of the most effective ingredients to remove hair dandruff. Moreover, white vinegar helps you have healthy scalp by keeping the pH balance.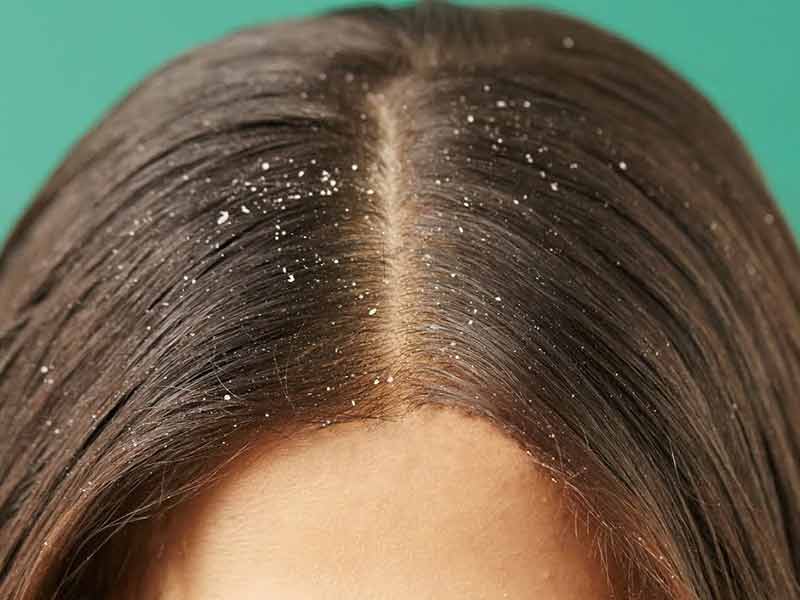 Rinse Hair
With a low price, white vinegar is a good choice for removing hair build-up. This ingredient is famous for being a natural hair cleaner because it can remove the residue left behind by other hair care products. Therefore, do not skip using white vinegar after washing your tresses with shampoo and condition.
Boost Shine
In addition, the smoothness of hair will decrease over time due to the impact of the environment, the sun and shampoos. People often apply white vinegar as an effective way to make your locks more attractive. Vinegar can nourish hair from the roots, make it healthy and black. When washing hair with vinegar, you will get a glossy, shiny appearance on your hair. As a result, want to have shiny hair? Try white vinegar for hair lightening right now!
Reduce Hair Loss
You will not have to suffer from the feeling of seeing hair loss anymore. Using white vinegar regularly improves blood circulation to the follicles, so hair roots can have essential nutrients. The healthier the hair is, the less hair you lost.
Promote New Hair
Besides preventing hair loss, white vinegar also helps you say goodbye with the thin hair because it can promote new growth The reason for this benefit is also that white vinegar improves blood circulation to the hair follicles and thus encourages hair growth.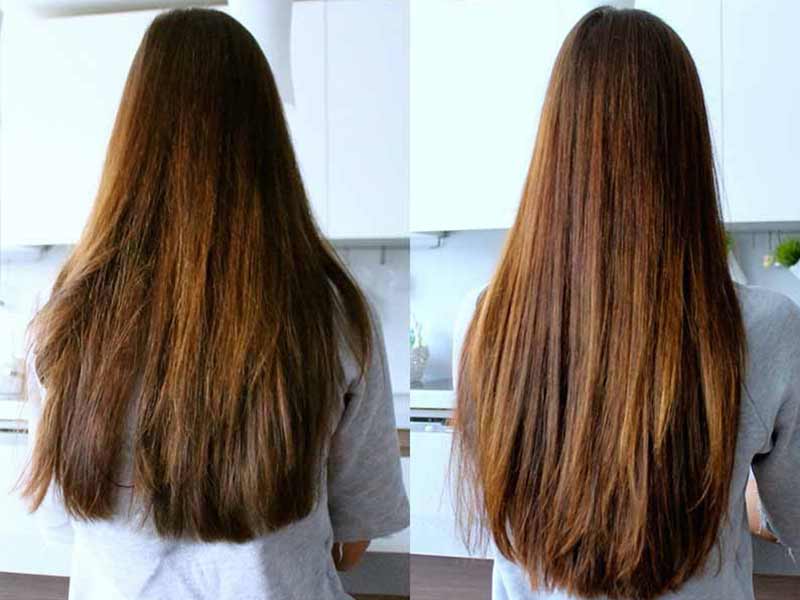 Reduce Damaged Hair
Nobody likes owning damaged hair. Let white vinegar help you solve this problem. This simple ingredient may smooth hair, reduce tangles, then you will naturally be gentler with hair. You also see the less appearance of split ends and breakage.
Remove Hair Lice Eggs
Although white vinegar cannot kill head lice and nits directly, it will reduce the glue that holds the nits to the hair shaft, then the nits will no longer stick to the strand and we can easy to remove them with a good nit comb.
White Vinegar Vs Apple Cider Vinegar
You can see the improvement by using both white vinegar vs apple cider vinegar. There are some differences between them.
Firstly, apple cider vinegar has more vitamins and minerals but that does not mean white vinegar is not effective.
Moreover, many people prefer apple cider vinegar because white vinegar has a stronger smell. However, if the smell still too pungent, you can add a favorite essential or more water. Do not care too much about the smell. It will disappear on dry hair.
Meanwhile, distilled white vinegar for hair is beneficial for keeping the hair color. As a result, along with helping natural hair, white vinegar rinse is applied for color treated hair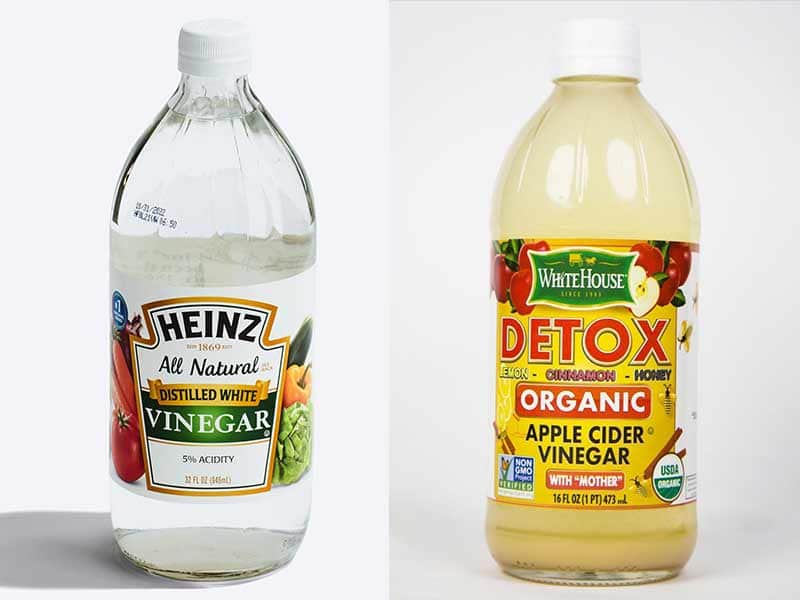 How To Use White Vinegar For Hair
– Mix a cup of water and ½ tablespoon of white vinegar
– After shampooing, apply this mixture on your hair by spraying the underside of your hair as well as the top of your hair and scalp
– Wait for 30-60 seconds
– Wash hair with clean water
– Dry and style your hair as you want
Precautions
White vinegar is natural for hair care, so it is safe for almost everyone. However, it is essential to check it carefully to make sure that it will not cause any allergy for you or uncomfortable feelings. Pregnant women and children should ask the doctor first.
Besides, there may be a relationship between your hair problems and your health. You should go to see the doctor immediately if you suffer from those problems for a long time.
Read more:
Hair protection
Do not forget to have good habits, then you will own not only good health but also beautiful hair:
– Prevent your hair from exposure of sunlight and other sources of ultraviolet light by wearing a hat when going outside
– Reduce the use of styling equipment and devices
– Avoid using too hot water to wash hair
– Have a healthy diet is necessary: eat more vegetables and fruits, keep away from fast food, drink enough water, etc.
– Avoid smoking and alcohol
– Keep stress in control
We hope that after reading this article, you can get interesting information about white vinegar for hair, and try to use it to improve your hair condition. We also have other hair care topics, please check them on our blog. Additionally, we are always welcome your comments as well as questions and will reply as soon as possible.