Lace wig tape is widely used by both men and women because of its benefits. It allows you to have long and thick hair in a couple of seconds by using a simple method. You can be assured about its durability as it can hold your wig for a long time. How long does wig tape last? If you wear it properly, it can secure the hair in place for weeks, even up to 6 weeks. It is also a great choice for those who are active and enjoy water activities like swimming. 
Amazing lace front tape brings you a realistic look so that no one can detect you are wearing a wig. Moreover, the tape is easy to use, remove, and clean up as well.
What Is Wig Tape?
You know wig adhesive tape always works behind the scenes to give you beautiful hair. It is worn to hold your hairpiece in place. Each tape has its color, shape, and brings you comfort. In the hair market today, sellers provide many types of wig tapes and some of them are designed for those who have sensitive skin. So no need to worry that the tape will irritate your skin. Whether you would like to buy an extra-strong or normal tape, you can easily get it. You should wear a non-shine or straight strip when you wear a lace front wig as it does not show through the lace cap construction.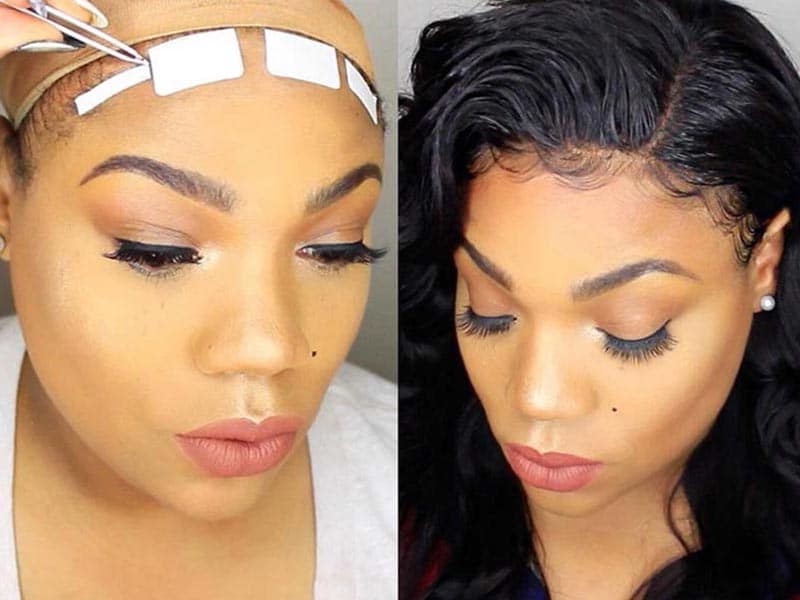 As mentioned, the tape is used to attach hairpieces. Many people choose top stick and double-sided wig tape as they are strong and durable. But bear in mind that you have to clean your hair and scalp before applying tapes so that they will have long-lasting results.
Wig tape is available in sizes and shapes to match perfectly with your hairpiece. It usually has 2 sides, one is applied to the base of the hair system and the other side sticks to your scalp. To get a good adhesive, please consider some necessary things like what will work best in your wig, what is the most durable… You should choose the best wig tape for sensitive skin if you have a skin problem.
Types
In addition to colors and shapes, the wig is also available in rolls, pieces or contours. But in this post, we will show you 2 popular wig tapes now.
– Tape roll: This line of the tape is widely used. And once you try it, you'll see why it is popular. It is incredibly flexible since it allows you to use it for daily wear and last for weeks. Its price is friendly and you can choose from a variety of sizes at any hair stores.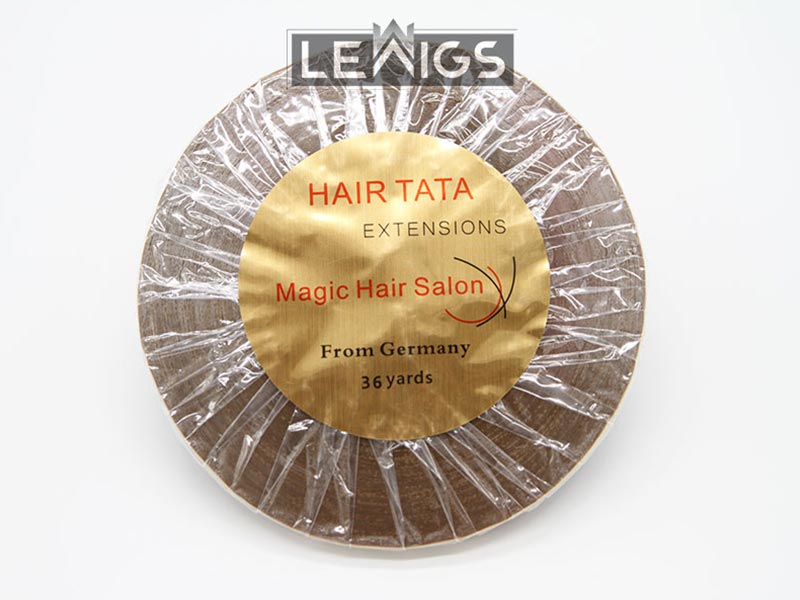 – Piece lace wig tape: It is perfectly safe for your scalp, does not cause irritation, discomfort or any side effects to the user. Like a rolled one, it is very solid to hold your wig in place. This tape allows your hair unit to stick into your head for a long time. Simple, fast and safe to use.
Lace Wig Tape vs. Glue
There are many items that are worn to attach your wig to your scalp. Tape and glue adhesive are 2 popular lace wig adhesives now. While it is double-sided tape to attach your wig, glue also works on a similar principle but it is in liquid form. So which is right for you, lace front glue or tape?
If you are trying to choose a wig glue or tape to attach your wig, please remember that each has its own advantages and disadvantages. Before buying, let see what the base type of your hair wig is. The base type can help you choose the right adhesive.
Because tape and glue are attached directly on your scalp, so most of them are safe to wear. But it is not true in all situations. Hence, do a test in your hand before applying onev your scalp. When testing the glue, apply a small drop onto your skin. Leave it for about 30 minutes then remove it. If the skin area is red and itchy after, you are allergic to it. If not, you can feel free to use it. You can do the same with the tape. Cut a small piece of tape and apply it onto your hand. And wait. However, wig tape is a bit more gentle than the glue.
Why Choose A Wig Tape?
The Pros
A natural look
Lace wig tape adhesive gives a more natural-looking and undetectable edge. It helps to keep your hair flat to the surface of the sides and hold it in place.
Variety of colors, sizes, shapes
You can easily find the best lace wig tape for your own. If you are planning to wear your wig for a week or longer, a stronger tape like the red-colored tape is perfect.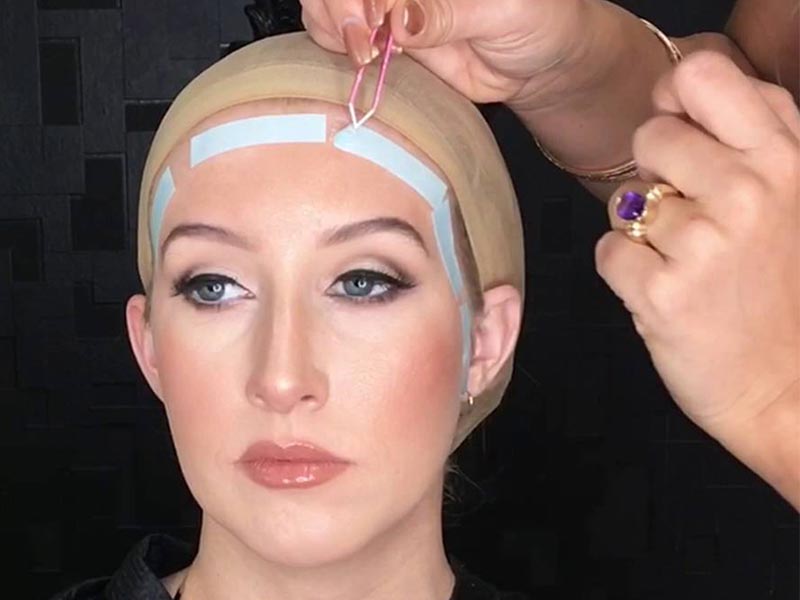 Quick removal
Lace front wig application with tape is easy, and take it off is easier. You can use formulated remover products, alcohol or water since they not only help you remove the unit quickly but also protect your own hair.
Easy maintenance
With tape, you can make adjustments at home. You can add more or replace some pieces by yourself to hold your wig securely.
Safe to use on your skin
The tape adhesive contains no or fewer chemicals and therefore no irritate your scalp. 
View our products:
The Cons
Take a lot of time
If you are not familiar with applying tape on the unit, it will take a lot of your time. And if you are smarter, it will take 5 minutes to finish.
Can damage your bio hair
You should visit a hair salon and ask for a hairstylist's help if you do not know how to apply hairpiece tape. Cut the adhesive is really important. The professional will know what type of tape will be suitable for your wig and skin to apply. 
In addition, it is not recommended for those who are sweating. Please buy a waterproof lace wig tape if you don't want your hairpiece to slide.
How To Use Wig Tape
Using tape is an easy method to apply your wig. Follow our guidelines to put on the tape correctly.
Cut the wig tape
If you use a tape roll, cut it into small pieces. If you use strips, you can skip this step. We recommend using the white-colored tape if you wear a wig daily and red-colored tape for extended wearing.
Put the tape on the base material
Determine where you want to place the tape first. Then peel the protective paper in one side away and place it under the perimeter of your hairline. Press the tape gently so that it flat on the surface.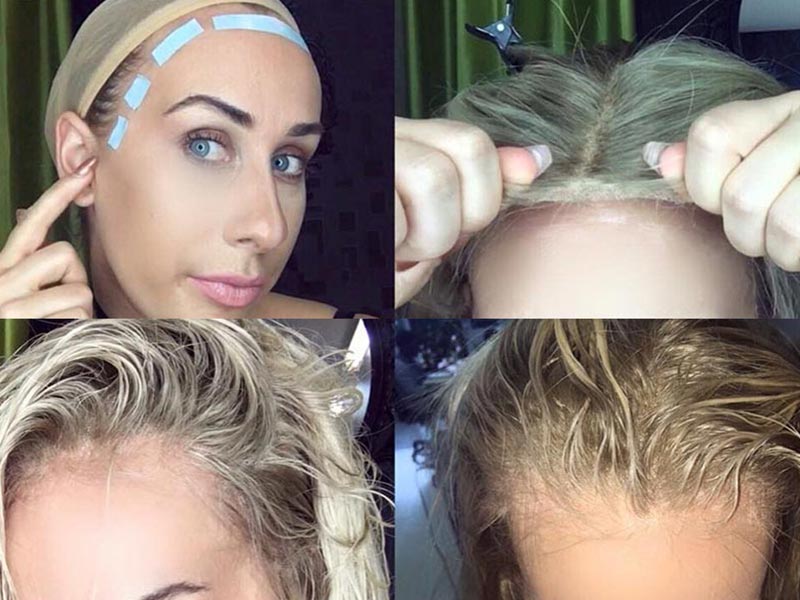 Put in your head
Use tweezers or your nails to remove the rest protective paper. Be sure the way gets placed exactly where you want it and press down on the adhesive points to secure the wig. Now your hair system is secured and ready to wear. Once the hair is bonded with wig tape, you can brush and style your hair as you hope.
Note: Make sure that you clean your skin around the hairline where you plan to apply the adhesive.
How To Remove Wig Tape
How to put on a lace front wig with tape is simple, take it off is simple, too. Invest a good remover to remove the tape quickly.
Spray remover on cotton swabs, then gently lift the outer edge of your hairpiece and roll cotton swab underneath. Start at the outer corners where the adhesive was applied. Don't pull or stretch the hair. Take your time and be sure it has completely released before removing your wig. Now, you can lift the wig from your head.
Continue peeling the tape from the base and discard. And clean off any excessive adhesive on your base.
Top Wig Tape
Bold hold lace wig tape
Bold Hold is a type of double-sided wig tape. There are 40 strips of tape per package. No glue or anything else with this tape. It is used as a stronghold tape for wig attachment. Please follow the product instructions step-by-step, you will experience the ultimate hold.
Instructions:
Wipe area using 90% alcohol. Then apply bold hold tapes to the lace base and your skin. Never apply to hair. We recommend you remove any hair or hair fuzz out of your way before applying. This could cause damage if applied or removed improperly.
Wig tape Walgreens
The tape at Walgreens is double thick adhesive and incredibly strong. Some famous wig tape of this brand: Scotch tape, KT tape, Duck tape, etc.
Walgreens wig glue tape is flexible and breathable so you can feel comfortable when wearing it. It also provides strong hold for hard-to-bandage areas on your base material and scalp.
This hairpiece tape is double sides adhesive tape and used to apply for wigs, hair toppers, extensions… Its length is 36 yards and 0.4 inches in width. It can hold your hair system for 3-6 weeks, depending on temperature, humidity, and body oils.
If you are finding a stronghold tape, it is all you need. It has no shine effect detected through the wig. This tape is also easy to remove and leaves no adhesive residue on the lace.
This adhesive tape for lace wig is a popular accessory today as it should not be detectable when you apply it. Provide a longer hold than the normal tape, it is a good option for those who are active. Attaching it with tape makes it easy for you to fix it at home.
Whether you are wearing a wig to conceal your baldness, thinning hair areas or add more hair volume, you need to make sure you have the right adhesive.
You also buy tape for lace wig on top brands such as CVS, Lace FX curve tape, Walker Tape…
You might also feel interested in:
Where To Buy Wig Tape?
So where to buy a wig tape near me? There are too many suppliers selling tape adhesive, so you do not know where to buy a good wig tape. It is difficult to find a trusted vendor because you know not every vendor sells quality products at friendly prices.
If you have not found a place to buy your hair item, come to Lewigs. Whether you are looking for tapes, color rings or any items related to hair, you can find us. If you want to work with a human hair wholesale vendor, please talk to us. We always supply you with a big collection of high-quality hair systems and the best customer service.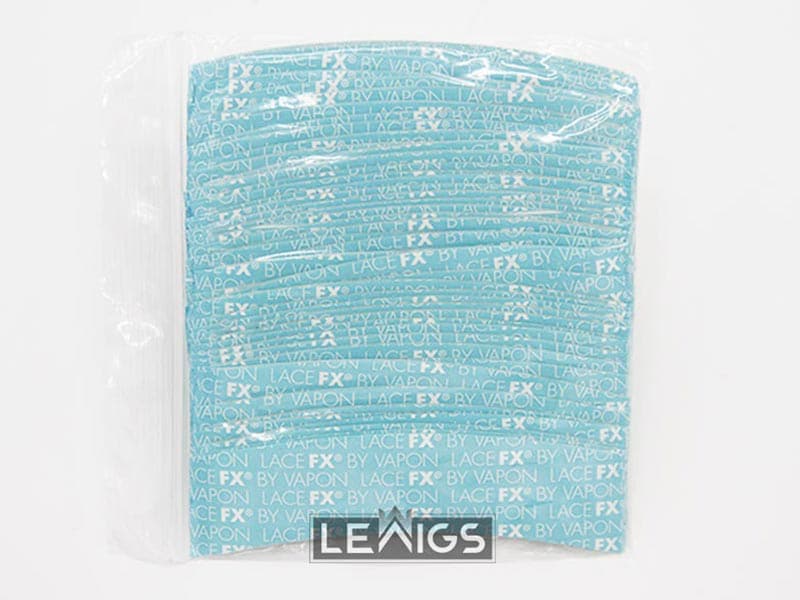 When you buy an accessory in our company, our selling teams will help you choose what type of tape will work well on your wig. They also give you a piece of advice on how to apply and remove the tape properly. Wig tapes at Lewigs come in a diversity of shapes and sizes. Depending on your head shape and base design, each tape will work better than others.
Our hair company also supplies all kinds of human hair systems such as wigs, closures, toupees for men, toppers, etc. They vary in many textures such as straight, kinky curly, curly or wavy… We only use the hot-steam method to design hairstyles so the hair will be looked real. At Lewigs, you can place your order and pay us online. We are always here and will ship the best glue & tape to anywhere in the world.
Our Conclusion
Lewigs, one of the biggest wig manufacturers in Vietnam, has improved and mastered the techniques that ensure to supply high-end products. Although there are plenty of hair suppliers in the market now, we still ensure that our hair and accessories stand out because of quality and prices. 
For any further interest in the wig tape or any other hair accessories, don't hesitate to contact us via our hotline (+84) 98 261 44 86 (Mobile/WhatsApp). You can also leave your comments below or text us on email info@lewigs.com. Our professional teams are ready to answer any of your questions.