Talking about wig adhesive is quite complicated and individually dependence. Each one has her own experience with different wig adhesives. Instead of trying out all the wigs in the market to know which really works, here Lewigs have some information to helps you make the right choice as fast as possible without too many bad experiences before. 
What To Consider When Choosing A Wig Adhesive?
Questions. Ask yourself some questions before starting to look for any wig adhesive. Here are our recommendations:
– How long do you wear the wig?
– How much can you pay for your wig adhesive?
– What is your job?
– How is your hair: Thick or thin?
– Does wig adhesive damage hair?

The Time You Use The Wig
We have seen a lot of wig adhesives which work very well in the first hours and then showed some terrible signs. For this reason, it gonna be fine if you only need to wear your wig for a short time, but if for longer, you need to consider more carefully.
Your Budget
Your financial ability is one of the most important factors that need to be mentioned, not only in buying wig glue vs tape but also in purchasing anything else. You usually have to pay more for a wig adhesive with higher quality, although there are still some better products at a more affordable price.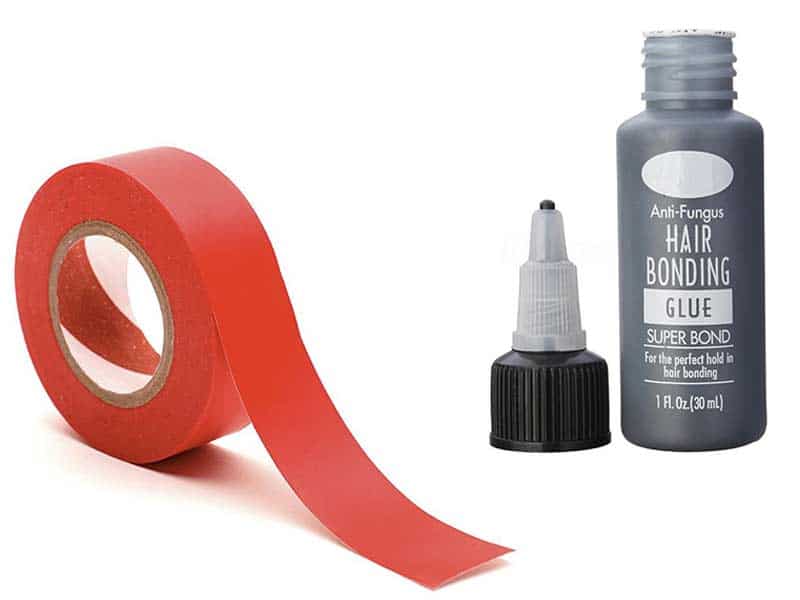 Your Job
Some jobs, such as actors, have many requirements for a wig adhesive to look as naturally as possible.
Your Hair
There will be more effort to decide which is best for you. For instance, if you have thin hair, things will be much easier than using your thick one.
Risk of damaging your real hair
Many people wonder "do wig adhesive damage hair" as seeing lots of negative reviews online. Of course, applying adhesive, either a liquid or a solid one, would pose some harm to your scalp. But it could be minimized if you choose a good quality product which is suitable for your skin. 
View wig adhesives available to shop at Lewigs:
Type Of Wig Adhesives: Lace Wig Tape vs. Glue
There are many types of wig adhesive available in the market but here we have 2 outstanding names: glue and tape. With those adhesive types, we need to prepare for some comparison: Lace Front Glue Vs Tape. Down below are some reviews on these lace wig adhesive we have collected. Hopefully, it could somehow help you find your best mate.
Glue Wig Adhesive
The installation is always required in using lace front wig glue adhesive, after some preparation before this process, such as makeup, wear the costume, and hair depilation. And now, let's come to the pros and cons of using lace front glue.
Pros of wig adhesive glue
Look more realistically
You don't want anyone to know that you are wearing a wig? That's the time you need wig adhesive glue. A normal frontal usually cannot lay flat to your sides' surfaces, and lace front glue helps a lot in keeping those laces in place. Once everything is set up, you cannot believe in the realistic edge while it is usually very easy to detect.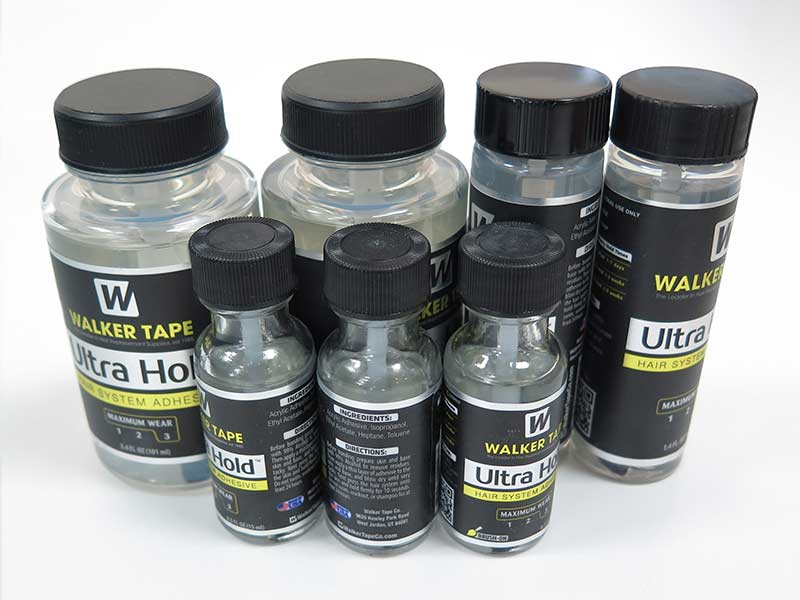 The Ease Of Taking Down
Many people got some problems with taking down their wig without scissors – it really hurts sometimes cause some skin problems. Lace wig adhesive can be removed by using a lot of items such as remover, alcohol, and even water. This is quite safer.
The Ease Of Maintaining The Wig
The second 'ease' that lace front glue brings about is the maintenance. Caring for your hair is never an easy task. You need to spend hours fixing it and revamp your style at home.
The Absence Of The Edge
Using lace front glue does not definitely mean that there must be a thick edge, braids, or even hair.
The glue still brings about a realistic look even when you use it to attach the frontal to anyone. Hence, there's no need for thick hair.
A thin edge always works very well as it does not make people worry about being disappointed due to the limits in the specialized methods of installation. 
Check out our wigs:
Things you might not like
The Lack Of Longevity
Longevity is a significant component that needs to be stated, so the absence of it definitely does not help you to wear a wig for a long time. That is why glue is not really recommended as the best lace wig adhesive for long term wear
I think the worst part of gluing your forehead should be when it begins to slide! However cool your style is, the wig glue adhesive does not remain waterproof after three nights.
What's more, you will get another problem when sweating out your hair.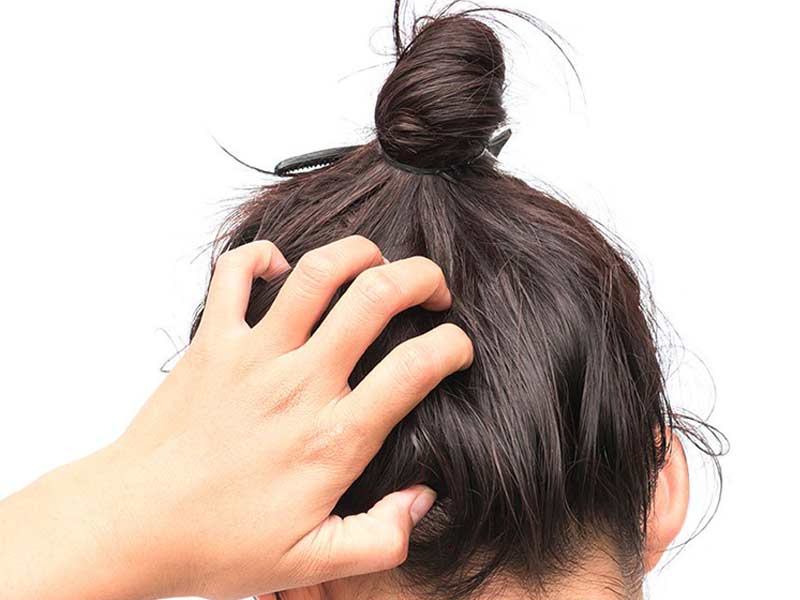 Hard To Sweat Your Hair
You will be surprised by the moisture displacement of your face as one of the major advantages of weaving is the ability to have perfect hair. The abrupt shift will catch me off guard when your frontal started to shift from the steady sweating and showering owing to the adhesive thinning out.
Wig Adhesive Tape
Whether to choose between lace wig tape vs glue is always a hard-to-answer question. While glue stands out with its premium benefit, tape adhesive is nothing less powerful.
The tape is simple to use and handy. It provides an easy technique of connection, washing, and extraction. Discover the frontal implementation of tape binding.
The benefits of using lace wig tape
The Lack Of Installation
The time for installing a tape is faster than installing a glue. It only requires 30-60 minutes to mount while the design desk requires a considerable quantity of moments for other lace frontal apps.
The tape can last 6-12 weeks if properly implemented. In this scenario, one stage in the "fight" between lace front glue vs. tape is gained back by the tape.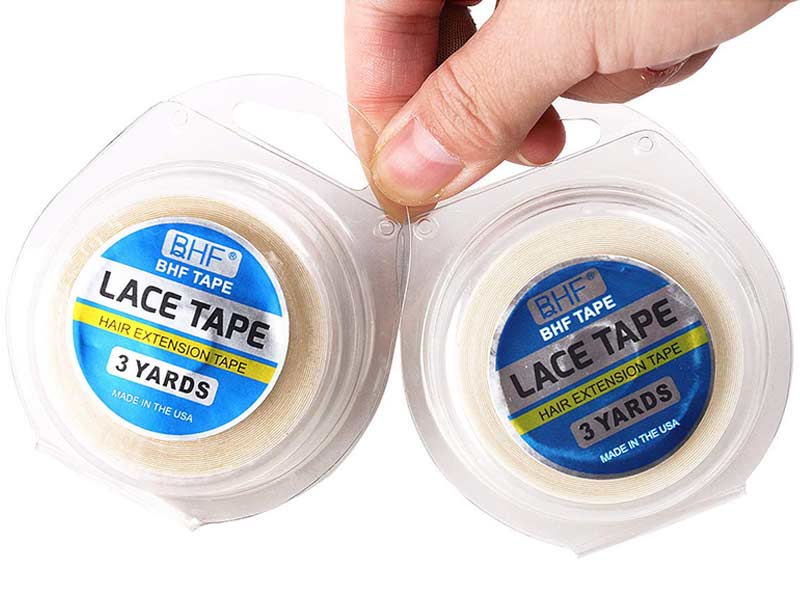 The Damage Reduction
If teenagers are worried about hair loss believing that wigs and extensions can harm their true hair, the greatest opportunity is to apply tape. They are light and therefore do little hair harm. They are also simple to mount, so no hair and scalp stress exists.
The Realistics Look
It is undetectable because it is nearly invisible in the eyes of onlookers by the plain cloth used to stick to the scalp.
The Wide Variety Of Hairstyling Options
There will be a lot of hairstyling options for you when using tape glue thanks to the application of tape lace frontal.
You might feel interested in:
Drawbacks of using tape for toupee and wig
Patience Requirement
48 hours after you install the tape adhesive, girls must withstand taking a role in any physical activity or cleaning their hair.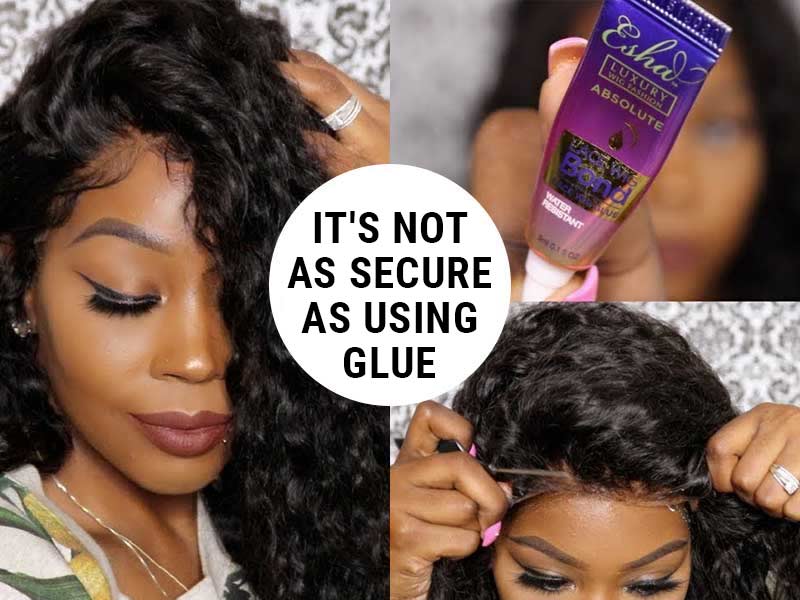 Oily layout products and shampoos are not recommended since they can slip off the cloth on the body. Remember to remain tender with tape at all times.
The Price
You need to pay a significant amount of money to get this tape application although our financial ability still helps in purchasing it.
However, the adhesive tape for lace wig can last approximately for a year, so we can consider it as a good investment.
Where To Buy The Best Wig Adhesive?
These days, it's not hard to find a wig adhesive provider but making the right choice is. We recommend Lewigs as a reliable lace wig adhesive wholesale who has one of the best offerings.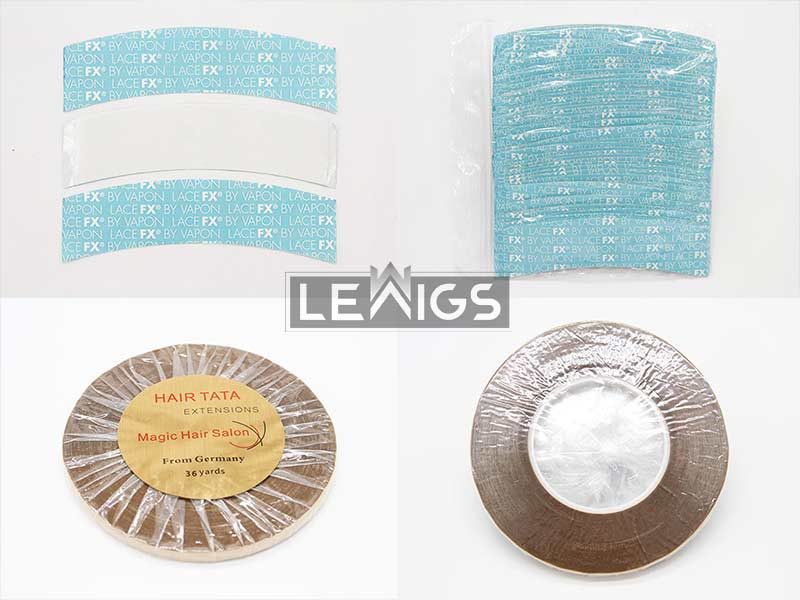 We have different kinds of wig adhesives, ranging from tape roll, tape piece to glue. You can take a look at our collection of hair system accessories to view our products. 
The Bottom Lines
In this post, you have learned some information about wig adhesive, things to consider if you want to purchase one such as your budget, your job, and your hair condition. Lewigs also gave you a comparison between two of the most popular types of ones, so it should work for you.
Any of the two adhesives are amazing to use, so don't hesitate to get one to have your wig secured. Visit Lewigs for top-notch hairpieces and accessories now!
Also, feel free to raise your voice at any time if you have any inquiries or requests. It's always our pleasure to support!