Wiglets for crown area for thinning hair are designed to fill in sparse and bald spots. They also add more hair volume to conceal your affected hair areas. It is also known by several names, such as toppers, half wigs. Easy to install and blend to your own hair seamlessly, this hair will cover the hair area where you need it. In this post, we will help you figure out some types of wiglets for crown area women that will meet your needs. 
What are wiglets for thinning hair?
As we said, the term "wiglet" consists of a range of half wigs, hair toppers, and top pieces. It looks like a mini wig created to cover thinning hair around the crown area. It also works to add a little volume to the top of your head, helping wearers achieve hair fullness. This hair is now available in numerous styles and colors so that buyers can easily get the most fitted one. Plus, they are simple and comfortable to apply, offering natural and healthy-looking hair.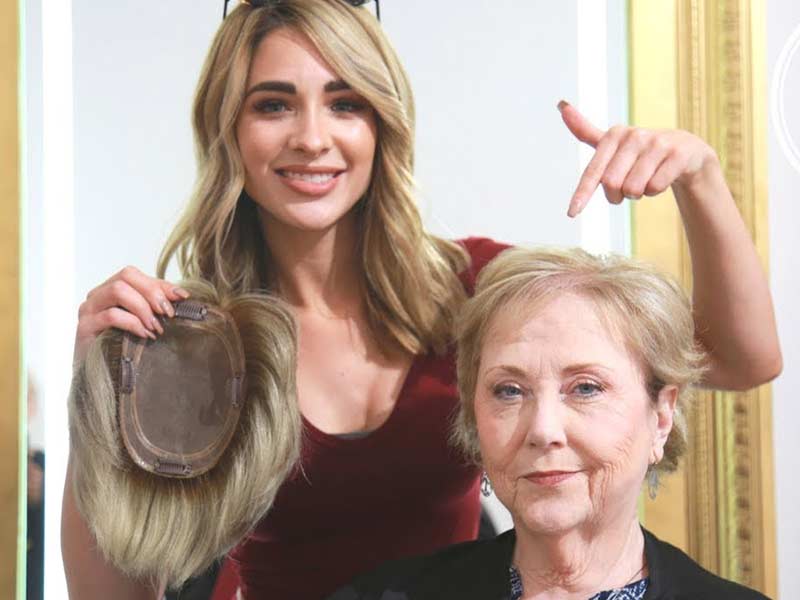 Wiglets and toppers, there are more and more women who choose these hairs as a good companion. Especially, women do have their own thinning hair use it to boost their confidence. Just apply the hair on your crown, it will disguise your visible scalp and maximize coverage and fullness.
Depending on how severe your thinning hair area is, you can choose a suitable hairpiece. For example, you are suffering from thinning at the crown area, and you want to cover this area only, opt for an easy-to-use hair topper. It may be your saving grace.
Related posts:
Main types of wiglets hair pieces
Wiglets allow wearers to intensify their own hair and cover the sparse area. Simply install the hairpiece to your mane using adhesives or clips and voila! There are two main types of wiglets to choose from:
Human hair wiglets
Select human hair wiglets for thinning hair if you are finding natural-looking hair. It helps you get your desired hair while boosting your own hair. Made of 100% real hair strands, human hairpieces are enough versatile to be dyed, bleached, or permed. We mean that human hair systems can be treated as you would do with your natural hair.
If you have no time or don't know how to style hairpieces, you can buy ready-to-wear hair systems. With a bunch of colors and styles available, you are able to find the item matching your curls. Thanks to its naturalness, a human hair topper blend flawlessly with your own hair.
Synthetic hair wiglets
Alternatively, you can get synthetic hairpieces to cover the top of your head. It is created from artificial fibers, giving the appearance and feel of real hair strands. It requires less maintenance. However, it cannot withstand heat and chemical processes. The strands may be melted when you straighten the hair topper with a flat iron at a high heat level.
Although human wiglets for women are costly than synthetic ones, it is worth to buy. With one hairpiece, you can reuse it many times and change the style when you need it. Nevertheless, you should take care of the hair carefully to expand its lifetime.
How to wear a wiglet for the crown area
In addition to the top of your head, this hairpiece also adds length and volume to your own hair on the back and sides. Follow our guide below to wear wiglets for top of head:
– To get started, you should make a clear parting by using a rattail comb. Then take a small hair section about an inch and a half away from your hairline.
– Next, take your comb and tease the hair section by gently pushing the hair down a few times. This helps secure the clips on your hair topper when wearing it, and the hair can stay on your head all day long.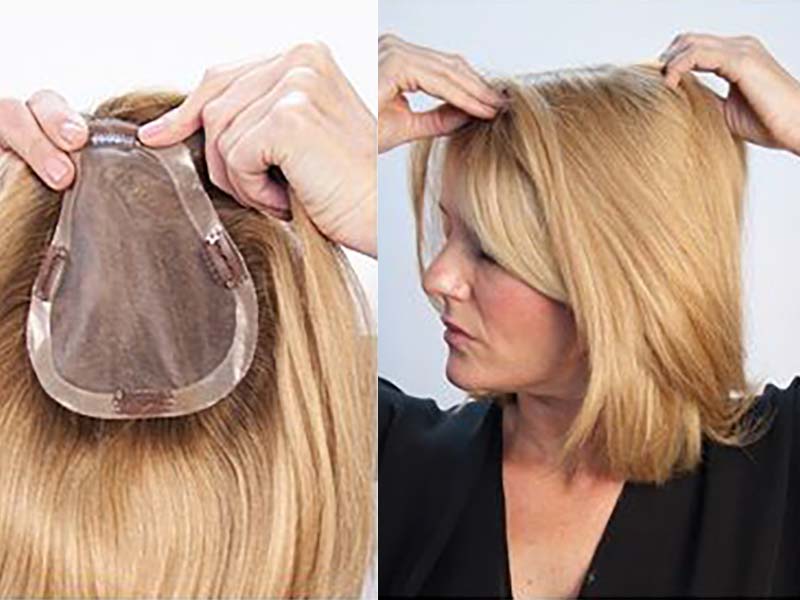 – You open each of the clip on the hairpiece. Place the hair line up your parting you created in your head, and secure the front clip.
– Then adjust the hair and proceed to secure the clips in two sides and the back. You can use a little hairspray and style your hair.
The whole process takes a few minutes to put on and it looks so realistic. No one will be able to spot it is not your own hair.
Depending on the length of your existing hair, you can gey wiglets for short hair or long hair to get a nice-looking mane. The removal process is so easy, too. 
Read more:
Can you wear wiglets as your natural locks?
Many of us have confusion that we can do everything with wiglets, such as trimming, coloring, etc. But it's not true for all situations. It depends on the hair type you use. Hence, when you use wiglets for crown area, please care for it cautiously.
If you use your hairpiece incorrectly, it will look unnatural. Gradually, your curly hair topper for the crown area will quickly dry, tangle, and look less shiny. If you don't wear hair, store and preserve the hair as well. Place it in a box then store it in a dry place.
Wiglets are an excellent option for a fuller hair look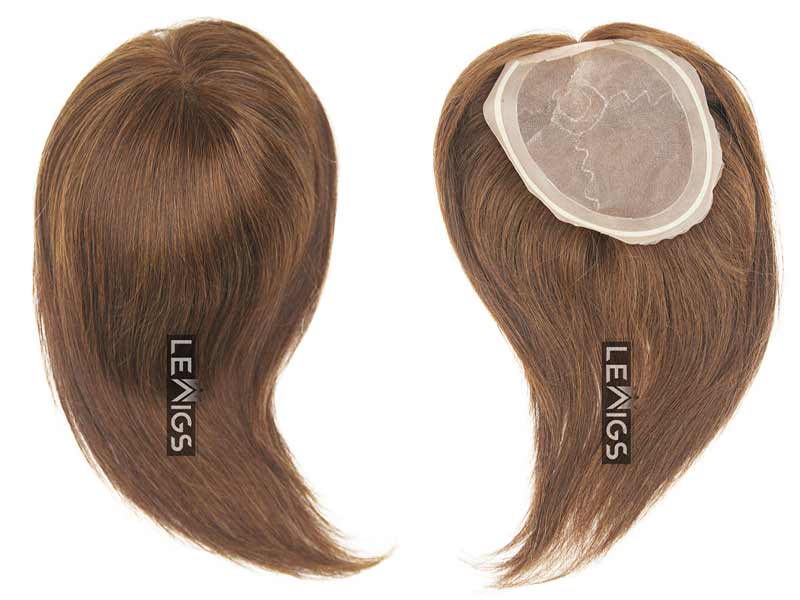 What are you waiting for? Try wearing wiglets for crown area to get your dreamed hair. It is a great tool to help you save a lot of money and hours spent on hair salons. Lewigs hopes that you will understand about this hairpiece and have a smart option for your thinning hair after scanning through our blog post. 
Have more questions about human hair wiglets for women or want to buy them, feel free to contact us. Our company specially supply top-notch hairpieces that are made of real human hair strands. You would like to start your hair business, we are always willing to support you. We commit to providing good products at wholesale prices for all customers. Our hair systems look and feel natural, soft, as well as smooth.
What's more, Lewigs designs hair toppers in a wide range of colors and styles for customers across the world to choose from. You can rest assured when buying our hair products. Hope to see you soon!