"Can I swim with your wig on?" Most of the wig wearers wonder that question, and the answer is " of course, yes", we can say for sure but the thing is that you should follow some certain rules when swimming with a wig on and buy the right wigs for swimming.
Women who suffer from hair loss sometimes feel depressed or lost, and it is easy to understand since hairstyle plays a role in one's appearance. And wig appears as a savior for women to overcome the feeling of sadness and give them any hairstyle they desire. But it has some drawbacks since the wig is never totally similar to natural bio hair. You should be careful when wearing a wig while doing some kinds of activities. Some are worried about using wigs when swimming, but it is certainly okay if you how to wear wigs for swimming.
Rules for Swimming with Wigs: how to wear wigs for swimming?
Swim cap or no diving
Floating, swimming, or diving into the ocean with a wig is a worry of any wig user. Even when your wig is firmly attracted to your head, the pressure or the force of diving or jumping can strip your wig away from your scalp, leaving you with the hairless condition.
A swim cap over your hair wig is the solution, helping to hold your hair as well as your wig in place and ensure your wig will not rip off while you enjoy a fun time. A small alert is that you should be careful when taking off the swim cap to avoid pull off your hair wig with it.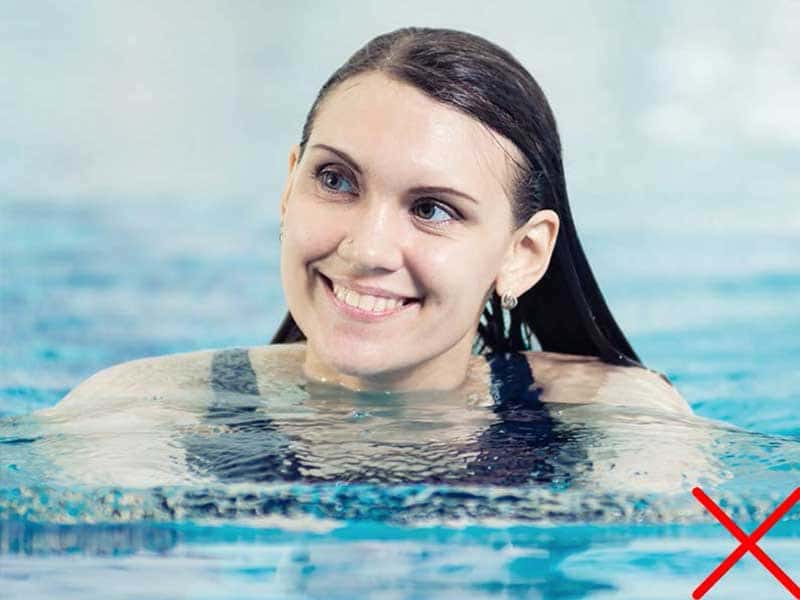 Swim time is not the time to put on your favorite wig
Among your wig collections, there exists the one you love most since you look gorgeous with it. It has a beautiful style and the color which fits you best, so you want to wear it anywhere to show off your perfect look. But the sad thing is that do not use it when swimming.
Swimming or water itself causes no harm to your wig but what inside the water. Chlorine in pool and salt in the ocean can damage and dry out your hair wigs.
Hence, do not wear your beloved wig when swimming and wash it the right way after diving or floating.
Other questions:
Deep condition
The only thing you can do after exposing your wig with chlorine and salt is washing it immediately after swimming to get rid of harmful chemicals before it damages your hair. This rule will help you extends your wig's lifespan. And after shampoo your hair wig, use condition, hair mask or leave-in conditioner spray to restore moisture in your wig hair.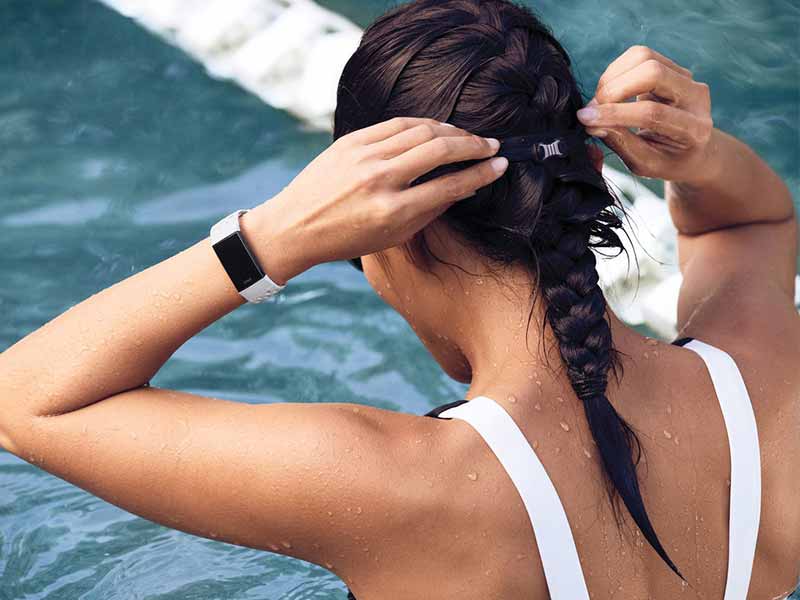 Beach braids are your new peer
After your wig gets wet, it could be difficult to restyle your wig into the initial style without pulling off the hair or striping the cap away from your head. So, before going to the pool or the sea, just make a simple side braid and you will own a water-friendly style. This style will not cause you any tangle but a good look after all.
Wig alternatives for swimming
If you are not confident when wearing a wig to the pool since you are afraid you cannot deal with any problems after that. Hence, you can refer to some of the perfect alternatives.
Scarf. The very first option to replace wigs for swimming is a beautiful scarf. But make sure you do not employ a cotton scarf since it can take in a lot of water and weigh your head down or cause overheating to your head after all.
Buff. If you often watch survivor show, you will know what a buff is. It is a piece of stretchy fabric as know as a tube scarf, which helps to clings your head.
Hats with hair. A hat sewn with hair extensions inside will be a perfect alternative for wigs. You can do it by yourself by purchasing a hat with some hair bundle then sew them together.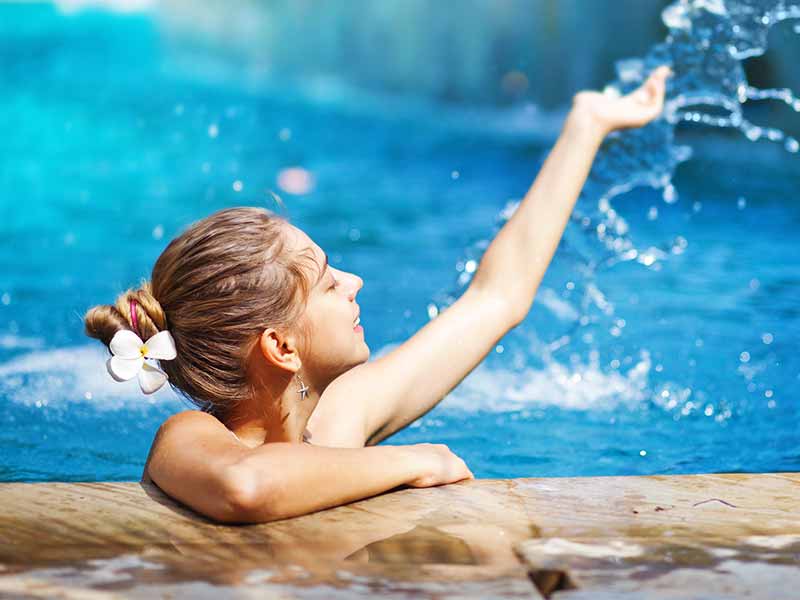 Wigs for swimming
But you do not want any other options but wigs, here are some type of wigs that can help you solve the wigs' problem involves water.
Human hair wigs of synthetic wigs?
Before going swimming, it is better to know whether human hair wigs of synthetic wigs are the best wigs for swimming. Human hair wigs can be damaged by chlorine and salt whereas synthetic wigs can be damaged by heat.
So in hot summer days, if you tend to spend a long time outside for swimming, a synthetic wig is not a good ideal.
Use a separate hair system
Instead of have a full wig for a beach day, let's use lace front wigs for swimming instead and make it become the wigs made for swimming. That means you use it for swimming only.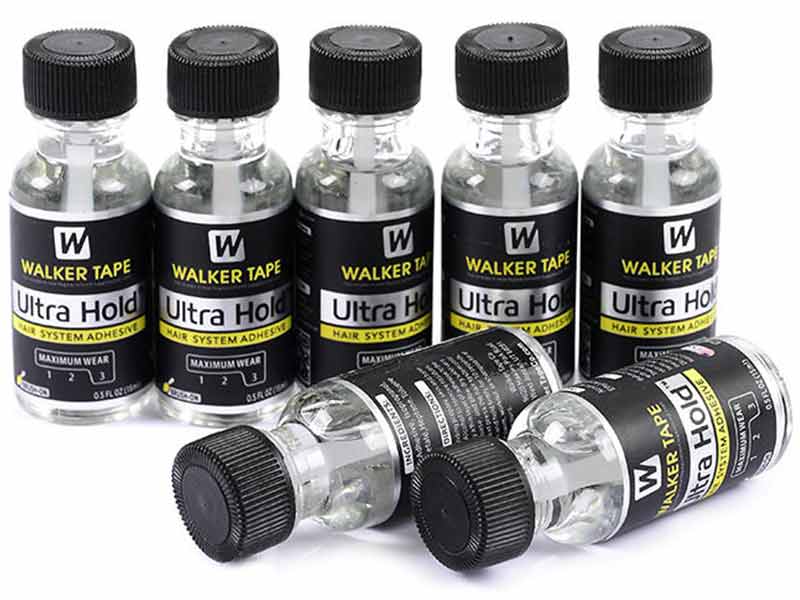 Right kind of adhesives
There is no surprise that if you use normal or usual glue to apply wigs when swimming, things will start to rip off.
Hence, make sure you get the waterproof wigs for swimming with waterproof wig glue or tape hence you can have a nice time with water all day without fear of destroying your look.
Jump to:
Final words
Swimming time is going to be fun if you know some rules about using wigs and some kind of wigs made for swimming. So, hopefully, this article will help you have a great time on the beach with a gorgeous look.
If you are want to know where to purchase the best wigs for swimming, pay a visit to Lewigs website. At our websites, you are offered the most high-quality hair wig created with 100% Cambodian and Vietnamese human hair, which is long-lasting and natural in look. What is more, you will be received professional help from our 24/7 service team, they will consult you in choosing the best wigs for a beach day. And when coming to us, you can order a custom made wig for swimming with waterproof function. Hence, do not hesitate to drop us a message anytime you need help.