There is a great majority of people around the world who are born with black hair. Among all colors, black stands for glamour and mystery. You should feel lucky if you are a black hair girl because you will have plenty of styles to shine your crowning glory.
Whether you have short or long hair, straight or wavy Remy hair, you will find out the best natural black hair styles which go well with your natural hair texture. If you have thick fine hair, a shaggy hairstyle will be the best option to magic your hair look. Today, let's take a look at some different black hair styles below!
Box Braids – one of the greatest black hair styles
You think braided hair is only for feminine and gentle girls, then surely you will have to change your mind when trying this style. With Box braids, girls can save time and money because it requires less high-maintenance. We think it is among the best hair styles for black women.
The Box Braids consist of two or more braids that are tightened from the top of the head to create a comfortable feeling for active girls. Initially, it was promoted by the Kim Kardashian sisters. Now, it is a common trend and one of the most favorite hair styles of Hollywood stars.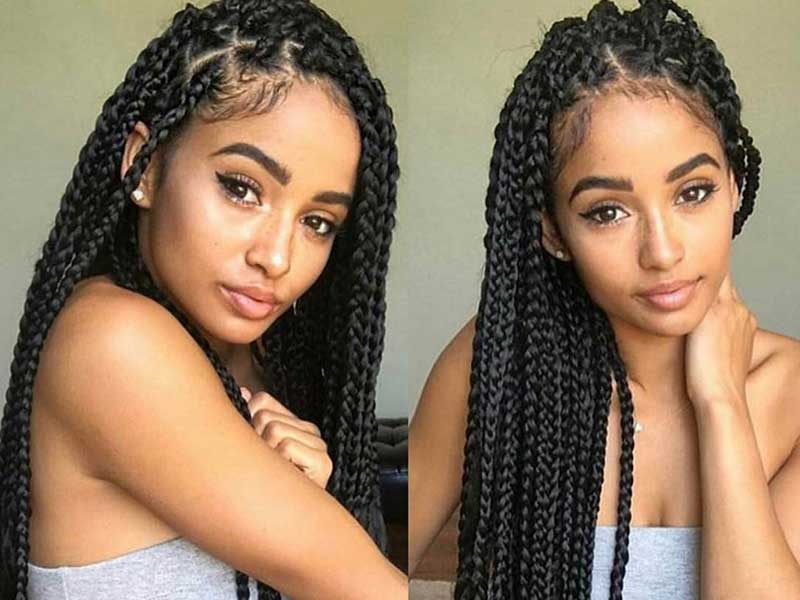 To master this look, you should visit a hair salon and ask for professional advice. Let the professional braid you up as desired.
To create this black braided hair styles, remember to condition your hair with conditioner before braiding so that the hair is soft and shiny.
Besides, you can combine the hair with other accessories such as chokers, earrings or necklaces to have perfect look.
Protective benefit
– It serves a protective hairstyle for natural and relaxed hair.
– As a generally low maintenance style, box braids are ideal for ladies who have hectic schedules.
– It helps prevent your hair from the bad elements. For instance, they are a great choice if you plan to go swimming. With hair being protected by braid styles, feel free to enjoy the water.
Bantu Knots – Black hair styles for a chic look
Bantu knots are a cute style that is preferred by African women. It works well with all hair types, from straight to curly hair texture. You can apply this style to black little girls' hair as it is so cute. Its name is Bantu knots but it is not actually knotted. Instead, the hair is coiled buns that are secured against the sides of the head.
How to create Bantu knots
– Shampoo and condition your hair. Dry the hair and detangle the hair if necessary. Brush it out with a comb or your fingers.
– Use a rat-tail comb to separate the hair into multiple sections. The width of knots depending on how long your hair is and the look you want. if you have short hair, split your hair into small sections. And you should use larger sections if you have long hair.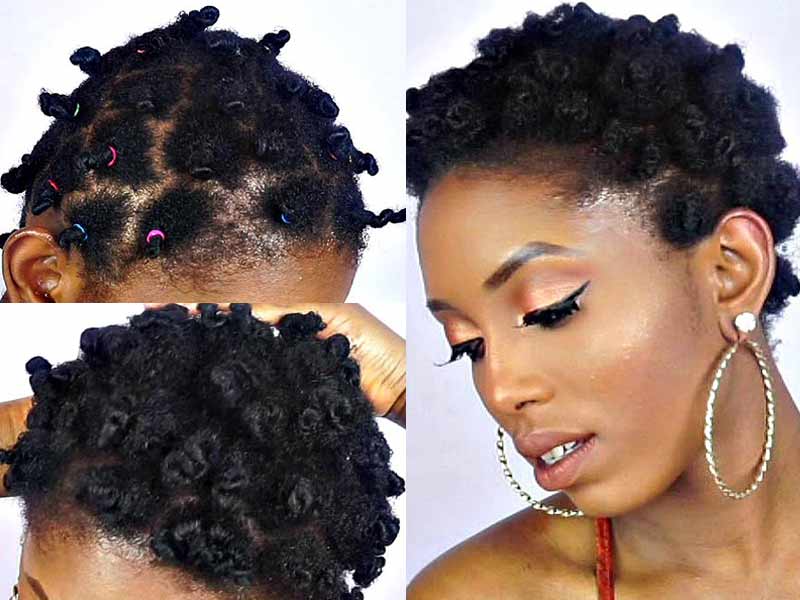 – At the base of your scalp, twist the hair section for a few small turns to create a short spring-like coil. Then wrap the remaining hair of the section around this coil. Secure the coil in place.
– Repeat the process with the rest of the hair sections.
Now you can go out with this black hair braid styles as you want. We think Bantu knots are easy braid and twists styles for you.
Protective benefit
The hair styles for black woman help to lock in moisture tightly. You can hold the styles for about 2 weeks. To keep it fresh, you cover your head with a silk scarf during sleeping.
You might also want to read:
Crochet Curls – go natural!
It is the same as many other braiding and natural hair styles. The crochet curls are suited for various hair types and textures. It mimics the look, volume of your bio hair. The black short hair styles work as a protective style.
Pros of black girl hair styles:
– Suit for DIY: You can try styling Crochet curls on your own if you know how to make cornrows. You don't need to make the cornrows look great as it will be covered. Be confident, you masters of styling your own hair. And you need a little patience as well.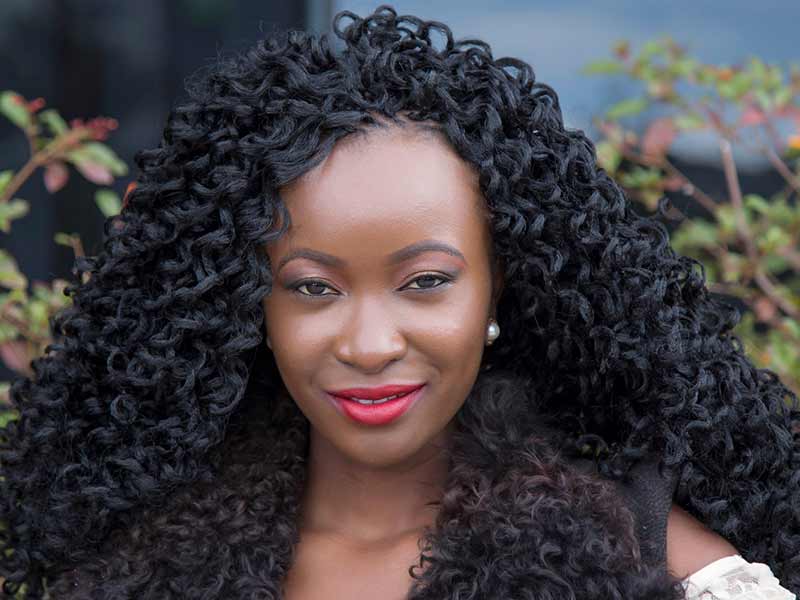 – They are relatively easy and fast to do. Depending on the kind of style you choose, you may spend as little as 2.5 hours for "installing" them. For those who opt for black hair weave styles, it may take a bit longer.
Protective benefit
Why is it a protective hair style keeping your bio hair in point? The beauty of crochet styles is that they only have made braids and curly styles, no chemicals. They are more accessible to those who want diverse styling without the wait. You can save both time and money.
The Faux Ponytail
Do you have shoulder-length hair or bob hair? Whether you dream about curly or straight hair, the black women hair styles – Faux ponytail will definitely make you stand out at any time and anywhere. As one of the most pretty styles, it is suitable for active women and like the sporty-chic style.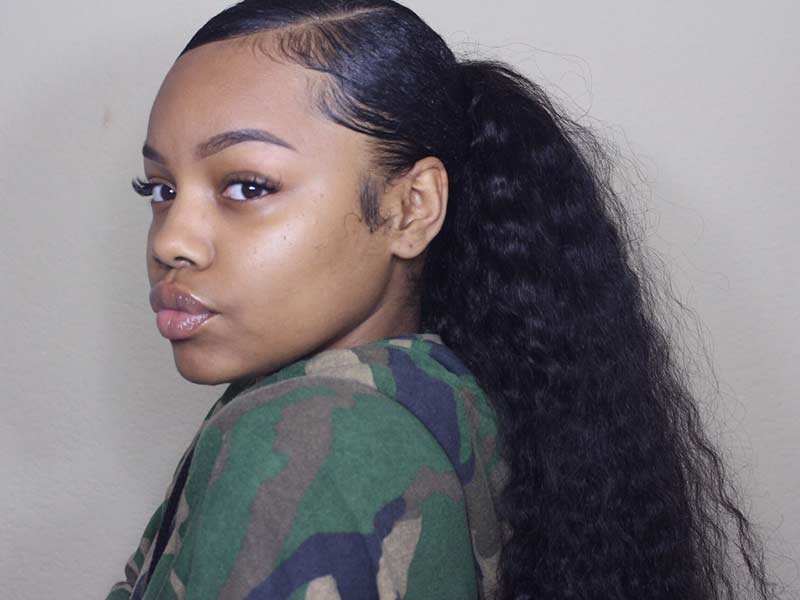 What's great about ponytail styles? As one of the chicest looks of all time, it is ideal for all girls and beginners. To create seamless and natural hairstyles, wrap a piece of the ponytail and wrap around the bun.
Protective Benefit
Needless to say, the ponytail is among the greatest hairstyles that require little maintenance. Plus, it is time-saving and won't lose form even when you are doing rough sports.
Flat Twists
This black hair braiding styles is a favorite style of African American women. It works well with all hair textures, straight and curly hair. We can say that the flat twists are simple braid styles with low maintenance.
Similar to creating cornrows, twist and let your hair sit flat on your real scalp. You can style it in various directions and shapes to create realistic looks.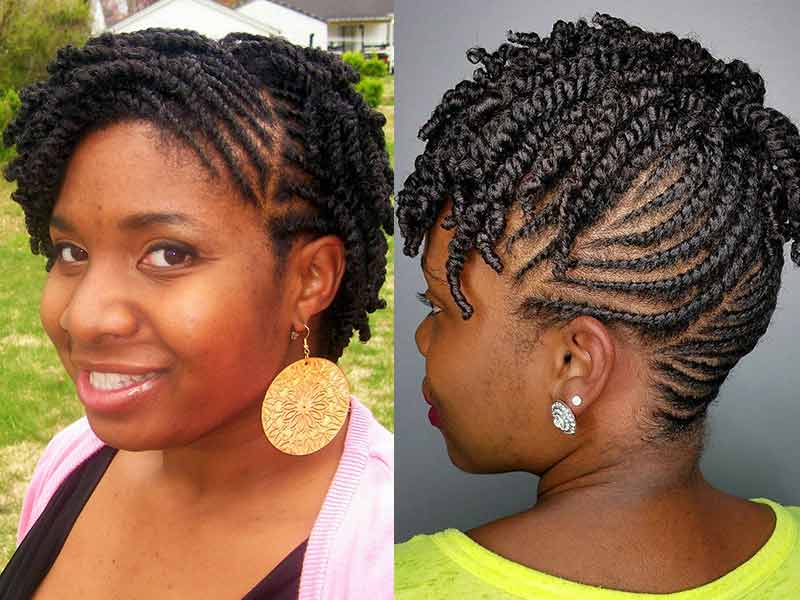 Protective Benefit
It is a great protective style as you can leave them for days and up to 2 weeks. Feel free to cleanse and condition your bio hair while in twists. It does a great job of protecting the ends of your hair as long as you moisturize them while you wear twists.
You have long or short black hair, it is an easy style to create. Before sleeping, cover or wrap your hair with a craft to keep them neat.
Bouncy Bob
It is one of the ideal short styles for your hair. Loosen and style your hair with this bob. It looks like a roller set and needs less maintenance. Hence, feel free to sleep with hairstyles in your head. If you moisturize your scalp and hair, you can keep it in original shape in 6 weeks.
If you have thin hair, short black hair styles are the right solution that helps to add extra volume. You are able to style it by using some rollers and a hairdryer. Flick your hair over to the side to create cute short cut styles black hair if you like. Don't hesitate to try these short natural hair styles. Also, there are plenty of black bobs such as a-line bob, layered bob cut, textured blunt bob.
Go for the chop and give your tresses a chance to stand out. Rock one of these black hair styles. Let's your hair look utterly fabulous!
To sum up, above are the list of black hair styles that you can try on this year. Now that you have been wrapped up with stunning haircuts, why to hesitate now? Try on a new hairstyle that changes your hair and offers a gorgeous look!
Or you can wear a black human hairpiece if you don't find the best hairstyle for you. Reach Lewigs now for top-notch wigs and toppers to freely style it whatever you want to. You love French braids, fishtail braid or short curly hair styles for black hair, tell with us. We will customize your own wig.
Kindly take a look at our product line and well-written blog posts about human hair wigs for black women and related things.
For any special inquiries, feel free to text us a line to get support. We love to hear from you and are always more than happy to chat.