Wigs are the fastest way to bring you gorgeous hair without waiting for hours in hair salons. They also come in plenty of colors, lengths, and styles as natural hair. But have you ever get a hair system that is thick around the hairline? This makes you lose confidence as your hair looks unnatural. Therefore, people are seeking ways to thin their wig out.
Don't be upset! Today, Lewigs will help you find some ways on how to thin out a wig to get a more natural appearance. Keep reading!
How to thin out a wig: things to prepare
If you decide to thin your covering head, you need thinning shears (scissors) or pair of tweezers. Make sure that you are not using the regular scissors or you will mess your wig. The fine teeth on thinning shears only trim hair to create a realistic look. Besides, you need some necessary things such as hair clips, brush, etc.
How to thin out a wig with thinning shears
Now getting started.
Step 1: Put your human hair wig on your head form and use some hairpins to hold it down. Now you have to determine where you want to thin the wig and think about how density the hair looks when appearing.
Step 2: To thin out a thick wig, you have to separate the part of the hair wig you want to work on. Then use hair clips or ties to secure the rest of the hair, keep them away from your way.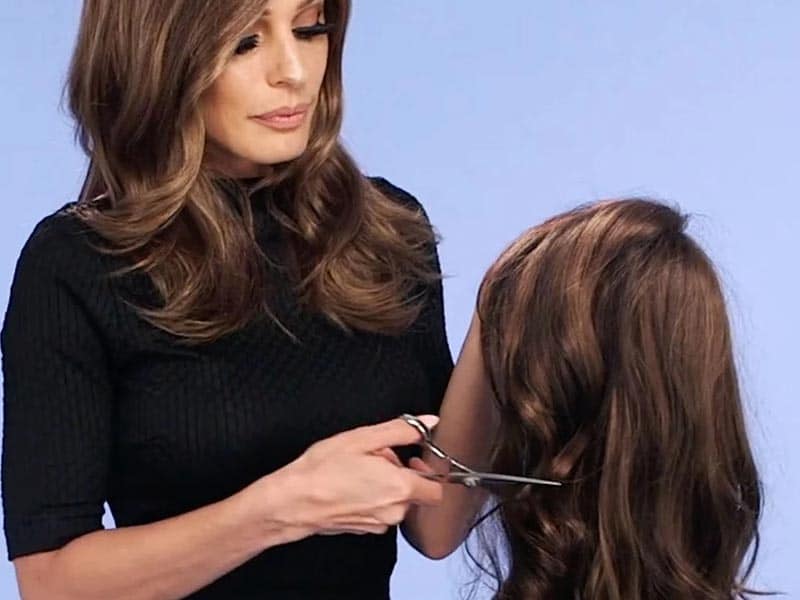 Step 3: Hold the hair section between your fingers and then squeeze the shears on that section. Use the thinning shears and make sure that you cut very close to the track. Otherwise, it will still look bulky close to your head but thinner around the perimeter length of the wig. The hairs may also stand up and out visibly if you don't cut close enough. You should know exactly where to remove hair from, how much to take out and so on.
– Thinning shears look like a pair of scissors but it is notched so it is going to take out some hair. With this item, you can cut your hair any angle and it is not going to be blunt.
– Please make sure that you have enough hair on the top, on the bottom, and around the sides of the area that you want to remove hair from.
View our lovable human hair wigs:
Step 4: After thining hair out, just comb through the hair section to get the extra hair out. Or take your fingers and blend the hair down with the rest quickly and easily. Now you finish the steps on how to thin out a bulky wig and have natural-looking wig.
How to thin out the top of a wig
You can apply the above method. Take a small section of hair, hold the end of your hair out and run the tweezer down your hair. If you do the first time, do slowly and gently. After running the tweezer down, gently pull down on the end of your hair and some hair will come out of your hand. You can continue to use the tweezer to take off as much hair as you would like! Don't forget to brush your hair and some extra pieces would fall out.
Thin out a wig with regular scissors or razors
If you are professional, you can thin your frontal lace wig out using scissors or a straight razor. Some tools you will need to use: a comb, hair clips, spray bottle, etc.
How to thin out a wig with scissors?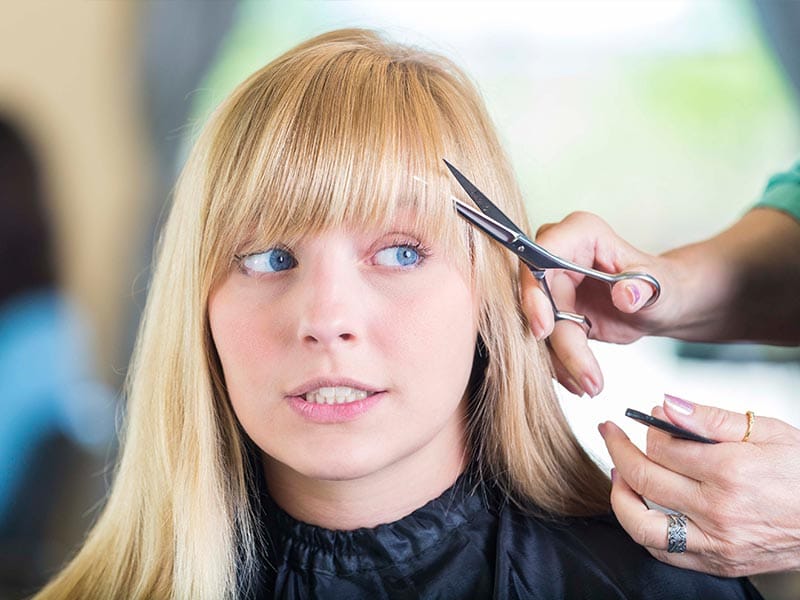 Before you get started if you want a smooth look, try to avoid thinning the top layer. Because that is where the shorter hair is, your cut will be more visible. Also, if you do on a dry wig, you will have more control comb on your section.
Now hold on to the top and let the hair hang down evenly. Close your scissors slightly as you move down. If you want a lot of texture or messiness, you can cut more hair off as you do this. But it is easy to go scissors happy so be careful.
Jump to:
How to thin out hair on a wig with a straight razor?
When you use a razor, you need to wet the hair wig to prevent getting split ends. Bear in mìd that the razor is sharp and it will work easily in wet hair, so you need to be very much in control of your tool and go slow. Comb out your section and hold it firmly between your fingers. Move the razor slightly downward and cut. Do the same with some areas that you want to thin hair out. After you've done, the hair wig still looks smooth it is less thick than before. This is going to make it easier to manage in style.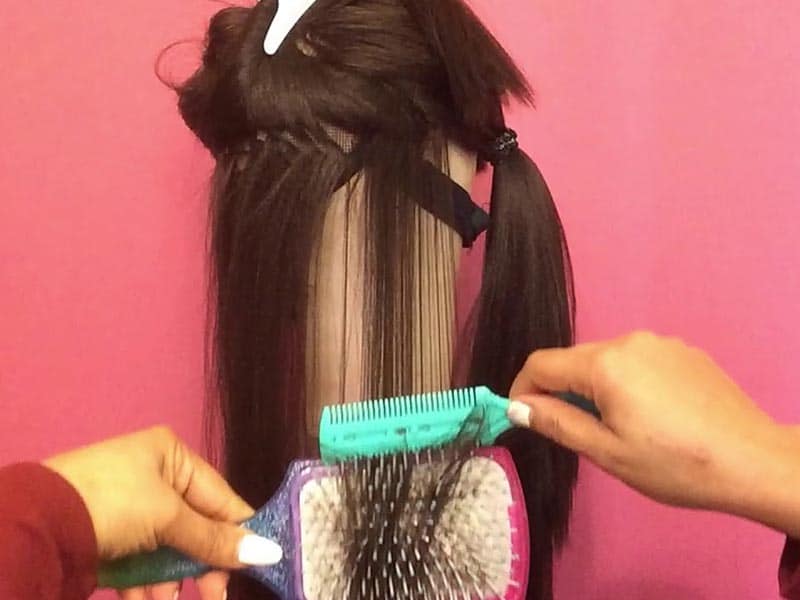 Bear in mind that you should follow the tutorial step-by-step if you want to thin out a curly wig successfully.
How to thin out a synthetic wig
Brush your hair and make sure that you get all the knots and tangles out. Then identify the areas that you would like to thin. Select the section that you would like to thin and then clip the hair out of the way.
Grab a section and make a smaller section and continue pinning unclip the rest of your hair out of the way. Put the thinning shears as close to the roots as possible and cut. Use your hand or a brush to pull out the loose strands. So you just basically going to repeat the process in other sections.
You could just follow the same technique to thin out a wig cosplay.
All In All
Overall, hopefully, with the post, you can know how to thin out a wig to make it look natural. If you don't have time to thin out a thick curly wig or short wig, you are not skilled to style your wig, tell us. We will customize the wig as you hope.
If you concern about wigs or related things, scan through our website. Come with us, you can buy cheap human hair wigs of high quality.
For any special inquiries, feel free to text us a line via hotline (+84) 98 261 44 86 or email info@lewigs.com to get support. We are always willing to answer your questions and give you pieces of advice!