For many years, wigs have been considered an indispensable accessory of women. To serve customers of all ages, many manufacturers supply all types of head covering, for both young people and older women. You can see more women over the age of 50 wear wigs, and they look at least 10 years younger. They wear wigs for beauty and conceal thinning hair areas as well. So read on to see what the experts say about choosing the best wigs for older women.
Hair Loss in Older Women
Older women are usually experiencing many hair problems such as hair loss. So what are the reasons?
Hormonal imbalance
Hormonal changes are one of the main causes of hair loss at the elder. Hormones play an important role in stimulating hair growth. Female hormones – Oestrogens increase hair growth and optimize the period of growth. On the other hand, androgens adversely affect the hair growth cycle. When you experience hormonal imbalance, your body produces excessive androgens. These hormones can cause hair loss.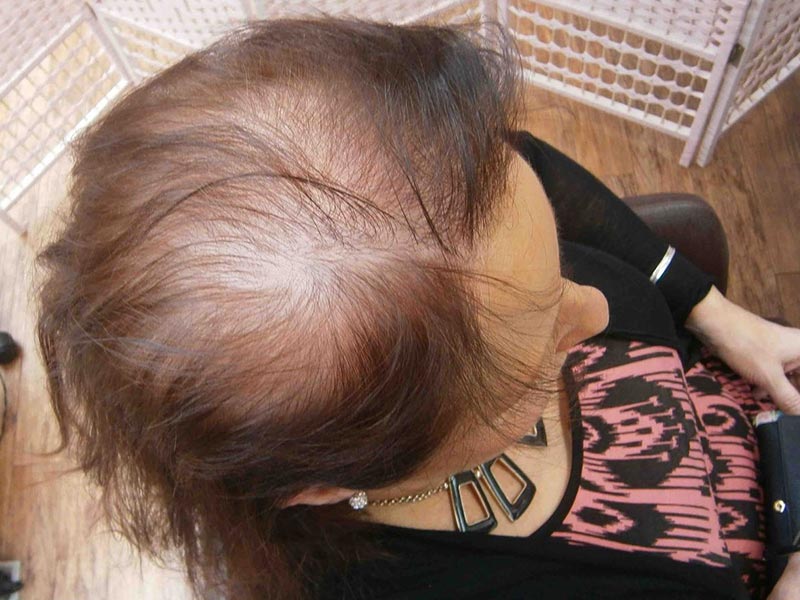 Stress
It is normal if the hair sheds about 50 – 100 strands a day. After falling out, new hairs will grow and replace. However, if the elder is stress, it will affect the hair growth cycle. Therefore, experts encourage women to practice yoga regularly to keep their body and hair stay healthy.
Hereditary
According to many studies, genetic affects about 40% of women over 50. The older the woman is, the worse the hair gets.
Besides, an unhealthy diet, excessive styling hair, pollution… are also the reasons causing hair loss.   
View our top-notch wigs for the seniors:
Human Hair Wigs For The Elder
The advent of wigs will dispel concerns about hair. Moreover, wearing a wig is very simple and convenient, so it will be a companion of older women. Wigs and hairpieces for older women can work well on the head as long as the wearer uses it properly. 
Older women wear wigs to hide their thinning hair areas and baldness. Hence, human hair wigs are the best solution. Being made with 100% real hair, it is flexible to style as you want. It brings the user a comfortable feeling and movement, a natural-looking hairline, and the appearance of natural hair growth.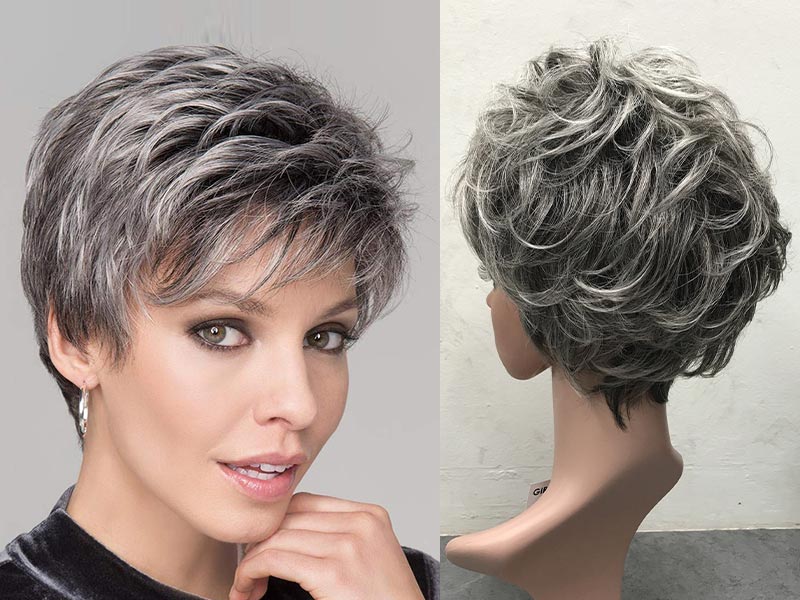 Many ladies wear wigs for beauty. Like the young, the elder wear covering head to switch up themselves. They don't want to wear a boring hairstyle, so they choose a wig as a fast method to change. Often, white hair wigs and gray wigs for older women are worn more as these colors closely resemble their natural hair color.
How To Find The Best Wigs For Older Women
Older women use wigs more often, sometimes not because of hair loss but just for beauty. Ladies use wigs to regain their confidence. The hair system also comes in a diversity of styles, colors, and shapes. From wigs for older black women to full lace glueless wigs for older white women. Own a wig is a very simple and fast way to reach your dream hair without wasting time for hours at the salon. Refer to these tips to get natural-looking wigs for older women.
Buy a wig that fits
Be sure that you buy a wig that suits the head and mix well with the natural hair. The best way to own a wig is that you go to a hair salon or hair store near you to choose. Shopping online may seem like a good idea but you have no chance to try it. Much like clothes, a head covering sometimes looks different on a mannequin head than it does on the wearer. Ask the supplier carefully before buying.
Types of hair
There are 2 main types of wigs for the elderly, real human hair wigs and synthetic hair wigs. Of course, the price of synthetic wigs is more affordable than the real one, but it is not flexible. Invest human hair and you can feel its value. Made with high-quality real hair, it is heat resistant. Human hair wig is like 99% of natural hair. The wearer feels confident when wearing it. Do not be eager to buy cheap goods as it can affect the health and scalp of users.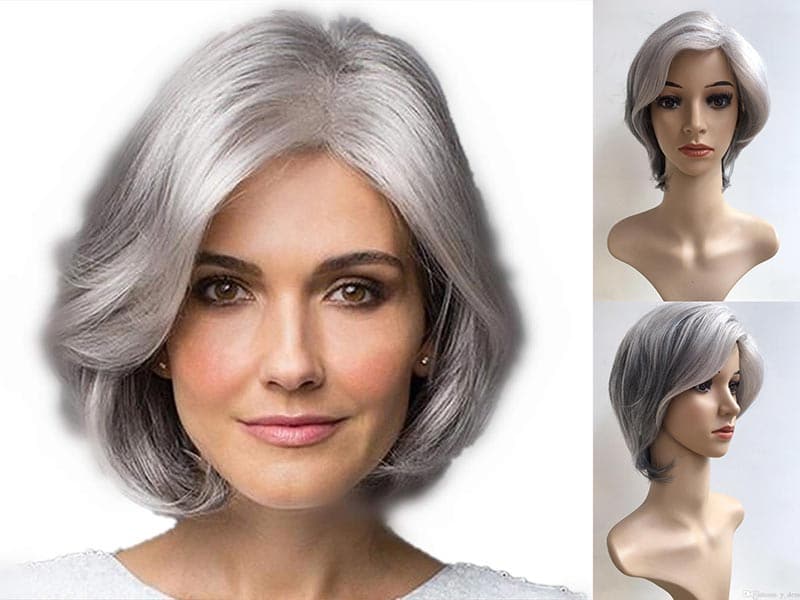 Hairstyles
Choose the right hairstyle when buying wigs is very vital, short hair wigs or long hair wigs for older women. 
Today, older women prefer short full lace wigs in classic style. The hair on the sides is also neatly trimmed, covering the face. It helps them look younger than their real ages.
Hair colors
The middle-aged women will choose a slight tone wig to bring out a luxurious and noble beauty. Grey wigs, blonde wigs or white wigs for older women are the most popular items in the market. These colors also match their daily clothes. 
Read more:
How to care for wigs for older women
To keep the wig stay healthy, you should:
– Wash the hair 2-3 times a week to protect it from bacteria.
– Leave the hair air-dry. Don't use a hairdryer on the hot level since heat can make the hair dry quickly.
– Store the wig after using. Put it on a stand or mannequin head in a place without sunlight.
– Add hair spray on your wig before brushing to keep the shine of each hair strand.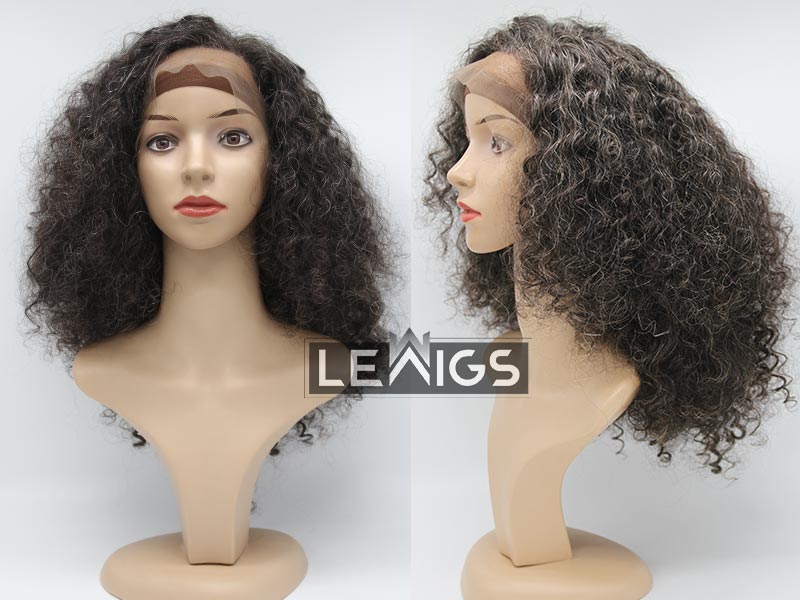 In A Nutshell
It's obvious that the human hair wig certainly is the most effective and latest method to switch up the appearance and conceal hair defects. Not only young people but the elder also wear them. If you don't know what wigs look best for older women or wonder to choose the best wigs for older women, let's take our sharings above to give a decision.
If you concern more about human hair wigs, scan through Lewigs' website. Come with us, you can buy cheap human hair wigs in high quality. Our senior technician provides the hand-making direction of each wig, so it is extremely real and natural. Customers' satisfaction is our upmost concern and long-term pursuits.
Feel free to reach us via WhatsApp: (+84) 98 261 44 86 or email: info@lewigs.com at any time. Our professional selling teams are ready to offer you the best service to solve your problems and difficulties.
Don't forget to share this post if you find it useful. Thanks!