To define what hair extensions are is not difficult. From every single word in its name, you can understand what it is already. However, to take a close look at what it really does and find which is suitable for yourself, deep research is still essential. 
You might have wondered why the celebs on the red carpet can switch their short hair into a new, fascinating long hairstyle just after a night. That's thanks to hair extensions! Even though it used to get a bad reputation during Britney Spears' incident, hair extensions are becoming more and more popular as a beauty item. From big stars like Kim Kardashian to ordinary girls, all are falling in love with it.
So, what do hair extensions really do? Read on this article to find the answer.
First, what are hair extensions?
This term refers to the artificial hair integration system that can add volume and length to human hair. Hair extensions are often clipped, glued, taped, or sewn in with bio hair.
Simply speaking, this kind of hair weave might be human hair or synthetic hair that is incorporated in human's natural hair to make it look fuller and longer. By weaving or attaching additional hair, wearers can easily enhance the volume and length of their real hair. It is also a smart way to add or change the color of your hairdo without worrying about damage from chemicals. Many of the times, hair extensions are also used when wearers want to change their hair texture for short periods of time.
Wigs and men's hairpieces have been popular ever since the 17th century. But it was not until the 1950s that hair extensions showed up and drew attention from fashion-conscious women. It used to be a high-end item that only celebrities get the chance to use; however, it has become much more popular now with ordinary people.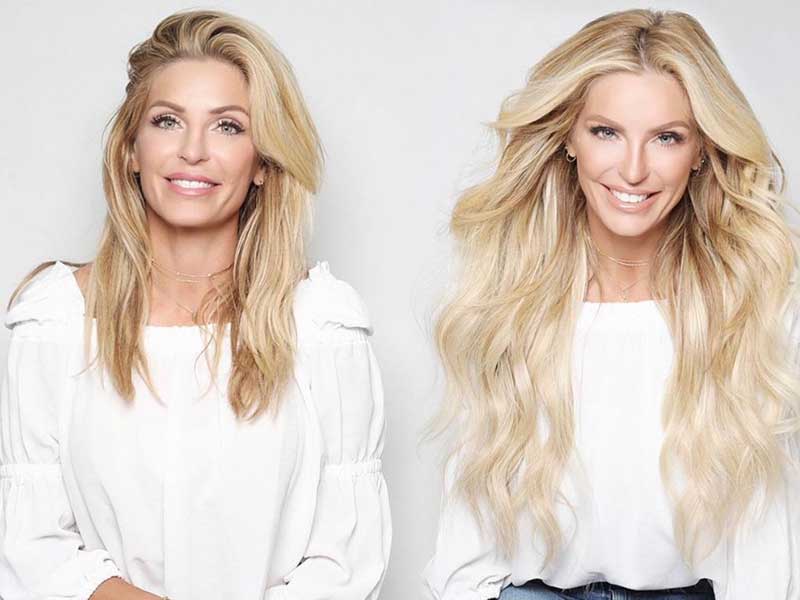 Where do hair extensions come from?
Even though hair weaves have grown interested worldwide, the main source of this hair product is Asian countries. China and India are now the two most developed nations when it comes to hair weave business. They have abundant sources of hair, and with their long tradition, their techniques and machines are state-of-the-art.
That said though, other niche markets are still there to thrive. Brazillian and Peruvian hair are two other popular hair sources for the weaving industry. The resource is large, and the cost is quite affordable.
Regarding the higher class hair, Vietnamese and Cambodian companies are leading the market with their superior hair quality. While Vietnamese hair is the perfect choice for Caucasian, Cambodian hair, with its coarse texture, is the favorite of dark-skinned women.
What are hair extensions made of?
Hair extensions can be made of real human hair or artificial fibers (better known as "synthetic hair". Human hair is collected directly from women's head while synthetic fibers are the products of new technology.
Human hair
This kind of hair extensions refers to the weft extensions that are made of real human hair. It is famous for being durable, bouncy, and easy to style. 
Human hair is also divided into sub-types, such as virgin hair, raw hair, Remy hair, or non-Remy hair. Raw hair refers to the hair that is "raw", which means it hasn't come through any kind of filtering and chemical processing. Often, raw hair comes from the bundle that they cut from one single donor. Virgin hair is a little more "luxury" with the filtered hair that shares the same texture and characteristics. Hence, virgin hair and raw hair are the preferred choices when wearers want to style or dye the extension themselves.
Remy hair means all the strands in one weft fall in the same direction from root to tip. Thanks to this feature, Remy hair extension is less likely to tangle or matt, while with non-Remy hair, tangling, messing, and damaging are easy to encounter. Non-Remy hair is the messy hair collected from the floor of the hair salon or under the drains and then be processed to make the weaves.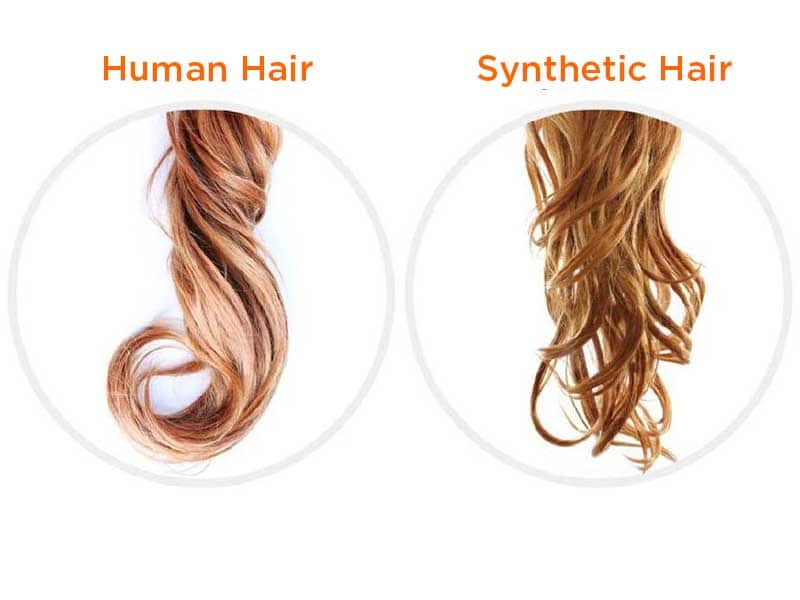 Synthetic hair
On the contrary to human hair, synthetic hair is NOT made from real human hair. Instead, it might be made from different materials. Synthetic hair does not last as long as human hair and it is easy to be damaged by heat or friction.
Additionally, the quality of the fibers is uninformed; therefore, it is difficult to get your wanted styling or coloring result. The synthetic hair strands are also too shiny and flat, which can't mimic the natural hair.
That said though, synthetic hair extensions are still the favorite choice of many buyers thanks to its cheap price.
How to install hair extensions? – Installation methods
There are different ways to attach hair extension to real hair. They are clip-in, tape-in, sew-in, glue bonding (fusion), and micro-link.
Like their names state, the hair extensions might be clipped, taped, sewn in, or attached by micro-beads.
With sew-in methods, you will sew the wefts onto your natural hair to add length and volume to it. While with clip-in extensions, the wefts will come with pressure-sensitive clips and you will clip it on when using. Clip-in hair extensions often come in a set that contains wefts of different lengths.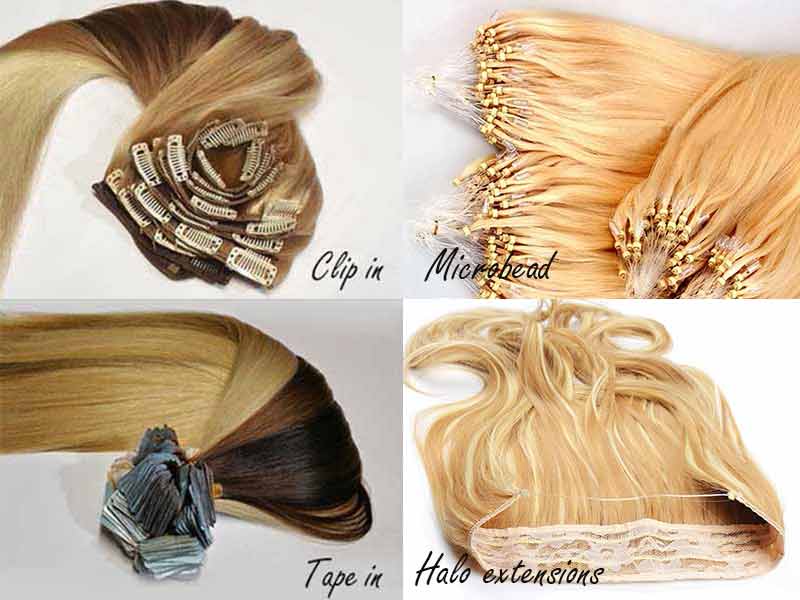 With tape-ins, the hair weave will be attached to your head by using tape adhesive. There are two-sided tapes that are already secured on the wefts. All you need to do is to unfold the tape and then stick it on. Besides the classic tape extensions, recently new kinds of tape have been developed, including invisible tape (skin weft extensions) and stitched tape wefts. They are lighter, more natural-looking, and could be worn easier.
Regarding fusion hair extensions, they are again divided into hot fusion and cold fusion techniques. With hot fusion, the extensions will be attached to your head by using keratin glue beads, which are melt by a hot gun. In contrast, with cold fusion technique. there is no heat involved. You will use tiny beads (microbeads or micro-rings) to attach the weaves. 
There is also another way to wear the extensions: using wire. This method is applied with halo hair extensions, where the weft hair comes with a thin, invisible, and adjustable nylon wire. This wire goes around your crown and secures the weft in place.
Where to buy good hair extensions online?
There are numerous online stores and hair vendors that sell hair extensions, both synthetic and human ones. At Lewigs, we provide good-quality human hair extensions of all types. We have every kind of extensions and weaves that are available in the market: from the classic clip-ins, tape-ins, and weave to newly developed extensions like the halo, stitched tape, skin wefts, and so on.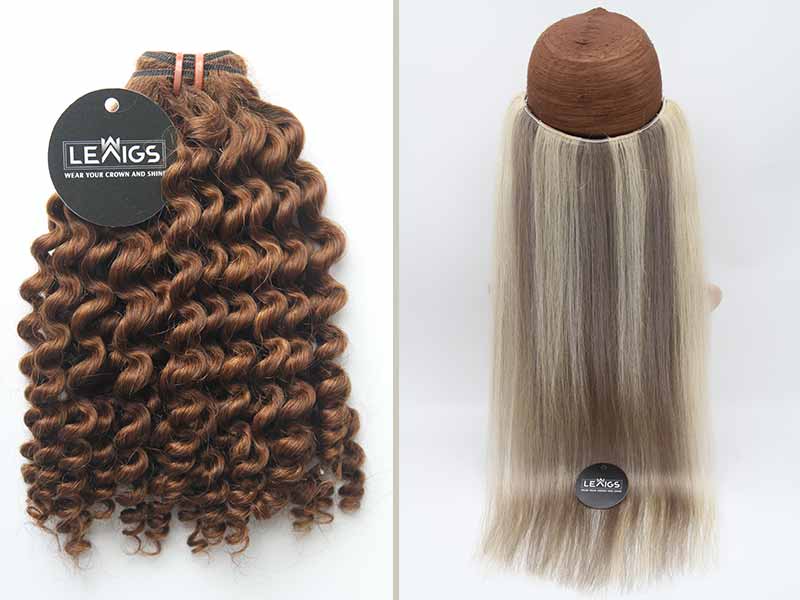 All of the products at Lewigs are made with top-notch Vietnamese and Cambodian human hair and undergo meticulous filtering and styling. The hair is smooth, bouncy, long-lasting, and especially, untangled.
If you feel interested in any kind of extensions, feel free to contact Lewigs directly to get consulted. We have an experienced team of consultant and sales staff with strong knowledge of hair integration and hair extensions. Don't feel hesitant to go, because we are always happy to be of service. 
Lewigs hope that this article could somehow help you understand what are hair extensions and types if them. If you have any further questions or inquiries, leave a comment below or drop us a line via our hotline to share with us what you are thinking. 
Love to hear from you!