We understand that women like beauty. They always want to be excellent in the other's eyes. Fortunately, nowadays we have many solutions to make you become more beautiful. One of the best options to dress up your hair is a crochet wig and its special cap.
With many shapes and sizes, it could blend with your natural hair seamlessly. Celebrities have used them for a perfect hairstyle, and you can do it too. But do you know "What makes the wig fit your head?" Go for a crochet wig cap. 
Before buying yourself a good piece of hair wigs, it is a must to learn what a crochet wig cap is and how to make it. And here Lewigs will get you covered!
What Is A Crochet Wig Cap?
Typically, the crochet wig cap pattern includes small combs and adjustable straps. The combs are positioned in the front, sides and at the back of the net so that they can hold the unit in place for a long time. The straps are flexible, you adjust it to fit your head. The crochet wig is a fashionable hairstyle today. Many celebrities, especially African American people, love this wig. Wearing it, you are so impressive in the crowd. With a normal cap with combs or crochet cap with part, you can enjoy all your good days.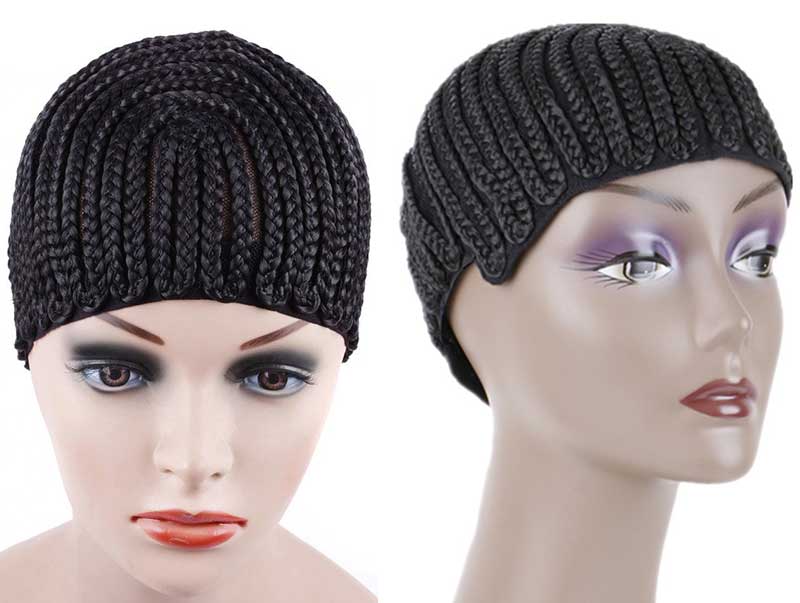 Making a wig on a crochet lace wig cap, the craftsmen use basically the same materials as they create a lace wig. However, it is also braided to make crochet braids on a wig cap that matches well with your hair underneath the cap. You can bleach the wig cap to blend your skin tone if you like. Most of the wig caps in the market are in dark or medium brown.
We recommend that you should opt for a braided wig cap as it looks stylish and perfect for the new trend. It is built just like any other wig caps but the braids are sewn down to the cap. They mimic a braid pattern. It is breathable and has good stretch with adjustable straps in the back. Use a crochet hook (latch hook) to crochet the hairpiece into the cap. You can reuse this cap many times as you want.  
View our excellent wigs:
How To Crochet Hair On A Wig Cap
The item that you will need is a mannequin head. Next, you will need a latch hook, some T-pins or push pins, and a normal or a braided wig cap crochet. Last but not least, you need some hair. It is better if you use deep wave human hair bulk or twists to create your wig as it looks natural. Often, the wig cap comes adjustable straps so that you can adjust to fit your head.
Step 1: Now, put the wig cap on the mannequin head. Use some hairpins to secure it in the place.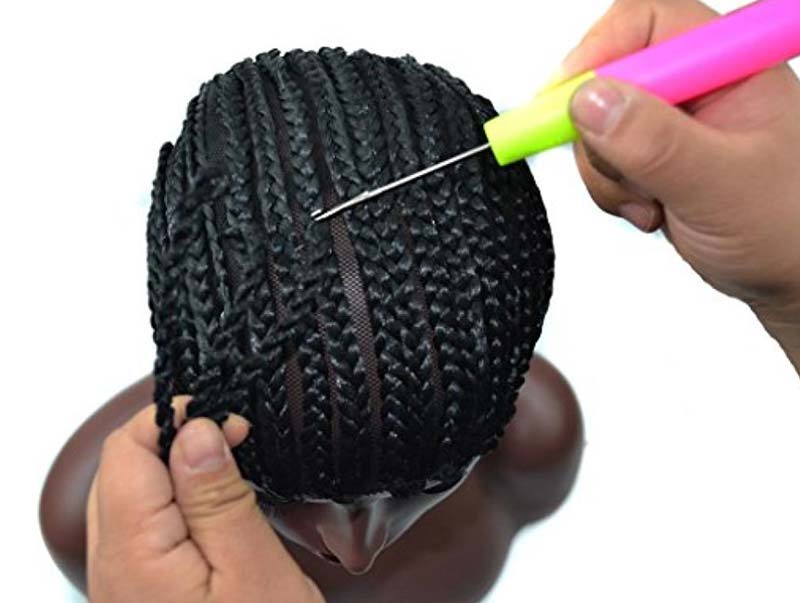 Step 2: How to crochet wig cap? You start on the second-to-last braid of the cap. Take your hook and place it under the braid. Pull it through 3-4 holes of the net at a time, grab a piece of hair and close the latch hook. Pull the hair and slightly turn it around. Then bring it out, gently tie.
Step 3: Repeat the process. After you have finished the back, space out the hair and add more to the front. Keep filling the net until desired fullness.
Now you have a perfect crochet braid cap. You can add combs on two sides, in the front and at the back of the cap for more security and stability of the wig.
Wear Crochet Wig Cap Tutorial
Step 1: Style the natural locks
Before attaching the lace crochet wig cap, braid the hair. You should make the hair in cornrows so that it matches the wig cap. Ensure that your hair is underneath the cap.
Step 2: Add the skin protector
The wig cap is breathable but you still apply protector for the scalp. Spray over the head. Allow it 20-30 minutes to air dry. After that, you can put the wig cap on your head.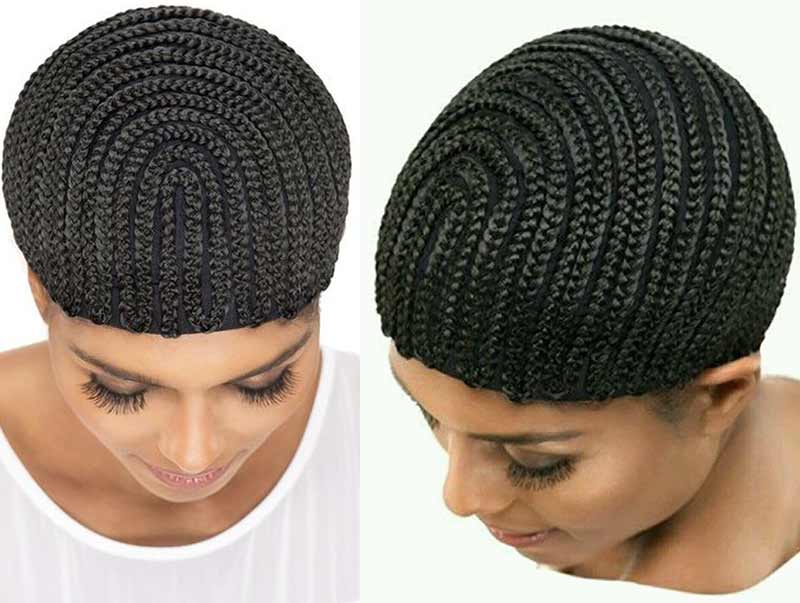 Step 3: Put on the crochet wig cap with lace
Don't apply the wig close to the edge of your forehead, back a bit. Adjust the crochet lace wig cap so that it fits and blends your hair as you desired. Make sure that the cap color resembles your skin tone and natural hair. If you can't find, dye the cap is acceptable.
Step 4: Secure the cap
Once you are satisfied with the wig cap position, secure it in place with combs inside. For more security, adjust the straps so that it fits your head well.
Read more:
Final Thoughts
We hope that this blog post has somewhat helped you to have an idea of a crochet wig cap, by answer common questions such as what does it mean, how to put on it, etc.
Stick with this blog to keep up-to-date on the latest news related to hair wigs and hair care. Please feel free to raise your voice. We look forward to hearing from you. Also, check out Lewigs' product lines for the top-notch hair systems at the most affordable prices. Provide 100% real human hair wigs, customers are always confident in using our products.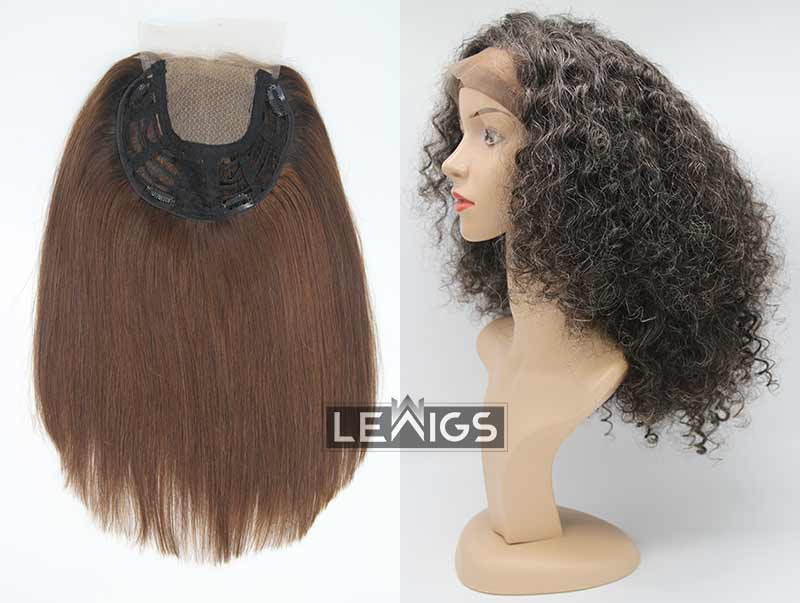 If you are looking for the best crochet braids on a wig cap or a crochet wig, come with us. Our hairs are made for you. Tell us the size of cap you want and we will make it for you. Our item will fit your head and blend your hair naturally! We have a wide range of hair products available to shop! Either case, you cannot go wrong with our beautiful hair systems.
We are also reachable via hotline: (+84) 98 261 44 86 (Mobile/WhatsApp) or text on email info@lewigs.com. So feel free to drop us a line at any time. We are always willing to be of service!
Don't hesitate to share and like our post!
Thank you!