Having a bad hair day? Got a haircut you are not happy with? Opting for the correct quality of hair extensions is very necessary to get your best hairstyle. Don't waste money to order or buy poor-quality items. Our post today may help you to not make this mistake with the best Remy clip in hair extensions. You can find some interesting information about the hair that you might not know before. It helps you get the hair that you have always dreamed of. Keep reading!
What Are Remy Clip in Extensions?
Basically, it is a band of hair stitched together and there are some small clips in its upper part. This extension is retained throughout all day without any adjustments. The extensions are also rich in length, color, and size to fit your head frame perfectly. The color will blend your natural tresses to create harmony. You also don't need too much time and tools to apply it.
Hair weave with clips
All 100 Remy human hair clip in extensions come in one or multiple pieces (wefts) of varying widths. You can cut or style it in an hour and no one can detect. The hair can be clipped under your existing hair by small snap-on clips. The clips using on the hair are quality and pressure sensitive so they are extremely secure to wear.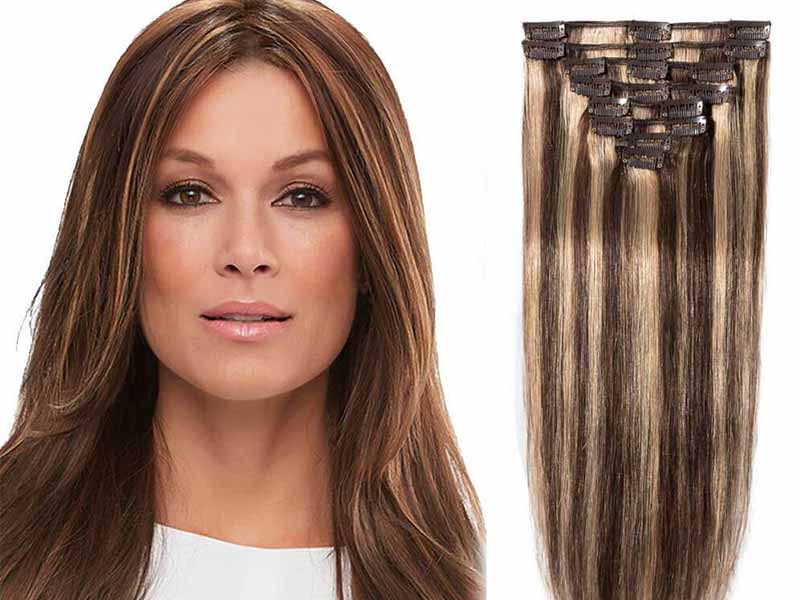 Quality of Remy clip-in hair extensions
What is Remy hair? The strands are collected from many strong donors and kept running in one direction. It minimizes the hair from matting or tangling. Like your natural hair, all cuticles of strands that are used to make clip in extensions are alive.
In general, Remy human hair extensions clip in is on the top quality of hair. It ensures the hair is assembled in a way that it's aligned from the root to the end, limiting its chances for shedding or tangling. As it is also human hair, you can treat and style freely. It means that the hair can be treated and heated with styling tools and products to design wavy or curly Remy clip in hair extensions as you want. With a famous and trusted brand, the hair will easily last you 12 months and look amazing throughout. Instead of getting a synthetic clip in, choose a Remy human hairpiece and enjoy your wonderful life.
Application of Remy Clip in Extensions
Add more hair and length
You are bored with your short hairstyle. You want to have long hair without waiting for a long time. Get a Remy clip in hair extension. Only clip the hairpiece on the natural hair, you will immediately get your desired long hair. You can check yourself by searching and reading Remy clip in hair extensions and hair toppers reviews. They will never let you down.
You wish that your hair is a little bit thicker, think about having clip in hair extensions put on. You can use them to achieve all sorts of fancy up-dos and braids.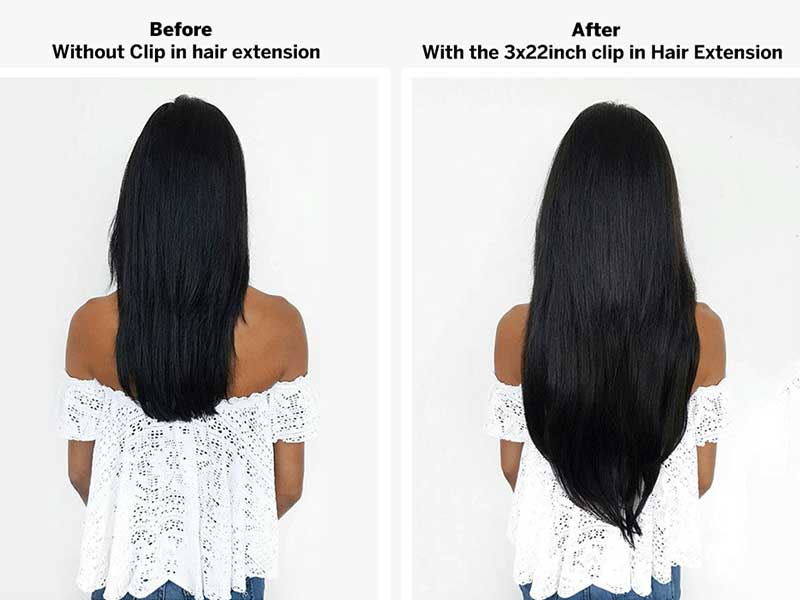 Make your hair cooler
The item can be put in your head quickly and can be removed just as fast. If you decide that you do not like your existing look, wear your extensions without any problems.
Remy human hair obviously looks a lot more natural, although it requires more maintenance. Apply hair care products on your extension because the hair item does not grow directly from the scalp. Choose products that are catered for damaged or dry hair.
Protect natural hair
Have clip in extension, you can get your dream hair. Why do we say it protects your real hair? Choose a colored hair item that is close to your bio hair, you no need to dye your hair. You love curly hairstyle, opt for Remy curly hair extensions clip in instead of using tools to style your natural hair. In general, the hair keeps your hair away from heat and chemicals.
Related posts:
Why Should You Choose Remy Clip in Extensions?
Remy human hair clip in extensions are among the best choice in hair systems to fit a wide range of people while meeting a variety of needs.
Hair quality
Regarding the quality, the real Remy clip in is among the end-top hair. 100% raw human hair offers a realistic look, meets all the customers' demands. It is extremely silky, shiny, and healthy. The natural texture is usually straight and sometimes a little wavy. If you like curly or kinky curly hairstyles, use heating tools to style is feasible.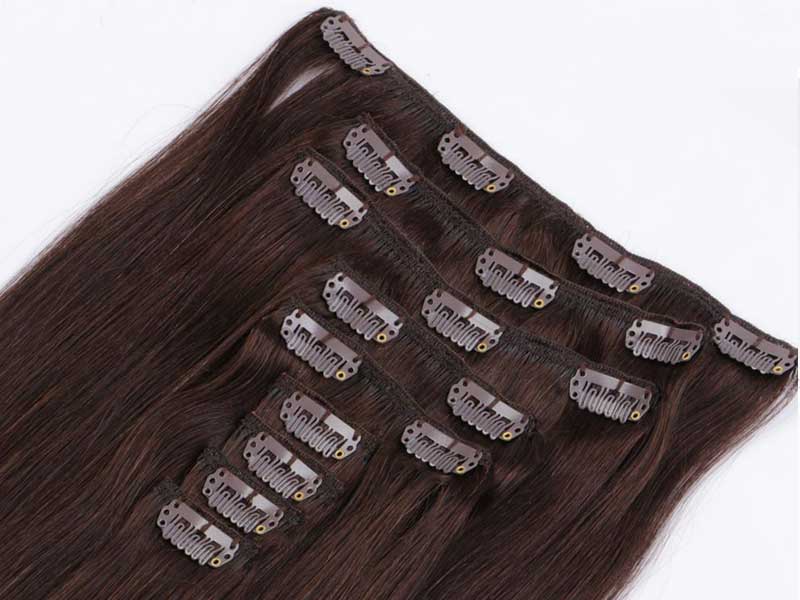 With Remy hair, dye or bleach the hair to reach your favorite hair color as you desired. Bored with only one hairstyle and you want to change. Get the best Remy hair extensions clip in to be more beautiful. Try to wear the ombre clip in, you will be the most stand out person in a night party. Moreover, you can now get long hair immediately with hair extensions.
Easiness to apply/remove
If you want to attach or remove the hair system by yourself, Remy hair clip in extensions may be the ideal way to go. How to use the extension? They are easy and simple to apply and offer an excellent quick fix for daily wear. The hair comes in the widest range of colors, lengths, and volume.
This hair mimics well all locks and gives an all-natural appearance. Minimize damage and maximum beauty, Remy clip in human hair extensions assure this and even more. So, the convenience of using clip-in makes many wearers fall in love with this extension.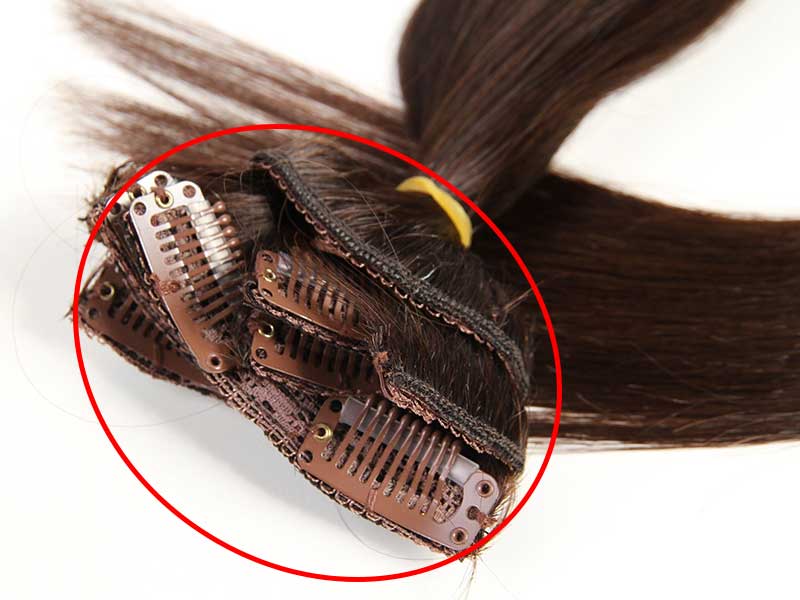 Clips are replaceable
Do you throw your hair extension when clips are broken or fall off? No. You can fix it by replacing clips. As clips are sewn into the extension, it is easy to attach and take them off without damaging the hair. You can buy these accessories in a hair store near you or in the place where you buy your hair.
Use thread in matching color, replacement clips, a needle, and scissors. Now you can fix it. Sew the thread through the holes on the clip until they are secured tightly.
How much do Remy clip-in hair extensions cost?
Being the best benefit method for thinning hair, but Remy hair extensions clip in are not as expensive as you think. Why? Because the maintenance costs with this extension are lower than other methods. Overall, the extension is high-quality as well as competitive price.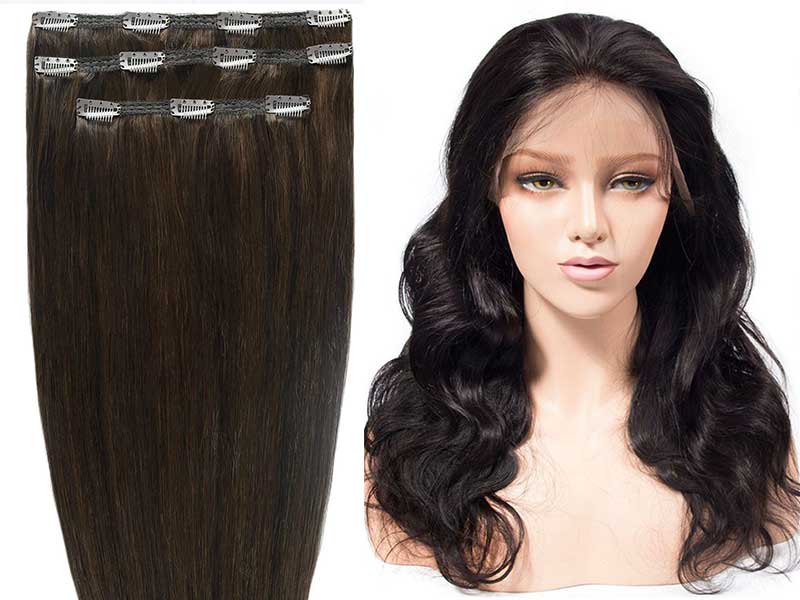 Note: Once purchasing, look for and buy hair care products that are sulfate-free and safe to use on the extensions to extend their lifespan. Whether permanent or temporary hair methods, we highly recommend using combs specially designed for hair extensions to preserve the quality of your hair. Only spend a little time caring for hair, you can reuse it many times.
To Wrap Up
Lewigs hope that our sharings will help you a lot when choosing Remy clip in hair extensions. Consider everything carefully in advance so that you could get the best clip in at the nicest rates.
Interested in getting new extensions or wigs? Visit our product line for a wide range of lovable raw human hairpieces! Our 100 Remy human hair clip in extensions cheap are available for choosing from.
Should you have any further questions or want to share your thoughts, leave a comment below or contact us directly via our hotline at any time.