As it stands today, there are more and more women in the world suffering from hair problems. Thinning hair is truly a nightmare, it makes you feel self-conscious when going out. Many people use hair transplant surgery methods to deal with the problem but it is expensive and can cause pain for a while. Working in the hair field many years, we recommend using hair toppers for thinning hair.
Human hair toppers for thin hair are the perfect remedy for your hair by covering the baldness or adding more volume to your sparse hair. It is quite cheap and easy to attach without causing pain to you. 
In the following blog post, Lewigs would like to share with you the essentials of hair toppers for thinning hair and the way to attach it to your head with tape adhesive.
Human Hair Toppers For Thinning Hair
More and more people are looking for solutions for their hair problems and they can easily find hair topper vendors in the market today. Whether your hair loss from alopecia, aging, illness, losing hair after birth, etc, hair toppers can solve all.
To meet the customers' demands, women hairpiece is available in both human hair and synthetic fibers. All of them blend in well with your natural hair, the perfect solution for thinning hair and add some additional volume.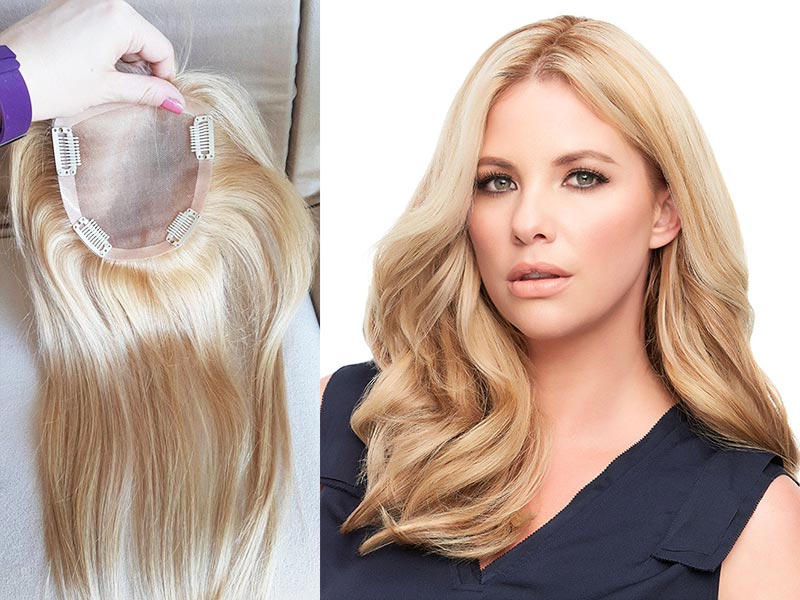 However, we highly recommend using human hair topper for thinning hair because of its versatility and durability. For the first point, the human hair replacement system varies of bases that can mimic the look of your real scalp and your hair as well. You may know that the unit is knotted by hand only that creates a realistic look for you. You should choose the base material that resembles your real skin.
As it was made with 100% real hair, it can be washed, dyed, and even bleached to blend with your existing hair. Additionally, you can style, curl or straighten your hairpiece with reasonable styling tools without damaging.
Read more:
A hair topper is also referred to as a partial wig or wiglet. It is smaller than a full wig, so you can wear more than one piece to cover your head. The topper is worn to conceal your hair loss at the top or on the sides of your hair that need coverage. Human hairpieces can be attached in many ways such as with clips, tape or adhesives. 
How To Attach A Hair Topper With Tape?
Before attaching the topper, make sure that your hair and scalp are clean, make an oil-free area. And remove any residue adhesive.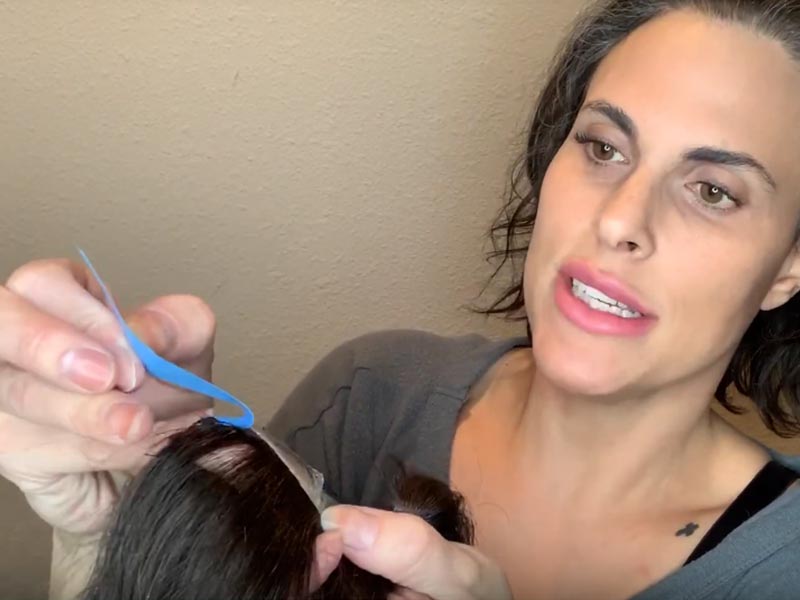 Step 1: Usually, the tape is double-sided. Now you remove the protective paper in one side of the tape and apply it to the perimeter of the hair toppers.
Step 2: Continue removing the backing on the rest side of the hairpiece.
Step 3: Place the front of the hairpiece in the right place. Don't let your real hair stick to the tape. Then roll it back over your scalp.
Step 4: Press firmly to secure the hair replacement system on the tape. Leave it some minutes and you start styling your hair. You can put it in a ponytail and any styles like your current hair. Brush your hair as gently as possible.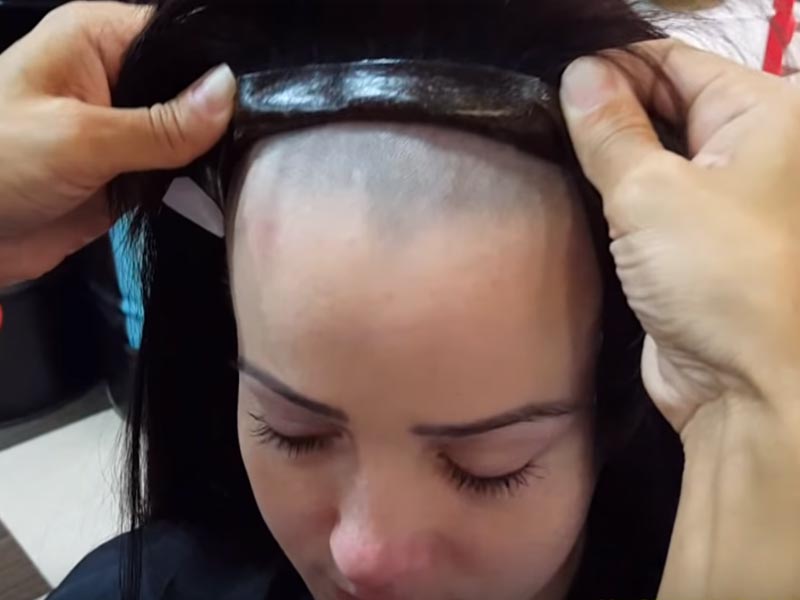 Note: After attaching hair toppers with tape, you should not wash your hair for 24 hours.
Frequently Asked Questions
Whether you are used to using crown toppers fr thinning hair or you are a newbie, you will have questions when wearing it.
Can I wash the hair topper?
As long as your lace hair topper is made from real hair, you can wash it freely. Once you receive the hairpiece, washing it before wearing it. Just like your natural hair, human hair toppers for thinning hair should be washed with a good shampoo and conditioned. It is so necessary to care and maintain the hair, too. If you want to reuse it in the future, please give it the best care to keep it last longer in the best condition.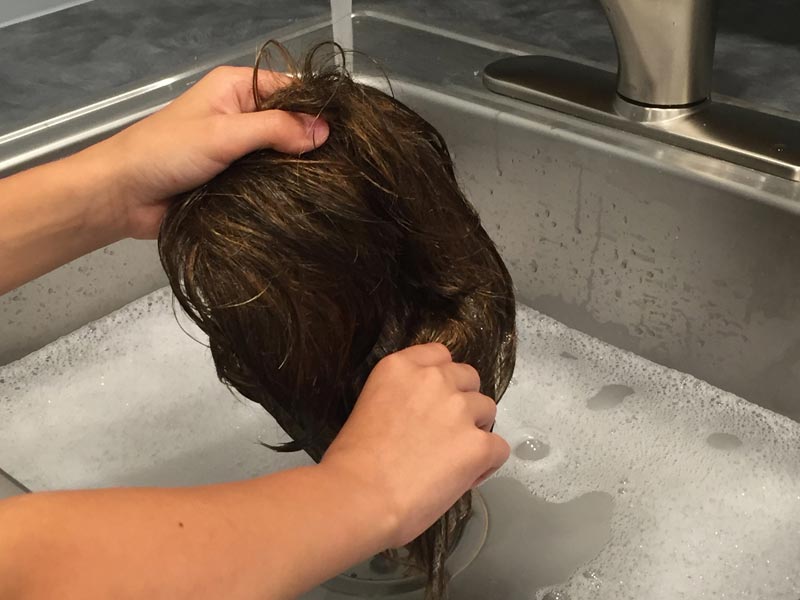 How long does human hair topper last?
The lifespan of a hair topper completely depends on you, how often you wear and how you take care of it. Of course, a human hair topper will last longer than the synthetic fiber because of its strength and durability. Usually, a real hairpiece can stay healthy in 4-6 months with daily wear. However, you can expect it to last longer if have the proper care.
Take a look at our most-loved hair toppers:
Will crown toppers for thinning hair ruin my bio hair?
You can be assured of the quality of human hair systems. They don't ruin your existing hair. The hair is to cover areas of your thinning hair and adding more volume or texture to your bio hair.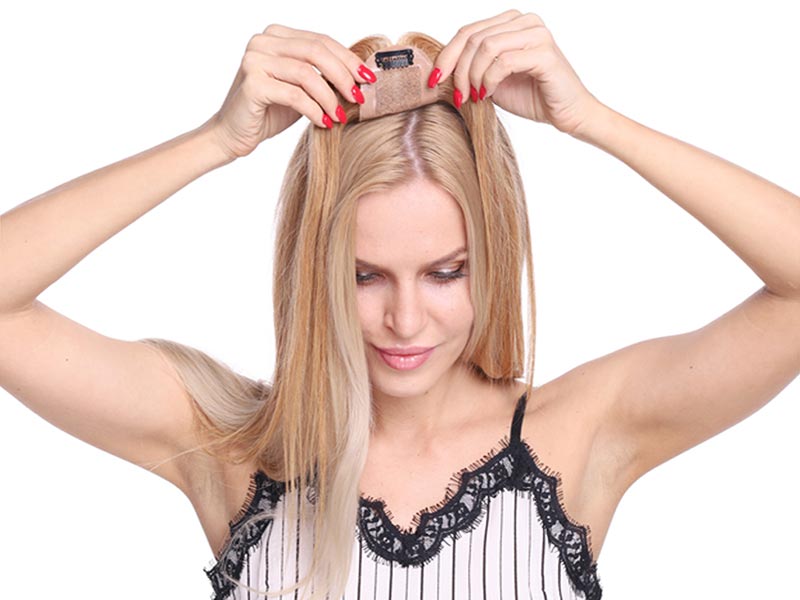 On the contrary, it also protects your own hair. With a hair topper, you don't have to color or bleach your hair to have trending color. With it, you don't need to style your existing hair frequently. Additionally, the unit protects your scalp from directly sunshine.
Can I sleep with the hairpiece?
If you wear bonded hair toppers for women when sleeping, it is best if you have a silk pillowcase or use a silk towel to wrap your hair. But we don't recommend sleeping with your hairpiece because it reduces the lifespan of your topper. Moreover, wearing the unit can cause tangling and shedding problems.
Final Thoughts
Hair toppers for thinning hair are the best hairpiece that you may need to cover your hair loss areas. Now that you have been guided with the way to wear a topper with tape, it's time to get one for your own!
Let's take a look at Lewigs' collection of hair toppers for women to see if your best mate is there.
Leave a comment or contact us directly if you have anything to ask! We are always happy to support.