We understand that hair loss is a nightmare for every woman. Fortunately, nowadays we have many solutions to conceal hair problems. One of the best options to cover female pattern hair loss and volume up thinning hair is a hair topper.
With many shapes and sizes, hair toppers could blend with your hair seamlessly. Celebrities have used them for a perfect hairstyle, and you can do it too.
Before buying yourself a good piece of hair system, it is a must to learn what is a hair topper first. And here we will get you covered!
What is a hair topper?
What does a hair topper mean?
A miniature version of the wig is not a correct answer to the question "What is a hair topper?". In general, hair toppers are hairpieces which can blend with your hair by a few snaps of the built-in clips.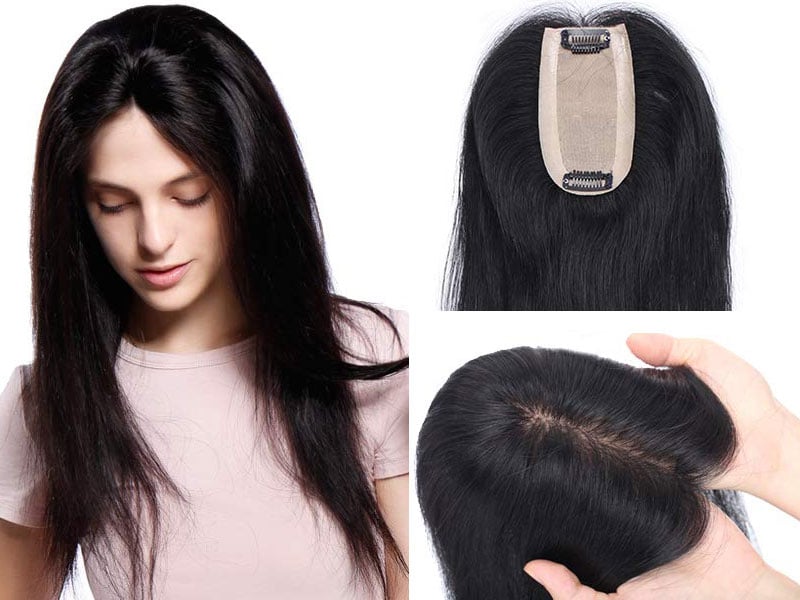 Toppers are a perfect solution for anyone with hair loss or hair thinning by providing more volume and density. These hairpieces shade different areas of hair loss depending on the coverage you want.
Toppers can create a more natural look of fullness to thin hair than wigs. That's why many celebrities use them as a hair extension. If you do not has hair loss, wearing a bonded hair topper can help you add volume and length to your existing hair.
How does a hair topper work?
Normally, a hair topper would be attached to your scalp with adhesive (either tapes or glues). These bondings would help your crown topper extensions be more secure and last longer.
Some of the times, wearers love to use pressure-sensitive clips to wear a topper, and that's why we have the terms "clip on hair topper". However, if it goes with clips only, the topper would still be not really secure. Hence, it is advisable to let the tape or glue accompany.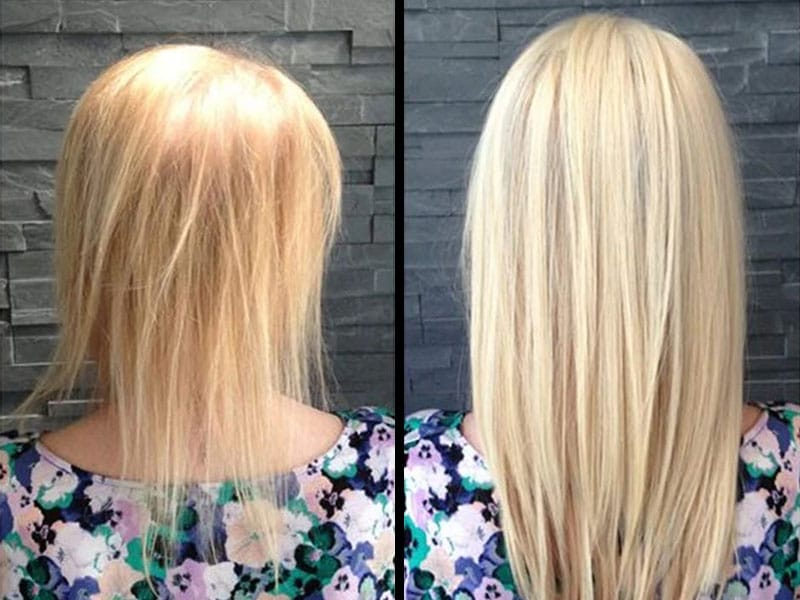 Do hair toppers look natural?
Obviously, it depends.
Just so you know, each topper only works to disguise a particular bald spot to guarantee its effectiveness. Thus, whether it could look natural depends largely on your choice of the base material, color, shape, size, and so on.
Topper piece is not similar to a T-shirt, so do not wish to have a free-size hairpiece that could fit your head. Such that thing does not exist.
Still, the good news is that after taking notes for all the hair problem, style and size of toppers, you can assure yourself that no one can recognize your hair loss.
View our amazing hair toppers:
The differences between a hair topper and a wig
Aside from asking "what is a hair topper", it is also important to differentiate hair toppers vs. wigs well.
Misunderstanding a topper to a wig is not a rare thing. In fact, such this misconception even occurs to people who have been working in this business for a long time.
To be honest, topper and wig have many things in common. Both work to conceal the thinning part of your hairline. They could go with or without clips. In addition, both wigs and hair toppers could be made from human hair or synthetic fibers, and there are plenty of choices regarding sizes, colors, and materials.
The overall look from the outside might be quite the same, so people tend to mistake them for each other.
So, how are they different?
They cover distinct areas
The dissimilarity could be seen clearly if you look into the coverage area that toppers and wigs would provide. While human hair wigs offer full coverage to your head, a topper only works to cover a particular part. You will need to hide all your natural locks before wearing wigs, but don't have to do so with a topper. As it covers only a targeted area, the companion of your real hair is still inevitable.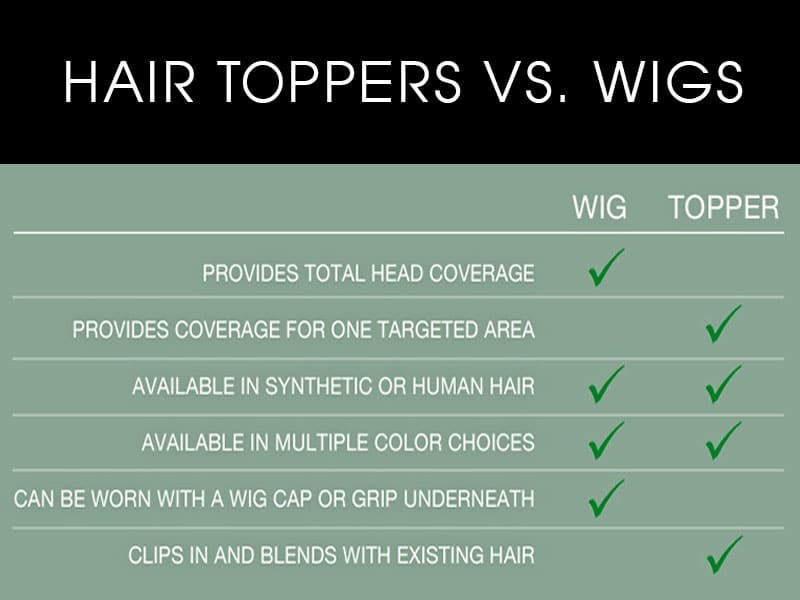 They serve different needs
Hair toppers often work to disguise baldness. It is popular with partial hair loss or just a thinning hairline only.
Meanwhile, as wigs could cover the whole head, it is a preferable option for advanced hair loss, when the bald spots have been too visible. Or, in many of the cases, they work as an item to cover the bald head of those experiencing medical treatments.
Their inner cap constructions are different
The base design of a human hair topper seems to be far simpler than that of a wig. Topper hair pieces appear in 03 common types: a mono hair topper, a lace hair topper, and a silk base topper.
Of course, there might be a combination of these materials to form a complete top piece, but it would be quite an easy task to choose between them. You might only need to ask yourself such questions as "what is better a mono top hair topper or a silk base", "what is a mono top hair topper", etc.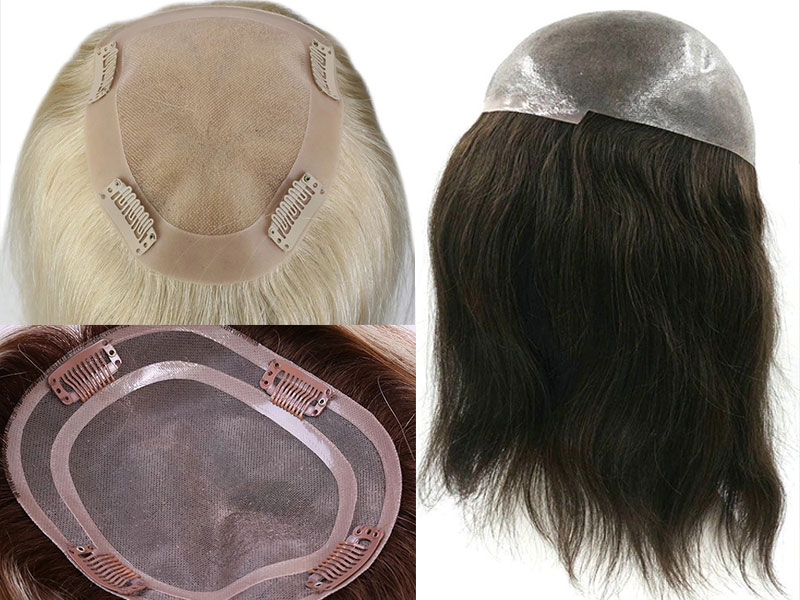 Human hair wigs appear to be more complex. It might be made from full lace systems, or just a lace front and hair weave, or lace closure and hair weave. There are also times when wigs are combined by both frontal lace, closure lace, and machine wefts.
Things to consider before buying yourself a hair topper
It's not hard to buy a topper extensions on the Internet, but how to obtain a suitable one may need more consideration. Ask yourself What is a hair topper? Why do I need it? How much a hair topper cost?
Down below, Lewigs have picked out three of the most common questions you should ask yourself before buying a topper piece and shown our suggestions to help you make a great decision.
How much does a hair topper cost?
When you decide to buy a hair system, that means you are investigating your beauty. The most popular question may be how much a hair topper cost.
Firstly, you should notice is that the price change when the hair size changed. Depending on your hair condition, you can determine the sizes you want, for an instant, 2 x 4 inches topper for a patch of hair loss or 8 x 9 inches to cover almost your head.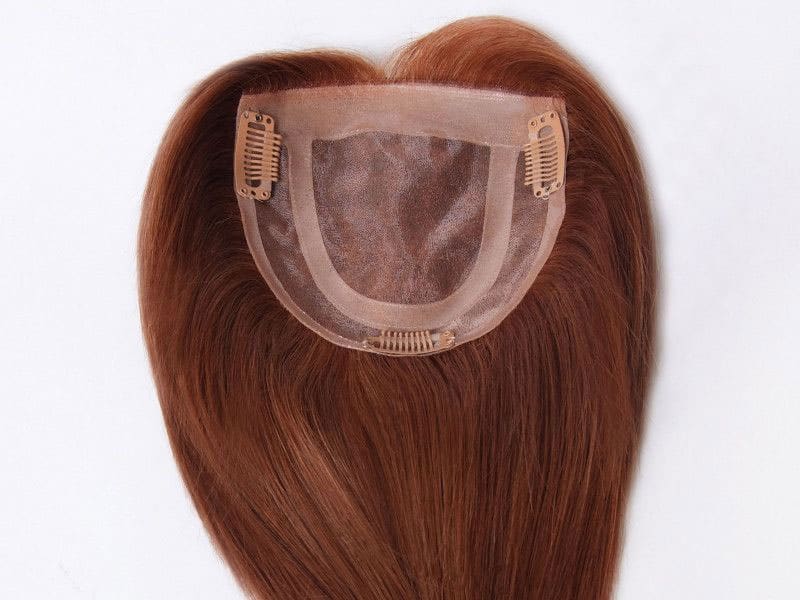 Topper's material is the second things need considering. There are two main types of material: synthetic and human hair.
Synthetic hair, which created from artificial fibers, is effortless to take care and keep its style regardless of the weather. It's often more affordable than human hair.
Human hair not only provides a natural look but also can be dyed, permed and styled just like your hair. The minus points are human hair often expensive than synthetic hair while requires more effort to maintain.
Related Posts:
Where to buy the best hair toppers?
Many companies offer hair toppers and wigs in the market now. Hence, finding a cheap unit is even easier than answering the question "what is a hair topper". However, they may tangle, and shed after use.
Therefore, if you are looking for a hair toppers, pay attention to reliable brands which commit to providing quality hair toppers. Down below, we would like to recommend one of the most trustworthy wig and topper brands: Lewigs Human Hair.
Lewigs understands how much you desire beautiful hair and demand quality products which help you to deal with your hair problem. We strive to deliver the best quality hair toppers and wigs which are comfortable, practical, and affordable.
The latest techniques are applied to produce topper and wigs from start to finish. All of Lewigs products are tested to guarantee it meets the highest standards of quality extensions: consistency, durability, naturalness, and comfort.
How can I take care of my hair topper?
As mentioned above, synthetic hair toppers are easy to care and wash, but human hair needs the more effort to maintain as it was your real hair if you want to keep its look and achieve maximum lifespan.
In spite of many differences, there are general tips on how to take care of hair toppers. We picked out three main points for general caring for hair toppers
Combing your hair toppers with a wide-tooth comb or a brush specifically designed for it to prevent any damages is the most important thing you need to remember.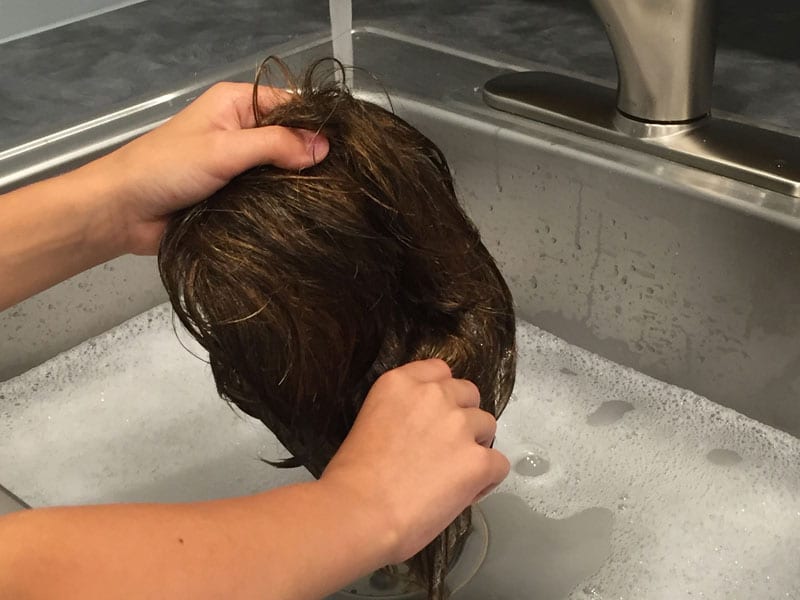 You should use sulfate-free shampoo and conditioner to clean the topper gently. Sulfates can make hair toppers dry and brittle, which result in the tangled situation.
And don't forget to avoid your hair topper from UV and heat as much as you can which will help to keep the hair moisturized.
In case you have to dry it, use a towel to blot them after washing and lay them flat to dry. If you use a hairdryer, it is necessary to apply a heat protecting spray to reduce the potential damages.
Keep in mind the question "what is a hair topper," it is a part of your real hair so treat it well.
Final Thoughts
We hope that this blog post has somewhat helped you to have an idea of hair toppers, by answer common questions such as what is a hair topper, how much is it, where to buy it and how to maintain it.
Stick with this blog to keep up-to-date on the latest news related to hair toppers and hair care. Please feel free to raise your voice. We look forward to hearing from you. Also, check out Lewigs' product lines for the top-notch hair units at the most affordable prices.
You can also find us via info@lewigs.com and (+84) 98 261 44 86 (Mobile/WhatsApp) at any time. We are always more than happy to be of service!