Dreaming of having strong and healthy hair? Getting regular trims and hair treatments ain't enough. Many of us even fail to notice that the overuse of haircare products might lead to scalp build-up, lack of nourishment, and even cause hair strands to become brittle and lifeless. These symptoms, lately, might entail severe damage that will hurt your heart when looking at it. And that is why a detox shampoo is essential.
You might have heard hundreds of times about detoxing your mane. However, not every detox product on the market is useful and suits your hair. Down below is Lewigs' picks of the best shampoos that would give your hair an effective detox.
Let's check it out!
OGX Charcoal Detox Shampoo
Receiving excellent reviews and ratings on different markets and e-commerce platforms, OGX Purifying + Charcoal Detox Shampoo and conditioner will never be a wrong choice when it comes to detoxing. Especially, it is exceptionally effective in treating brittle hair that is dragged down by hairspray and dry shampoo.
Formulated with activated coconut charcoal and kaolin clay, this product helps clean up all the build-up and residue on your scalp, leaving glorious and shiny strands.
Also, the scent is adorable! You will love it just by smelling its aroma. It won't make your tresses look perfect like after deep conditioning. In fact, OGX shampoo makes hair look fuller, smoother and bouncier.
Still, if you are looking for a detox shampoo to use before a hair follicle test, this product won't help. It won't remove drugs from your strands.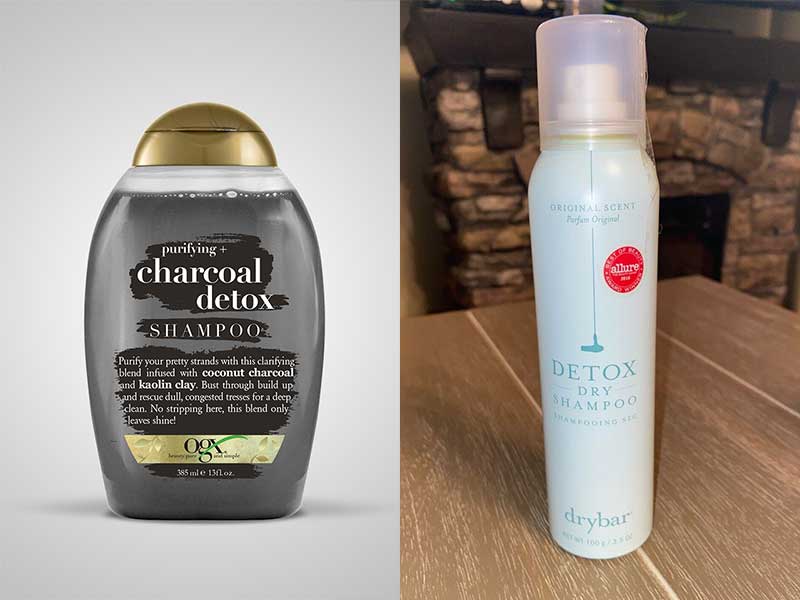 Drybar Detox Dry Shampoo Original Scent
Drybar product line is the best detox dry shampoo to opt for if you are dreaming about the perfect blowouts. Different from other hairsprays that might leave build-ups and dirt, the Drybar's shampoo works to eliminate excessive oils and impurities on your strands and scalp. Thus, it makes your mane clean, fresh, and good-looking.
In addition, this best hair detox also adds lifts to the roots, thus providing significant volume to thin hair.
The dry shampoo from Drybar has several variations that suit different hair types and have different scents. With the Original Scent, the shampoo gives off the perfect blend of natural smells, namely jasmine, sandalwood, and Madagascar vanilla. It is the best in general for all hair types.
Notably, it does not contain any harsh chemicals. No parabens, no sulfate, no phthalates. It is also environmentally friendly without any animal testing.
How to use: as it is a dry shampoo, shake the bottle well before spray it onto your hair. Remember to give your tresses a gentle rub and brush after spraying. 
Other suggestion:
Living Proof Perfect Hair Day Triple Detox Shampoo
Regarded as the best detox shampoo in terms of value, the product from Living proof is the best choice for colored hair. It gentles exfoliate your scalp and cleanse all the build-ups from products, water, sebum, and environmental factors, thanks to containing useful ingredients like the chelating agent, anionic polymer, and gentle surfactant. It also contains charcoal oil that helps absorb the excess oil from your scalp.
As a result, Perfect Hair Day Triple Detox Shampoo brings about a soft, shiny, manageable hair and a clean, revitalized scalp.
Living Proof detox product line does not contain any downvoted chemicals like sulfate, phthalate, silicone, or parabens. It is the perfect item that color-treated hair should never ignore.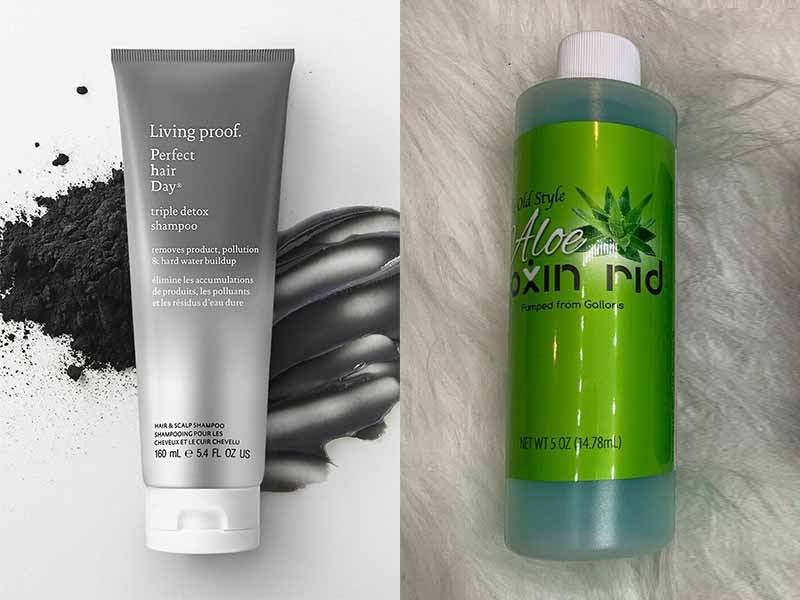 Old Style Aloe Toxin Rid Shampoo – Best for Hair Follicle Test
Winning the vote for the best hair follicle detox shampoo, Old Style Aloe Toxin Rid is the best pick if you want to remove toxins from your tresses. Despite its old-fashioned bottle, its effect is extraordinary.
The once-called Nexxus Aloe Rid shampoo has long been the first choice of those who are about to have a hair test. While the formula is super strong and works really well, this shampoo contains natural aloe, thus being safe to human hair.
But every product in this detox shampoo list is effective, so how can Aloe Toxin stand out? It's thanks to an ingredient called "propylene glycol". This substance can penetrate deep into the hair shaft and then remove all toxins it might contain. Also, while other detox shampoos might dry out your strand, this one won't, thanks to containing aloe.
High Voltage Hair Folli Cleanse Shampoo
Another good friend to support you in the upcoming hair drug test is High Voltage Hair Follicle Cleanser Detox Shampoo. It is an all-rounded and easy-to-use detoxifying shampoo that leaves your tresses toxin-free.
Similar to Aloe Toxin, this High Voltage product will strip your mane of all toxin-related metabolites from inside out.
For the best result, stay away from any kinds of drugs and toxins at least 24 hours prior to washing hair with this detox shampoo. Also, if you wear braids or dreadlocks, you will need to scrub extra while washing your tresses because, for these hair textures, it is harder to absorb the shampoo.
Furthermore, according to High Voltage Detox Shampoo Reviews, try to stay cool after cleansing hair with a detox shampoo. This shampoo might get rid of all toxins in your hair strand, but these toxins might reabsorb into your hair. It might be excreted through the skin via perspiration and then re-contaminate your tresses.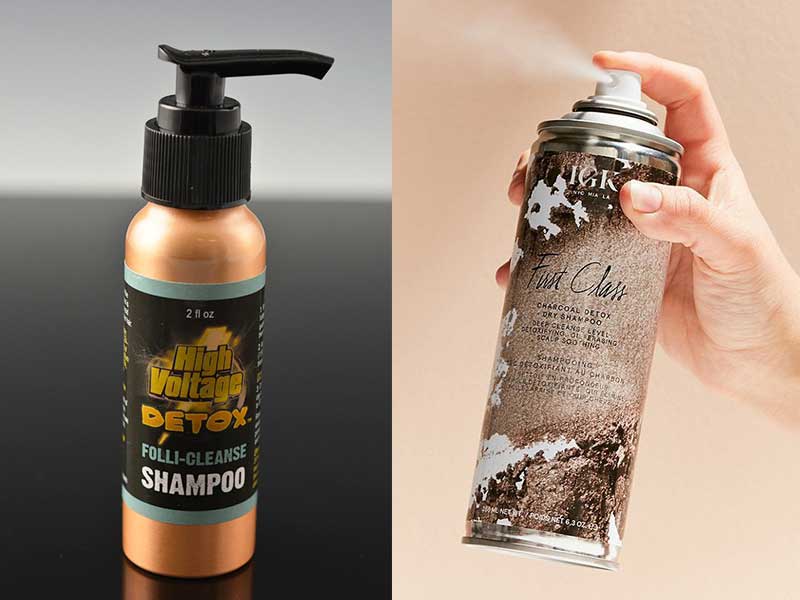 IGK First Class Charcoal Detox Dry Shampoo
First Class Charcoal Dry Shampoo from IGK is the last to be mentioned in today's reviews. It is a powerful detoxifying shampoo that can remove all oil and unpleasant odor on your scalp.
This dry shampoo is the best to accompany you when you don't want the distance between washes to be too close. You can use it after work-outs for fresh and clean locks. 
Read more:
Containing charcoal, IGK Detox Shampoo works to get rid of all dirt and build-ups on your head, while non-stoppably absorb the unused sebum and sweat. In the end, it brings about a dirt-free, odorless, and beautifully-looking mane.
To conclude, the 6 products above are Lewigs' best picks of detox shampoo. Working well on every hair and skin type, these detoxifying products will leave you with a clean, fresh, and gorgeous hair look.
That said though, it is still important to search more about each shampoo before deciding to use it. Take everything into serious consideration so that you won't make any mistakes!
Hope you enjoy this post. For other interesting articles, visit our blog and store. Besides useful hair blogs, we also offer excellent hairpieces for both men and women. Come take a look!
Have a nice day!