You are bored with only one hair color for a long time. You want to take a revolution to change yourself. Dye the hair. Not only for women, but dyeing hair is also one of the concerns for men. Here are some hair color products for men that are entirely safe to use. 
Clairol Natural Instincts Hair Color For Men
This is an indispensable name in the list of the best hair color brand for men. Clairol hair color is a safe product for your hair. It has no ammonia, includes plenty of antioxidants and natural ingredients. Opt for the item, it is gentle on your strands and does not harm your scalp.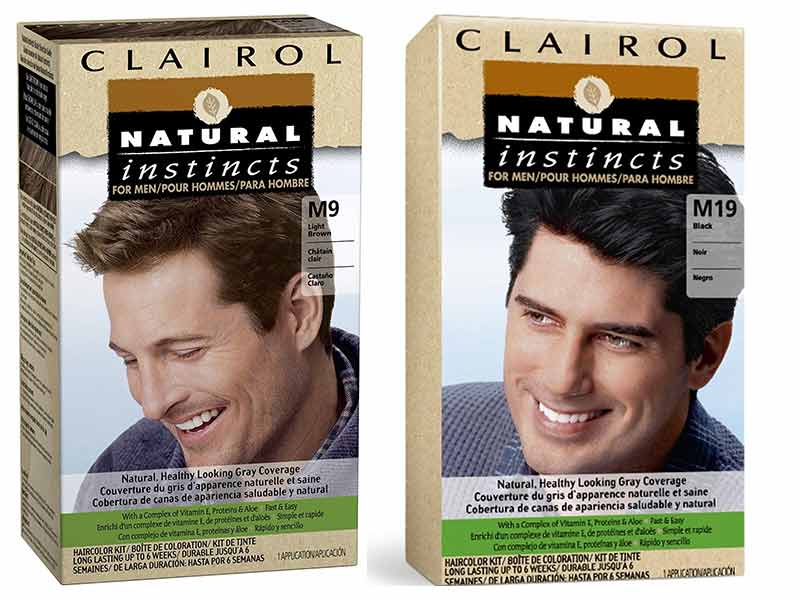 Come with plenty of color shades, this color hair for men provides many coloring options for both men and women. It is an excellent option for turning your hair from black or grey to light color that gives you a more youthful appearance. Don't be afraid to ruin your hair texture, change your hair into stand out shade.
Clairol Natural Instincts contains natural ingredients such as protein, aloe vera, and vitamin E. It creates a gentle hair dye that does not damage the hair. In contrast, it also helps protect and condition hair while changing the color. Being a semi-permanent hair color for men, it will last for a long time before you re-dye your strands.
Just For Men AutoStop Men's Hair Color
The hair color is a high-quality product of Just For Men brand. It receives a lot of good reviews from customers because of its convenience. Easy to use, the product can hide gray or natural color hair and get a natural look. Get the right amount of Just For Men, you will get the result as you desired.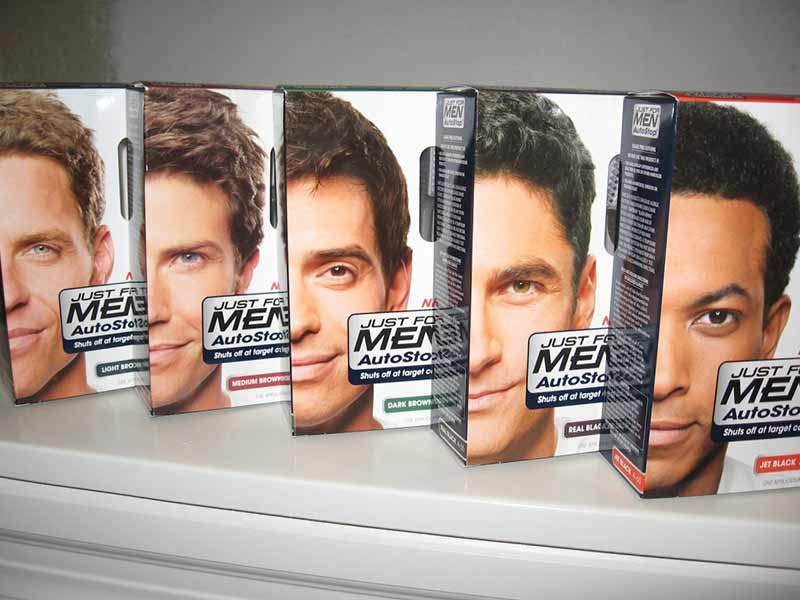 With the diversity of the product, you can choose gray, brown hair color for men, and so on. It comes pre-mixed, so you don't have to mix hair dye and developer to reach your desired color shade. Say no with ammonia or peroxide, it gently changes the color. The hair color lasts for 8 weeks until new hair appears. Moreover, the AutoStop color can mix well with the rest of your existing hair, offering a more realistic look. Although your hair is chemically treated, it is still soft and manageable.
Not only for your hair, JFM AutoStop Men's Hair Color can also be applied to your beard. 
Similar posts:
L'Oreal Color Smart Haircolor for Men Natural Black
This Loreal hair color for men was specifically designed for males with up to 50% hair grey. Applying the item, your natural color is restored, and grey disappears. This no-ammonia formula contains special moisturizers. So after the dyeing process, your hair is left healthy and younger-looking. Leave it on your hair for 15 minutes and rinse thoroughly. Plus, it has a fresh and comfortable scent.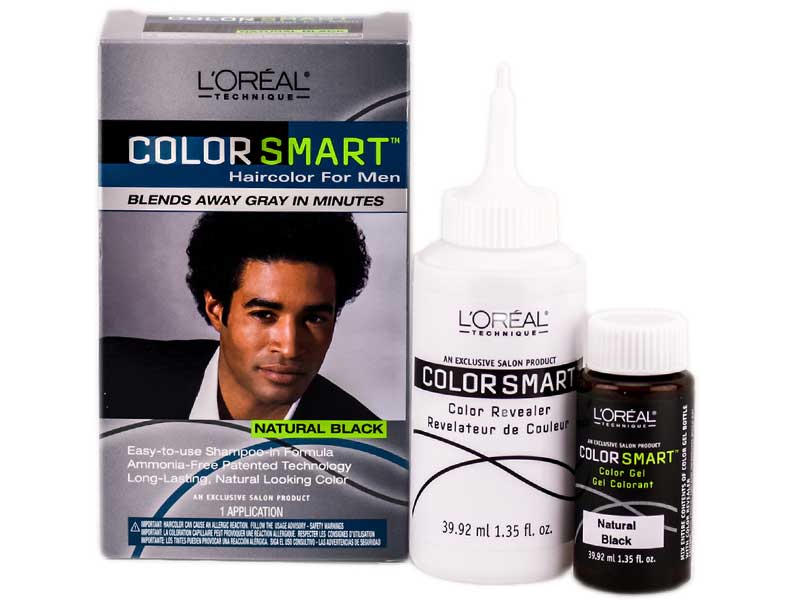 You will see the ultra shine and super smoothness right after using this hair color for black men. What's more, it prevents dryness and damage to your hair.
Bigen EZ Color Hair Color for Men
Opt for Bigen EZ Color Hair if you want to cover your grey hair without leaving a trace. If you are struggling to find a color that is easy to apply, select this best hair dye for men. No mixing, you only comb the cream into your tresses. Even better, you can apply the cream on your beard, mustache as well as eyebrows. The hair color helps you attain a more youthful and fresh look. It is also among the best hair color for black men. Plus, after being applied to your hair, it doesn't leave any stains on dark or brown skin.
With friendly natural such as extract aloe, olive oils, EZ color helps condition your hair. It offers a healthy-looking hair with a perfect finished look.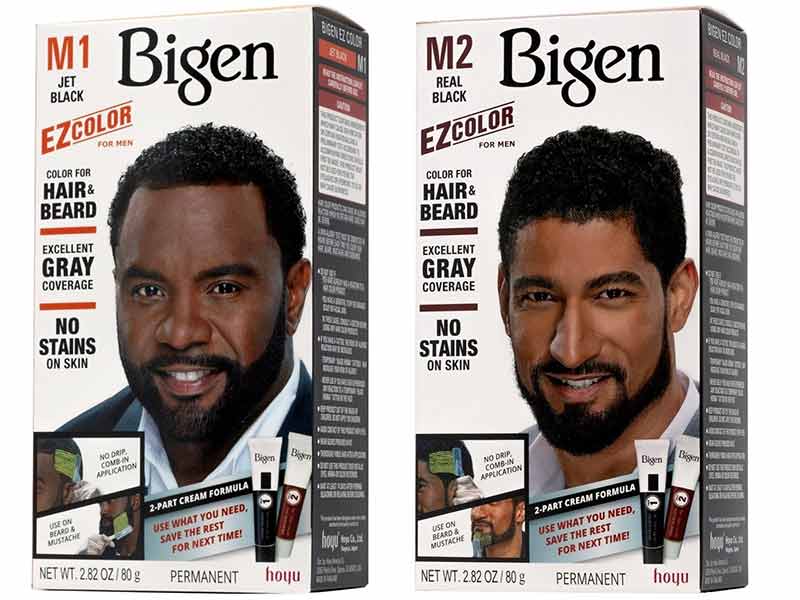 How to use EZ Color:
Make sure that you have clean hair before applying the natural hair dye for men. Add the cream on the hair strands, then leave it for about 10 minutes. 
If you want to create a darker shade, leave it in your hair for a longer time. But remember that you should not leave it in your skin for more than 30 minutes.

Just For Men Control GX Grey Reducing Shampoo
This hair color shampoo for men makes your grey hair disappear without making it look too obvious. Follow Just For Men hair color instructions, you simply use it as you would do with the normal shampoo. You will see that it gradually reduces grey with each wash. Specifically, the results may vary based on the frequency of use. Just use it until you like what you see, use it every few days to keep your curls looking great.
The shampoo hair color for men gives the users a subtle and natural-looking result. Not only reduce grey, but the JFM's product also cleans and revitalizes the hair. It suits all hair shades but your hair is chemically unprocessed.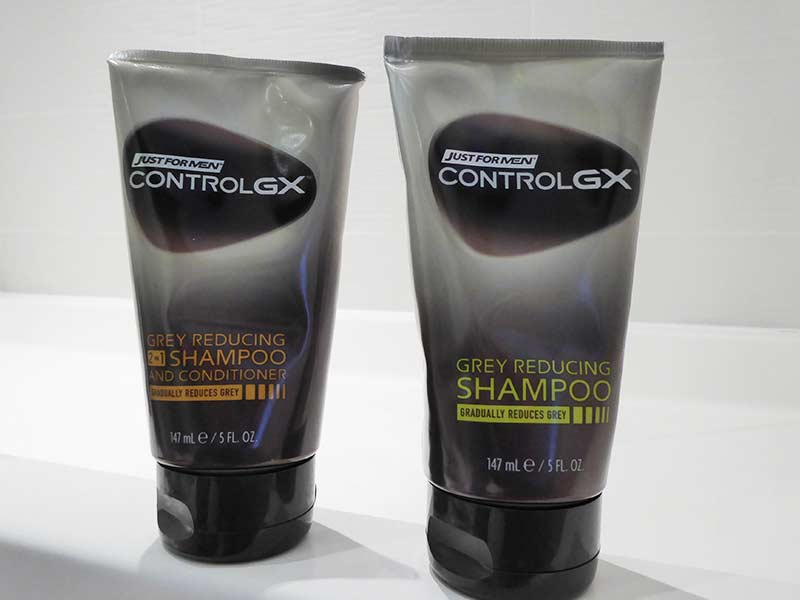 Note:
– Don't use JFM's item on hair that has been bleached, highlighted or colored.
– Stop using if you have experienced any reaction to the product.
– No use for dyeing the eyelashes or eyebrows as it contains ingredients that may cause irritation on certain individuals, causing blindness.
Redken for Men 5-Minute Color Camo
Reveal younger-looking hair color in just 10 minutes. This professional salon hair color offers a camouflage to hide custom grey hair. It ensures subtle and low maintenance results with no visible leftover residue.
Specially formulated for men, Color Camo is ammonia-free, permanent dye technology with demi-permanent results. With quinoa oil and the protein-enriched formula, the hair color strengthens hair and adds a healthy shine as well.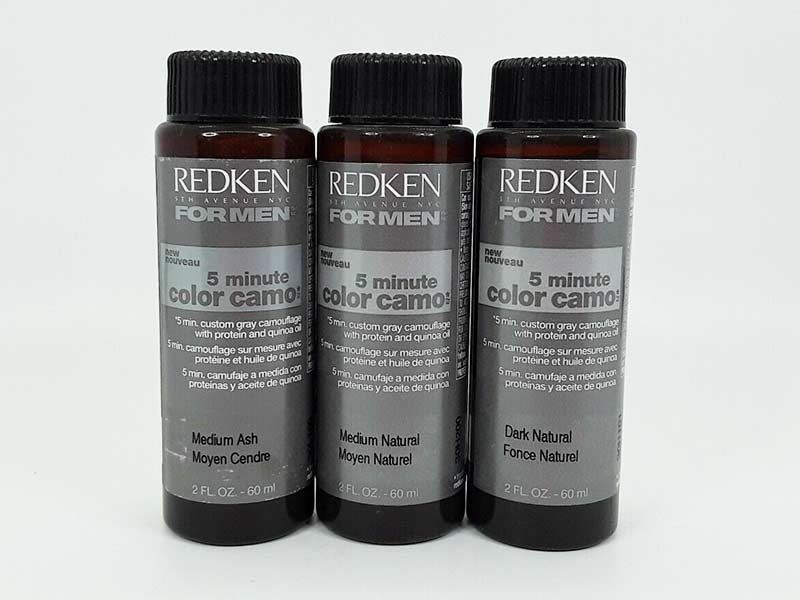 Simple steps to apply the good hair color for men:
– You should wear disposable gloves to protect your skin.
– Mix it with the 10 volume Pro-oxide developer at a 1:1 ratio.
– Apply the mixture on the hair strands. Distribute evenly.
– Keep it on from 5 to 10 minutes to work. 
– Rinse hair well after application of the mixture. Let the hair air dry. If products get into eyes, rinse it out immediately.
Pure & Natural Henna Powder For Hair Dye
It is a natural and organic hair color for men of The Henna Guys – a leading company of hair care and skincare products. With 100% natural ingredients, the Pure & Natural Henna Powder is arguably the best hair color for men. As you would expect, it is made with henna – a plant providing color to the hair and skin.
Henna is good for hair health, including stimulating hair growth and strengthening your scalp. If you have thinning hair and want more volume and thickness, it is a hair color ideas for men. The color works well with all hair types. One more benefit of this product is that it contributes to condition hair.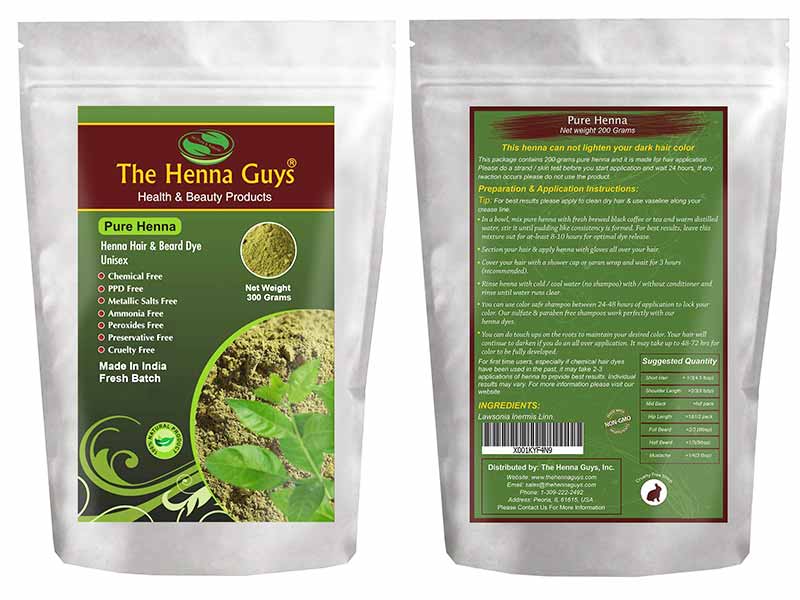 Henna's natural color is reddish-brown, so you can reach red hair color easily. Besides, The Henna Guys company creates cool hair color for men with many different shades (blonde, brown, grey, silver hair color, etc.) from fine henna and other natural ingredients.
Henna Powder is a good selection if you are looking for a completely natural hair color. Invest in this hair color is worthy.
Read more:
Goldwell For Men Reshade Grey Blending Power Shot
Takes only about five minutes to cover your old hair color, Goldwell's item is a great coloring method. The Goldwell For Men ReShade helps remove salt and pepper hair color, reaching an energetic look. It looks natural, no "fake", and no fade over time. After shampooing, you will not notice any reddish or warm tones. Even better, the formula is ammonia-free, no allergic.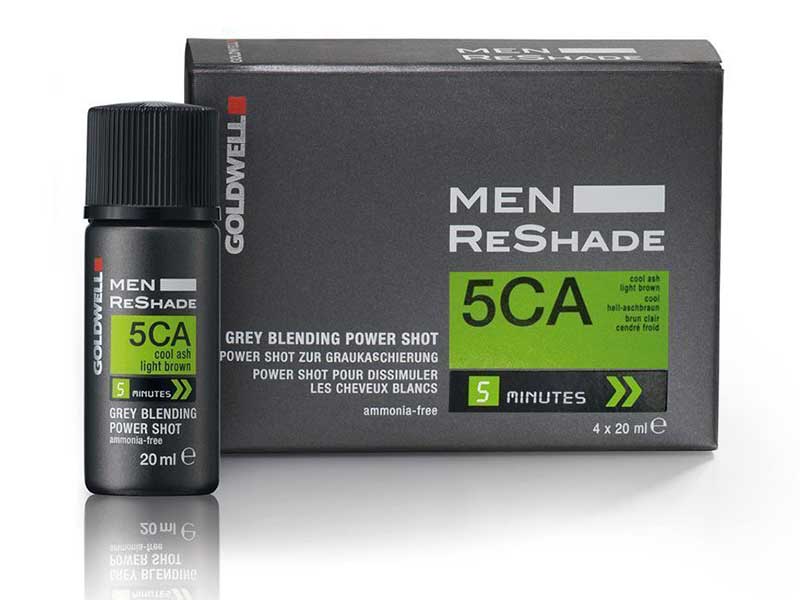 Manly Guy Black Hair Color
This is the last product on our list of the best hair color product for men. It is another henna hair color that is worth considering. Manly Guy's color is made from pure henna, no peroxide, and it is hypoallergenic.
Many people say that the grey makes them look older than their ages. So they select Manly Guy's to solve their hair problems. It is amazing, the hair color works well. As it is natural instincts hair color, it does not cause itching or burning. Moreover, it contains vitamin-enriched and vegan, making your hair thicker and more healthy overall.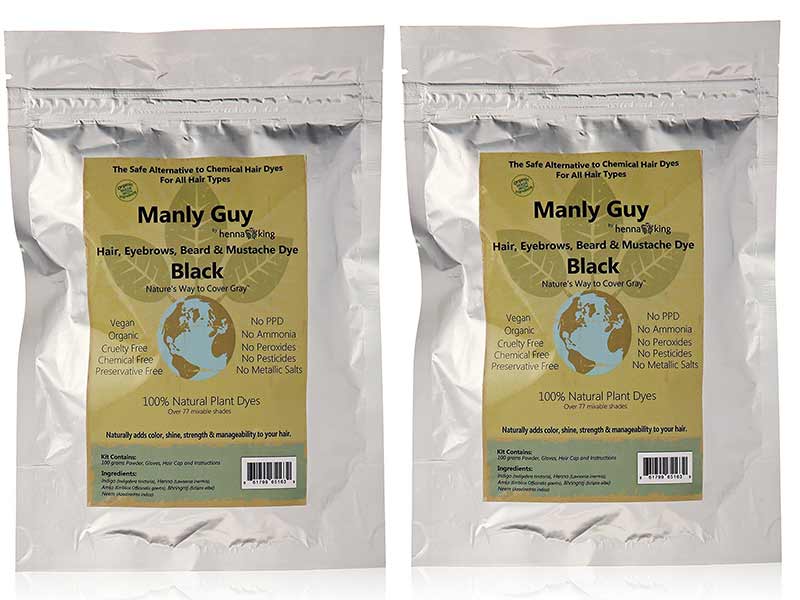 The Bottom Line
Hey guys! Let's make your hair more beautiful to stand out everywhere. Hopefully, these best hair color for men from Lewigs reviews will help you find the best product for your haircut. Or if you have other color spray or temporary color for men, don't hesitate to share with us. 
In case you wish to have vibrant colors but don't want to color your existing hair, go for a colored wig or toupee instead. With these attractive hair systems, you can update your hairstyles quickly without damage.
Don't hesitate to contact us to get consulted on the best hair color ideas for your hair. We always welcome your comments and suggestions.