Your hair becomes worse and worse because of many years of styling, dying, and bleaching. For some people, the dry and damaged hair is their nightmare. Nowadays, there are different methods that can conceal and improve our hair state such as hair transplant, taking medicine stimulating hair growth, and so on. One of them is to use the best lace wig adhesive for long term wear to wear your hairpiece on.
In this article, Lewigs only focus on the fastest and most effective method – wearing wigs. We can say that it is an excellent way that brings us back to a beautiful life. How can we wear human hair wigs? In fact, full lace wigs and lace front wigs require adhesive to attach to your head. So what is the best lace wig adhesive for long term wear? Dig into our words to find the safest and strongest lace wig glue for your hairpiece.
The Importance Of Finding The Best Wig Glue
Before buying the best lace wig adhesive for long term wear to attach your wig, you have to know what suits your skin type. Your skin may be normal, dry, oily, or sensitive. Understand your skin, it is not hard to choose the best hair glue.
Ask for advice from someone who has experience in the hair field such as a hairdresser. He/she knows what is good for your hair and how well hair glue for lace front wigs work. Buy hair adhesive glue that has no harmful or harsh chemicals so that it does not harm our hair and skin. Read the label, check its ingredients carefully as there are too many poor-quality products on the market now.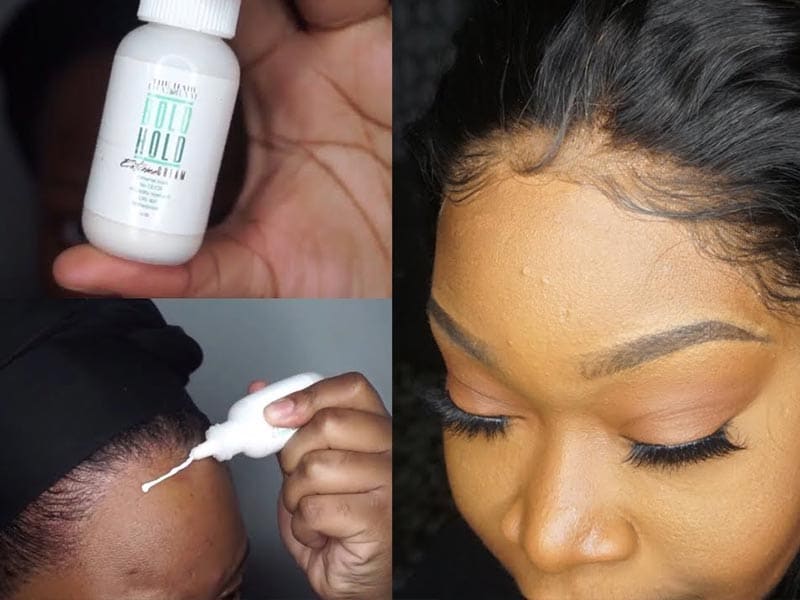 When you choose a glue for hair, it is important to see the length of attachment. For instance, opt for a stronghold adhesive if you want to wear your hairpiece for a long period of time.
Moreover, lace wigs adhesive is made to dry clearly and remove easily. It brings an undetectable hairline so the other can't notice you are wearing a wig. Some items are water-resistant that allow the wig users to sleep, go swimming, etc.
Top Best Lace Wig Adhesive For Long Term Wear
Super Lace Wig Glue Strong Hold – Acrylic Adhesive
The first name of our list is Super Lace Wig Glue Strong Hold – one of the strongest lace wig glue for long term wear. The acrylic-based glue with soft bonds can hold your hairpiece in the right place up to 4+ weeks. It is one of the leading standards for lacewig glue on the market.
The glue creates an acrylic adhesive so that it dries and takes off easily. One more plus point of the acrylic adhesive is that it stays very strong. Feel free to apply it on your scalp as it is safe for your existing hair and the hairpiece.
To apply this best lace front glue, use a brush applicator to cover a thin glue layer on your hairline. While the glue is dry, apply your lace wig and press it for about 30 seconds or until firmly in place.

Davlyn Black Waterproof Adhesive
Davlyn Waterproof adhesive is a tough extended-wear liquid bonding for hairpieces. Depending on your activity level, it can hold your hair for 2 weeks. This product is for lace wigs and toupees and it receives a ton of good reviews from clients. You can combine the glue with tape to attach the wig or use it alone. The waterproof hair glue is super easy to apply and clean up.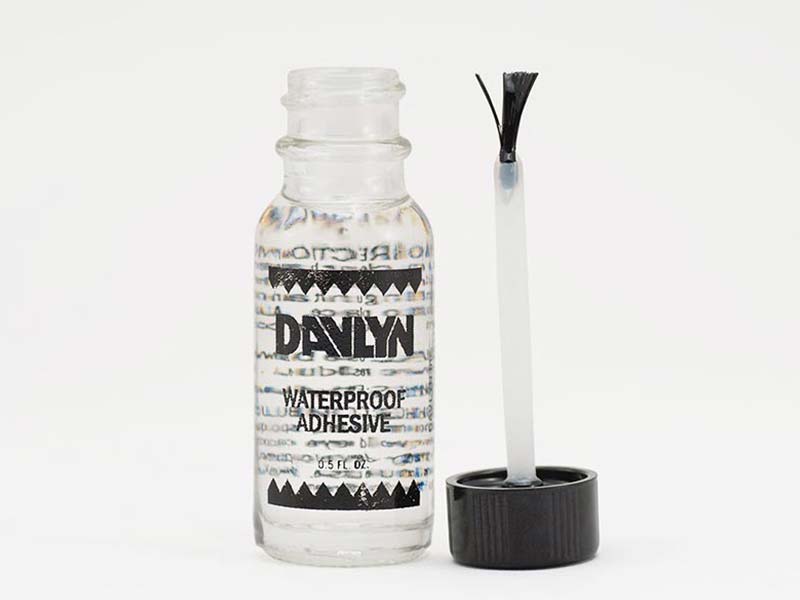 If it is the first time you use this wig adhesive, do a small test on your skin to determine any sensitivity to the product's ingredients. This ensures that it will not irritate your scalp after application.

Got2b Glued Blasting Freeze HairSpray
You are a big fan of human hair wigs, you have heard the Got2b glued lace wig and frontals. Why it is popular in the wig wearer community? As it works better than your hope. It is no exaggeration to say that it is considered the best lace wigs glue in the hair market these days.
Often, your hair will fall flat after a while of using hairspray. But with Got2b glued for lace frontals, you have never suffered this problem. What the wearers have to do is spraying a thin layer to whatever area you want your hair system to be attached. Let's use it in moderation to feel how well it works, spray layer-to-layer. Once the layer has dried, apply your wig or toupee into the strong adhesive areas. It is perfect for every hairstyle. 
Similar posts:
Davlyn Green Waterproof Wig Glue
Next, one more best glue for lace front wigs. It works well on both lace and polyurethane base design. You can use the tool for daily wear or extended hairpiece wear. With the waterproof ability, it is the best lace wig adhesive for swimming. Just like other products, it holds the hair for 2 weeks at a time depending on your body chemistry and activity level.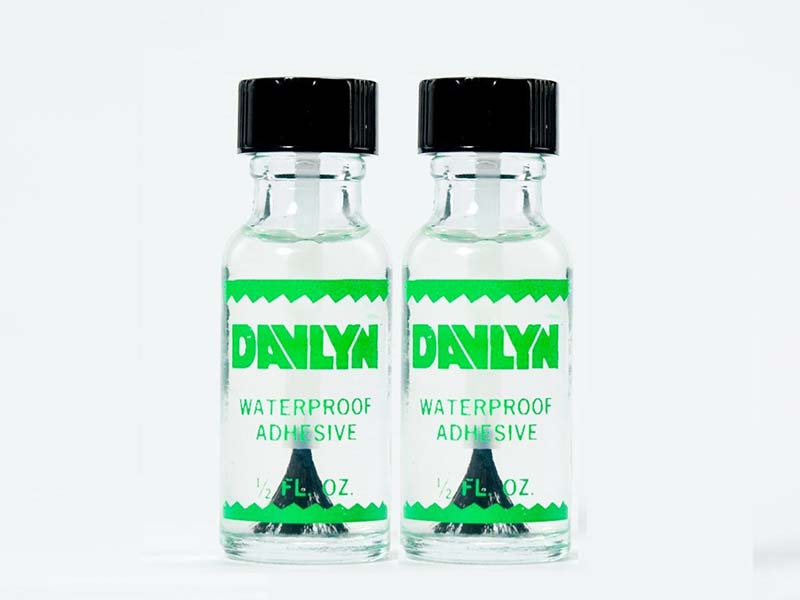 To apply the waterproof wig glue, use a little brush and put it on your skin. You just keep brushing and brushing until you get a thin even coat. It is really important to make sure that the coat is even and thin. You let it dry, take about 3 to 5 minutes and then attach your wig on it.

Ghost Bond XL Hair Replacement Adhesive
Ghost Bond XL lace wig bonding glue helps you feel secure when wearing wigs in the hot and humid climate countries. You can buy it in many local hair stores or drug stores near you. Your scalp is oily, can I use this adhesive to attach my hairpiece? Of course. The water-based formula creates a barrier to prevent the oil and sweat from the attachment, offering a tight connective and extended wear.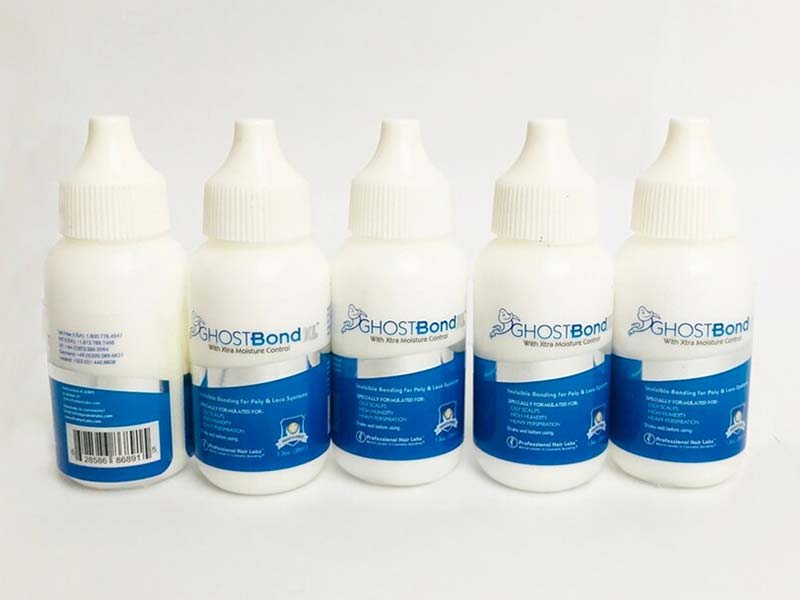 Ghost Bond XL lace front wig glue is researched, manufactured and tested carefully, hence, it is entirely safe to add. It contains no harsh chemicals and toxic ingredients. It also provides high moisture so you can feel as comfortable as possible during the summertime.
Walker Tape Ultra Hold Adhesive Glue
Being established in 1985, Walker Tape, Co. is one of the famous brands for adhesives now. Its name is a great description of what you will get. It provides wig users with a soft and tight bond. Created from a waterproof formula, so the wig glue dry quickly and stay strong. Work well for all skin types, it holds the hair between 4 to 6 weeks. Walker Tape waterproof lace wig glue is a rock-solid option long term wear.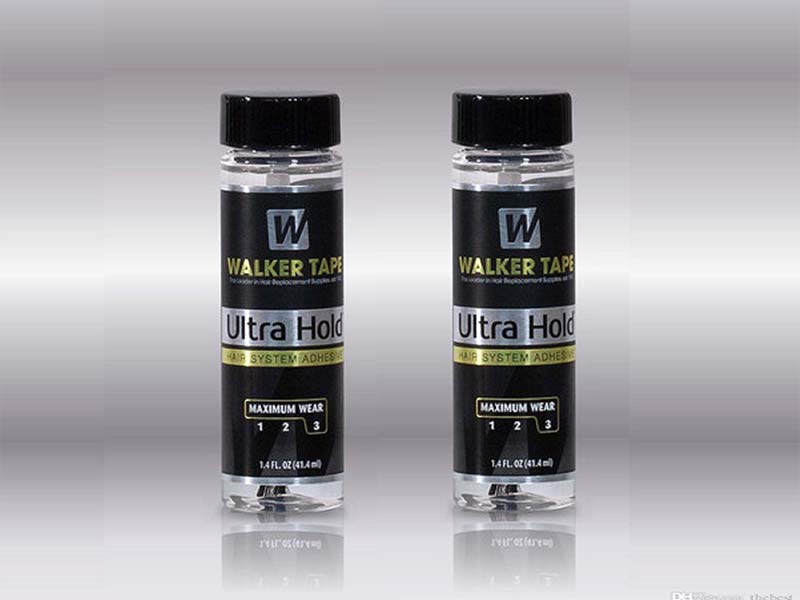 How to use this best lace wig glue? Make sure that your scalp is clean before applying glue. Coat a thin layer of the bonding on your scalp and do it properly. Apply the second layer as needed. Let it dry and put your full lace wig on your head. Gently press it onto your scalp where the glue area is, and hold it down for 10 seconds.
Esha Absolute Lace Wig Adhesive Glue
Why Esha is one of the best vendors for top pick hair glue for wigs? Due to its special formula. Created for all skin types, Esha Absolute contains many natural and fine ingredients. If you have sensitive skin, Esha is an ideal option for you. Plus, it is waterproof as well as sweat resistant.
Esha lace front adhesive provides the strongest hold, you also clean it off easily with remover. It dries quickly and leaves no residue. The other can't notice that you are wearing a wig. The manufacturer produces wig bonding glue for longer wear  (the absolute) and daily wear (the firm).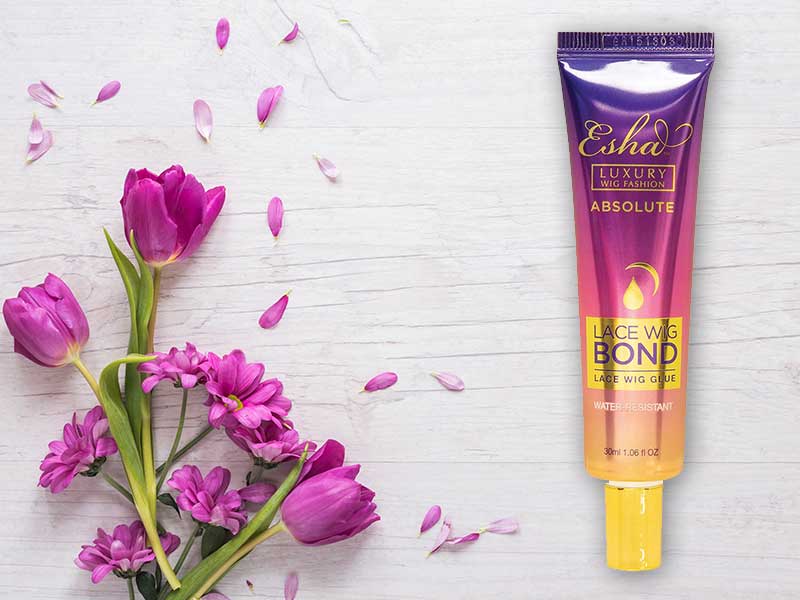 How to add Esha Absolute? The glue comes out white and when you apply it on your scalp, it will turn clear. You apply a thin layer and let it sit for about 30 seconds, apply your hairpiece. Let it dry clear after applying the wig. That way you can get the best application.
Note: Never use your fingers to press the glue down since your fingers have oils.
BMB Crazy Hold Tube Super Lace Wig Glue
This lace front hair glue is new but its quality can be compared to top-notch products. It is 100% waterproof, so you can shampoo or go swimming when wearing a wig. The length of the attachment can reach up to 6 weeks.  Many users said that BMB lace front glue is the best wig glue for sweating. If you are a sweaty person, purchase it to keep your hair for a longer time.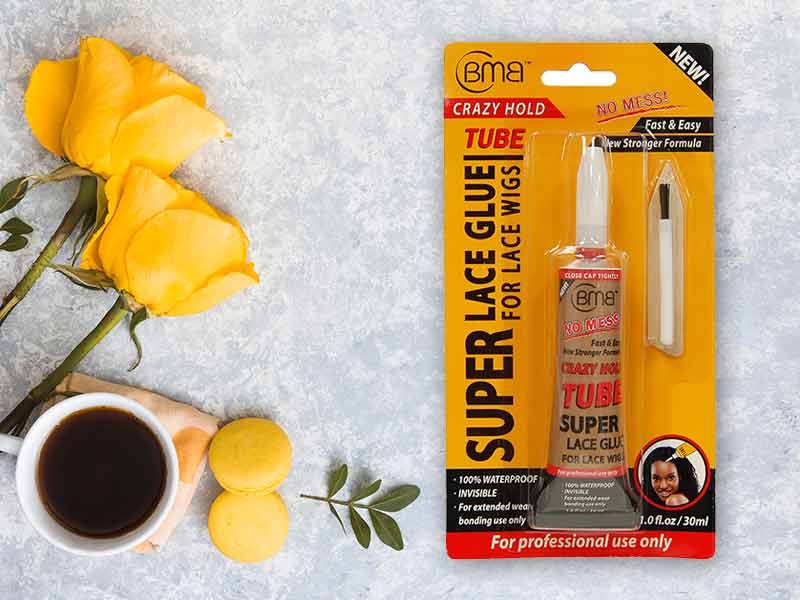 Bold Hold Skin Protect Lace Wig Glue
Bold Hold from Hair Diagram is the best lace wig adhesive for long term wear. It creates a protective layer blocking sweat and body oil. Plus, it is perfect for both full wigs, lace front wigs, toupees, and so on. This glue for lace wigs secures your hair strongly over a week without reapplying.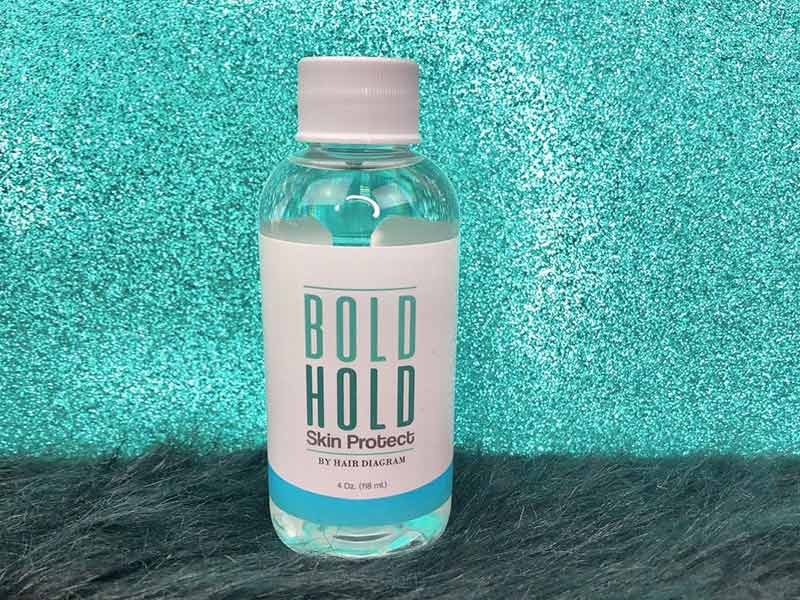 Note: After applying the unit, you should keep it far away from water for 24 hours.
Vapon No Tape Liquid Adhesive
This is the last awesome product on the list. The liquid adhesive contains a powerful sticky formula, bringing a long attachment. Many hairstylists, beauty bloggers highly recommend this bonding glue as it works well on both lace and poly hair wigs. It holds your wig longer, up to 4 weeks. With this hair adhesive, customers can find complete satisfaction. Only use a small quantity, your hairpiece will stay glued for days! You can refer to videos online and learn how to apply the adhesive properly.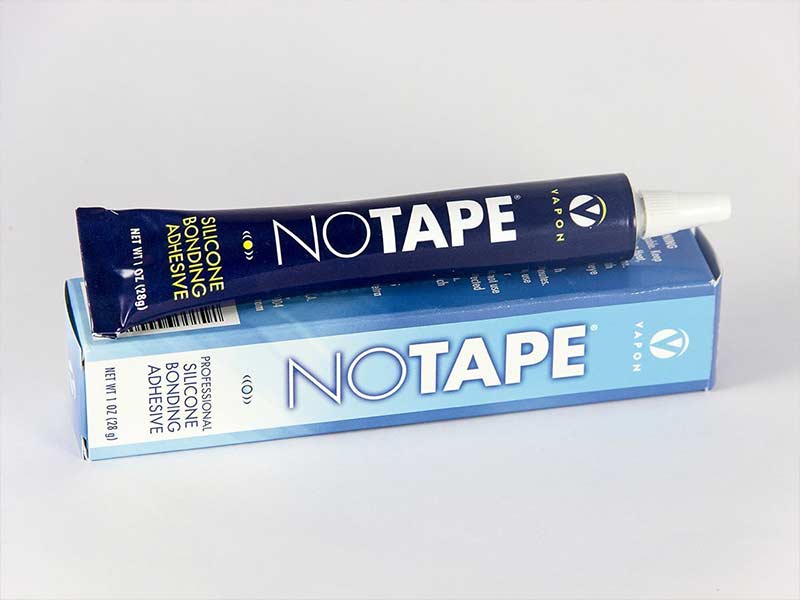 Best Lace Wig Adhesive For Sweating
What is the best glue for lace wigs for oily skin? It has to increase the hold times, reduce or no irritation, help wearers feel pleasant when wearing wigs. The preparation products below can solve these problems.
No Sweat Scalp Antiperspirant
The glue for lace front wig is designed specifically to control oil skin while you apply wigs adhesive. It ensures that you get a good bonding during each application of your chosen glue. No Sweat Scalp Antiperspirant contains no harsh chemicals or toxins, and no latex so that it is safe and gentle to your skin as well.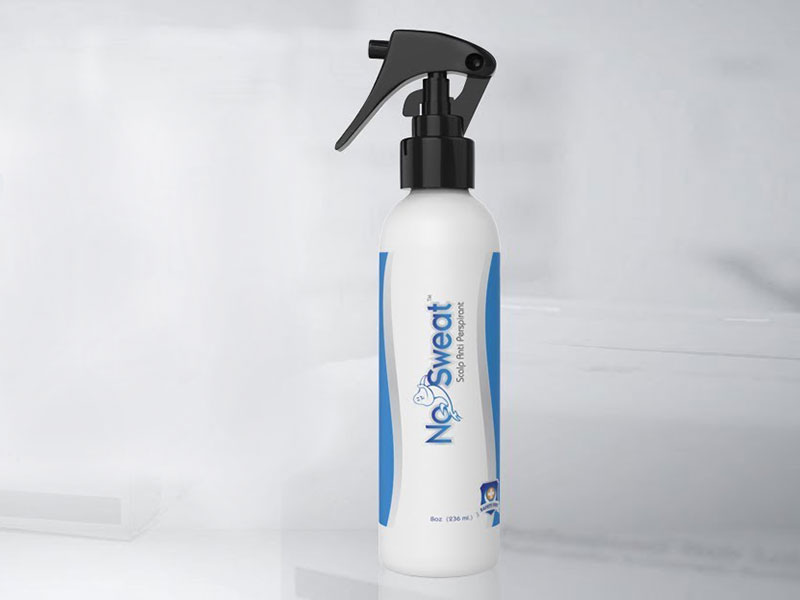 Walker Max Hold Sport
Walker Max Hold Sport protects your scalp from irritation. It creates a barrier that helps to save the bonding, increasing the hold time if you are sweaty.
Wig wearers love the item as:
– It is easy to use and dries quickly.
– After installing, you can shower immediately if you want.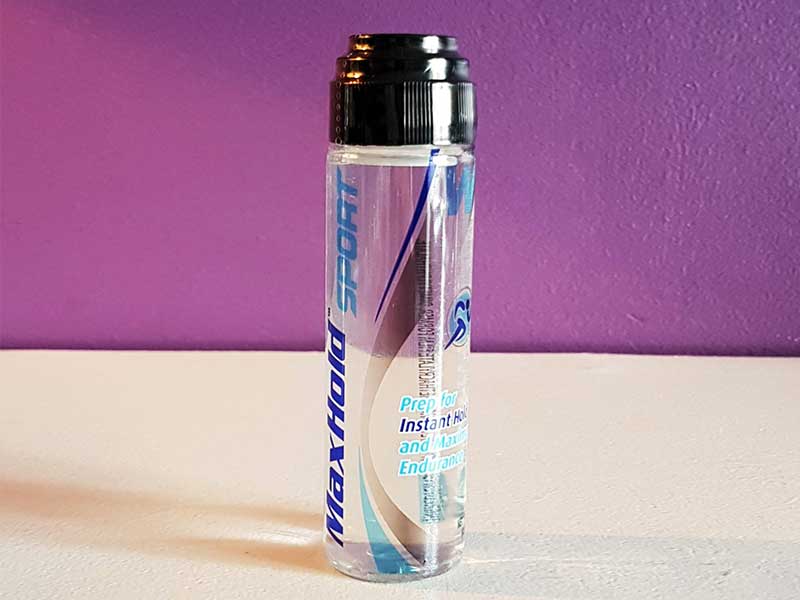 – It keeps the adhesive bond from oils.
– No irritation
Note: Keep this best lace wig adhesive for long term wear away from children's reach. Tighten cap promptly after use.
Best Lace Wig Glue For Oily Skin
I myself have oily skin, I have some problems with it. And I'm sure that people with oily skin also feel uncomfortable with it, especially when wearing hair toppers, toupees, weaves, etc. The scalp produces extra sebum that prevents lace adhesive to act. There are different lines of glue for wigs, but there is unfortunately not so many best lace wig glue for oily skin. It is quite hard to find one that suits your oily forehead.
If you are stuck with selecting a suitable item, we have some suggestions on the best waterproof lace wig adhesive for long term wear for you. Let's see.
MAX Adhere 360 Waterproof Adhesive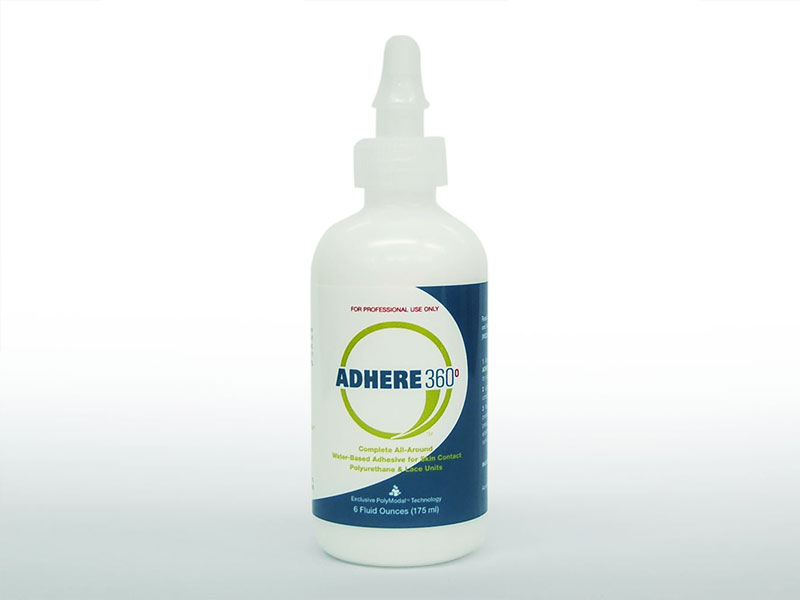 Being another extended wear bonding adhesive, MAX Adhere 360 is water-based and latex-free. It is much easier to use, apply a thin layer across the front of your head, let it dry and then wear your hairpiece. The waterproof lace front glue can hold your wigs at least 4 to 5 weeks, no matter how oily your scalp is. You are an athlete or living in a hot and humid country, it is perfect.
Waterproof Hair Replacement Adhesive – Invisible Bonding Glue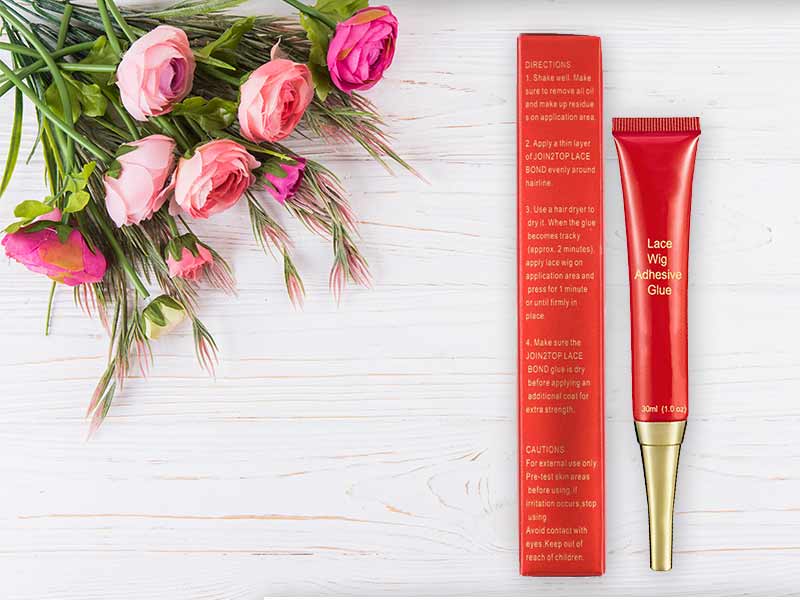 This wigs glue adhesive for oily scalps is used for those living in humid environments. It serves you for almost 5 weeks without reapplying. Hence, it brings you a reliable connective regardless of the weather condition. That's why it receives a lot of good reviews from clients. It also allows you to swim as often as you want. The invisible hair glue conceals your hairline and gives you a realistic look when wearing a wig or extension. 
Read more:
Best Hair Glue For Sensitive Scalp
CLING Edge Safe Non-toxic Glue
Not only holding your lace wigs, this best lace glue also used to apply the weaves, toupees on your skin. It offers a strong bonding method with the micro bonding glued sealer particles. Also, it is waterproof and won't be affected by sweat. Contain no toxic, you can add the bonding on your skin without irritation. Like its name, it is completely safe. It works as an invisible layer and protector between your hair system and your body. With this best toupee glue, you can walk confidently as your hair never falls off. Control the strength of the bonding by applying additional layers.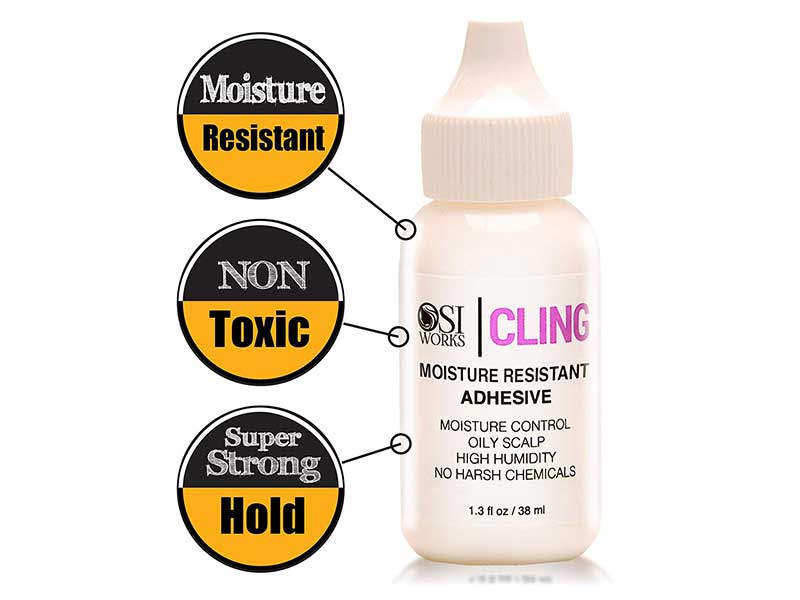 We recommend using it for extended wear. Don't worry about the removing process. Use the Uncling remover solvent, removing toupees is not as difficult as you think.
For Women Only Hair Adhesive For Wigs
Sensitive skin requires carefulness. You should pay more attention to it than any skin type. Therefore, selecting the best hair bonding glue if you do not want to harm your skin.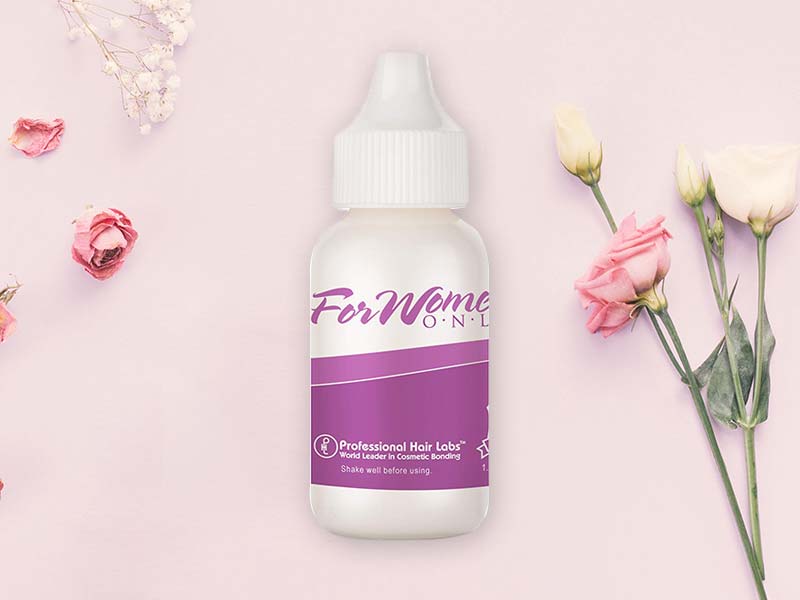 For Women Only Hair Adhesives from Professional Hair Labs are a safe and non-toxic adhesive wig. It is specially designed for women who have sensitive skin. Not only holds best on poly hair systems, but it can also be used on the lace. Manufactured to the highest standards to ensure that its effectiveness and safety are among the best in the hair field today.
If you are looking for the best lace front glue for your sensitive skin, no need to look further. For Women Only Sensitive Skin Adhesive – this is the best hair glue available for women.
Some High-Quality Lace Wig Glue Removers
Esha Lace Wig Adhesive Remover
Carefully formulated by a veteran cosmetic chemist, Esha remover was created to take all kinds of lace front adhesives off your skin. This fast-acting formula safely removes your hairpiece. It is gentle on your scalp and easily washes out with water.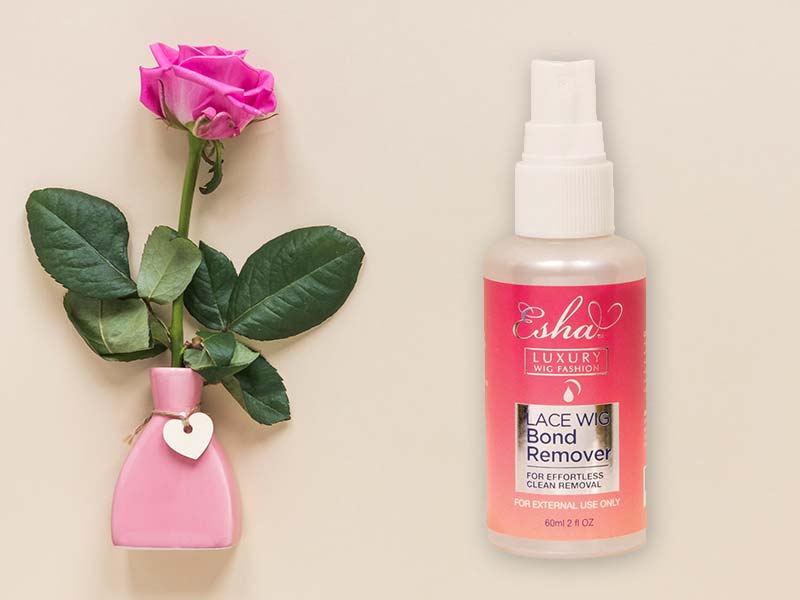 How to use the Esha remover:
Step 1: Gently lift the lace frontal and spray it on your scalp.
Step 2: Massage product in the glued areas. Let it sit for 5 minutes.
Step 3: Take off the hair and wipe it off. Then shampoo your hair as usual. Get rid of leftover residue & product.
Walker Tape C22 Solvent 4Oz Spray
This is one of the favorite and best lace front glue removers of wig wearers. It has a comfortable scent – the citrus smell. No matter how strong the lace front wig adhesive is, it works well to loosen hardened adhesive bonds. Plus, it prevents dandruff and moisturizes the hair.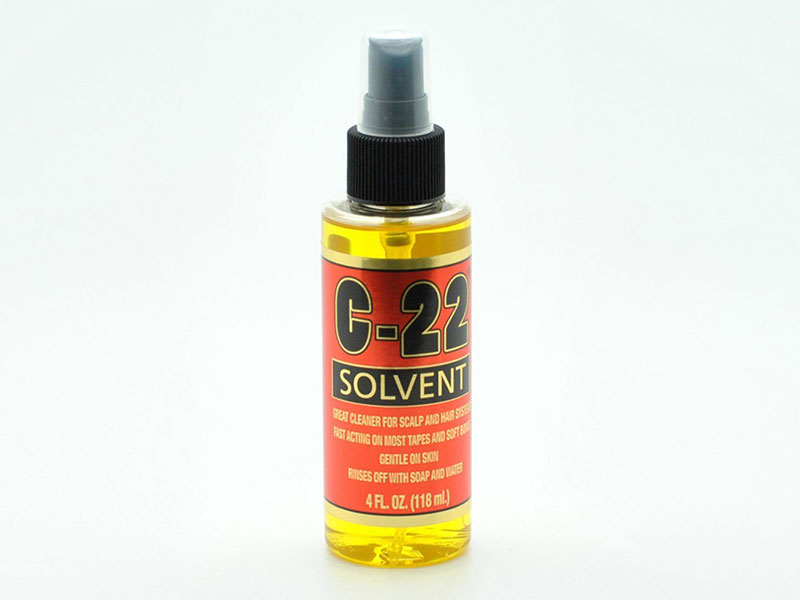 – Spray it on the adhesive area to saturate.
– Leave it on your skin. Often, its reaction time in as little as 1 minute depending on adhesive buildup.
– Take the lace front wig out of your hair. Then you wipe and brush off any leftover residue.
– Wash your hair with a gentle shampoo and rinse out with water.
In Conclusion
There are too many strongest lace wig glues that you can try. You are wondering whether to choose wig glue or tape for attaching the hair. And which type is the best lace wig adhesive for long term wear? Lewigs hope that after this post, you know exactly what you need and choose a suitable lace glue adhesive for yourself. Each type of adhesive has its own properties and strengths so please consider carefully before deciding to purchase.
Have any requires for wig or lace front wig glue, kindly contact us via WhatsApp or email. Always willing to serve you!