You know balding happens to most of us. You are in your 20's, you are happy with a head full of hair. But maybe in your 30's, the thickness of your hair starts to decline. You can experience the hair loss problem leading to baldness. So, what does a guy have to do? Don't need to panic. Lewigs have got the best-looking male pattern baldness hairstyles, from long to short haircut and more.
These haircuts could be perfect for any face shapes. And here is the list.
High and Tight hairdo to cover baldness
If you are looking for the best hairstyles for male pattern baldness, it is all you need. The high and tight hairstyle is simple and inspired by the soldier's haircut. It helps create an illusion that you have more hair than you actually have.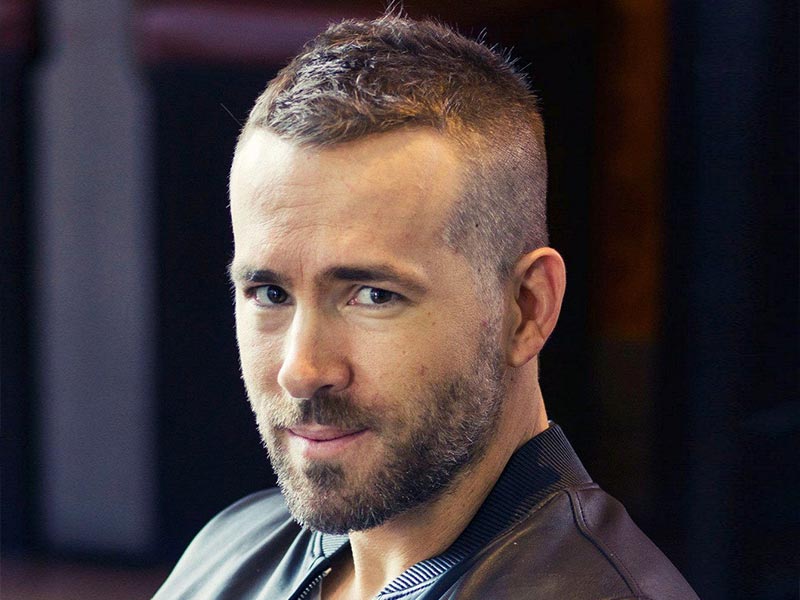 To achieve the style, ask your hairstylist to cut your hair as short as possible at the back and 2 sides. And keeping a little more length on top to easily style. Today, this hairstyle has a lot of variations. So you will have more options with the bangs, bun or Retro High and Tight.
But we think it looks great with the classic hairstyle as it suits every face shape. The hairs on 2 sides and the back are shaved close to the scalp, similar to the Undercut. The Classic High and Tight is popular because of its coolness and easy maintenance. It is also called "Jarhead" as it looks similar to a warhead.
The Buzz Cut deserves to be among top male pattern baldness hairstyles
The hairstyle is suitable for someone who is thinning hair. The short hair cut is its typical feature. The hair is cut as short as possible, close to the scalp. It will help you cover the defects on the top of the head as well as the hairline. By reducing the amount of hair on your head, it minimizes the impact of your thinning hair or baldness spots. No one will think you're bald now.
With a length of 1 to 1.5 cm (0.5 inch), the Buzz will bring you simplicity and convenience during the summer days. It is also a versatile hairstyle that can be changed to suit all men.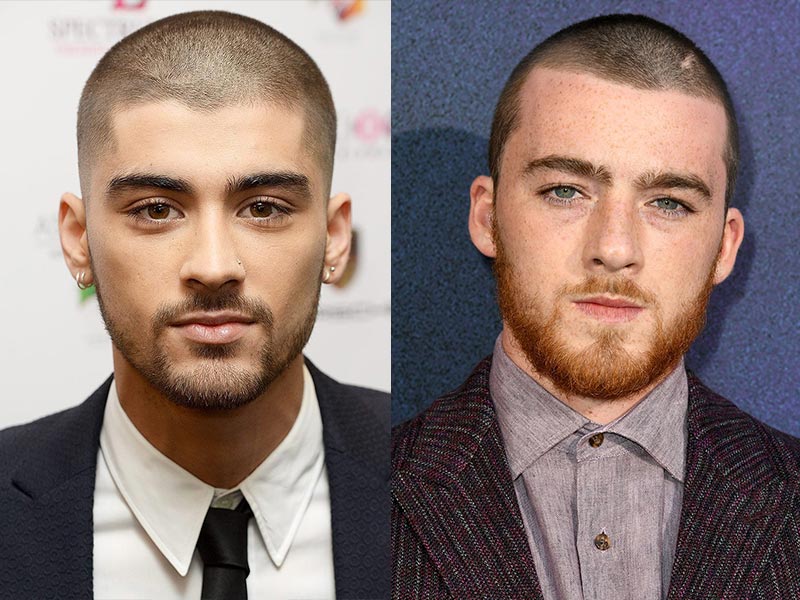 This haircut works well with most face shapes and hair types. It is definitely one of the best hairstyles for male pattern baldness. and helps the guy cheat their age.
What's more, you don't have to spend too many styling products with this hairstyle. It is never out of style over time, so you can make your own Buzz hairstyle whenever you want.
Fauxhawk – the most trendy cuts over the last years
The highlight of Fauxhawk is the hair being pulled up. This beautiful hairstyle is compared with the image of a hawk. Not only brings power, but it also offers the coolness for men. The Mohawk can look clean-cut and professional if you do it right. Keep it short, with defined lines on either side and create a bald fade down the sides. No one can know that you're going bald.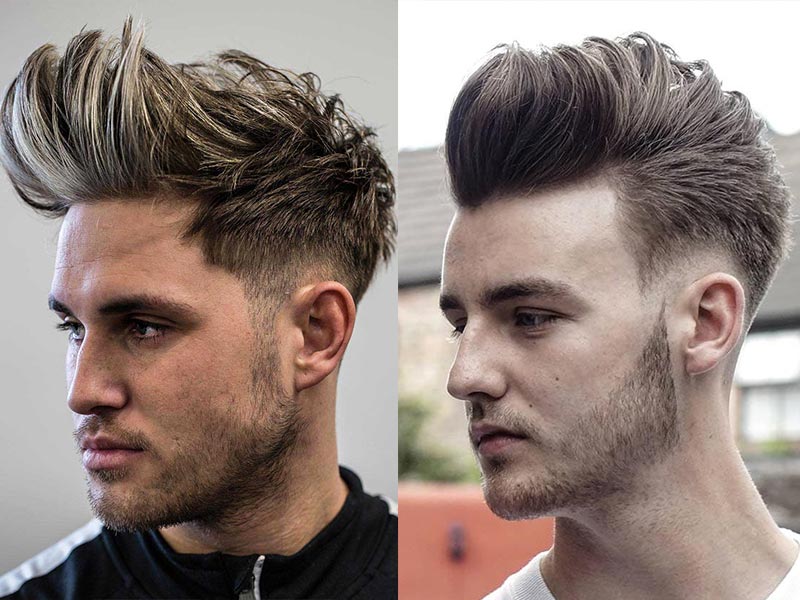 There are 2 important things you should consider when creating this hairstyle, first is your face shape, the second is your style. For instance, you have a rectangular face shape, wear Short Faux Hawk or Shaggy Faux Hawk hairstyle. Because the short hair at the top of the head and the medium hair on both sides will enhance your face.
The star who making Fauxhawk become one of the top hairstyles for men with male pattern baldness is the handsome football player David Beckham.
View our excellent hairpiece to cover baldness:
Slicked Back – a staple haircut for balding men
The haircut is ideal for balding men. It is known as a "short sides with long top" hairstyle. Allow the hair long on the top and you can comb it back to cover some thin patches. Just make sure that the longer hairs are thick enough to do this hairstyle. These male pattern baldness haircuts are still the top choices for men around the world.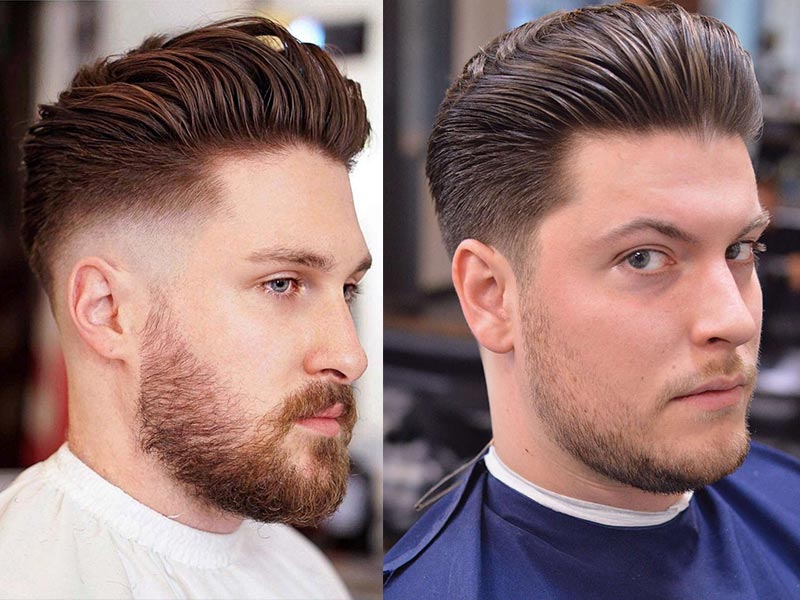 It works well with all face shapes (from round to square, oval, etc) and all types of hair (straight, wavy, thick or thin). And how you style it is completely up to you. Guys with naturally curly or wavy hair also best-finished look with it.
The slicked back also has many variations, it can be slicked back undercut, modern slick back, slick back fade, and so on. It is versatile and easy, so the most important thing to have is some high-quality styling product to slick back your hair with.
The Mop Top – one of the best male pattern baldness hairstyles
If you don't know this hairstyle, you can search Justin Bieber in male pattern baldness hairstyles pictures. Justin used to wear this Mop Top hairstyle for a long time, and it helps him look more youthful and baby. In fact, it has become popular from the time of The Beatles.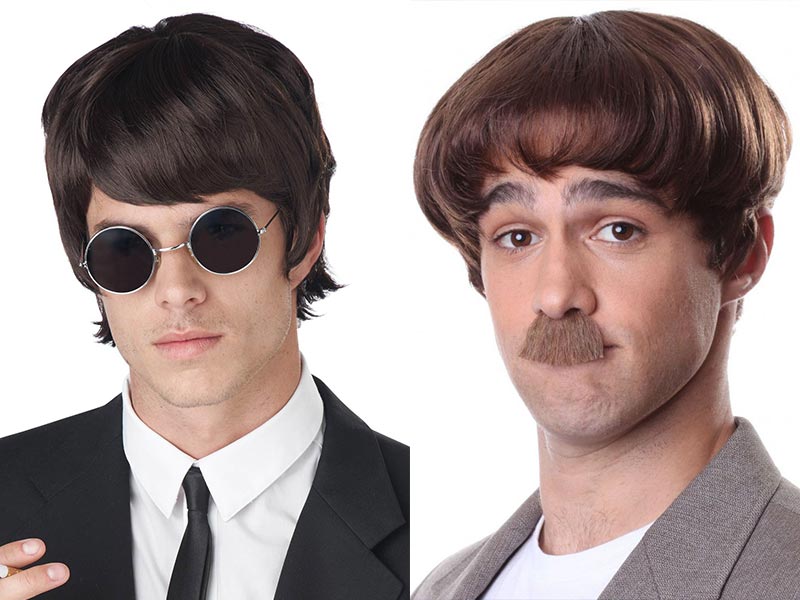 The hair is retained of length on top and styled in front to create a romantic and youthful look. A little messy will be an effective way to conceal your baldness. Whether you spread it forward or back, you can fill out the sparse hair.
This hairstyle allows you to adjust the length of hair as you desired. You don't need to take too much care, just a little bit of wax and making it deliberately messy and you have beautiful hair!
Short Caesar Cut – wrap yourself with an athletic look
Among hairstyles for male pattern baldness, the Caesar cut is also suitable for men who are thinning hair, especially in the back. It does not work with receding hairline. Inspired by the hair of the ancient King of Rome, the Caesar cut is about 2-5 cm in length, suitable for most balding head and different hair types. You should consult a barber to choose the length that suits you.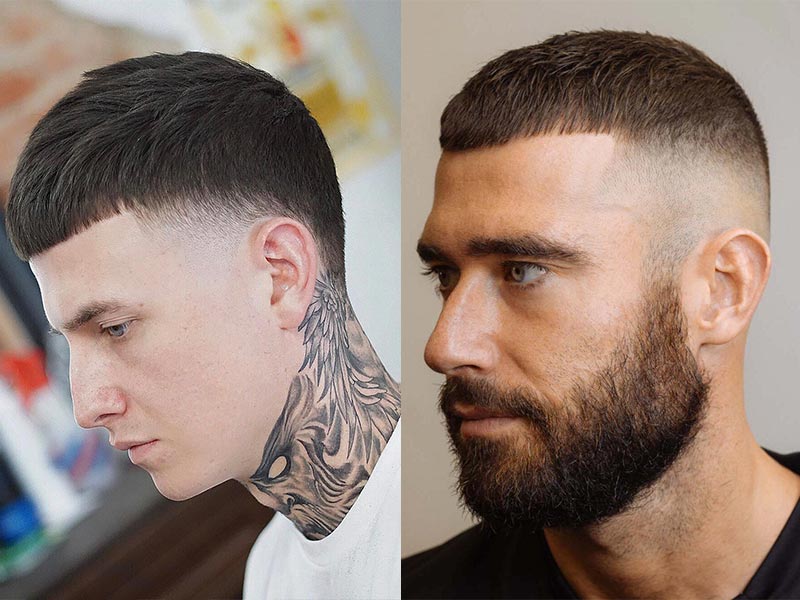 The advantage of Caesar is that it doesn't take too much time and hair products to style. Moreover, if you want to attract girls, do not hesitate to give yourself this very cool hairstyle for men in 2019.
Exquisite Spikes for bald head
The Spiky texture is one of the best male pattern baldness hairstyles because they are easy to style. It suits oval and square faces. To style the hair, you should trim the top in rows and cut the hair short on the sides.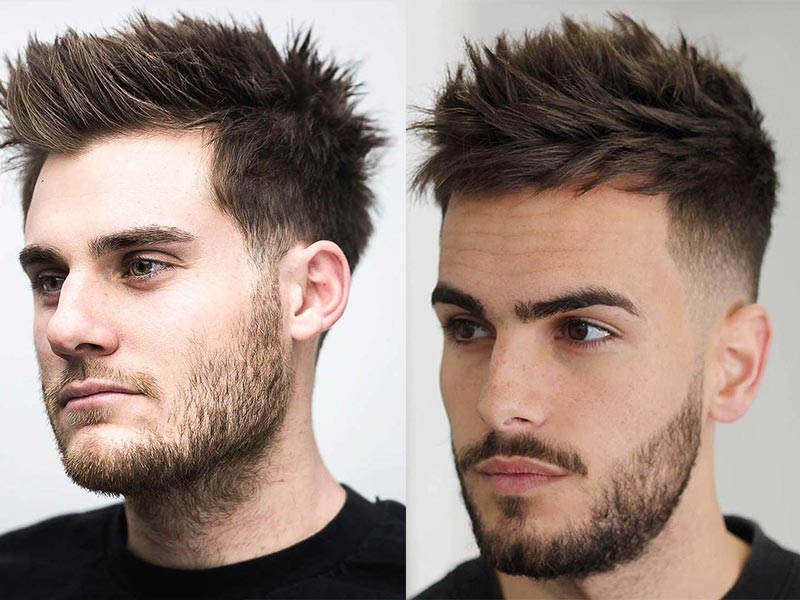 With this hairstyle, you will need the support of styling products. The middle hair section should be gently stroked to create a prominent highlight. A little gel, soft wax every morning will help your hair beautiful all day long.
Other articles you might want to read:
The Pompadour – the classic style for all ages
Pompadour is a typical medium length haircut but there are plenty of variations on the classic look out there. The pomp is a male haircut with a bang that is pulled backward. This hair part is often longer than the hair on the top and nape. It helps to create an illusion that your hair is thicker.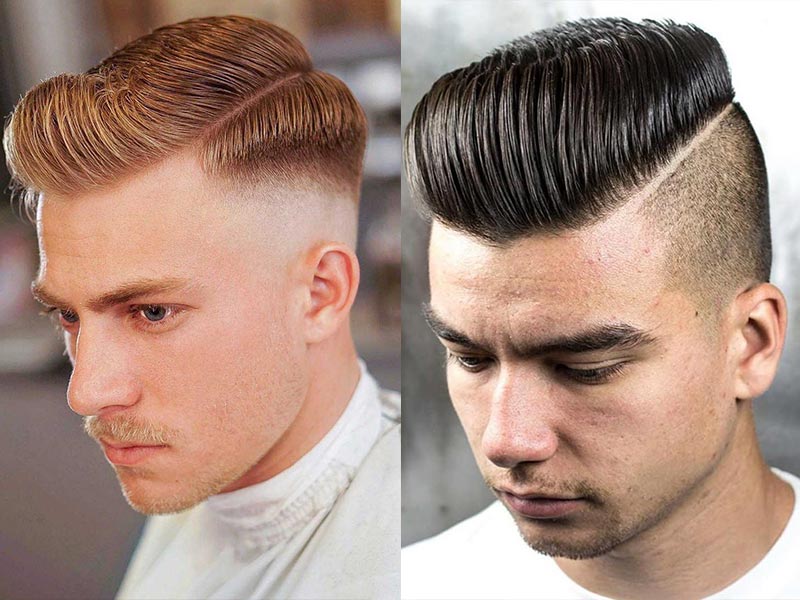 You can try some version of this hairstyle such as classic Pompadour, messy Pompadour, slick back Pompadour, etc.
Textured Crop – perfect for curly hair texture
This is one of the favorite hairstyles for male pattern baldness from 2016 to the present. The hair on 2 sides is cut as short as possible and the hair on the top can reach 2-3 inches. By layering the hair, this almost messy style looks very cool and stylish. It will be the perfect choice for you to change the new look.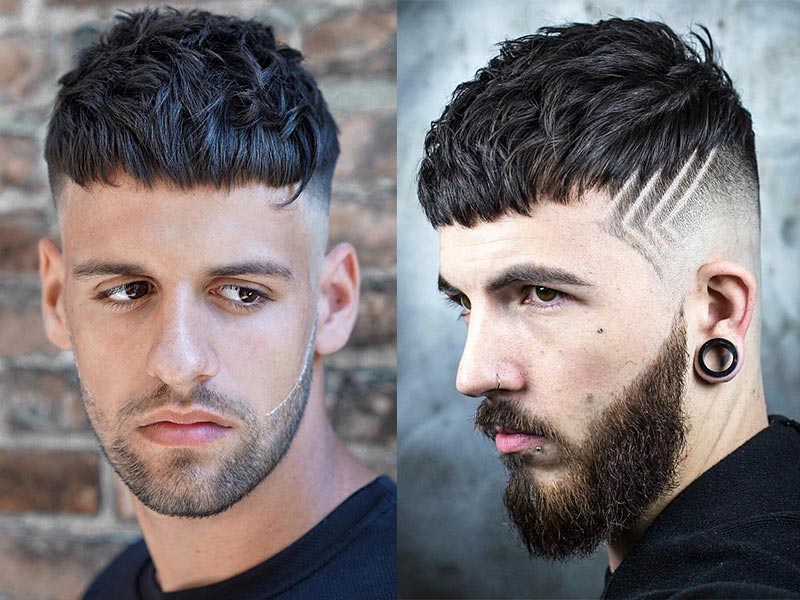 Like these above hairstyles, it works for all hair types. It makes other people think that you have thick hair as it can add volume to fine hair and show of waves or curls.
Other male pattern baldness styles? No, leave it bald
Your baldness is too severe that you can't find any suitable haircuts? Don't want to wear a mono toupee, either? If you're balding too much on the top of your head, the completely bald hairstyle may be the ideal choice. Shave your head also means you accept being bald but it is the most optimal solution than you let your sparse hair. It looks so unsightly.
You can look around, there are also many cool bald guys, especially gym guys. So, shave your head, clean your beard, and also get a cool hat to create a fashion look.
To sum up, above are the list of male pattern baldness hairstyles that you can try on this year. Now that you have been wrapped up with stunning haircuts, why to hesitate now? Try on a new hairstyle that could cover your pattern baldness and look gorgeous enough to change your hair!
Or you can wear a toupee if you don't find the best hairstyle for you. Reach Lewigs now for a top-notch toupee to freely style it whatever you want to. Kindly take a look at our website to see hair product lines and well-written blog posts about human hair toupees and related things.
For any special inquiries, feel free to text us a line to get support. We love to hear from you and are always more than happy to chat.