With the help of a wig, you could update a new hair quickly without going to a hair salon or spending a long time to achieve the length as they desired. It is easy to style a wig at home, also.
Hair wigs come in a variety of types, from short to long hair, straight to curly hair with different colors. Customers tend to choose human hair wigs as it is more outstanding than the counterpart synthetic hair. Simple to use and easily change hairstyles, wigs are the fashion trend of women today. To make your hair more realistic, let's learn how to style a wig.
How To Style A Cheap Wig
Step 1: Cut the lace to give it a natural look
Cut the excess lace off for the most natural look. You need sharp hair scissors and a lot of patience. It is best to cut away small portions of lace instead of cutting all of it at once, as cutting away too much lace will damage the wig.
Then pin the hair to your head.
Step 2: Part the hair
Use a rat-tail comb to create a parting on one side of your hair or follow the hard parting that your barber has cut in. Then wet the hair to make it easier to style.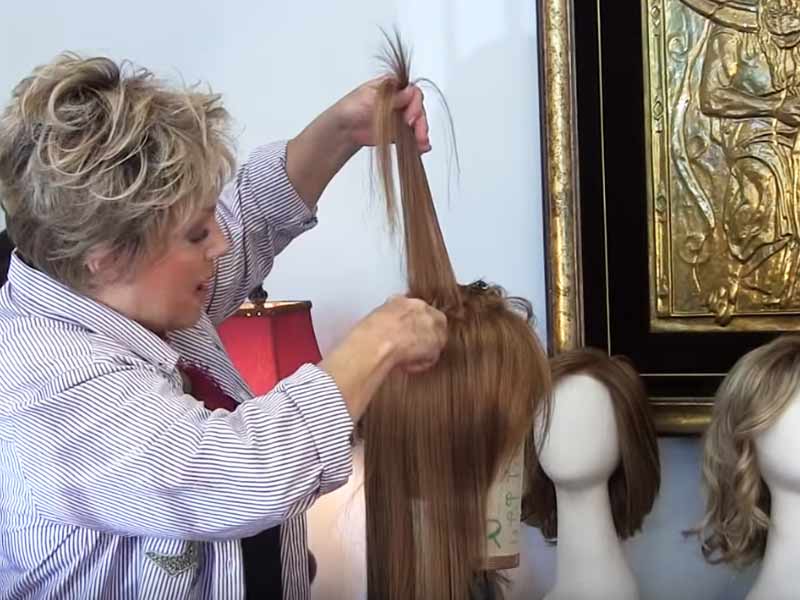 Step 3: Style the wig
How to style a long wig? Use heat styling tools to curl your wig. Or you can use a non-heat method by using rollers to create a curly wig. Roll the hair around the item and leave it overnight. To add some volume to get thicker hair, use a blow dryer on a cool setting.
Step 4: Use hairspray
Use a hairspray to hold the locks. Also, you can spray the hair with a shining spray to make it look really healthy and shiny.
View our excellent human hair wigs:
How To Style A Wig Look Natural
Anyone, especially those with hair loss, can benefit from wearing a wig. You also use wigs to create new styles for yourself. You can watch how to style a human hair wig videos on Google or refer our tips to create your wig a realistic look.
Bleach the lace
Ensure that the hair wig has to fit your head perfectly. How to style a lace front wig? You should choose the color of a lace wig that resembles your real scalp tone. If you can't find, bleach the lace. Doing like that helps to conceal the black dots on the lace, make it look more natural.
How to bleach the lace?
You need the bleach and 20 volume developer and then mix them together in a plastic bowl. Next, turn your wig inside out and start applying the mixture. Use an applicator brush and gently add the bleach to the lace and knots. Remember to wear gloves when doing the process. Carefully and gently apply the bleach until you reach all. Wait 15 minutes and then rinse out it with fresh water. Then continue washing the hair wig with shampoo to make sure that the hair is clean. Finally, air-dry the hair.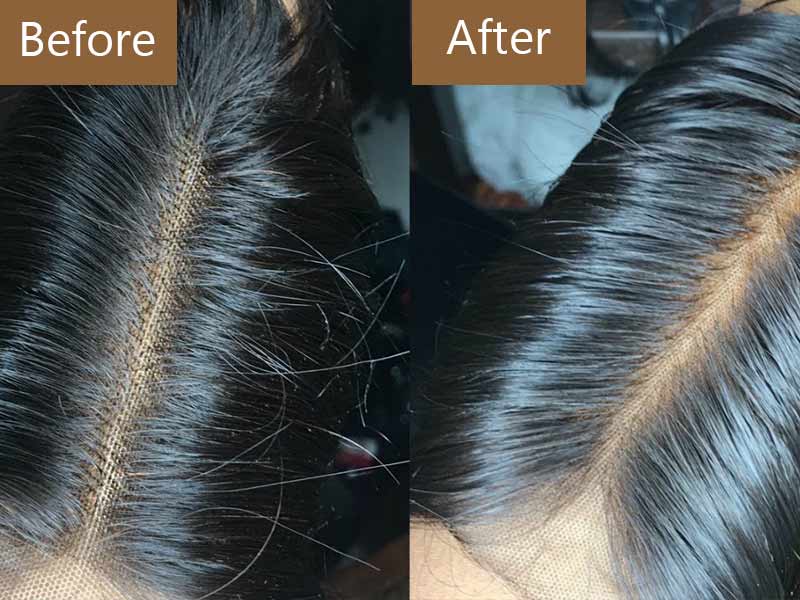 Use styling tools
To style a human hair wig, you can use heat styling tools. You can use a hairdryer, curling or flat iron to change the hair as you like. The hairstyle should be matched with your natural hair texture. Bear in mind that you use the tool on a low or cool setting to style your hair so that you don't cause too much damage to the hairpiece.
To style a full lace wig, it is easy as pie. You want to straighten the wig, you must have fresh hair first. Then divide the hair into small sections and turn on your flat iron. Take a section and run the tool through the hair, from the roots to the tips. Remember to use the tool on the low heating level. Repeat the process on the rest of the hair until you're satisfied.
If you want to be a gentle girl, let's try a curly wig. You use a curling iron in the middle and the tip of the wig. Divide your hair, and wrap each section around the tool. Hold it about 5-10 seconds. Continue doing until all of the hairs are curled.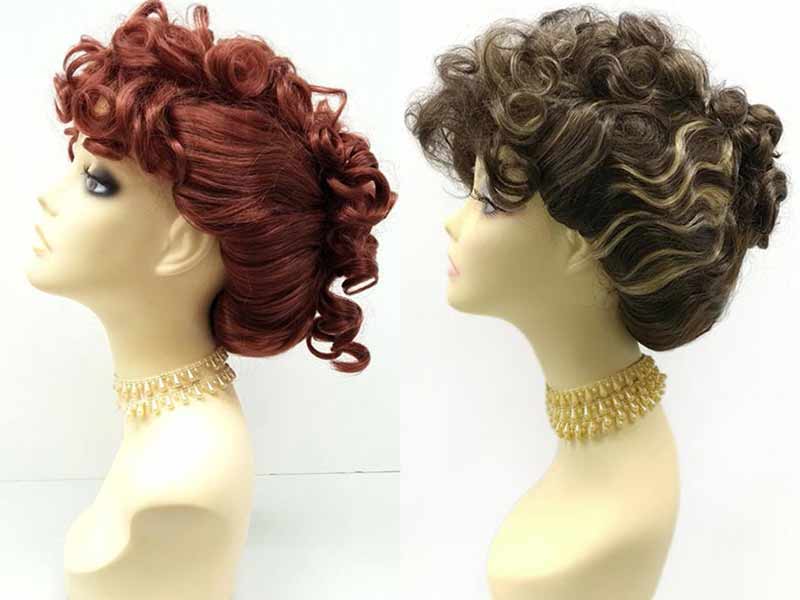 How to style a wig into an updo
You are an active person, you can put the wig up in a high ponytail or bun. How to style a wig updo? Use a comb to brush the hair and secure it with a ponytail holder.
Make sure that the hair looks as natural as possible and no one will know you are wearing a wig.
You might also want to read:
Cut and style a wig with bangs
Put the wig on a stand wig or your head. Make sure that the wig is in the right place. Section the hair and tie it up. Only section the hair that you want to cut the bang. You part it like a triangle from the middle to your forehead. Then twirl the hair around in order to get the bang that is longer on the side and shorter in the middle. You just roll around and cut it with sharp scissors. Brush your hair bang. If the wig is 100% human hair, you are able to use a flat iron to straighten it.
You can use sharp scissors or thinning scissors to cut your wig in a short or bob hairstyle. You will stand out from the crowd.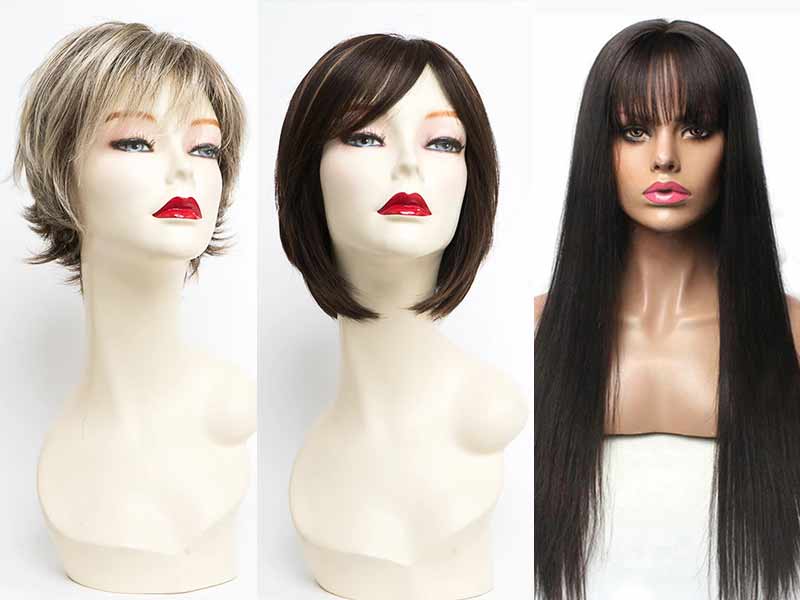 How To Style A Cosplay Wig
You want to have a cosplay wig in the Halloween festival, it is easy. Choose the wig that is the same as the hair of your favorite character, and put it on your head and detangle. Make sure that the hair is securely in place by hairpins. Now you can style it as you like.
As cosplay wig is often high-quality and pre-styled, so you may not need to cut or trim it. You must not spray hairspray on the synthetic hair, but you can with the human hair cosplay wig. The hairspray can hold the locks well.
The Bottom Line
The wig wearers always try to make their hair look as natural as possible. They straighten or curl their lace wigs frequently. Lewigs hopes that this article has somehow offered you an idea about how to style a wig.
However, if you don't want to style your wig, you can visit our website to view our human hair wigs collection. You will definitely be satisfied with the hair quality as well as the price that Lewigs offer.
Text us via (+84) 98 261 44 86 (WhatsApp/Mobile) or email info@lewigs.com for any inquiries. We are willing to be of services!