People have been spending too much time looking for an affordable human hair wig. The important role of human hair wigs these days cannot be denied, especially when more and more people are facing big problems with several types of hair loss. Wigs also show out their position in helping people achieve their desired look.
We have been receiving a lot of questions about affordable human hair wig, and there are some of the most common ones: What is more important when purchasing a wig: price or quality? How to buy a good human hair wig? Where to find out them? If you are looking for the answers, check out this post.
Purchasing Human Hair Wigs: Price Or Quality?
For many people, finding out an affordable human hair wig is very challenging. The meaning of 'affordable' varies a lot depending on each individual's income but we will take a price that almost everyone can afford: $300.
This brings us to a concerning question: What are the differences between a $300 human hair wig and a $3000 one? We have two wigs that are both made of human hair, then why we have to spend much more money to purchase the second one?
This places us into a considerable 'competition': price vs quality.
There are two factors that mainly impact on the price of a human hair wig: hair materials and laces.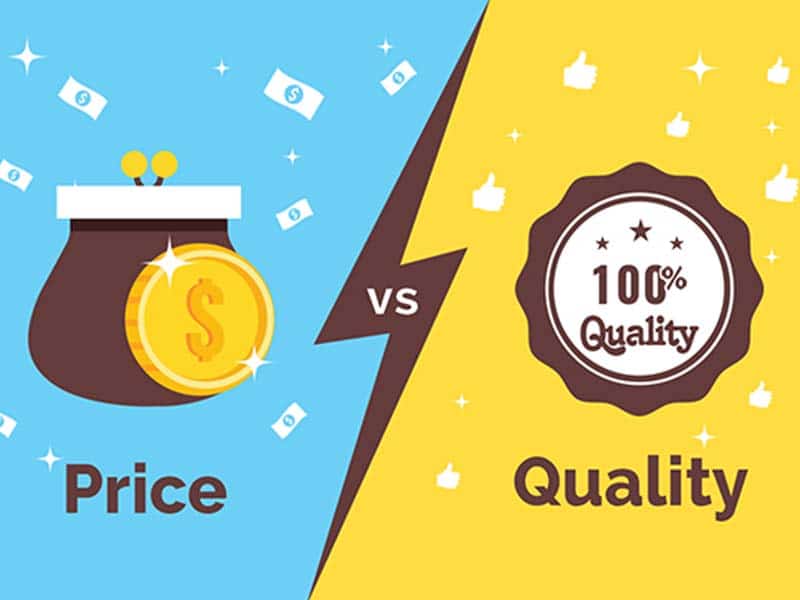 Human Hair Types
Human hair types come with two common ones:
– Virgin hair: Hair that has not been treated by heating processes or any kind of chemicals; thus remaining intact. Thanks to its totally natural state, virgin hair cuticles grow in the same direction and you can bleach, dye or do any process you want.
– Remy hair: Its cuticles running in the same direction, as well. Although this hair comes with processing experiences. it still remains intact, so it will not be tangled.
Virgin hair usually comes with higher prices as you can apply heating processes on it. But generally speaking, both of them can bring about the feelings of wearing no fake hair. 
Similar posts:
Wig Cap
There has been a considerable discussion among two types of wig: lace front and full lace. A lace front wig provides an illusion of a natural hairline. It brings about comfortable feelings but its excessive amount of stress on your edges can cause permanent damages. A full lace wig is different. It is more versatile and can be worn in different hairstyles. That explains its high price.
There are, of course, many other factors that contribute to human hair wig assessment. But those two ones can show you some differences caused by prices in users' experience. Although finding out an affordable human hair wig is really good, the product quality is still the most important.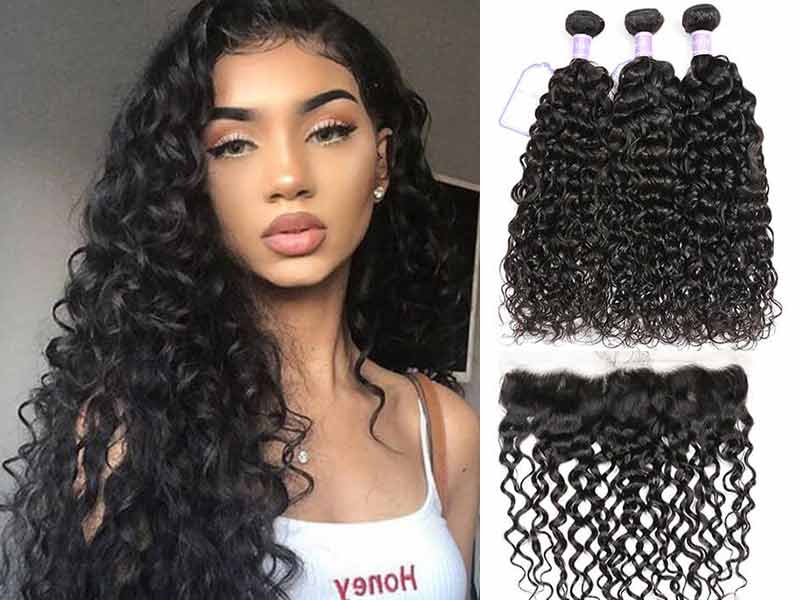 Human Hair Wigs: Buying Guide
Finding out good and affordable human hair wigs is not easy but it does not have to be overwhelming. With this buying guide, things will be very simple.
Step 1: Determine Your Head Size
When you purchase any clothes, the first thing to start with is to browse in the right size. That's exactly what you do to find out affordable human hair wigs.
You need three sizes which are Petite, Average, and Large. The average-sized cap is the most common. If your head size is average, things will come with more styles to choose from. Petite caps are very usual, as well, and a small number of women need the large one.
We recommend having someone to help you achieve accurate measurements.
Prepare a flexible measuring tape. Push back all the hair and start in the middle at the hairline. Have the tape fixed then go down behind your ear to the nape of your neck. Come back around and make sure that you go behind your ear on the other side. Your circumference finishes when you meet the end of the tape in front. Once you get the number, use the size chart to figure out your size. In most cases, head circumference is enough but someone may need to take another measurement called front to back.
Use the tape we prepare before and also start in the middle at the hairline. We will end the measurement at the roots that are closest to your nape.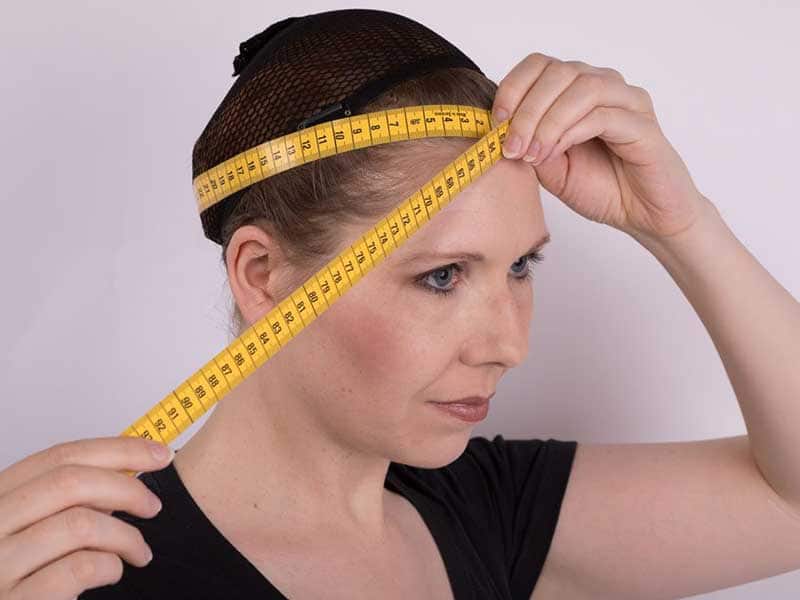 Step 2: Choose Out The Hair Type
We have mentioned two common types of human hair above (virgin hair and Remy's hair) but people also divide them based on hereditary characteristics of hair donors.
– Vietnamese hair: renowned for its smoothness and naturally straight texture. Soft, shiny, and tend to give out a luxurious touch
– Cambodian hair: best for African American women. Lightly coarse, bouncy, and a bit wavy.
– Brazilian hair: comes with perfect thickness, shine, and softness.
– Malaysian hair: comes with a color of darker brown. It is naturally wavy, heavy, thick, and dense.
Read more:
– Mongolian hair: comes in a wider range of colors (from light blonde to browns) and styles. The hair is soft, shiny but thinner than Brazilian hair.
– Peruvian hair: it may be straight, wavy, or very curly. The hair is coarser and thicker than Brazilian hair.
– Russian blonde hair: among the softest, finest, and the most versatile hair with a very silk texture. Easy to dye and achieve desired colors thanks to the light color base.
Where To Find The Best Human Hair Wigs?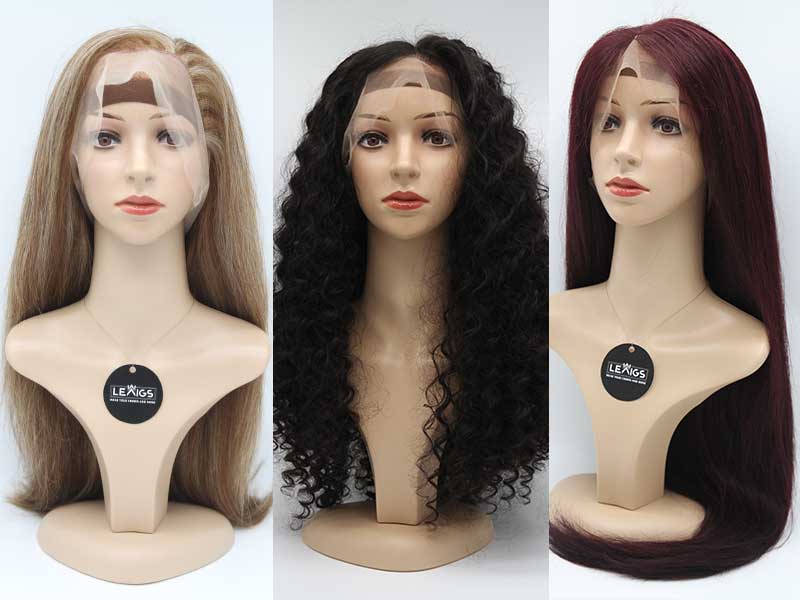 Although finding out the best human hair wig is not too challenging, you can still be overwhelmed by the huge number of products out there. In case you need a recommendation, here it is.
Lewigs, which is one of the most reliable extension providers, will not let you down. They come in good customer service, a wide variety of product types (hair toppers/topees, hair extensions, etc.), and also many specialists that will solve your problem in a timely manner.
Try it out once, and get your own experience.
The Bottom Lines,
Is it easier for you to find out an affordable human hair wig while still making sure that it is fully qualified? Is there any other question that you need the answer? Come to Lewigs and you will feel nevermore concerned.
We hope that this post would help you out. Have a nice day.