Dying, styling, heating your hair is what we all do at least one time in our life. You may know that those processes can extremely damage your hair, especially you repeat them over and over again – your hair will be dried out which can lead to split ends and breakage. It may be put in the risk of further damage such as frizzy. Most of you do not pay much attention to it until realizing how bad it affects your hair look and how hard to control it; thus looking for how to repair damaged hair.
Cutting your hair is not always the only solution like you have thought, and more importantly, it does not work for the most part. The hair is a collection of dead cells which makes hair damage permanent. You cut the hair with split ends, it grows with split ends. So it's quite hard to find a way to repair damaged hair. That's why we have this post – to show you what is damaged hair, its causes, and other information.
What Is Damaged Hair?
When it comes to hair damage, we have two main types of it including chemical damages and heat damage, so we will tell you about each of them.
Hair Chemical Damage
Hair protein is the first thing to suffer from chemical processes. For example, when lightening your hair, the chemicals in the formula lower the fiber content in the cuticles so that to replace the hair natural color and the outer structure of your hair would be gradually weakened, which leaves the inner protein core fragile and vulnerable, leading to split ends and breakage.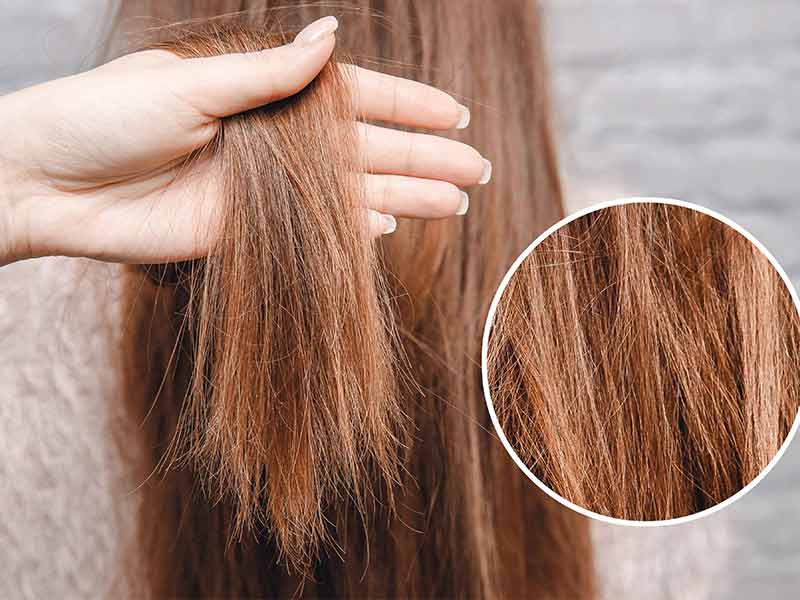 Hair Heat Damage
People style their hair by heat for straightening or curling it. This requires you to use heating tools very often, which permanently damages your hair, especially in case there is no heat protectant available. The reason for this is that the excess heat can actually not only burn the hair but also constantly forces it into different shapes which are against its natural one such as curly or straight; thus weakening the structure of the hair fibre over time. 
Similar posts:
What Causes Hair Damages?
All of you want to know the causes of hair damages to look for how to repair damaged hair, right? So these are 5 main ones.
Heat Styling
As mentioned above, although you may find that curly hair is very attractive, that heating process would permanently weaken your hair, more extremely without hair protectant. You style your hair using heat every day, or even just some times a week, then don't be surprised when seeing it become weaker and weaker throughout days. 
Damage and breakage also happen if you over-heat the hair on your human hair wigs or hair toppers.
Over-Washing
Shampoos and hair conditioners were known as the most common products to hydrate your hair, but let's take a quick look. Hair keeps the shape and shine by using its natural oils. When you wash your hair, this oil layer would be washed away, which needs to be refilled afterward. This is why professionals recommend washing your hair only 2 – 3 times a week. 
Lack Of Moisturization
You may not know that dry hair is the most common subject of split ends and breakage. Of course, the lack of moisturization isn't the only cause of dry hair, but the regular hydration plays an important role in your hair condition. It strengthens the outer structure of your hair; thus protecting the protein core from hazardous factors from the environment.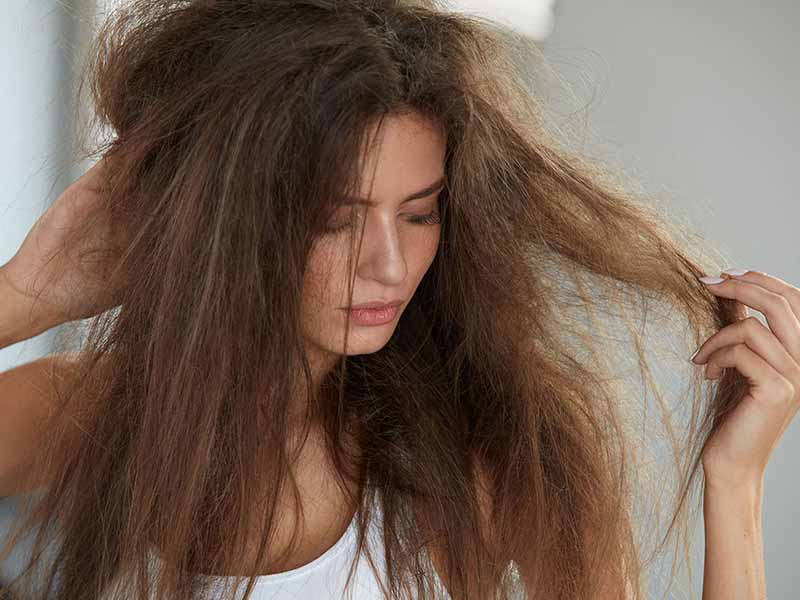 Unhealthy Diets
Your diet is the biggest protein source for all body parts. Protein can do many things such as supplying energy and repairing weak hair spots. However, too much protein can lead to a lot of problems and it makes your hair too brittle. A balanced, healthy diet provides a suitable content of protein to your body; thus creating perfect hair conditions.
Cotton Pillowcase
A cotton pillowcase can bring about comfort when you sleep, especially during winter nights. But do you know that sleeping on it can put your hair in bad states such as frictions among the hair? You need to look for a high-quality pillowcase with high-quality material such as satin or silk. It not only can bring about comfort but also save your time for laundry.
Read more:
How To Repair Damaged Hair?
Repairing damaged hair requires a lot of effort to limit further damage and at the same time, ease the existing one.
Limit Further Damage
As mentioned above, hair damage is permanent and nothing can make it stop damaging your hair, even when you cut your hair over and over again.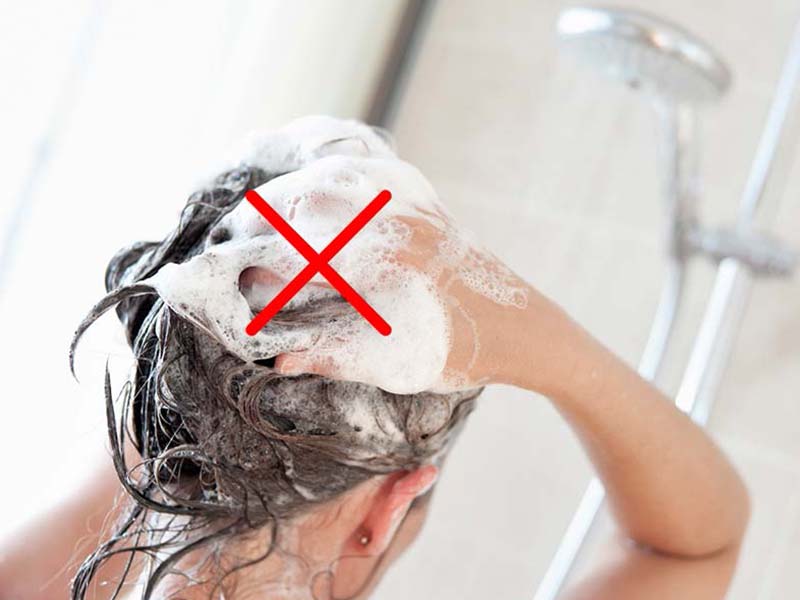 This is what to do to limit further hair damage:
– Wash your hair less time a week (three is highly recommended)
– Purchase products for dry hair only
– Use cool water instead of hot one to protect the cuticles
What's more, going to the professionals can let you know the right way to care for your hair, and they know what is enough.
Repair Existing Damaged Hair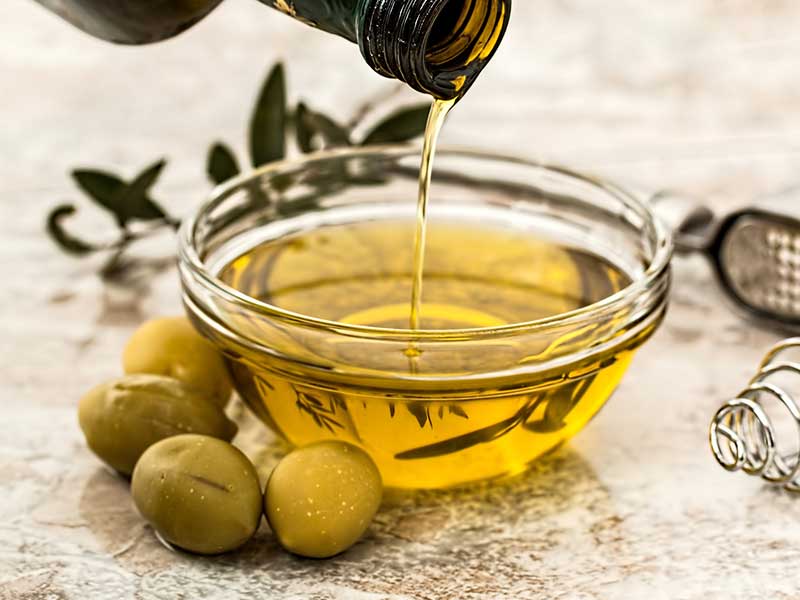 Using olive oil has been known as one of the fastest ways to ease the existing damages to your hair. It can protect your hair, bringing about the softness and relaxed. In addition, the color-safe shampoo is not hard to find, and we can see how good your hair looks.
The Bottom Lines,
After reading this post, you know a lot of extra information about damaged hair, such as what causes it and how to repair damaged hair. If you are getting some problems with damaged hair, this is for you. But if you have a healthy hair condition, this post can tell you how to protect your hair.
Lewigs hope that you would find this post useful and have a nice day with your beautiful hair look.