Brown hair color will never be out-of-date, so never let anyone tell you that this hair color is boring. In fact, there are various options to style hair for brunette girls. You can totally rock it with many stylish shades such as ash brown hair. Whether you have brown hair or not, ash brown hair color is still a fabulous hue within your reach. If you want to know more about ash color as well as ash brown hair, let's check it out in this article.
What is ash color?
Ash color hair refers to your hair color blended with a light and cool base. Ash is not really a color, it is a cool tone that is added to different colors to extend the spectrum of hue for hair dye. After combing hair pigment with ash tone, the effects that you may get are smoky, sleek silver or slightly matte. Ash color hair is not vibrant, instead, they look more subtle, cooler and softer.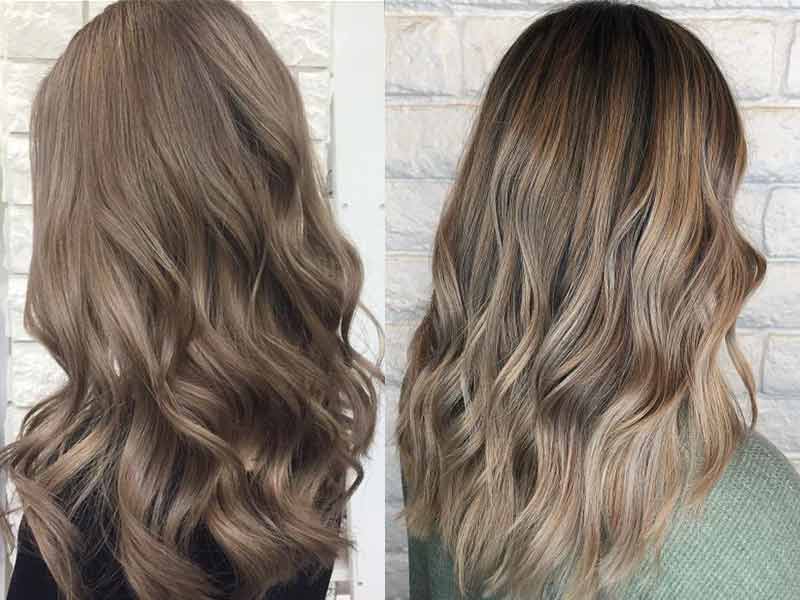 What is ash brown hair?
Ash brown hair color can be understood as a variant of brown hair blended with cool tones. Some may call it mushroom brown hair. Ash brown tresses can be produced with different shades depending on the formula you use when mixing brown pigment with an ash tone.
Hence, there are stylish colors that can be created with brunette hair, such as light or dark light ash brown hair, smoky ash brown hair, etc. Brunette girls can easily get a new modern look when adding cool smoke for their hair.
Related posts:
Tips: How to get ash brown hair color?
First, determine which shade of ash tone you want your brown hair goes to. Look for an ash brown color chart to know more.
In case your hair base is a dark one, lightening your hair first by bleaching it 1 or 2 times. This can make the ash color look more visible.
In case your hair has a light base, color it!
Invest in a good shampoo that helps you to preserve the ash brown hair color. You can ask your hairstylist for some suggestions.
Remember to use cool water to wash your hair to keep the color last long since warm or hot water will easily wash away it.
Who can suit well ash brown hair?
Ash brown hair color adapts well to different skin tones from cooler to warmer complexions, to create the most desired look. And your hairstylist can help you to choose the best shades of ash brown color for your tresses to perfectly match with your skin tones.
If you want to look for several ideas to go ash brown hair, below are the major ones you can get inspired from.
Ash brown hair color ideas
Light ash brown hair
We're all about this cool and sophisticated color, which made by light brown shade and cool tones coverage. It matches well with fair skin. To get the true color of light brown hair color, the hair base at least must be a dark blonde or a lighter base.
Dark ash brown hair
Dark ash brown is the perfect mixture of dirty brown and silver tones. Deep, rich and a bit smoky is how this shade will look. Dark ash brown hair will create depths and dimensions for classic brunettes hair with just a haze of coolness. This color looks good on those whose skin feature cool undertones.
Medium ash brown hair
Medium ash brown hair color is perfect for those who want to eliminate the warm undertones of hair. This features both seamless and cool brown which fit well with all skin tones. If you prefer to look more dimensional with medium ash brown hair, get some highlights for the best finish.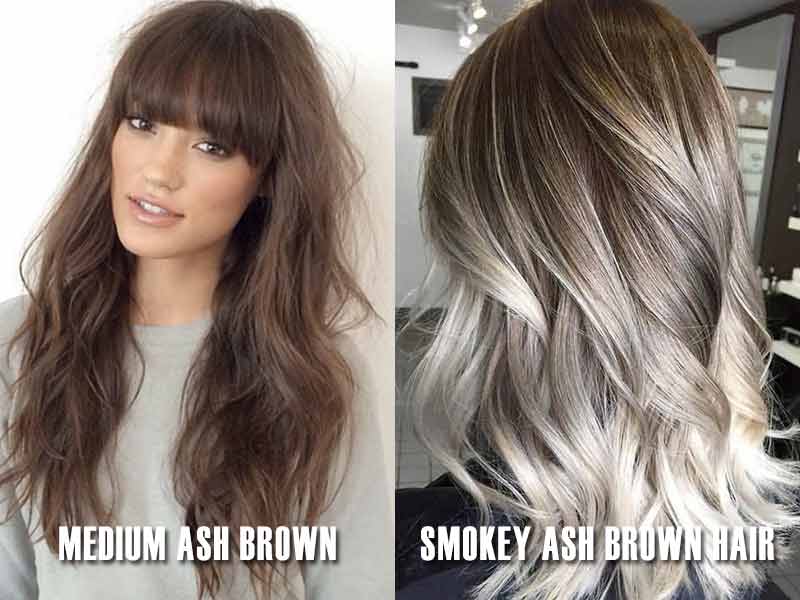 Smokey ash brown hair
Smokey ash brown hair color is the coolest shade for brunettes. The smoky look makes your hair look smooth and silky than ever. To complete show off every dimension of this cool look, style your hair into loose waves from mid-lengths to the ends for a full volume and thick look.
Ash brown hair with highlights
Highlights on any hairstyles or colors will enhance the texture as well as lighten up the hair tone. Add some highlights of cool or light blonde through any ash-brown shades that will help you to get a more dimensional and multi-tonal look.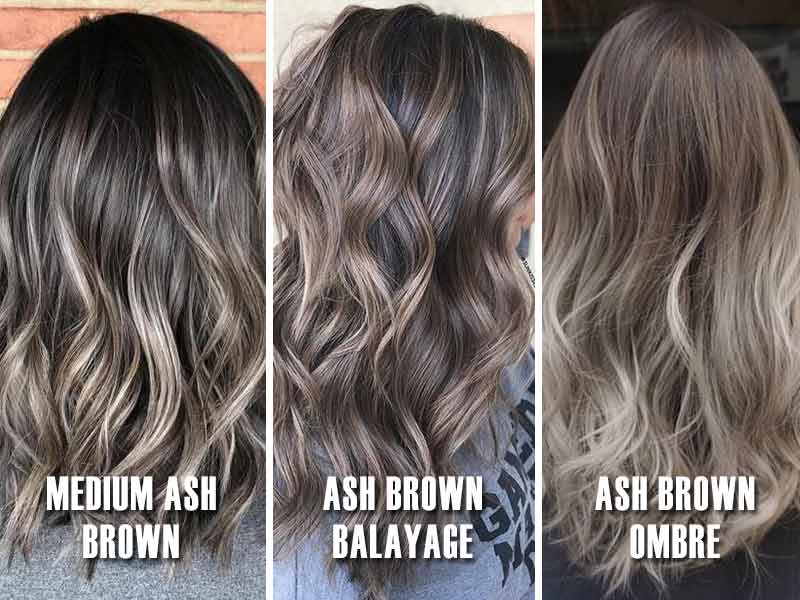 Ash brown hair balayage
Balayage works well on every hair color. If you have a dark hair base and look for something more subdued or understated, try some light ash brown hair strands on a black hair base from mid-lengths to ends for a classy finish.
Ash brown hair ombre
Ash brown hair ombre can be the most desirable style for brunette girls. This style is done with ashy brown roots ends with beautiful cool-toned blonde, making an edgy and bold look.
Jump to:
Ash brown Hairpieces
Not everyone can get their own favorite ash brown tones due to the condition or characteristics of their hair. Hence, may people look for hairpieces as the solution, which helps them to style hair into the way they love.
So, if you are seeking a place to get your desired hairstyles with ash brown hair color, Lewigs will be a wise choice. Here, we provide you both hair wigs for women and toupees or toppers for men with high quality and reasonable price. Plus, all of our products are made with hair collected from 100% Vietnamese and Cambodian human hair, which are durable and natural-looking. So, once you purchase any products from us, you will never be concerned about the quality.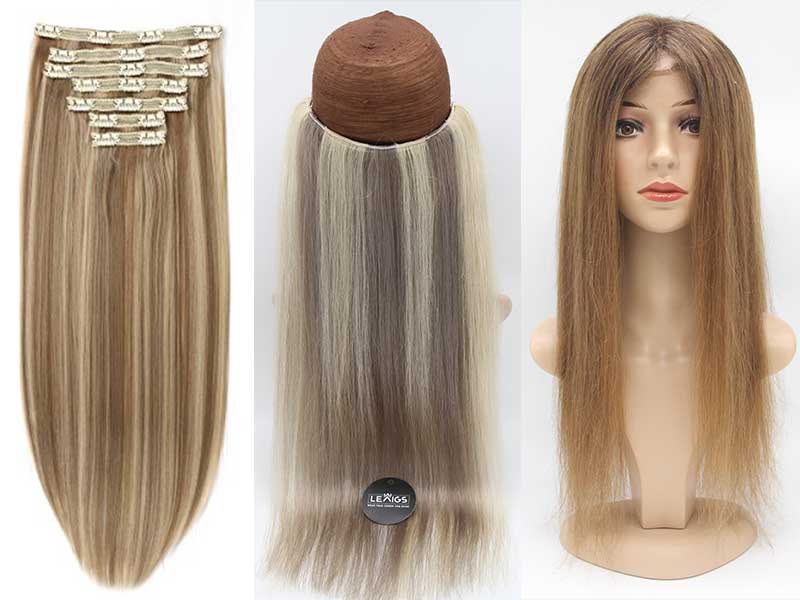 Now, if you are finding ash brown hairpieces, you can search for these keywords on our websites for the available products. Or you can order custom made hairpieces after referring to the dark and light ash brown hair color chart or pictures. Contact us if you need any helps, our professional service team will try best to answer within 24h.
Final words
Ash brown hair color will never let you down because of its cool and stunning shades. Whether your hair base is brunette or dark, you can go for it anytime you want since it is not easy to be out of fashion.
Hopefully, this article can help you to have a deeper insight into this inspired hair color as well as help you to choose the best color for your look.