Does hydrogen peroxide bleach hair? Yes, it is commonly used to naturally lighten the hair. This substance itself is effective already, but if you want to have an even better result, try mixing it with baking soda. The following post will show you how to bleach hair with hydrogen peroxide and baking soda for the optimal outcome.
Step 1: Cleanse And Section Your Hair Beforehand
Wash your hair
The very first step to do when bleaching your hair is to wash it. In order for the bleach to soak into the strands, your hair should be as clean as possible. Remove all the dirt and oils by cleansing your tresses with a normal shampoo. Don't apply any kind of leave-in conditioner or styling cream afterward.
Let your tresses air dry until it gets damp
Damp hair would absorb hydrogen peroxide and baking soda better than dry hair. There is no exact time but it depends on your hair type. If you wear fine hair then it would get dry faster; in contrast, if it comes to thick hair, the process would be longer. But in general, you should leave your hair to air dry for around 30 minutes.
Importantly, don't use the dryer to fasten the process since the heat would damage the hair cuticle.
Related posts:
Use an old T-shirt and old towel to cover your shoulders
Because hydrogen peroxide and baking soda can pose effects to the fabrics, use old clothes and towels instead of new ones so that in case they are ruined, you won't feel regretful.
A better idea is to use a hairdresser cape to pull through your head.
Regarding the floor and the surfaces where you will do the bleaching, the bleach might discolor them. Hence, protect them from the bleach paste by covering it with papers, old towels, or garbage bags.
Section your hair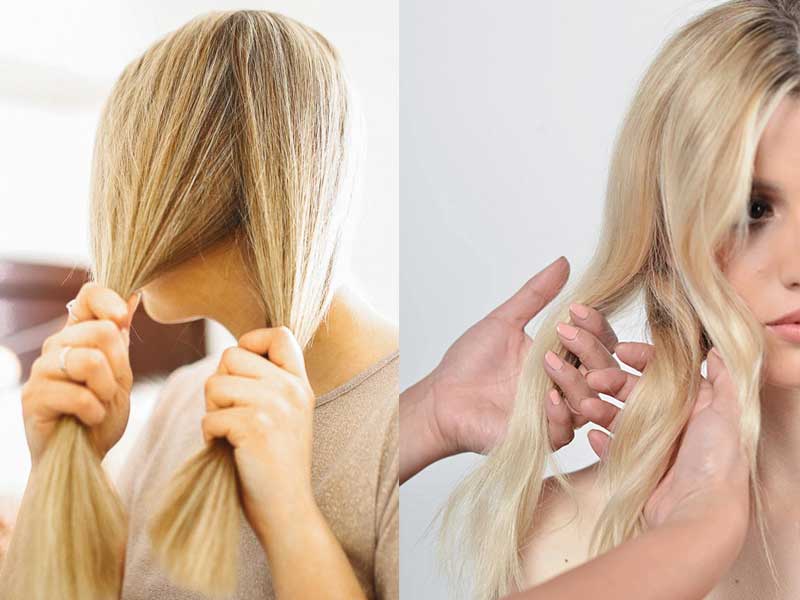 The next step is to prepare your hair. Divide your tresses into smaller sections (4 sections, for example) and secure it with clips until you are ready to bleach it with hydrogen peroxide and baking soda.
Step 2: Make The Paste By Mixing Hydrogen Peroxide And Baking Soda
Now that you have been done with your breadth, it is time to mix the paste for the bleach.
– Put on the gloves to protect your hand. Hydrogen peroxide is said to be safe for human skin; however, if you get exposed to this substance for too long a time, irritation is unavoidable. Therefore, it is better to wear gloves on.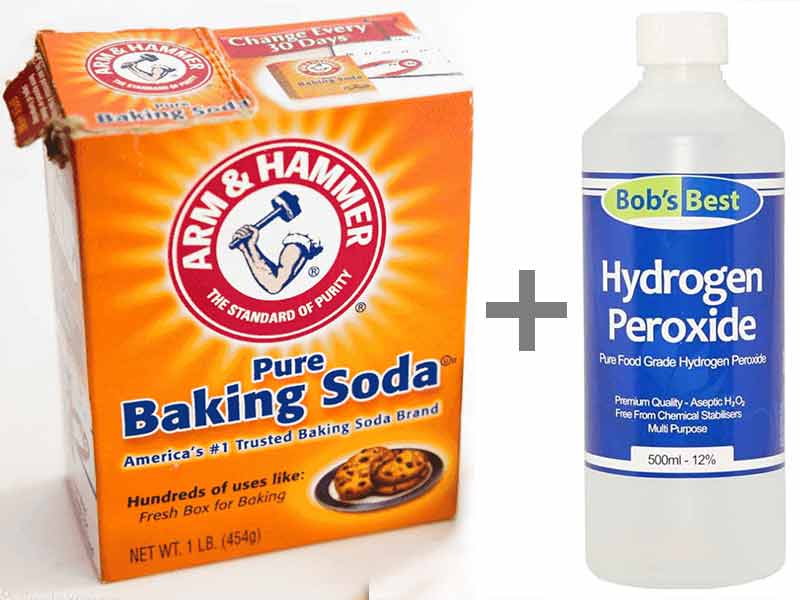 – Mix hydrogen peroxide with baking soda. Pour about 250 grams of baking soda (around 1 cup) into a big bowl and shake it so that any clump would be broken up. Next, pour 3 spoons (about 45 ml) of hydrogen peroxide over the baking soda. Don't be surprised if it fizzes. 3% hydrogen peroxide is the proper product to use. If you use higher then your hair might be severely damaged.
– Afterward, stir the mixture to make everything well mixed.
Notice: use plastic or ceramic bowl and spoon. Don't use metal because it would react to the bleach.
Step 3: Bleach Hair With Hydrogen Peroxide And Baking Soda
Start with a strand test
It is important to conduct a strand test in advance to see how your hair would look after bleaching. Coat a few strands of hair in the less-visible areas like behind your ears with the paste made in step 2 and leave it there for 30 mins before rinsing it. When the strands are done, check if the result meets your requirements. If not, decide to use less or more paste when you lighten your hair up with hydrogen peroxide and baking soda.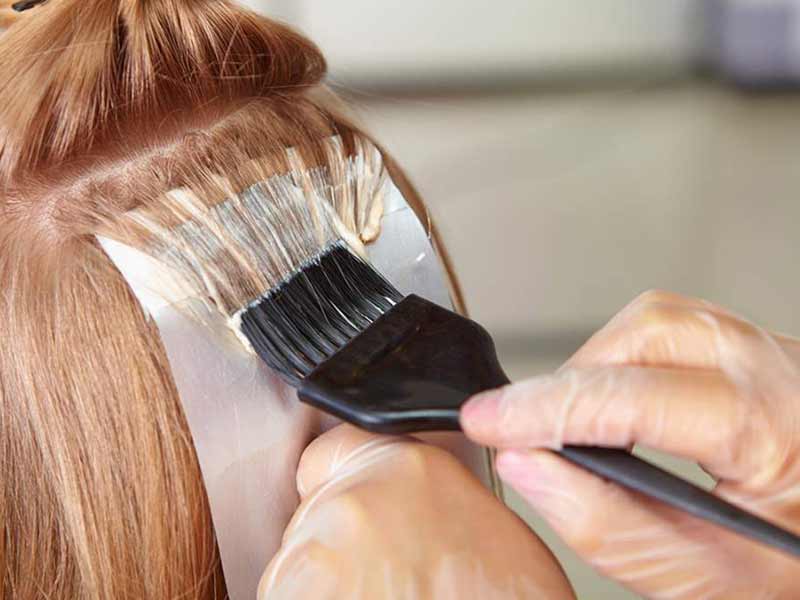 Your hair will be 1-2 shades lighter after bleaching
Bear in mind that the bleach paste would lighten your hair up only 1 – 2 shades; therefore, don't expect it to be able to go directly from dark black to blonde. In contrast, it might entail red, orange, or yellow tones.
Coat all sections with the paste to lighten them up
When the test is successful, how to bleach hair with hydrogen peroxide and baking soda? Use a brush applicator to coat the paste throughout all your hair strands. You should start from the bottom and then move up. Remember to comb the section so that the paste is distributed evenly.
Once you have done, cover your head with a shower cap to prevent the paste from dripping onto your skin or clothes. It will also create the heat and make the paste penetrate the cuticle better.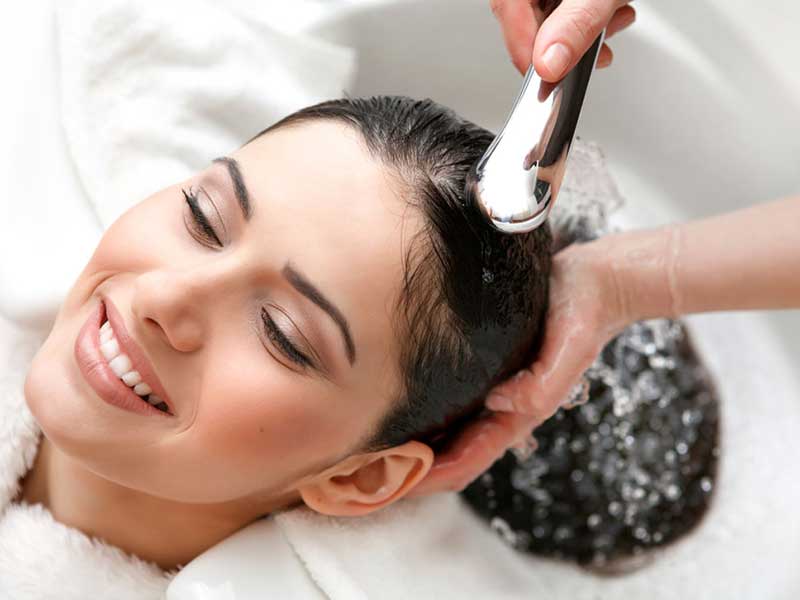 Let the bleach stay on your strands in 30 – 60 minutes
Let the paste sit still on your tresses for 30 minutes or more. Wipe the paste off from the strands and see if the color is up to your expectations. If it's well done, then rinse your hair. In case it is not, wait for some more minutes for the better outcome.
Remove the paste after bleaching
Use your fingers or any items to remove the paste from your hair before rinsing it with cool water. It is better to use cool to cold water so that the hair shaft will close and make your hair look shinier.
If it is not necessary, do not use any shampoo after you bleach your hair with hydrogen peroxide and baking soda.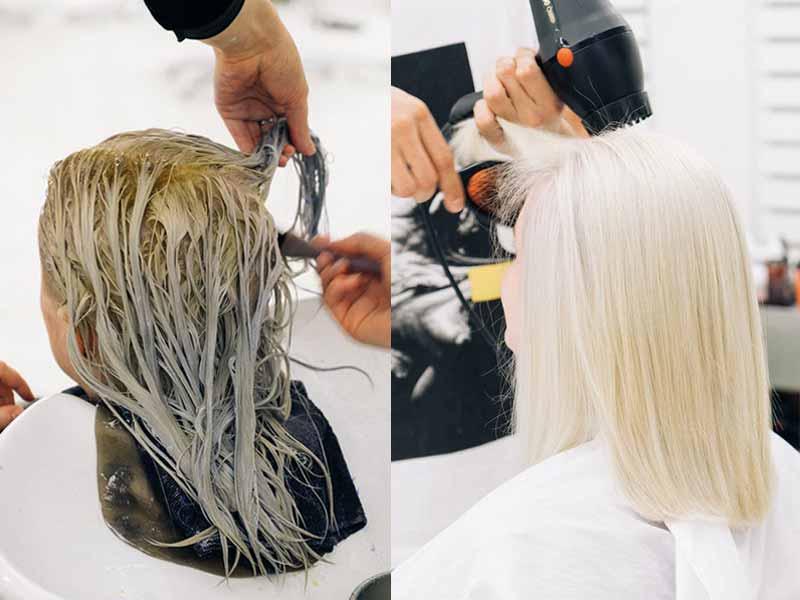 Condition your hair and rinse it again
The shampoo is not advisable, but the hair conditioner is a must-have. Use a toning conditioner to massage your hair and scalp. It will help reduce any feeling of irritation that you might encounter when lightening your hair with hydrogen peroxide.
Wait for around 3 minutes for the conditioner to work before washing the tresses with cold water.
Because the hair has just gone through a chemical processing, don't damage it any longer by using a hairdryer. Let it air dry instead.
You'll also like:
Above are all that Lewigs want to share about how to bleach hair with hydrogen peroxide and baking soda. We hope that it could somehow help you know how to naturally lighten hair up at home.
For any further inquiries, feel free to contact Lewigs at any time.
Have a nice day!