We always dream of beautiful hair which we can change frequently with different styles and different colours. However, the more hairstyling you do, the more hair damage you get. Therefore, people tend to use wigs – which can change colour and style easily. There are many types of wigs you can choose based on their materials such as human hair or synthetic wigs. Each wig type contains both advantages and disadvantages. Today, on Lewigs website, we would like to share with you one common inconvenience of synthetic wigs which is frizz. We also introduce to you the ways on how to take frizz out of synthetic wigs. Hope you like it!
Can Synthetic Wigs Become Frizzy?
Many users report that they get frizzy when wearing synthetic wigs, especially when you use them for a long time. Moreover, synthetic wigs are frizzy more easily when you put them near the heat sources because heat makes wigs drier. Frizz can become tangles, then your wigs look less beautiful. In addition, removing frizz wrongly can cause hair in wig damage like hair loss. After that, of course, you have to throw your hair wig away.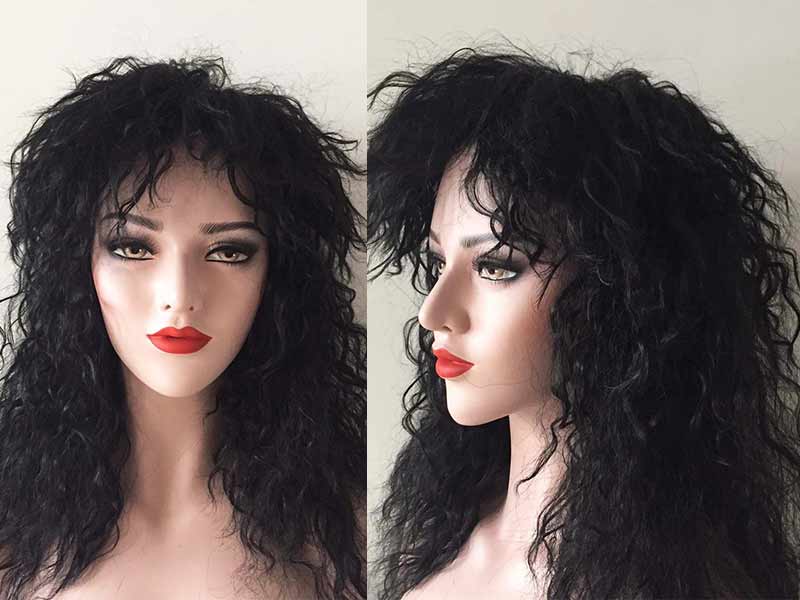 How To Take Frizz Out Of Synthetic Wigs?
We do not expect that frizzy synthetic wigs happen. So how to defrizz a synthetic wig?
Use Detangling Products
To fix a frizzy synthetic wig, you can try to use detangling products on your wigs. It is also an effective way to remove knots on hair. Firstly, instead of removing frizz while you are wearing a wig, you should put the wig on a mannequin head, or simply on your knee. It is much easier to take frizz out of synthetic wigs when you stabilize it.
The next step is to brush the ends of the wig by using your fingers to fix frizzy ends on a synthetic wig. A wide-tooth comb is also an ideal option. Remember to do it gently. If you brush fast and strongly, you cannot not only solve your problem but also damage your wigs and make your issue more serious.
Now, let's use a wig detangling product to spray on your wigs. Continue using your comb and your fingers to brush your whole wig gently.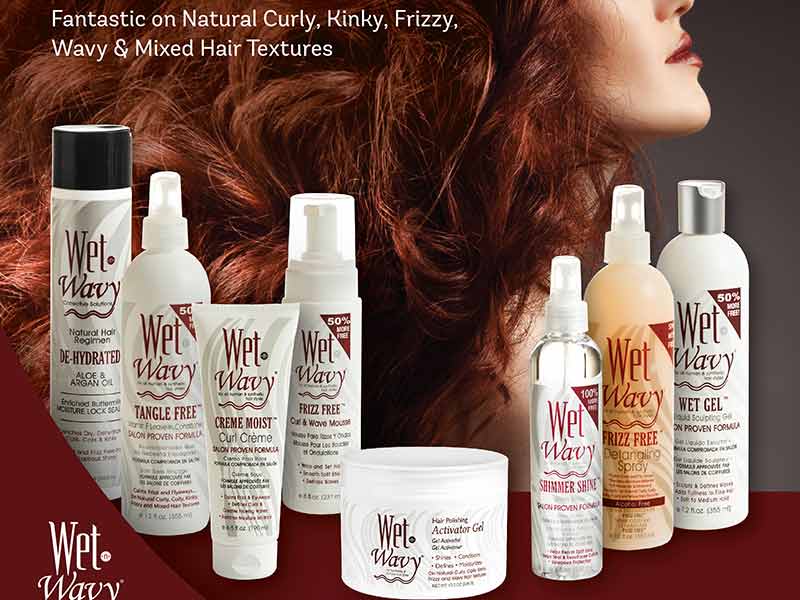 Wash Wigs
Like our hair, wigs require washing. However, do not wash it frequently, once a week is reasonable. Washing wigs can not only clean wigs but also detangle the frizz. You can soak directly the wig with laundry detergent or wash the wig on a mannequin head with shampoo and conditioner. Remember to choose the products for wigs which have no sulfate and a low pH level. After that, wash the wig with water carefully. Then, use a towel to remove excess water and let the wig dry naturally.
Other tips:
Use Heating Tools
When you are finding the way on how to take frizz out of synthetic wigs, heating tools such as flat iron can help you. Different from these two methods without heat we have mentioned above that are suitable for any synthetic wig type, this solution is suitable for wigs which are heat-friendly or heat-resistant. You should choose the lowest temperature to preheat your flat iron. In this case, you should put your hair wig on a mannequin head. Do not use your knee because heat can cause a burn. Divide your wig into two parts: top and bottom. You should start with the bottom. To do it, stabilize your top layer with a clip. After finishing the bottom layer, continue with the top layer. Make sure that you iron your whole wig. You need a few seconds for each spot to avoid wig damage due to too much heat.
It is essential to comb a wig with a natural bristle brush. You can comb while ironing hair. This action can add more shine to your wig.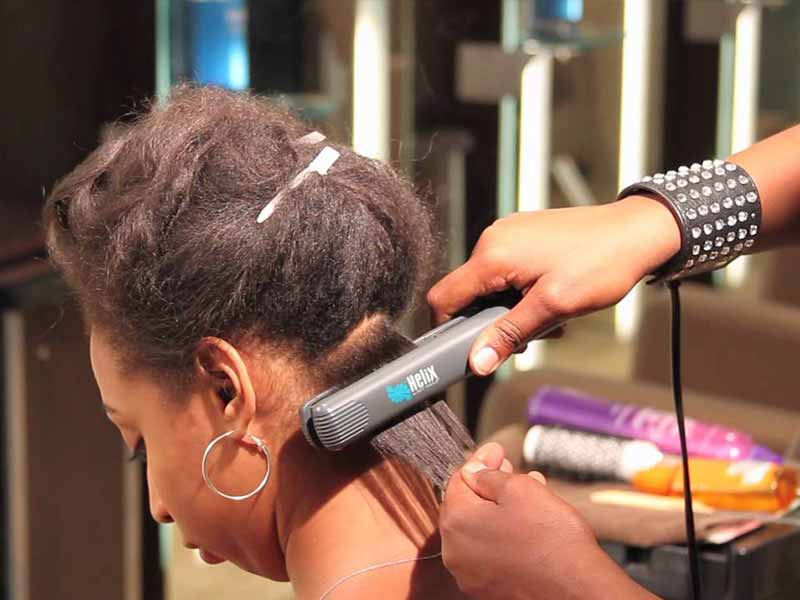 Another Option
How about human hair wigs? Have you ever tried them to keep synthetic hair from frizzing?
We cannot deny the benefits of synthetic wigs such as shiny, lower price than human hair wigs, etc. However, many people using synthetic wigs say that they are afraid of being recognized that they are wearing wigs because synthetic wigs do not look natural. Human hair wigs can help you get rid of this problem. Even a human hair wig may cost more, they can last for a longer time if you take care of them carefully.
Besides, synthetic wigs do not allow you to change the colour which means that you have to stick with this colour until you buy a new one. In contrast, if you use human hair wigs, you can change their style and colour, but ask a hairstylist to help you. Moreover, wearing synthetic wigs makes you feel hot because your scalp cannot breathe. Meanwhile, human hair wigs help your scalp breathe easily.
Therefore, why do not you choose human hair wigs which can help you get rid of many problems related to synthetic wigs?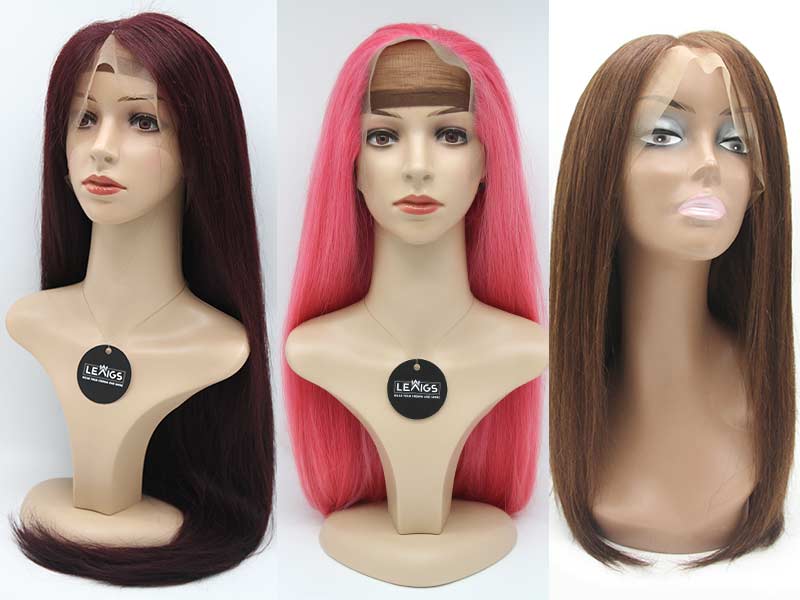 There are a lot of hair wig branches on the market. It is necessary to choose high-quality products to gain the best benefit as well as avoid side effects on your health. You can try Lewigs' products. With us, you can find wigs made by Vietnamese and Cambodian human hair. Do not worry about the price. We will give you the products whose price is suitable for you. We also give you advice about hair colour, hair length and hairstyle. Lewigs all know that human hair wigs still have some disadvantages, but we are sure that if you spend time on taking care of your wigs by following our guidelines on how to preserve wigs, products for wigs, etc., you will use our wigs for a long time. Do you still doubt our wigs? The feedback from previous users on our website can satisfy you.
Jump to:
To conclude
We hope that the information on how to take frizz out of synthetic wigs is helpful and interesting. We are always glad to hear any comments and questions from you. Besides, if you want to know more about wigs, especially want to buy our wigs, do not hesitate to contact us. We are always happy to help you. Our blog also provides some topics around the hair, so do not miss them!