Are you in the market for a new wig? Or by any chance, are you a complete newbie to the industry? Are the terms confusing you? For example, what is wig?
Either way, this hair system is an incredible introduction to the hair world. It does not harm your bio locks if you get the right quality one and apply it correctly. As the item is also a quick, effective solution to your hair troubles, they will boost your confidence.
If you are looking for a unit that fits your needs and liking best, you should read this post. It covers all the basic definitions of wigs in general and their types in particular.
What is Wig?
It is a covering system mostly from human or synthetic hair. This term is another name of periwig which appears first in the English language in the comedy, 'The Two Gentlemen of Verona by Shakespeare'.
Wearers use the unit for different purposes. For instance, they would love to conceal their baldness. They want to volumize their hair. Or else, they desire to try out different hairstyles. Wigs may also be a less costly alternative to hair restoring therapies. Some people use it for religious reasons as well.
Wigs by the base
They are tremendously famous today. They are generally simple to use and immensely beneficial. There are a series of wigs available on the current market. Those to choose to purchase this unit sometimes do not know what to expect from different types. For example, what is wig with and without a cap? To clear your confusion, we define these kinds in an easy-to-understand way down below. Hope you have a better idea of them and get the one that suits you the best.
What is a full lace wig?
The very first type of wig to mention is a full lace wig. Manufacturers construct it from a lace cap. This one gives a complete head coverage. Its base is entire of lace, which is not similar to the lace front one. For the best, you put on a cap when applying this wig as it will look as unnoticeable as possible.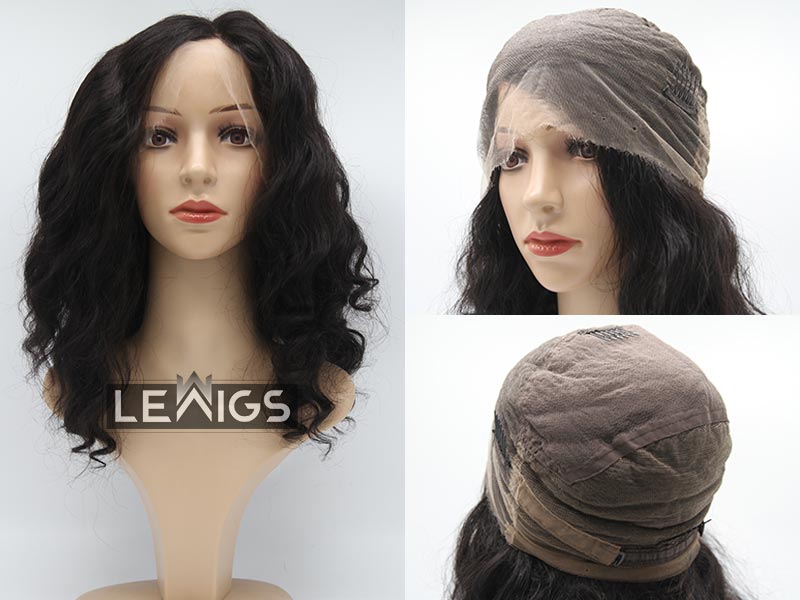 People knot 100% human hair onto the base manually. The Remy lace ones often come with a stretch lace strip over the crown's top. It enables movement versatility such as various head sizes and hair growing underneath.
You can part this unit wherever you want. Let's say, make a high ponytail, etc. for a natural look. While it is almost impossible to other lace wigs, it is easy to do with a full lace one. It is also durable. What is more, the system delivers fast results. Do you wish to experience different styles? If yes, these lace wigs are a fantastic choice. The product is an excellent option for creating a superb twist out. Besides, you can take it on and off easily. The glueless ones without adhesive or tape are available.
View our highlighted wigs:
When you use adhesive or the like, be sure you take good care of your wig. That way, such substances do not harm your scalp.
What is a lace front wig?
It is just as if its name suggests. The hairpiece consists of a small sheer lace in its front edges. People cut them off before the application. This item gives a realistic hairline solution. A lot of celebrities wear this type.
For human hair wigs, the manufacturers would hand sew the strand to the lace's holes. You can install these wig with ease. It is because they provide enough stretch and cover your whole scalp area. Your hairstyles will appear and feel realistic. For the rest part, you can combine weaves or wefts to form a complete wig.
Lace front wig has been enormously popular these days. Their price is reasonable. They bring new life to your hair with an authentic appearance, also.
What is a lace closure wig?
Unlike the frontal, it does not give your head coverage from temple to temple. People apply it in the head area of 'horseshoe' for the style closure. The products are usually 4 inches x 4 inches. They are also likely to come in bigger or smaller sizes. Typically, two types of them are the normal lace closures and silk base ones. Normal lace closure wig would contain a piece of normal French or Swiss lace around the parting hairline. Workers tend to use single knots technique to ventilate hair to make the knot less visible. And the lace is often transparent and less likelier to be recognized.
Regarding the silk base top wigs, there will be a closure piece consisting of 2 layers: silk, and lace. Hair is knotted onto the lace first, and then will be injected through the silk layer to hide its big knots. The silk layer on the top helps to provide a seamless hairline, as it perfectly mimics the scalp skin of the wearer.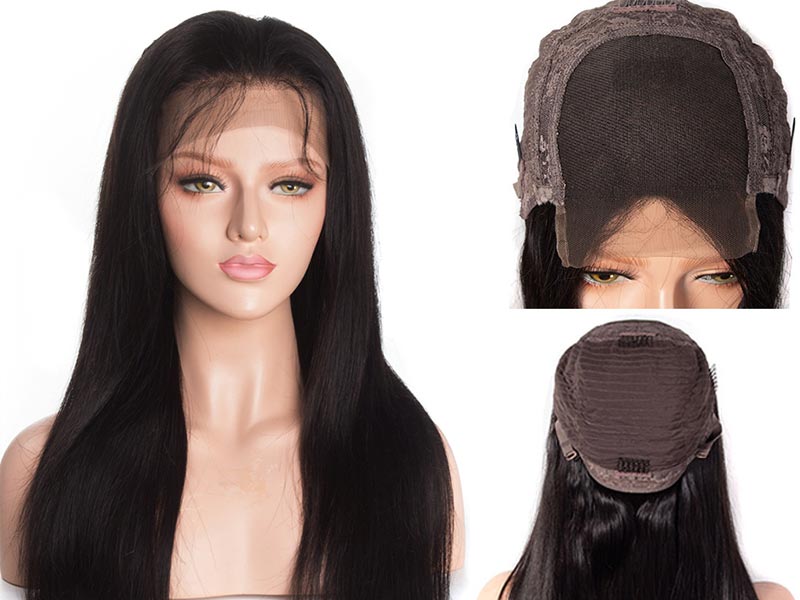 What makes an impressive unit? It should have a realistic density. The hairs on the hiarpiece should be of a similar density level to your real hair. Furthermore, be sure the lace comes with knots all over the perimeter. Also, it will be fantastic if you dye that lace into two lighter hues than your face tone.
This hair system has been increasingly famous because it saves some of your hairpieces from breakages. It is a simple daily choice, as well. Their appearance is natural. Are your imperfections less noticeable? Then, this product is fabulous for you.
What is a 360 wig?
A 360 wig is also called a lace frontal 360 wig or a 360 lace front wig.
So, what is a 360 lace wig? Technically, 360 lace wig is a lace headband whose back hooks are adjustable. That is why the unit looks natural and feel comfortable. Using tapes or glue is not necessary. By 360, we mean 360 degrees. It lets you give the edge of the hair a break.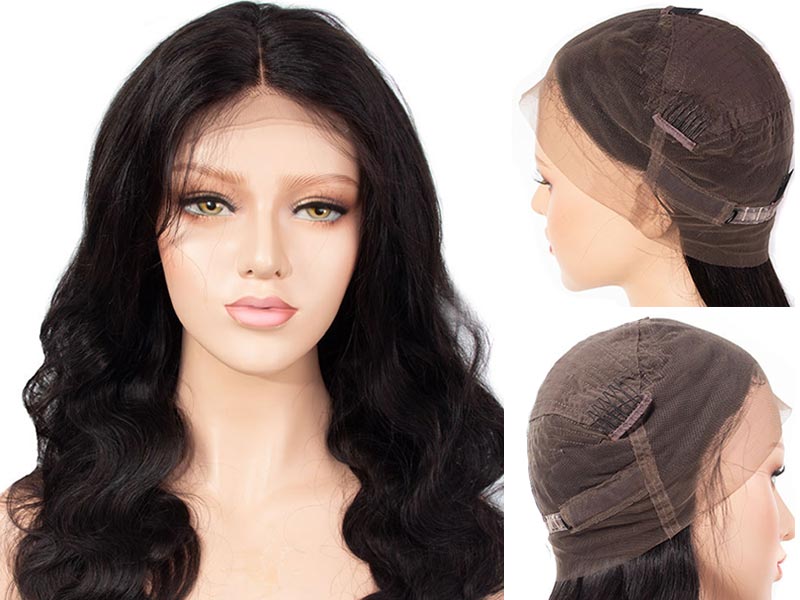 The human hair lace material has excellent quality, and people hand-tie it. The extra lace appears out of the head at 360 degrees. That way, it is possible to sew on the weft. Further, the lace band frontal has realistic baby hair and hairline. So, the hair has an illusion of growing from your scalp.
There are many choices for styling. For example, put in ponytails. Do not be afraid to try that style. The back lace will appear like your scalp. Also, you do not have to spend a lot of time blending the hair.
Related posts:
Wigs by the wearing methods
Wordy as it might seem, these sentences above might not leave any impression to those who have no interest in how the wigs are made. Many people only care about wig installation. Whatever base type it is, they will choose it as long as it is easy to attach and remove.
Talking about how to wear a wig, wig wearers could put in on your head with glue, without glue, with a wig cap, and capless.
The common type of wig that you often see around is the glued hairpiece that would be worn by adding liquid or solid adhesive (glue or tape). And for most of the time, people would wear a wig cap first to make it easier to wear.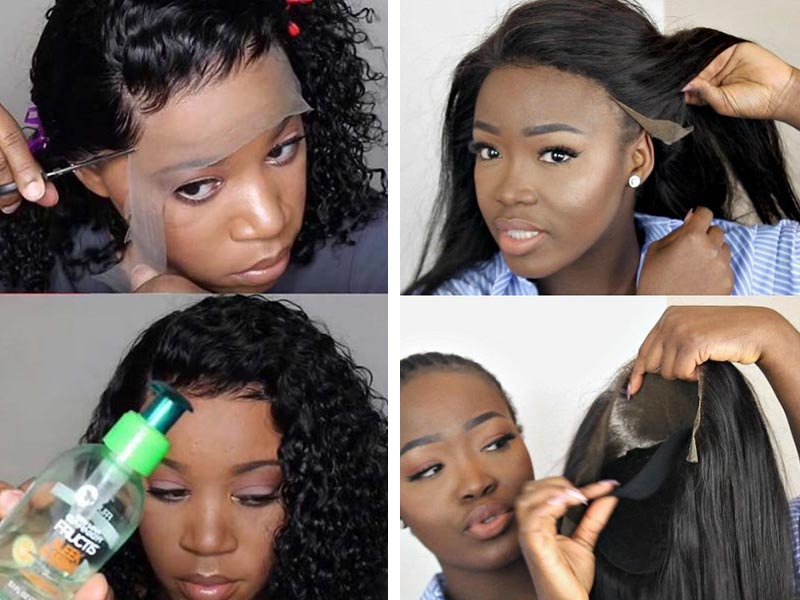 Down below, Lewigs would like to mention 2 less popular types of wigs: a glueless wig and a capless wig.
What is a glueless lace wig?
As its name states, you won't need to use any kinds of adhesives when using this glueless wig. Those who do not wear wigs for a long time will particularly like this one. The glueless lace wig is also popular among wearers for fashion and beauty or people with allergies to adhesives. There are adjustable straps as well as combs to fit your head securely and comfortably.
What is a capless wig?
What is wig in this case? They are secure with hooks and adjustable straps at your neck area. It has a monofilament design with two layers. The lace ribbons for weft holding are flexible. They can match up to your head shape.
The unit brings a more cooling impact than the solid cap one. It is because the construction lets the hair flow to your scalp and head.
Final thoughts
Knowing what is wig and types of wigs clearly is exceptionally important, especially if you are a newbie to this world. Wearers had better determine what you really want before buying a human hair wig for your own.
Lewigs hope that the brief introduction about different types of wigs above could somehow help you brainstorm about this incredible hairpiece. If you have any questions or requests, feel free to leave a comment below or contact us directly to get support.
We are always happy to hear your voice!