You may feel so confused to find the most reliable hair weave websites to purchase a weave. There is a wide range of hair weave brands out there but you don't know whether they are trustworthy or not. So, to make it easier for you, today we will offer you a quick review of the most worth trying human hair brands. Keep reading to check it out!
Layla Hair
Layla Hair is one of the world's best human hair brands based out of Vietnam, which provides all customers with hair extensions of top quality at affordable prices. This company offers a wide range of hair weave with different styles and textures to choose from.
To meet all the clients' requirements as much as possible, Layla hair also offers custom made hair weave according to personal individual preference.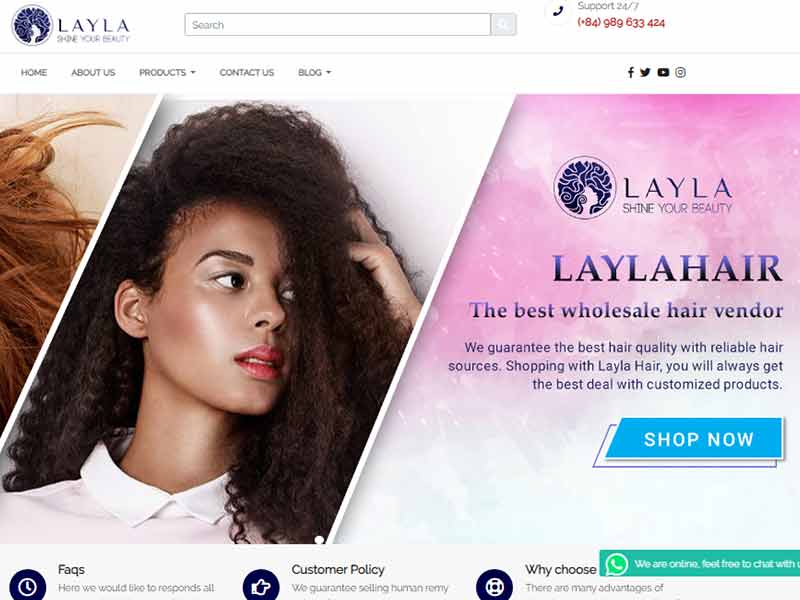 All of their products are made with Vietnamese and Cambodian human hair which is durable, sleek and natural-looking. They also provide hair extensions in various colors with lengths like short, medium or long, and all major textures like straight, curl, kinky curl, wave loose, etc, which meets the needs of buyers from all over the world.
Moreover, their customer service is highly appreciated so that you will always get what you want when coming to them. Their hair weave website also receives a lot of positive reviews from clients.
Lewigs
For years, Lewigs has grown into one of the most recognized hair weave brands since they provide hair products for not only women but men as well.
This company specializes in high-quality virgin human hair virgin wig, weave, and hairpiece for men at a good price. Each hair product they provide is made by one human hair donor so it always looks natural and sleek.
Moreover, like other hair weave brands, Lewigs offer a wide range of styles, colors, and textures for their clients to choose from. And, their customers come from over 20 countries over the world. You can see a lot of positive feedback and review on the platform sites. This company also offers great customer policy.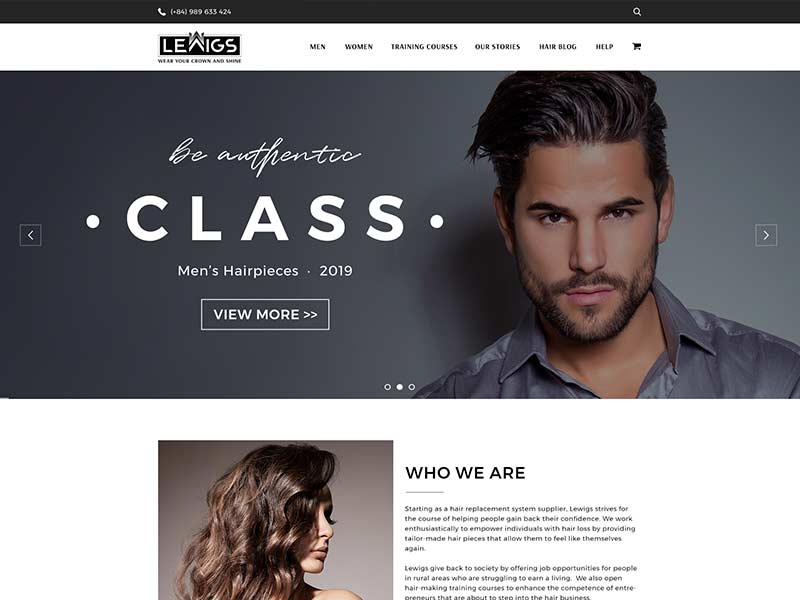 UNice
This is one of the first-rated online hair brands headquartered in China. Unice is known as one of the trustworthy websites for those who want to get quality hair extensions at reasonable prices.
This hair weave brand draws huge attention from many weaves wears due to its wide range of products to cater to diverse groups of customers. And, the 10A BANICOO series of Unice hair are really famous products for those who want to buy luxury human hair weave. This means the price of them is not cheap. You can opt for 7A ICENU series if you want a low price product. One thing you may want to know is that their hair bundles are not always from a single donor.
Related posts:
Mayvenn
This is a great hair weave brand as well as a Black-owned company, providing good-quality human hair to all consumers and hairdressers. The difference of this company compared to others is their network of hairstylists and the "FREE install" service.
They offer all the customer's hair weave with various hairstyles, namely curly, wavy and straight style. If you have any problem with their products, you can exchange them within a month after purchasing. This indicates that they are confident with what they sell.
The company also gain many good feedback and reviews from their buyers on their platform.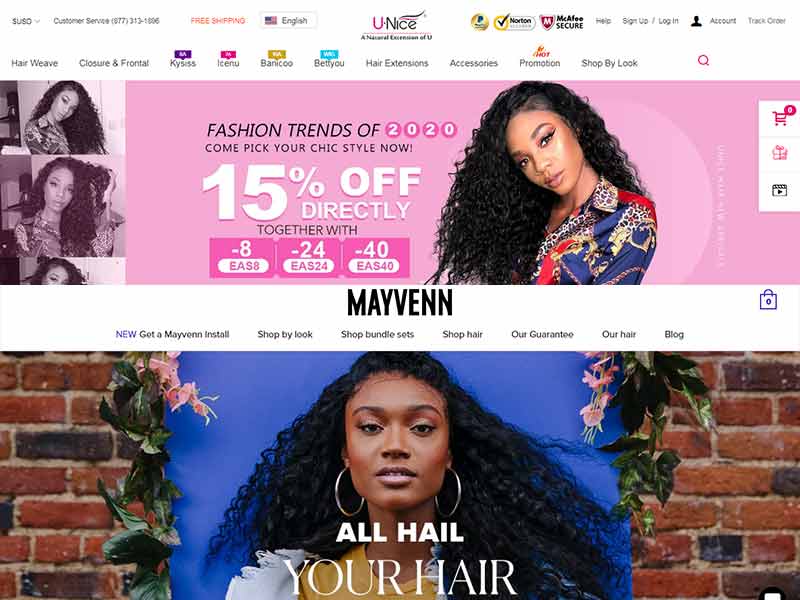 Ali Grace
This is one of the popular hair weave brands on the Aliexpress, which offers hair extensions with great quality. The thing makes them become the favorite hair weave website is that they provide top quality human hair at a good price.
As other hair weave websites, they sell all types of weaves including straight to curly and wavy. They also provide hair weaves colored in blonde or ombre style.
Moreover, this company offers 15-day returns and exchanges policy for all customers. But one thing to consider is that they do not use one single donor hair in each weave.
Klaiyi Hair
KLAIYI is a new hair extensions brand where sells quality human hair to women around the world. This company is a reliable online-based hair weave distributor and they are working hard to upgrade their products to all customers. The hair weave they provide comes with different texture including straight, wavy and curly. They also have blond extensions for white girls. If you look for a low price but good quality hair weave, you can consider that one.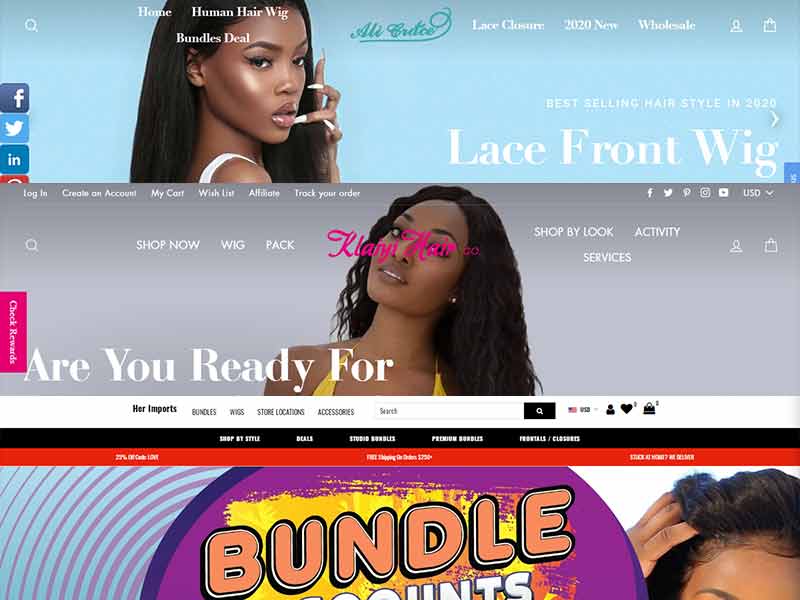 HER IMPORTS
HER IMPORTS is the top-rated hair weave brand in the industry. They have over 15 hair stores across the USA and Canada. Their products are gorgeous hair extensions made with 100% human hair. This company is so popular due to its collection of high-quality hair extensions. Their human hair mostly sourced from Indian suppliers. And, many top celebrities are big fans of this brand so the price they offer is extremely high. It is not really an ideal choice if you want to find a budget-fitting product.
Read more:
Tip for choosing hair weave websites
Clients' review: Checking the review, comments, and feedback left by the customers can help you to know more about the brand you are going to trade with.
Return policy: It is crucial to check the return policy of the hair weave brand because of two reasons. The first one is that if you are not satisfied with what you receive, you can return it or get another one. The second one is that only a trusted company offers that policy since it shows that they are so confident with what they sell.
Customer service: Service is really important, how the staff of hair weave websites replies to the buyers and the time of answering will determine whether they are professional or not. The best companies always come with great customer service.
All in all
Hopefully, you can find your own reliable hair weave websites to purchasing hair systems after reading these articles. Note down the tips we provide you, maybe you will find it useful one day.
Thank you for your time! If you like this article, share it with your friends and follow us now for more interesting information!