Clip-on hair topper has long been a familiar beauty item that women use to cover their thinning crown. However, what to do if your hairpiece does not come with clips? Or your baldness gets too bad that there's nothing to clip to? Rest assured since you can definitely attach a hair topper without clips.
How to perform this task? There are two ways to get there: using tape or glue adhesives.
How To Wear A Hair Topper With Tape?
Is it possible to attach a topper hair extension using the tape adhesive? Absolutely YES. Similar to lace fronts and lace closures, you can totally use tape bonding to secure your human hair topper.
In fact, nowadays, many people feel insecure when wearing their toppers with the clips only because it can easily be blown off and detectable during the wind. In contrast, using tape will make their hairpieces stay firm on their head for a long time.
So, how to secure a topper hairpiece with tape?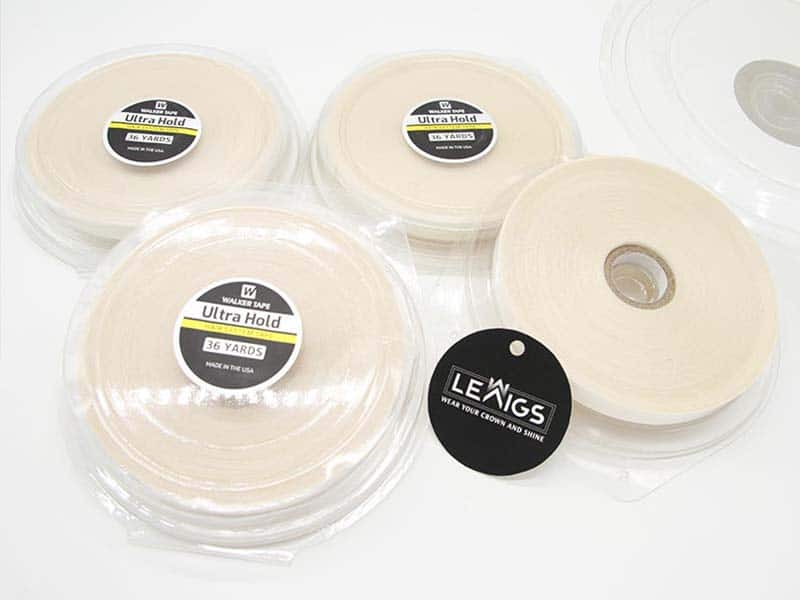 A step-by-step guide
– First, you must choose the right tape adhesive that is stronghold and if possible, water-resistant. Usually, the tape will be double-sided.
– Next, unfold one side of the tape and stick it to the perimeter of the topper extensions. For the tape to perform best, your hair topper should have lace or PU-skin perimeter. Skin-base is also OK, but it is easier to be torn apart when you remove it from your head.
– Once you have done with attaching the tapes to the perimeter of the toppers, continue to unfold the rest side of the tapes.
– Afterward, place the topper hairpiece onto your head. Pay attention to the place where you would let the topper sit.
– Press firmly so that the tape could stick well to your scalp.
– Once you have well secured the topper hairpieces, you can feel free to style it as your desire.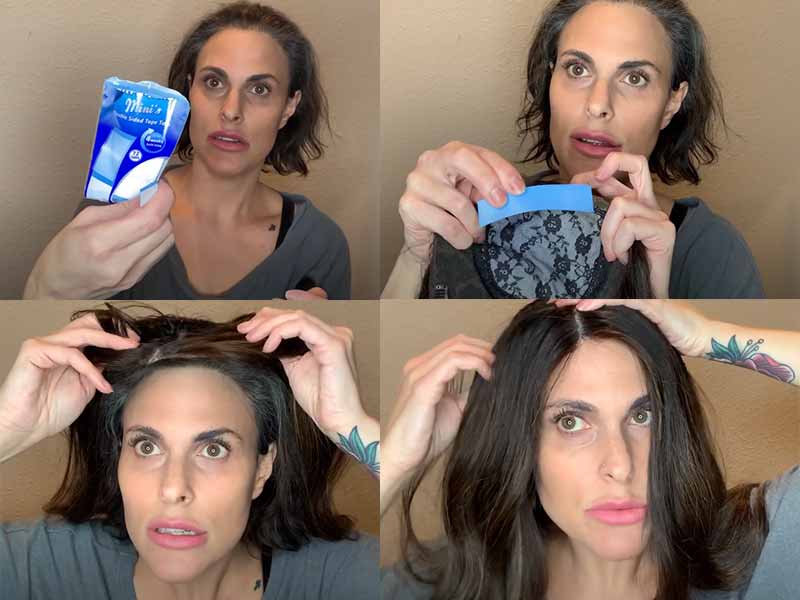 Things to notice
Different from clip-on hair topper where you can feel free to wear it with your bio hair, when you wear a hair topper without clips but tapes, it is essential to shave your crown in advance. If you let your natural hair sit there then it will cause itchiness and hurt when you wear or remove the hairpiece. You don't need to shave all your head, just shaving the area where you will wear the topper is enough.
Furthermore, even when the tape you use has the waterproof competence, it is still advisable not to wash your hair within 24 hours after securing the hairpiece. The water, especially the hot water, might dissolve the adhesive and make your hair topper no longer secured on your head. 
Other posts:
How To Secure A Hair Topper With Glue?
Another way to wear a hair topper without clips is to use glue bondings. Glue adhesive is often used to attach the wigs, toupees, and even hair extensions, so there is no way to explain if it can't come with hair toppers.
Compared to tape, glue bonding is a preferable choice because it causes less itchiness and is much easier to wear. Down below is the detailed guide on how to attach a hair topper without clips but glue.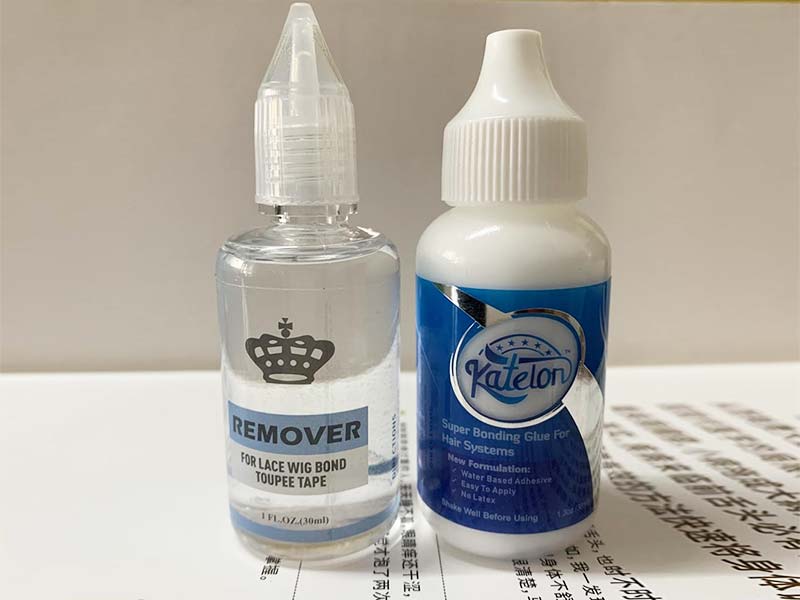 A step-by-step guide
– First of all, clean your spot where you will put your hair topper on.
– Next, place a pea-sized (or less) amount of liquid adhesive to the top of the crown and then let it sit there for around 2-3 minutes
– When the timing is right, place your hair topper right over the glue and press it down.
– Lastly, use your hand to hold your topper extension in place for around 30 seconds and it's done.
– After having done with the application, you can feel free to move the topper to check whether it has well secured or not. Believe us, the glue will offer stronghold and is much better than using clips only! It can also lay flatter and is less detectable than your clip-on hairpiece.
Things to notice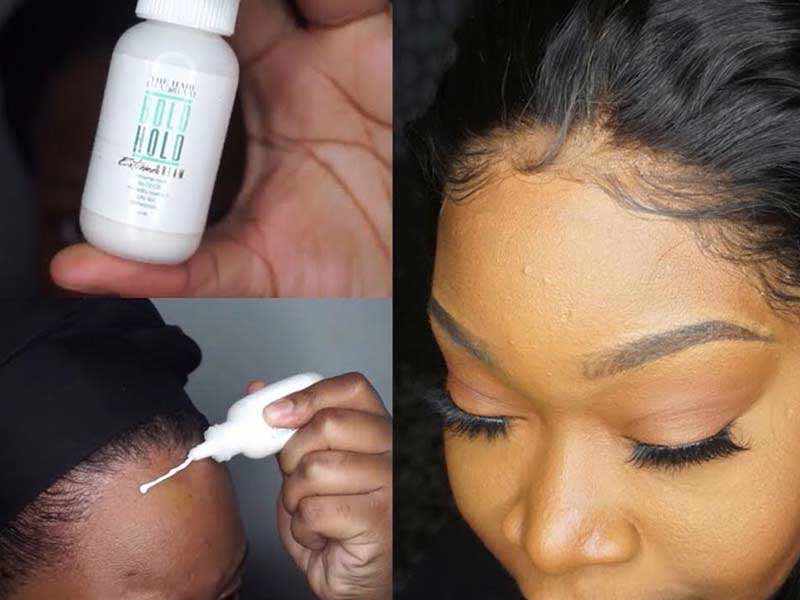 Similar to tape adhesive, your glue should be water-resistant so that your hair topper won't fall out when meeting water. By using reputable waterproof liquids such as Got2B, Walker UltraHold, or the like, you can definitely go swimming or gymming with your hair topper on.
Also, shaving is necessary so that the glue can adhere well. Don't forget to do this task!
The Final Words
While clip-on toppers might make you feel insecure when going under strong wind or so, the bonded hair toppers that are attached by tape or glue adhesive won't get on your nerves. "How to attach a hair topper without clips" is a fun game to try, so why hesitate? Give it a try to see how comfortable it will be to wear your hairpiece these ways.
A little bit remind: Lewigs have excellent human hair toppers that await your shopping! We have both clip-on and bonded topper hair extensions to suit different tastes. Feel free to visit our store and contact us directly to get further assistance. Customization is available, so don't worry if you can't find your loved hairpieces displayed at our shop!
We await your message!