Medium length hair is a common choice of many women. However, many women are struggling with finding a hairstyle which can not only change their appearance but also make them more beautiful. If you are among them, this article today is for you. We would like to share with you some medium length hairstyles for women which can add more effects to your hair such as shine, volume or light, resulting in drawing attention from others.  
What are the benefits of wearing medium-length hair?
Firstly, medium length hair is suitable with almost any hair type and face shape. Secondly, it is easy to style medium length hair and it works with a lot of hairstyles, too. Finally, in comparison with long hair and short hair, you do not need to spend a lot of time to control and manage.  
Medium Length Hairstyles For Women With Bangs
One of the easy ways to change your look is to make bangs. Bangs are suitable for almost everyone, even make you look younger. If you have well-matched bangs, you can cover any imperfections on your face such as acnes or wrinkles. In case you are not comfortable with the bangs anymore, you can clip them or wait for them to grow after leaving them aside.
Blunt Bangs
Blunt bangs work effectively to not only make your hair look thicker but also emphasize your eyes. Especially if you own a large forehead, bangs can help you cover it, then, you have a more balanced face. Blunt bangs can go with any hairstyle and hair colour, especially brunette colour. However, if you want to maintain blunt bangs for a long time, you should trim them regularly. Besides, you may have to spend time using a brush and a hairdryer to make every strand in place.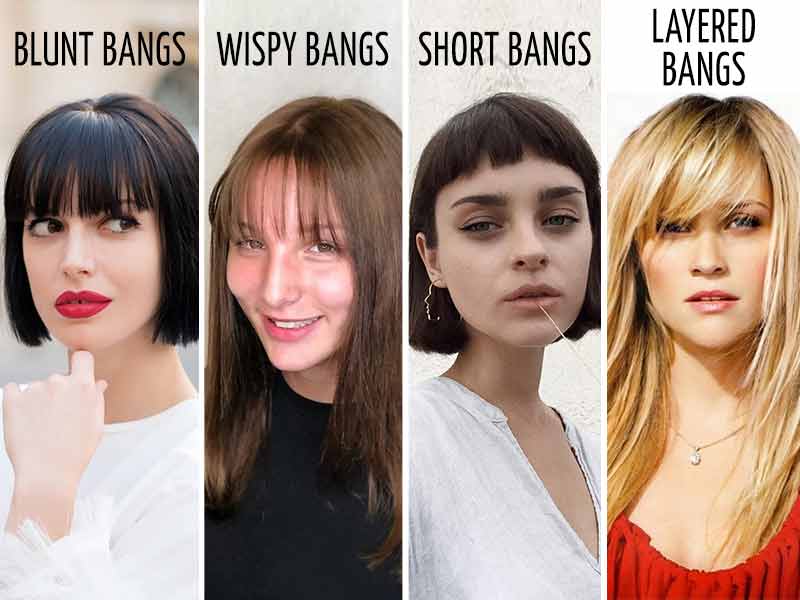 Wispy Bangs
Different from the blunt bang, wispy bangs are thinner, which means that they do not cover the whole forehead. The women with a long face can consider applying wispy bangs to shorten your face. Your appearance, especially your face will look softer. Moreover, wispy bangs are for medium length hairstyles for fine hair because your hair will look thicker. You will get a better result when combining the wispy bangs with wavy medium-length hair.
Other inspiration:
Short Bangs
This style finishes in the middle of your forehead. It seems unique but many women choose to have them. Therefore, others will pay attention to your eyes and brows. If you want to show off your personality, short bangs is an ideal choice.
Medium Length Hairstyles With Layered Bangs
If you want to soften your face, you can try thin and layered bangs. Moreover, this type of bangs can add more movement to your hairstyle.
With Layers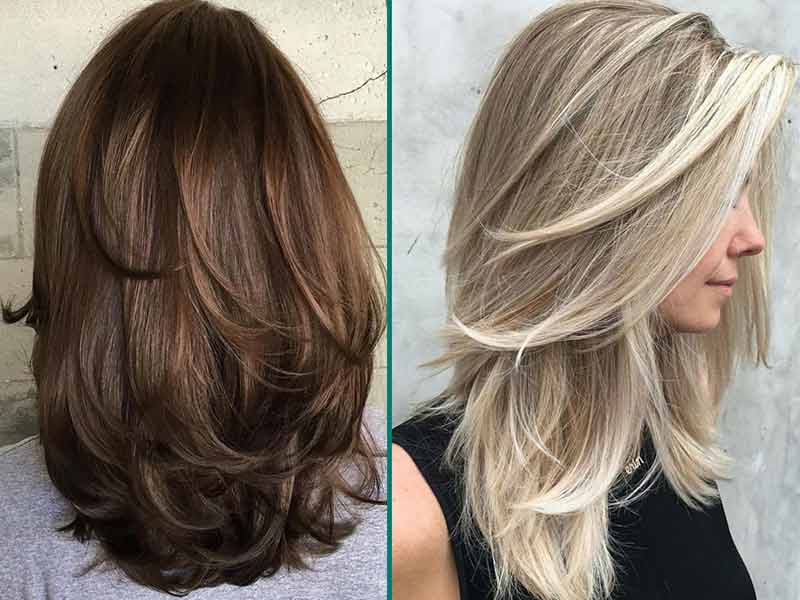 Medium length layered hairstyle is a popular medium length hairstyles for women at any age or any face shape thanks to its benefits. For example, if you own thin hair, layers are effective for adding more volume to your hair. Meanwhile, layers can help you remove the extra weight of your thick hair. Besides, for women who have medium length hair, your hair can look longer than it is. You can try either long layers or short layers.
Curly Medium Length Hairstyles
Curly hairstyle is perfect for women with shoulder-length hair. Curls can add more volume to your hair, making it look thicker. Curls often go with layers to help you obtain a natural look. Furthermore, there are other curly medium length hairstyles such as messy curls, big curls, long curls, etc. you can choose up to your personalities and styles. Curly hair is nice, but sometimes, you may get trouble with it. For example, it is difficult to control the curls or curls do not last long (if it is not your natural hair). Therefore, it is essential to take care of hair regularly, including using special hair care products to moisturize hair and keep curls last long and often trimming hair.
Wavy Medium Length Hairstyle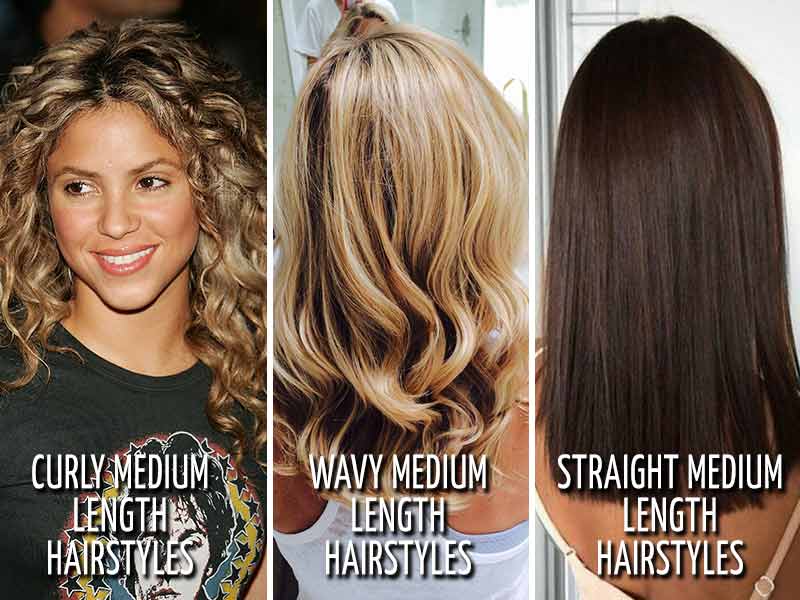 It is very lucky if you have natural wavy hair. It can create the movement on your hair. If you do not have it naturally, it is easy to make it with a curling wand or flat iron. You can also create wavy by braiding your wet hair with a sea salt spray. Waves can bring to you a simple but classy appearance. However, like curly hair, you need to spend time taking care of your hair to keep waves long. You should remember to apply suitable hair care products for wavy hair, trim hair regularly, and moisturize hair as well.
Straight Medium Length Hairstyle
Talking about hairstyles for medium length hair, we cannot skip straight hair. Straight hair does not require too much care. It is not difficult to comb and style hair. Moreover, straight hair helps you avoid split ends and dryness. People often think straight hair is too simple. However, you can change a bit to make it more attractive. For instance, you can dye your hair or cut bangs. Besides, you can use extra shine serum so that your hair will have more shine and light.
Jump to:
With Highlights
Just some small highlights on your hair can change your appearance quickly. Your hair will get more movement and dimension. The most important you have to remember is to choose the highlight colour to fix with your hair colour. For example, you can choose dark colour highlights if you have light hair. 
In conclusion, we hope that after reading the article about medium length hairstyles for women, you can find the most suitable hairstyle for you. Some hairstyles just need hair styling tools or scissors, but some require chemicals to maintain the hairstyle. You can do it at home by yourself, but if you are not confident, going to the salon is necessary. Besides, we are always glad to hear any questions or comments for you. We also provide other hair care topics to help you own beautiful hair, so please visit our Lewigs blog.