More and more women now prefer using extensions to achieve their desired look. Besides, hair extensions before and after transformations are what makes them craving for these accessories. Before making any decision on what extensions you should get, doing a little research to know exactly what results can you expect is always worth your time. This is because knowing how your tresses will look exactly after you wear extensions will make your decision much wiser.
Below are some of the hair extensions before and after pictures and short reviews about the transformations we have collected for you all. It includes tape in extensions before and after, clip in extensions before and after, extensions very short hair before and after, and so on. Keep reading to check it out!
How do hair extensions work before and after being used?
Ultimate volume
No more worry if you have super thinning hair or fining hair since these extensions can "fix" your look right away after being installed onto your scalp.
Extra length
Short hair sometimes is hard to achieve beautiful styles, especially the very short one. But just with some piece of hair bundles, anything can be solved. Moreover, with certain types that are easy to put on or take off like clip in or tape in, you switch your look from long hair to short one easily.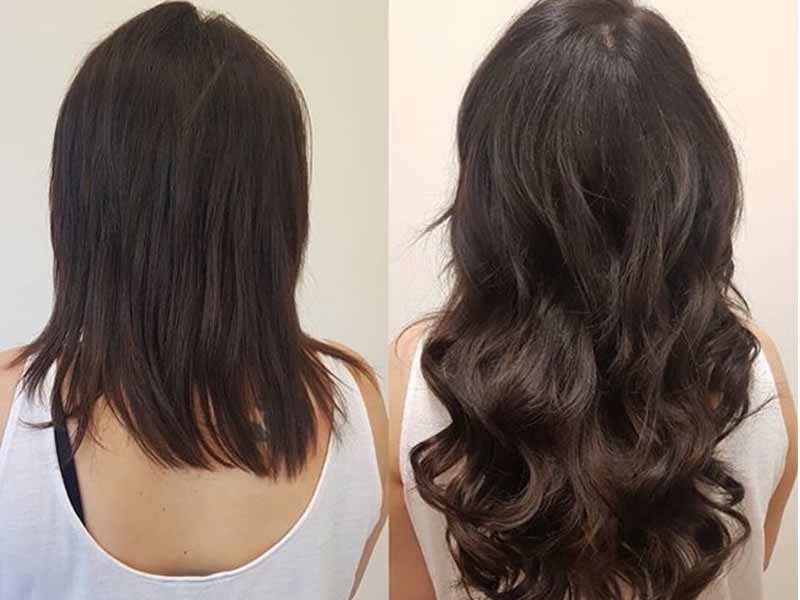 Greater beauty
Hair extensions often go with a wide range of textures, lengths, and styles. Hence, if you want to improve your look with the latest trend, all can be dealt with by installing extensions.
Before and after with extensions
Tape in hair extensions before and after
There are various types of extensions out there, it does not matter what type you are going to choose, but tape in extensions always work well. The typical evidence you can see is the picture of a gorgeous woman that has her hair beautified with tape-ins. They add length and volume as well. That not only can help you to enhance your attractions and confidence but also offer you a wide range of hairstyle options that you have craved for. That will absolutely worth your investment.
What is your opinion?
Clip in hair extensions before and after
You can see the ultimate extensions before and after here! Among a wide range of attachment methods, clip-in will be the best choice if you looking for an easy and quick way to have a big change in volume and length. Moreover, you can certainly gain a new look with any type of hair texture and color you wish after about 10 minutes. Let's clip-in extensions before and after pictures below to know how clip-ins work.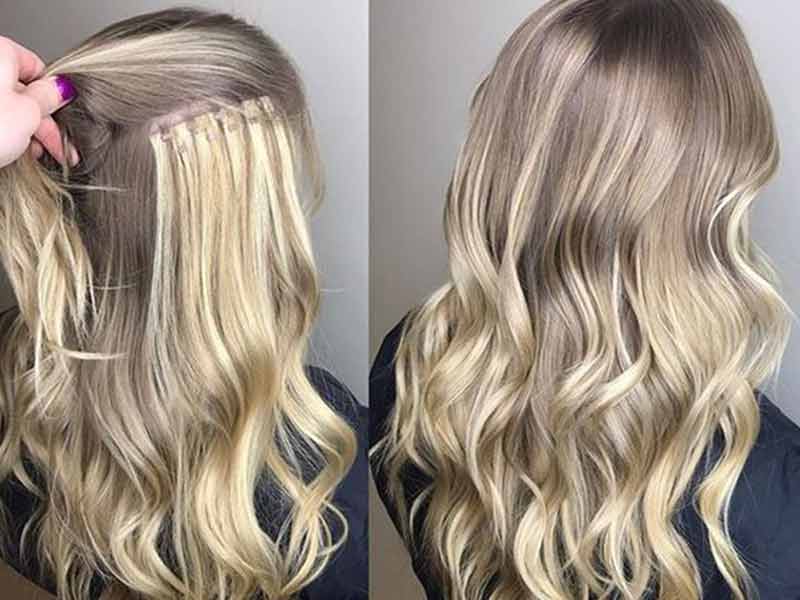 Hair extensions for thin hair before and after
With numerous before and after pictures, you can see one of the biggest benefits of extensions, fixing thin hair. Even in case you are tired of thin ends, extensions also can fix that for you. All types of extensions can do that, namely clip-ins, tape-in, or sew-in and so one. It is not all about improving your looks but also helps you to boost your confidence.
Read more:
Hair extensions for medium hair before and after
Longer hair is no longer a dream with extensions. You can look at the before and after pictures below find the result of the stunning transformation from medium hair to sleek longer hair thanks to hair extensions.
Hair extensions very short hair before and after
The drastic change in length after and before using extensions is obvious. Especially, with the use of cold fusion human hair extension, you can have a look of a superstar right away. The extensions not only provide ultimate length for your very short locks but also offer you a wide range of texture such as straight, wavy, or curly. With longer locks, you can slightly show off your facial features too. Let's look at the before and after photos below to know how they look.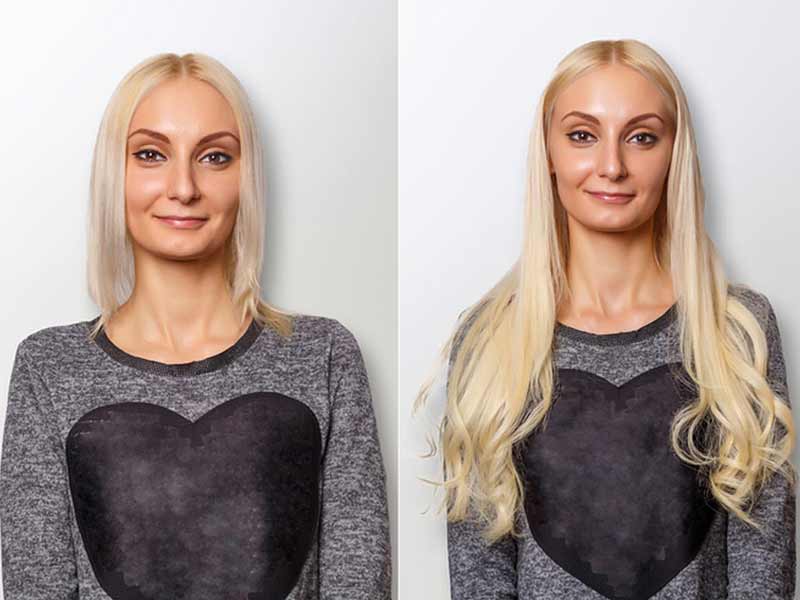 Hair extensions to transform from straight hair to curly
This is another benefit of extensions you can see here in the beautiful photo of before and after wearing it. Straight hair is sometimes quite boring and you want to switch to wavy or curly look. Human hair extensions will be your assistance. Again, you can find out that the girl in the picture looks much better with the hair extension.
All in all
Hair extensions will never let you down. Using extensions is considered as the simplest way for you to achieve the desired length, volume, and beautiful hairstyles you always look for.
Hopefully, after this post about hair extensions before and after, you can find more firm reasons to try it.
Besides, to achieve the most gorgeous look, we advise you to purchase human hair products. This is because as its name shows, it will act as the way your natural hair does and offer you the most realistic looking.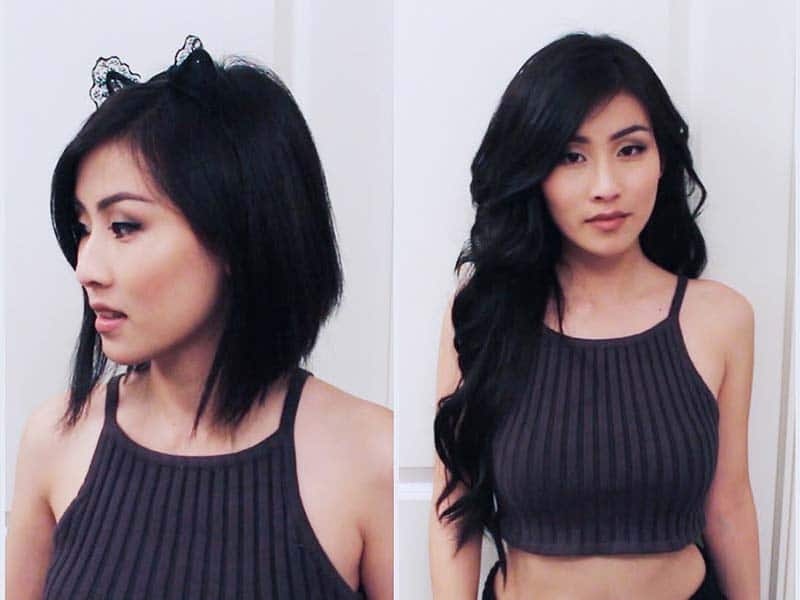 If you want to make for yourself a hair extension, at Lewigs shop, we offer human hair bundles for doing do. And even though not being displayed, we also have pre-made extensions (clip-in, tape-in, keratin, etc.) So, visit us right now. Here we provide high-quality hair bundles made of 100% Vietnamese and Cambodian virgin human hair. Therefore, you don't need to worry about the features of our products when you shop at our store. With our human hair, you can easily style your tresses in the way you crave for. Feel free to drop us a line whenever you have any questions! We're pleased to hear from you!
If you like this article, share it with your mates, and don't forget to follow Lewigs' blog for the more valuable and interesting information!
Thank you for your time!