The demand for extensions has unstoppably been rising, entailing the effort to create new products to meet up clients' demand. While classic types of extensions cannot bring along as seamless volume as expected, new seamless hair extensions are born. Among the new kinds of hair integration, halo hair extensions stand out thanks to its easiness to wear and invisible look.
What Are Halo Hair Extensions?
Similar to other extensions, halo hair extensions are the products that add volume to real hair. While others require a complicated application, halo weft extensions are super easy to wear. It stays in place on your head by using a thin, invisible nylon wire. The wire is adjustable so you can fix it to fit your head size. It takes only around 1 minute to put halo extensions on.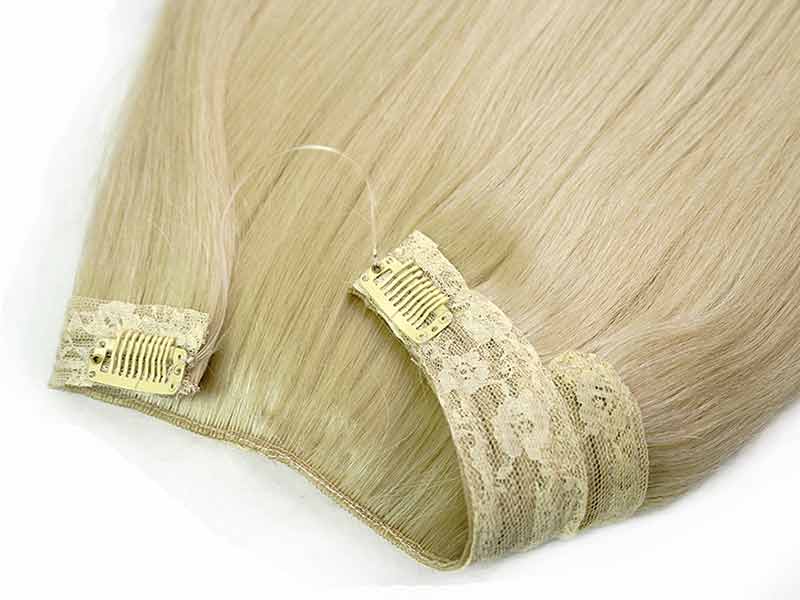 How Do Halo Crown Hair Extensions Work?
As said before, this extension comes with a nylon wire, which is called halo hair extensions wire. The wire is attached to 2 edges of a long weft of hair that normally weighs between 180 – 200 grams. Unlike clip-in extensions that contain a set of wefts of different sizes, halo extensions come with only that strip of hair. Some of the times, it might come with clips also to make it more secure.
Of course, there are no one-size-fits-all for every crown size. Hence, to make it fit, the length of the nylon wires varies, normally from 15.5 cm to 22.5 cm. It is important to measure the size of your crown before deciding to choose any sizes. In case the wire is too long or too short, the halo hair extensions would appear too high, too low, too tight, or too loose on your head. 
Other posts about hair extensions:
How To Measure The Size Of Halo Hair Extensions?
We are not talking about the length or the density of the weft. These criteria, of course, must be considered before buying any kinds of hair extensions. What we are mentioning is the size, or in other words, the length of the nylon wire. It should fit your crown well so that the extensions won't be too tight or too loose to stay in place.
How to determine the size of the halo hair extension wire?
To do this job, pick the wire of a certain size and then hook it to the Halo. If you feel that it keeps moving or does not touch the back of your head, then the wire is too long. On the contrary, if it feels too tight or causes any kind of pressure to your scalp, then the Halo you are choosing is too small. Also, remember to shake your head to check if the extensions are moving or not.
Repeat the steps until you find one that stays comfortably and securely on your crown.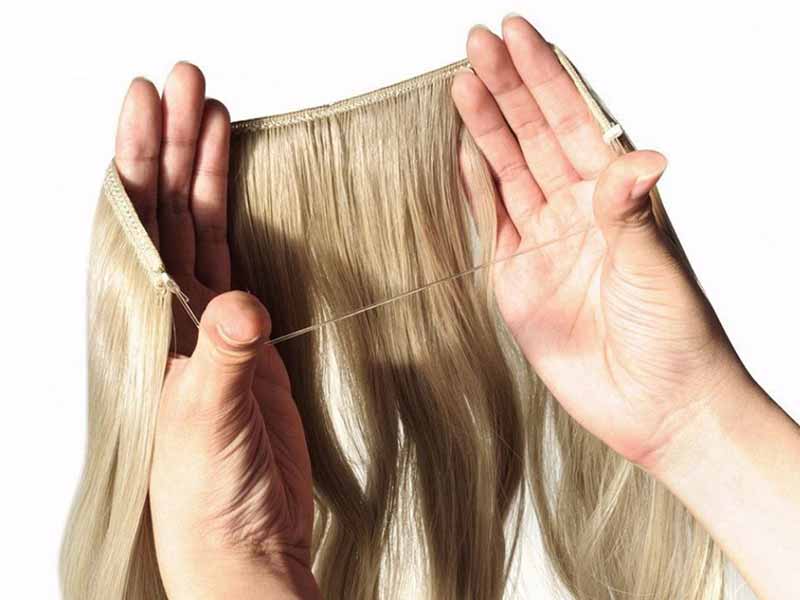 Do Halo Hair Extensions Slip Or Fall Out?
Because wearing it is too easy, many people doubt whether halo human hair extensions would fall out when they move.
In fact, you don't need to worry about it. Once you find the matching size, it will stay securely with little risk of slipping or falling. Also, there often appear clips inside the wefts, allowing wearers to secure the weave better. If the extensions are applied correctly, you can even whip your locks back and forth freely!
Can You Wear Halo Extensions On Short Hair?
It's a little bit sad because the Halo often serves ladies with medium or long thin hair. That said though, you can still buy halo extensions for short hair if wanted. But in this case, it is advisable to combine this strip of Halo with a set of clip-ins so that your hair can look longer and fuller.
Reasons To Go For Halo Hair Extensions
Halo Extensions Are Easy To Apply
There is no exaggeration to say the Halo is the easiest to apply among all kinds of hair extensions. If you have come across any kind of halo hair extension tutorials or instruction, you can see people put this weft on in just some minutes.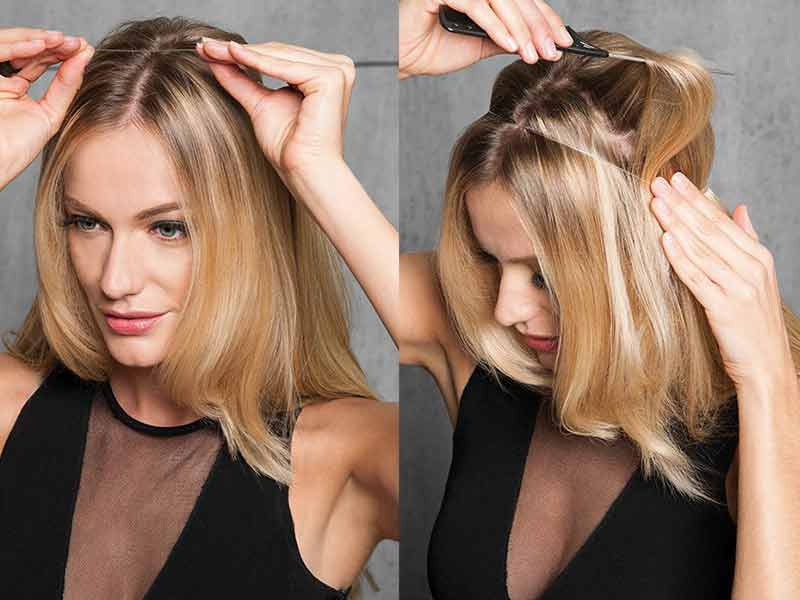 Using this extension, you won't need to go to a hair salon for help or follow any complicated guide, either. Just section your hair and then place the Halo over it. If it comes with clips, clip it on, and then you're done.
Not only installation but removal is simple, also. You just need to unfold the clips (if any) and then take the halo hair extensions out of your head. Because it doesn't involve any adhesive bonding, it will take only a few seconds to remove it.
Halo Hair Extensions Are Damage-Free
With other kinds of hair extensions that use adhesive bondings (glue, tape, keratin, etc.) to link with bio hair, halo extensions do not require any of them. Therefore, it prevents your natural tresses from being negatively affected or worse, destroyed.
Of course, there are conditions must be met. The hair extensions you get need to be clear of flea, and the strands should be strong. If you purchase the right high-quality halo extensions then they won't cause any damage.
Regarding the comfort to wear, Halo also stands out. It is not too heavy and doesn't cause any itchy feeling or hurt when wearing, also.
You Don't Need To Take Too Much Care Of It
Everything needs caring. However, in the case of halo human hair extensions, you won't need to put much effort into this job.
While with tape-in or keratin glue extensions, your eyes often need to keep your eyes on the roots to check if it's matted or tangled, halo human hair extensions don't require that much care.
Just buy good quality sets of halo hair and you will live happy hair days. It is advisable to opt for Remy human hair extensions to prevent tangling and matting. The risk of hair falling out is also much less than non-Remy or synthetic hair. And then you can expect to use the Halo up to a few years!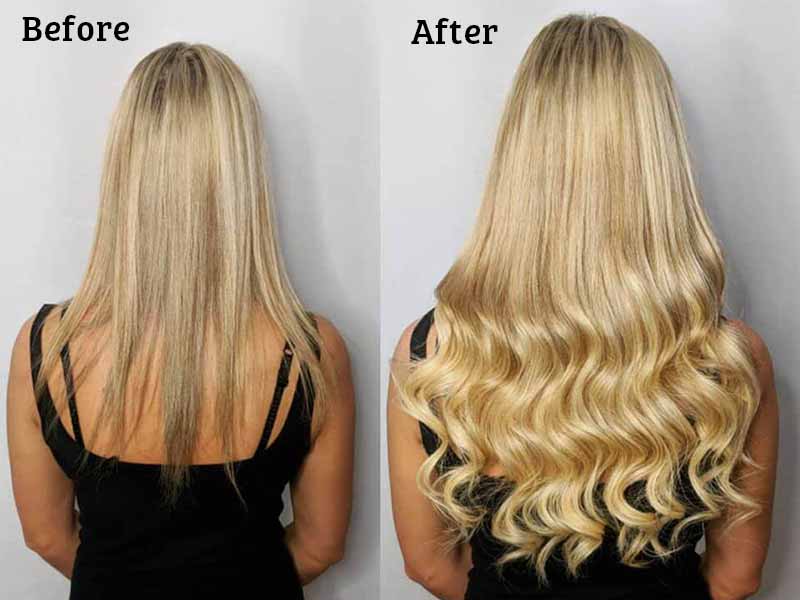 The Price Is Affordable
If you want to keep using glue-in or fusion hair extensions, your wallet must be fat. In contrast, the cost for halo extensions human hair is much friendlier. How much do halo hair extensions cost? If you take it into a long-term consideration, then you will easily realize halo extensions offer the better deal.
You might feel it quite pricey when you buy it for the first time. However, if you consider its lifespan and the need to replace it with a new one, you will see how nice the price is.
Let's take a quick comparison:
If you use tape-in hair extensions, you will need to replace it after 2-3 months of use because the bonding isn't strong enough then. In contrast, the halo wire is durable and can be used up to years, so you won't need to buy new ones soon. In a consequence, the cost you will have to pay for halo throughout your life will be lower than tape-ins.
Read more:
Halo Adds Seamless Volume And Length To Fine & Short Hair
As one of the hottest seamless hair extensions, the Halo strip offers incredible volume and length to your real hair. You are able to update your short and thin hair with a much longer and thicker look in just a few minutes. And more importantly, it appears realistic and is hard to detect if you succeed in choosing ones with matching size, color, and texture.
You can search for "halo hair extensions before and after" to see photo feedbacks from wearers easily on Google or any search engine.
Best Place To Buy Halo Human Hair Extensions
Lots of things need taking into consideration when you decide to buy halo hair extensions for your short hair. You need to care about the quality of the hair, to check whether the weave is well sewn, and whether the Halo can be dyed or styled later.
Taking everything into account, you will be able to list out the top brands that sell this product, and Lewigs is an outstanding one among them. 
Even though Lewigs concentrate more on providing hair loss and hair thinning solution to men and women, we also work hard in offering hair extensions. Our store always keeps updated with the latest technique and trends so that the products we give out can catch customers' interest.
Regarding hair extensions, aside from the classic types of hair integrations, Lewigs is also a pioneer in bringing about newly invented extensions. We have seamless hair systems for short and thin hair, namely halo hair extensions, invisible tape-ins, stitched tape-ins, and flat silk weft hair. For detailed information about each type, kindly reach us directly via our hotline to get supported.
At Lewigs, we only sell Remy human hair extensions. All the halo products at our factory are meticulously made by experienced artisans. Also, the hair originates from Vietnam and Cambodia – the two countries that are famous for their top-notch hair quality. Hence, you can rest assured when buying extensions with us.
If you feel interested in halo hair extensions, don't hesitate to drop us a line at any time to get our instant support. We are online 24/7 and always willing to be of service!
And before closing this tab, don't forget to take a look at our online store and blog to see what interesting things await!