Whenever you buy some things, you may consider some related questions like how much it cost, how good it is, and of course, how long it lasts. When it comes to investing in hair integration systems, the same serious questions would become up. And the most important question among them maybe "how long do hair extensions last?" This is because, when you spend your hard-worked money on an extension, you all want to make use of it as long as possible.
Hence, today Lewigs is going to share with you the basic information about the lifetime of each different kind of extensions available on the market as well as some useful tips to use it longer.
How long do hair extensions last?
How long do clip in hair extensions last?
Clip-in extensions are easiest to use since they come with clips attached to the wefts, which can simply install in your real tresses. Plus, they cause the least damage as well. However, they are not listed as permanent extensions. Clip-ins are perfect for temporary use and they are reusable.
So, how will they last? They can last from 3-6 months or even a year if you treat and take care of it properly.
Then, how can you take care of clip-in extensions? Washing the hair is the principal step to protect any type of hair extension. We advise you to cleanse the clip-ins hair after 30 times of use with natural-based and sulfate-free products. Do not brush, comb or detangle the hair when it is wet since this will soon cause breakage and damage to your extensions, shortening their basic lifespan. Let the hair air dry after washing it instead of using a hair blower.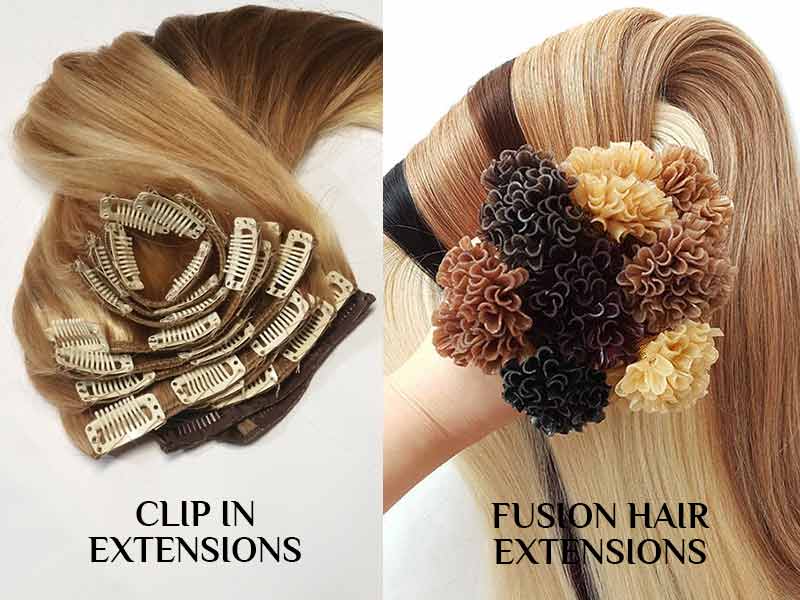 How long do fusion hair extensions last?
Fusion hair extensions are attached to the root of the hair with a typical tool that will install the hair to individual natural strands of yours for a more natural-looking appearance.
How long can they last? Fusion hair extensions can last up to 3 to 4 months, and of course, its lifetime depends on how well you take care of them. The way you wash the hair, style the hair, brush the hair, and the products you use to do so, all matter.
Then, how can you take care of this type of hair extensions? Invest in special haircare products to wash and condition the hair. Repositioned your hair extensions every 1-2 months due to the speed of your hair growth. This because, when your hair grows longer, it is easier to detect your hairpieces.
Other posts:
How long do tape in hair extensions last?
There is no discrepancy as to what tape in extensions are—as the name suggests, these are literally taped together on either side of your natural hair using an adhesive weft tape. They are fairly popular because it doesn't require heat and also lets your natural hair grow out easily.
As its name shows, tape in extensions are installed on either side of your breadth like a sandwich by using weft tape. It does not need heat and allows your hair to grow easily.
Tape in hair extensions how long do they last? They can last up to 2 months with proper care.
Then, how can you take care of them? Remember that never brush or comb your tape-ins when it is wet. Wait until it dries completely then brush it through with typical comb for hair extension. This principle tip can help your extension last longer and look natural.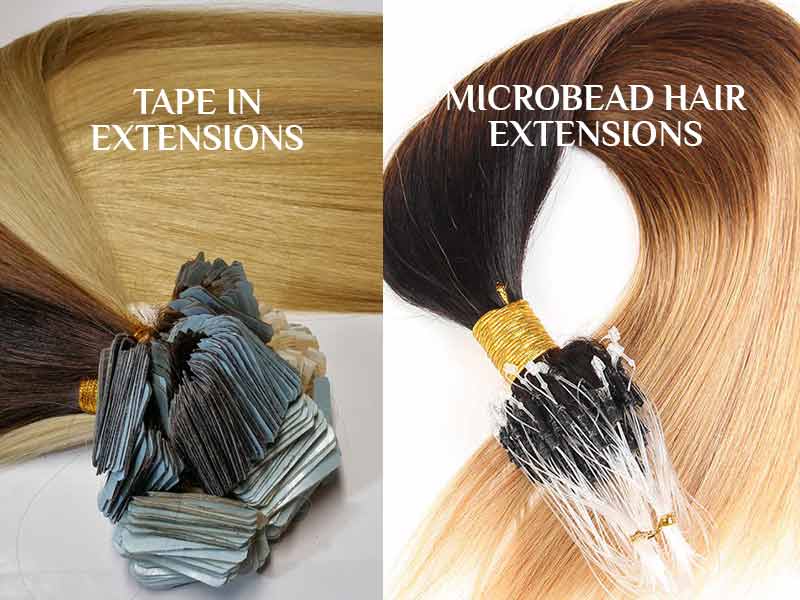 How long do micro bead hair extensions last?
Microbead or micro links hair extensions are the ones applied by attaching tiny wefts to small parts of real hair. No adhesive is included in this technique.
How long do beaded extensions last? They can last between 3 to 4 months with proper care. Since they use microbeads to apply to your hair, you will be more careful while treating them.
How can you take care of them? The way to treat beaded hair extensions is similar to treat the fusion one. Do not forget to re-apply them every 2 months when your hair is growing longer.
Jump to:
How long do sew in hair extensions last?
Sew in hair extensions involved sewing down the hair weave onto your natural locks braided with a needle and thread.
How long do sew-in hair extensions last? They are permanent extensions and can last up to 2 months. The maximum time for using a full sew-in hair weave extension is 4 months because it could affect the growth of your hair underneath.
How can you take care of them? It is recommended that you should moisturize your extension at its scalp, nape, and edges once a week. with deep conditioning products for a healthy and natural look.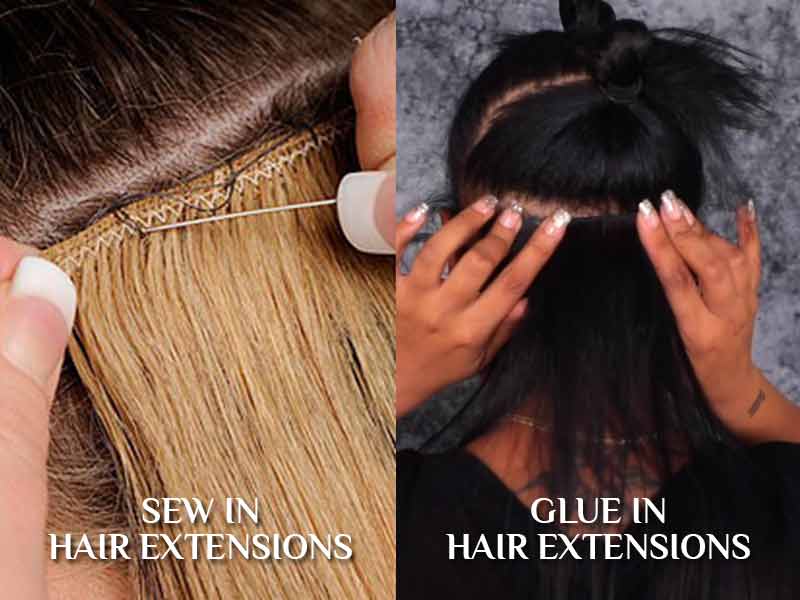 How long do glue in hair extensions last?
Glue-ins are applied to your hair by the glue attracted to the base of the weft.
How long do they last? The glue in extensions can last between 2-3 months but they can begin to loosen in 4 weeks. To avoid them slipping off and last longer, you should have them applied and cared properly.
How can you take care of glue in extensions? Use mild shampoo to wash the hair and do not rub it hard while washing. Deep condition the extensions once a week. Avoid using oil-based hair products since it can loosen up the bond faster.
Final words
Hair extensions become more and more common for women nowadays. Knowing how different types of extensions last will help you find your own preferred extension without wasting your money.
Hopefully, after this article about "how long do hair extensions last?", you can understand about extensions as well as how to take care of each type to make the ultimate use of it. The last tip for you is that, let opt for human hair if you want your integration systems to last longer.
If you like this article, share it with your mates and follow Lewigs blog right now for the more interesting information!
Thank you for your time!